Last week was a terrible week for the pro wrestling world. On Wednesday, we lost a legend and just one day later, one of this era's most iconic characters had tragically passed away. Unfortunately, wrestling is more familiar with tragedy than we'd like it to be and as fans, we often heal by coming together for the matches. Over the last few days, many men and women stepped through the ropes with heavy hearts, performing at the best of their abilities and bravely battling on, as always.
I am thankful for them all, and it's weeks like this last one that stress how trivial the in-ring ups and downs can be. Obviously, I write these guides with a critical eye and hope that in some form or fashion, they can enhance the industry for someone out there, anyone really. Please though, always remember to love pro wrestling. Truly, I don't know what I'd do without it.
Chad Gable vs. Gunther (WWE RAW)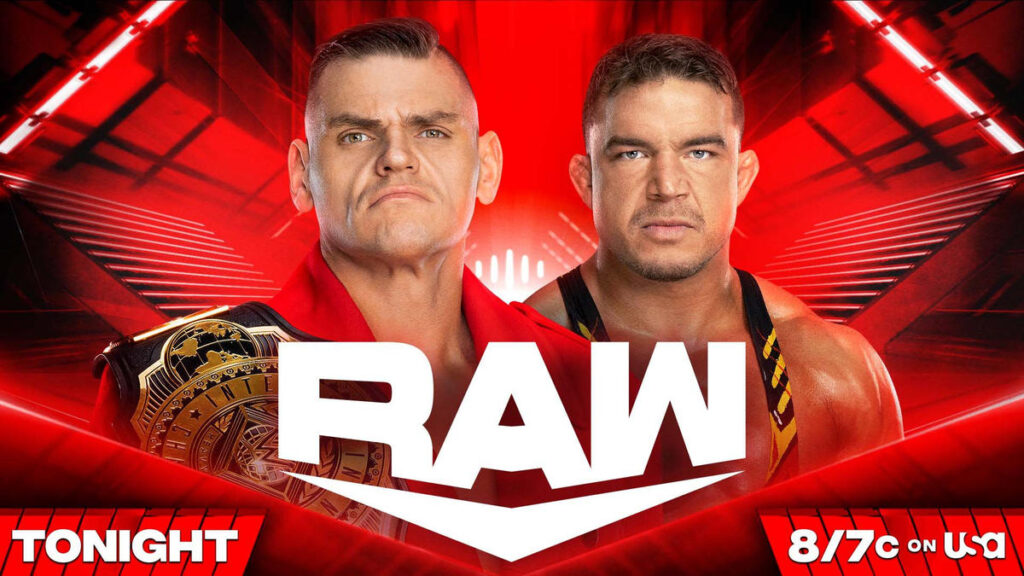 Last month, Chad Gable and Gunther kicked off SummerSlam week by stealing the headlines, sharing a television thriller on the latter's road to Drew McIntyre. That night, Gunther promised a victory in the first five minutes, with Gable surviving and even threatening an upset in the match beyond. Now, Gable gets his much anticipated rematch, earning the sequel by winning a fatal 4-way over Matt Riddle, Ricochet and Tommaso Ciampa two weeks ago.
For me personally, it didn't take long for this match to charge ahead of their first. Don't get me wrong, that match was very good in its own right, they just had to tell a story that slightly lowered their ceiling. In that meeting, Gunther is portraying an arrogance that limits his intensity, with this sequel being the opposite. Frustrated by Gable's ability to cross five minutes last time, Gunther wrestles this match with a palpable desperation to right that wrong.
In addition, "Let's go Gable" chants greet the opening bell and while it's not exactly thunderous, this entry is accompanied by a much more engaged crowd. In response to Gunther's immediate aggression, Gable attempts to stick and move, firing a single chop and swiftly paying the price. Gunther briefly targets an arm, taking Gable to the mat and earning firm control of things. The challenger rallies by upping the speed, finding a gorgeous sequence before being launched to the floor.
In their limited interactions, these two have found a very special dynamic. It's not just their obvious chemistry either, they've found a beautiful balance between back and forth action and the identity of their feud. It's still David vs. Goliath at its core, they just portray that with picturesque pro wrestling. Gunther's aura isn't even blemished by Gable's success, as each instance is placed properly and more importantly, executed in textbook fashion. He's credible, and feels worthy.
Either way, the Intercontinental Champion remains dominant in and out of an ad break, brutalising Gable who even takes the Bret buckle bump at one juncture. He's a terrific in-ring babyface, with almost all his strengths being unlocked by this plucky presentation. Before long, Gunther's extended control of things allows some arrogance to creep in, opening the door for Gable, who's quickly swatted out of the air for his troubles. That's a theme, with Gunther often slamming that same door shut.
Those momentary hope spots build nicely to Gable's stuttered comeback, visibly chipping away at the big man. He's walking through the flames, eating knockout blows before finally landing a back suplex as they reach a double down. Those knockout blows feel actively inspired by Gable's bravery too, with his defiance only irritating Gunther. Eventually, Gable snatches an ankle lock, producing a false finish that the live crowd genuinely bites on, which speaks to the quality of what preceded that spot.
There's a palpable desperation to his performance late, unleashing an aggressive onslaught as he looks to shock the world. That only makes Gunther more upset, chasing Gable to ringside with some horrific strikes and neatly setting up the match's finish. It's a brilliant finish too, as Gable scores a timely German suplex, returning to the ring for a triumphant count-out win. That finish assists the bout too, allowing Gunther to take even more of the match, aware that Gable will be elevated in the end anyway.
That positions them to maximise their dynamic, allowing Gunther to steer the ship as Gable sells. It's a fabulous combination, producing some of the finest TV wrestling of 2023 thus far. Again, their first match was very good but this is magic, and they've still barely scratched the surface, too.
Ilja Dragunov vs. Trick Williams (NXT Heatwave)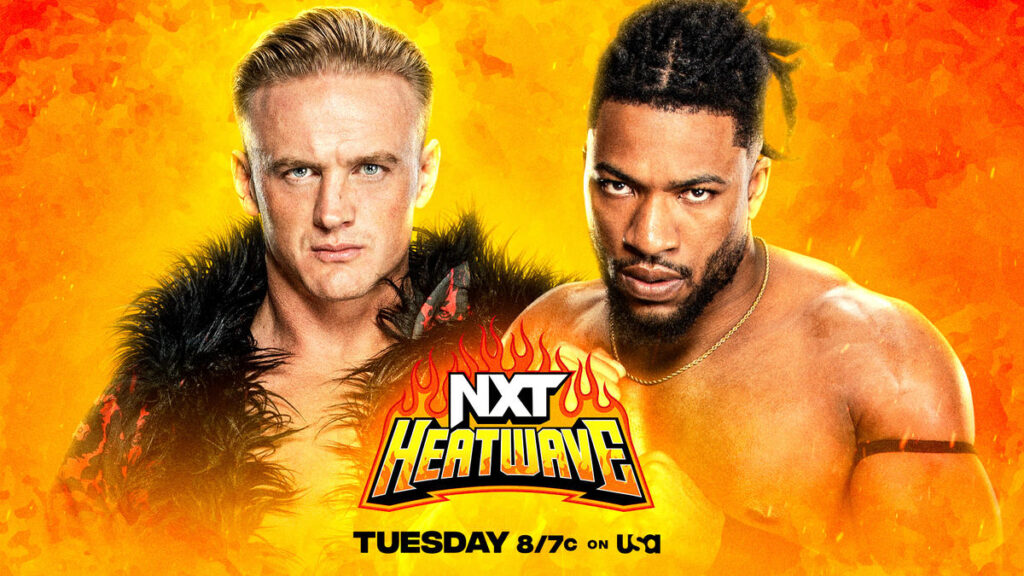 In February, Trick Williams produced the most encouraging singles showing of his young career, putting some time in opposite Ilja Dragunov. Last week, those two met again, improving substantially on their initial effort. Obviously, Dragunov's quality is no recent breakthrough, but his latest form has been a real hit for me personally. At The Great American Bash, Dragunov worked as the de facto antagonist against Carmelo Hayes, further focusing on the violence and slightly taming his theatrics.
We get more of the same here, as he takes out some frustration on Williams, who recently stepped away from Hayes to continue his own journey. I've always been intrigued by the potential of Williams, actively checking in whenever he'd work a match of note. He is still brand new and working through the understandable clumsiness that accompanies that, but Williams' charisma continues to connect. That's important too, creating an atmosphere that only elevates Dragunov's approach.
Intense doesn't do his performance justice here, jumping Williams with a boot and uncorking an absolute onslaught. Williams isn't currently the most natural nail, but Dragunov doesn't give him much of a choice here, swarming Trick and forcing him to adapt. Thankfully, Williams does exactly that, toughing it out and firing back, creating a uniquely chaotic scene. That brings some messiness along with it, which is comfortably concealed by the sheer physicality on display.
This pace helps too, allowing them to just go, creating the type of firefight that's seldom seen in WWE, let alone on NXT TV. During the ad break, they settle slightly for the first time, with Dragunov taking some marginally quieter heat. Even still, bombs continue to emerge, they're merely spaced out more traditionally. That brief reset only assists Williams' performance too, noticeably going through the gears as we return, showing serious fire as the live crowd roots him upright.
As they veer towards the finish, Williams is increasingly thriving on the intensity, almost instinctively relishing the competition. Dragunov gives him just enough room too, allowing for retorts and when they arrive, ensuring that they count. I've been critical of Dragunov's more colourful selling in the past but again, he's just about perfect here for my money, wrestling spitefully yet still finding the space for his usual bumping. Williams has some offence worth selling too, including a snappy big knee.
Late, he even brings Dragunov off the top via uranage, with the place almost rumbling as they approach the finish. There is a genuine charm to Williams' popularity in this setting, a refreshing sincerity to their support for him. That sincerity only adds gravity as Dragunov ramps up the violence, giving Williams the chance to show some defiance in response. It's honestly a special match, one of the more memorable television outings in a time of frequent quality in that domain.
It's not clean or smooth and that's for the better, as this comes to life in a way that's increasingly uncommon. Dragunov sets a ruthless pace and tone here, with Williams adjusting accordingly and rapidly growing into the match. Obviously, Williams is still just getting started, but this match provided an early glance at his ceiling, with Dragunov quite violently willing him in that direction. Granted, Williams isn't likely to have many more matches quite like this, but those gutsy ingredients can remain.
While I find 2023 NXT to be a slightly puzzling blend, it does allow for weird hits such as this, hopefully assisting Williams on the road to superstardom.
Arisa Nakajima vs. Sareee (SEAdLINNNG 8th Anniversary)
Earlier this month, Arisa Nakajima and Sareee shared the ring for an all-star tag team match, with Takumi Iroha and KAIRI serving as their respective partners. Beyond anything else, that match promoted an eventual singles meeting between Nakajima and Sareee, with their exchanges taking centre stage. Three weeks later, that match has arrived, closing SEAdLINNNG's 8th Anniversary show with a match for the promotion's Beyond the Sea Title. Once again, the match guide finds itself at Korakuen Hall.
Before the bell, this match was sold by a sense of hatred, promising violence in the pre-match press conference. They very much wind up delivering too, but only after setting the stage with something more strategic. I've always liked that as a pro wrestling olive branch, champion and challenger starting with formalities as their emotions inevitably emerge. Even during the opening lock-up, it's threatening to explode, struggling mightily in centre ring, wrestling with palpable pride.
Nakajima scores first, quickly launching her first of many kicks and then securing some early submissions. That includes the stretch muffler, as Nakajima momentarily flirts with the leg as her target. She doesn't really head in any particular direction though, instead opting to kick Sareee in the head some more. In a sign of things to come, she begins to sprinkle in some knees for good measure, rotating between the two as Sareee's head rests almost helplessly against the bottom rope.
She soon finds an answer though, targeting the arm in sharp fashion. Her work here is purposeful and snappy, providing a slick transition as she gains some control over the match. The highlight comes as Nakajima lands a double stomp though, with Sareee's retort being the same move, only to the champion's damaged arm. That portion levels the playing field some, allowing this match to take its inevitable and natural form, as bombs begin to land in centre ring.
Sareee quickly earns some swelling, with Nakajima not far behind. Those meaty exchanges are central to the match's appeal, but they certainly aren't without ideas elsewhere either. Nakajima drops Sareee with a DDT on the apron, then launching her into chairs and chairs into her, taking this in the Brody – All Japan direction. That brings them to the ramp, where Sareee lands a bruising back body drop on the ramp, dishing out some strikes from there before returning to the arm.
Dropkicks follow, with Sareee needing a flurry of headbutts to slow Nakajima's regained momentum. There are some beautiful suplexes along the way too, as the work's range keeps you on your toes throughout. Again though, it's about those strike exchanges. Blow for blow, the violence isn't totally unparalleled but the quantity here is quite staggering, especially as they are landing variety in-between. It seldom slows, only stopping to breathe when both women simultaneously collapse.
That's most memorably done at ringside, as they twice reach a double-down on the floor, trading big offence to do so. With that, they're prepared for their final duel, exchanging knockout blows as both somehow march forward like zombies. It's almost tough to watch at times, with Sareee's forearms earning an especially jarring crunch. Her final onslaught is absurd, like the protagonist's conclusive outburst in order to slow a horror movie villain, not resting until the job is done.
As this ended, I couldn't quite fathom that I'd been watching for almost half an hour. It's a brisk watch, which is surprising considering the general tone. Again though, it's not singular in that sense, moving at a remarkable pace while still allowing the biggest bombs to breathe. That's a tough balance to manage but they do so here, not drowning the match's major moments yet still producing quality at almost every turn.
Fabulous match, everything that I'd hoped for after reviewing their aforementioned all-star tag.
CM Punk vs. Samoa Joe (AEW All In)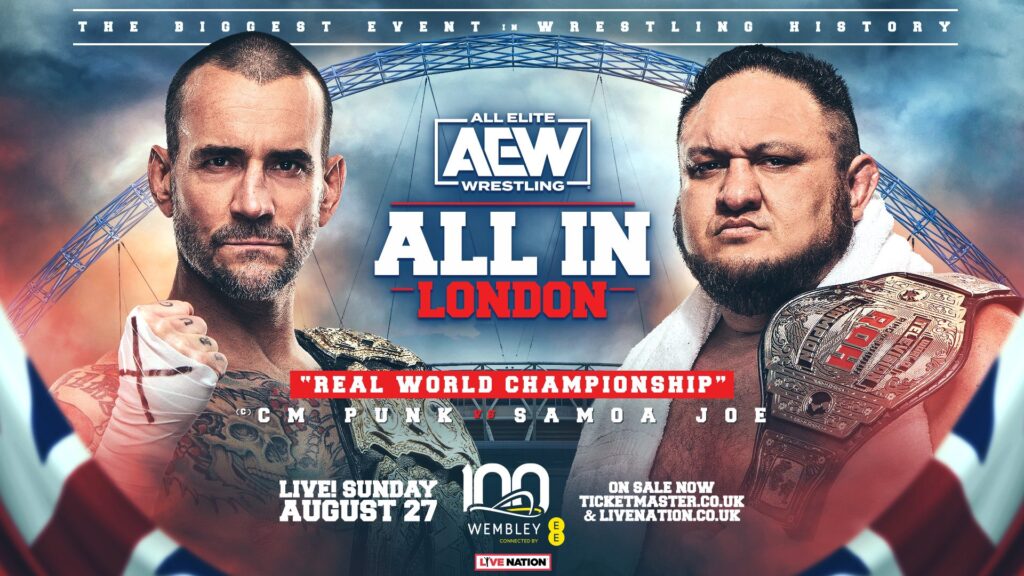 Over the years, I've seen some things. I've been incredibly fortunate to see a handful of genuinely special matches and moments in person, but I'm not sure that anything quite felt the way that this did. This was truly magical, creating an atmosphere that'll live forever in my memory. Nineteen years ago, CM Punk and Samoa Joe wrestled the trilogy that saved Ring of Honor. They did so in front of slim but passionate crowds, setting the stage for the industry transformation that's followed.
Now, in 2023, they dance for one last time, taking their rivalry to the 80,000 people awaiting them at Wembley Stadium. This was the PPV opener, with Punk receiving his usual cacophony of emotion while Joe stood in stance, ready to fire. There's an electricity at the bell, with Wembley immediately leaning in Joe's direction as Punk adjusts accordingly. This time, Punk's stick and move tactics feel less plucky and more cocky, taunting Joe before taming him via headlock.
That only encourages the live crowd, soon transitioning the match to their usual dynamic: Joe kicking Punk's ass. On this occasion though, it's slightly different, with Punk going full Funk on the sell while Joe visibly relishes London's support. In an instant, it becomes the Samoa Joe show, playing all the hits in front of a stadium crowd, the type of atmosphere that much of his career deserved. That makes up much of the content here, with Punk getting busted open along the way.
There is a palpable intensity to this bout, especially in such a raucous setting, yet it also works as a borderline party match, particularly late. They have an absolute blast playing with this energy, as Punk combines some Cena and Hogan while Joe even fires up like the latter. They're truly dancing, and what a week to do so. it's never without gravity either, with Punk selling superbly throughout, desperately swaying from one bomb to the next.
The finish, while fitting, does feel a touch sudden, missing a step or two of escalation. If anything, it felt like they were just getting started, though I'm sure their bodies disagree with that assessment. Nonetheless, this is a glorious snapshot of two greats, making the most of their fourteen minutes and simply rocking this historic crowd. Two months ago, it was surreal to see them even share the ring again, but "surreal" just doesn't do this occasion justice.
This was special, an almost entrancing affair. Physically, it's a rough and tough slugfest, but it's such a triumphant watch. It's actually quite moving, especially as that golden generation finally begins to dwindle. These two represent that generation, they embody that era. In truth though, they symbolise much more, both etching their names in history as two truly timeless greats. In terms of fame, Samoa Joe never quite matched the heights of his finest foes, but this felt like his day in the sun.
At Wembley, he was as big a star as anyone could ever hope to be, with Punk gleefully serving as his personal punching bag. Beyond anything else, I'm thankful to have been in attendance for this match. In a vacuum, it's no classic, but with a grasp of the bigger picture, it feels more singular than that term anyway. In London, CM Punk and Samoa Joe did the dance, and wrestling was better for it.
FTR vs. The Young Bucks (AEW All In)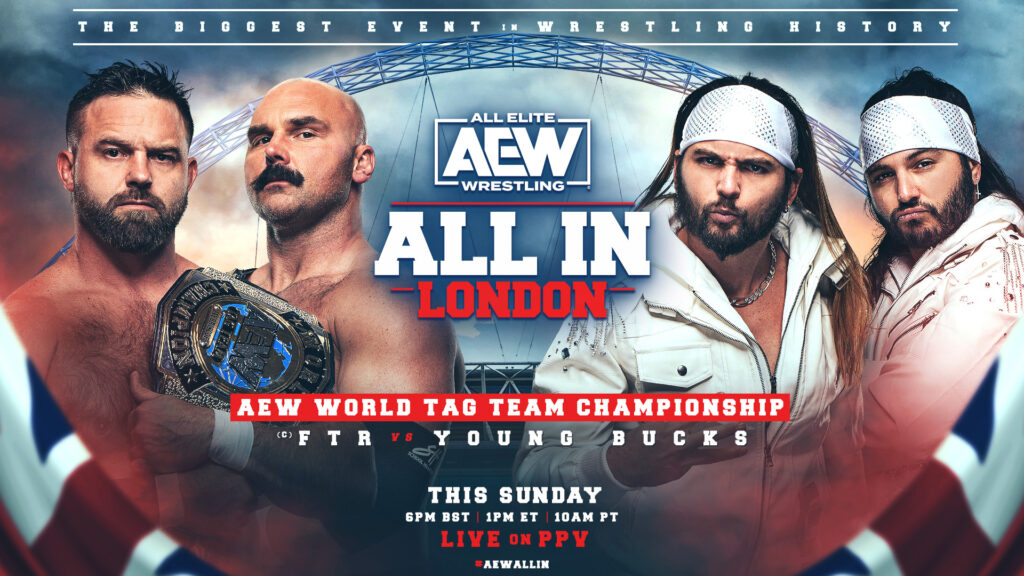 I always wince slightly when a match is promoted by its presumed quality. Not because it's immoral or anything, it's just playing with fire in a fashion that concerns my cowardly instincts. In its brief and somewhat blurry build, the rubber match between FTR and The Young Bucks was frequently framed as the ultimate showdown, and understandably so. This is a genuine clash of two all-time teams, with Wembley seeming like the perfect stage for them to finally settle the score.
Admittedly, they struggled to paint a picture beyond that in the weeks prior to All In, however. Instead, it felt like a match happening because it had to, rather than something more tangible. Especially as babyfaces, these two teams seem to struggle with portraying their conflict in a style suited to weekly TV. It hasn't evolved enough from their original online duel, still hovering around those same established contrasts, just in a more vague fashion.
In addition, this wasn't exactly assisted by its placement, following CM Punk as well as Kenny Omega, also going without much pomp and circumstance. In the building, it almost felt as though Wembley wasn't ready for the match, which along with the issues above, seemed to effect their initial heat. Don't get me wrong, they weren't exactly working from zero, with duelling chants still emerging at the bell. More than anything, it just didn't quite have the big fight feel that many expected.
Even still, there's some fabulous work early, with both teams combining for a few slick sequences as the duelling chants return. Before long though, they settle into some heat on Wheeler, which didn't exactly elevate the live crowd's engagement. The work remains strong, never losing the people but struggling to fully hook them with the control segment. Harwood's eventual hot tag transitions the match to its second half, which basically serves as an extended finishing stretch.
That includes some wonderful stops, from FTR's double-sharpshooter to trading blocks on the Power and Glory combination. The near falls build neatly, earning an increasing excitement as the action quite rapidly escalates. They even use the finishes from their prior matches for false finishes, each of which Wembley buys as a believable conclusion. On one of the final near falls, Harwood's save is a beat late, forcing their momentum to stumble before regaining it moments later as Wheeler kicks out of the BTE Trigger.
There's a roar in response to that and they find a sublime finish afterwards, maximising a creative idea with simply staggering execution. That concludes a brilliant second half, even if one that feels distant from what preceded it. Perhaps that's the supposed contrast at play, marrying styles by producing two differing chunks. I'm not sure, but it was noticeable here, as I'm convinced that anything would be lost by jumping directly to Harwood's hot tag, which is certainly not always the case.
Just last month, we saw a control segment on Wheeler that had Regina rocking for what followed. It built towards its eventual excess, whereas this felt more like stalling until the fireworks. Here, there wasn't quite that same intensity, almost feeling like an exhibition or showcase instead. Fortunately, the work was so good anyway that even with that vibe, I really liked the match. I thought it was very good and bordered on great, often living at that level late.
With that being said, this match felt indicative of this entire mini-programme. It just feels manufactured, forced towards greatness rather than simply trending that way on its own merits. That's not a reflection of either team, both of whom are more than capable of greatness on any given night. It does feel like a reflection of their slightly unnatural dynamic with one another though, which for two of their three matches, has felt like its wrestling the hype as much as anything else.
Personally, I think the second match was their best, which was a TV main event that had only been booked a few days prior. I don't think that's a coincidence, simplifying things and letting their quality speak for itself. In addition, that was the match in which Matt and Nick were established as heels, which feels like the best version of this pairing. Either way, this was an undeniably enjoyable showcase of two great teams, even if without the gravity that many of us had anticipated.
Though flawed, a very good match, still comfortably one of the night's best.
Chris Jericho vs. Will Ospreay (AEW All In)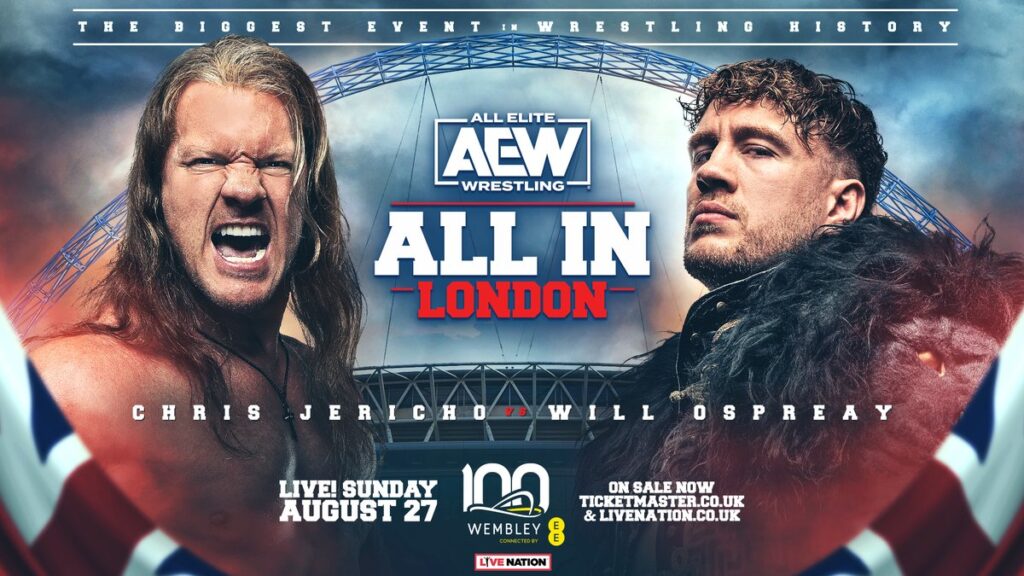 While a controversial choice for Will Ospreay's opponent, Chris Jericho always seemed likely to deliver under AEW's brightest lights yet. Like much of Sunday's All In card, this match had an interesting and somewhat unusual build, with Jericho mostly operating alongside and opposite Don Callis while Ospreay worked the G1. To their credit, they heated things up quickly though, garnering interest with their go-home show contract signing and setting the stage for a fiery stadium shootout.
Whether it was that or the matchup itself, one thing's for sure: Wembley did not view this as a waste of Will Ospreay. I never thought they would to be honest but even still, the excitement for this was palpable. The only undercard match with comparable heat was CM Punk vs. Samoa Joe, which was the PPV opener. This took place almost three hours later, yet transformed the atmosphere in an instant. The entrances felt big time, swiftly securing the vibe of a major prize fight.
They maintain that energy once the bell rings too, as Jericho brings the physicality, eating an especially violent dive for his troubles. There's an immediate edge to this, an intensity that embraces the audience's electricity. The early offence seems motivated by bad intentions, ensuring that even the simplest things stick. It isn't long before they veer beyond those simpler things either, with Jericho soon launching Ospreay for a German suplex on the apron.
That transitions the match to some heat on Ospreay, with Jericho embracing his role as the match's antagonist. Jericho's work in that portion isn't much, but he's smart enough to keep things moving, with Ospreay's hope spots helping immensely along the way. it's a brief segment anyway, with Ospreay's comeback providing some fireworks. They go back and forth afterwards, attempting rather creative combinations to admittedly mixed results. The hits look great though, and the misses are disguised by the match's sheer hostility.
There's a great moment late in which Jericho senses the audience's fear of 'The Walls,' delaying Callis' distraction spot and producing further drama. I say "fear" because he absolutely understands his role here, aware of the general perception and actively playing with it, finding false finishes that make Wembley wonder. In the end though, it's an absolute onslaught from Ospreay, stringing together a devastating combination and winning emphatically to a thunderous ovation.
Jericho gets his moment of defiance but leaves no doubt, giving Ospreay a special moment at Wembley. Look, it's not silky smooth or anything and certainly, there's some clunkiness along the way. That's secondary to the match's feel and tone though, which honestly reflects much of Jericho's career. Mechanically, he's not the absolute super worker that he's often listed alongside, but he understands that template and more broadly, the wrestling fan in general.
He was great here, warts and all, being a worthy foe for a red hot Ospreay. It's a really good match, fifteen hectic minutes of main event wrestling. This was a genuine spectacle, even if not in the top tier of Ospreay's usual epics. There was nothing usual about this though, in fairness. This was Wembley, where Chris Jericho vs. Will Ospreay felt very much at home.
Adam Cole vs. MJF (AEW All In)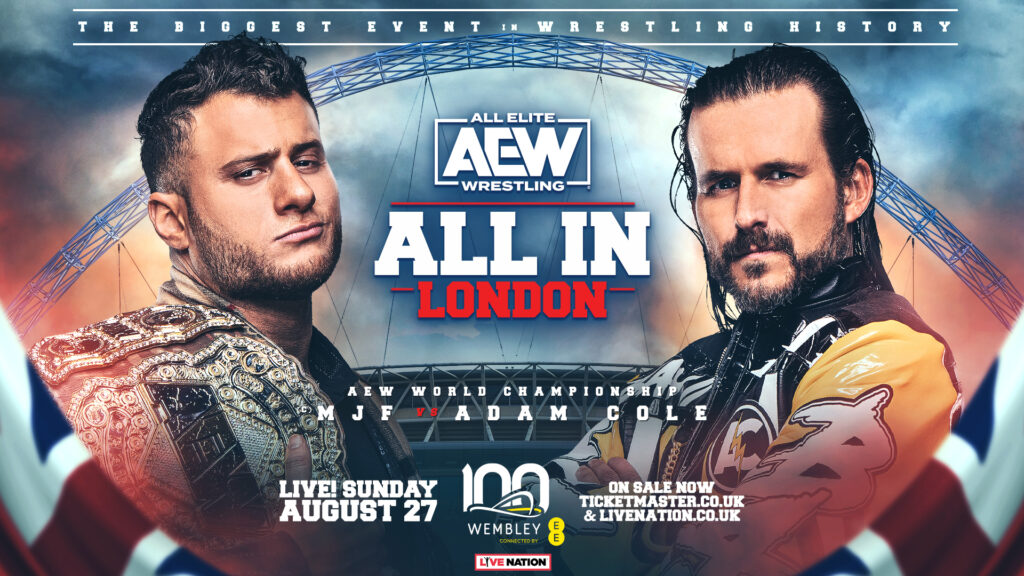 The hottest story of AEW's 2023 thus far, Adam Cole and MJF had earned their role as Wembley's headliners. With that being said, I was intrigued as to the match they'd wrestle, as this seemed like a challenging scenario. It's a unique situation, reasonably requiring a heel match just as much as its babyface counterpart. The latter is a more natural fit for stadium main event, but wouldn't quite match the story thus far.
After all, this angle has been defined by its comedic quirks, sprinkling in some heavy handed drama along the way. The first of those elements is seldom associated with world title tilts, while the latter hasn't been common in AEW show-closers. Cole and MJF stuck to their guns though, to put it mildly. At the bell, each man retrieves their 'Better Than You Bay Bay' t-shirt, which sets the tone. They follow that with a sequence befitting the aforementioned babyface match formula.
It's quickly clear that as the main event, Cole and MJF are going attempt a mixture of each available ingredient. That heel match is still present too, with MJF getting a pop for his early eye poke, even earning "he's our scumbag" chants. Again, it's not the match that you'd ordinarily associate with the big belt, but the live crowd's reaction can't be ignored. If they are accepting that approach as the main event and responding to it as such, there's no reason that it can't be.
Certainly, it's not the traditional approach and quite frankly, isn't necessarily to my taste, but it's effectiveness here is staggering. Almost every beat lands, with the audience happily embracing Cole's emerging heel slant. That allows an MJF comeback, which Wembley is equally onboard with. It's very clear that he is the answer to AEW's top babyface vacancy, by the way. I think it was pretty apparent last November but now, this is clearly the guy for that role, even if sooner than expected.
Alongside the character quirks and comedy, there is some engaging action too, even if it veers in the TakeOver direction. Regardless, they do have some strong content, including a vile use of the steel steps. That spot gives the match a momentary edge, introducing some violence that's swiftly undercut by a conflicted MJF. This particular moment, or more its execution and placement, was perhaps the match's biggest miss for my money, erasing the subtlety from an already simple story.
They never quite regain that aforementioned edge either, instead following with more TakeOver excess that admittedly, is at home on a stage such as this. I do think that it's too cute for its own good at times, with the "double clothesline" play call feeling like a good example. Again though, Wembley isn't swayed, they remain invested in a bout that matches the build they'd adored. That's especially apparent after the restart, with two referee bumps allowing some comedy, with genuine drama not far behind.
It's not quite for me, and limits the match's rhythm in my view, but it's ultimately what this whole thing has been about. This is an example of a match that I appreciate more than I adore, as they wrestled a main event that has lots of elements that I wasn't sure would work. They didn't just work though, they actively increased the live crowd's excitement and took them on a rollercoaster befitting this tale.
If you've loved this story, you almost certainly loved the match, which I find hard to critique.
Personally, little of it has been to my preference, but it has comfortably been AEW's hottest story as of late. Moreover, it feels in line with recent industry trends, with fans relishing the "cinema," for want of a better word. It won't be accused of subtlety anytime soon but I will say, this was a pretty daring approach for a stage like Wembley. The TakeOver sequences were inevitable, that's just the reality of Cole in this spot and as always, your mileage may vary.
I'm not totally opposed personally, as those booming exchanges absolutely translate to an occasion such as this. Those moments aren't the story here though, I'm more impressed by the rest, as they simultaneously worked a babyface and heel match, without ever losing the prestige of their main event spot. 80,000 people deemed this to be a worthy conclusion to an historic show, which considering its content, warrants some recognition.
Personally, I liked the match, but settle at around that level. Again, it's an effort that I can admire, just not one that I can totally lose myself in. Either way, a triumphant conclusion to a very special night for professional wrestling, one we'll remember for years to come.