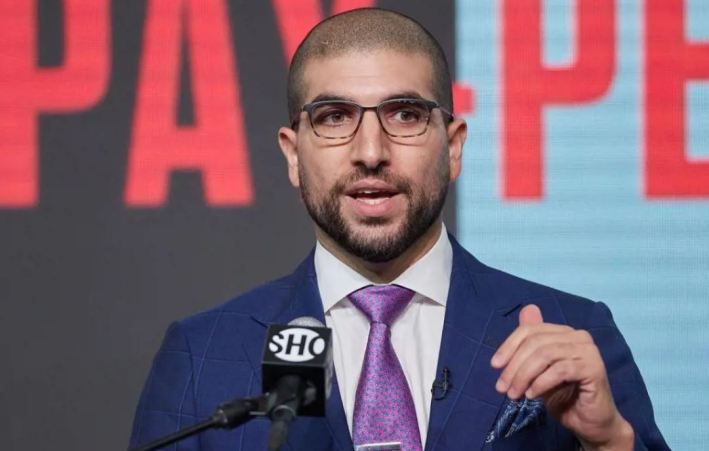 During this past Friday's episode of Smackdown in Montreal, Quebec, Canada, MMA journalist Ariel Helwani was present in the crowd, with cameras often panning to him throughout the show as he interacted with the WWE Universe. Seemingly believing that Helwani's appearance on WWE TV was evidence of him being biased towards the company, AEW President Tony Khan called out the journalist on Twitter.
Helwani had previously stated that Khan's appearance on his MMA Hour was one of his worst guests yet, due to Khan avoiding difficult questions regarding the altercation that took place between CM Punk and The Elite following the All Out PPV last year. Helwani later responded to Khan's tweet as seen below.
Speaking on a recent episode of his MMA Hour show, Helwani had the chance to address Khan's tweet, making it clear that he's never claimed to be a wrestling journalist, and thus he believes the AEW President's outburst was unwarranted.
"I'm not a wrestling journalist. I've never called myself a wrestling journalist. I don't report on wrestling like others do. I do interview wrestlers, I enjoy it tremendously, I try to think and act like a journalist when I do these interviews, but I am not a wrestling journalist. I, obviously, have relationships with people there because Nick Khan, the CEO, was my agent. I can't hide from that. I wasn't sure what direction I should go, what should I do. I came to the conclusion that, in life, especially post-ESPN, I just want to have fun. I want to do fun things. I came to the conclusion, around December, if an opportunity comes up again, I'm going to take it. It's always been a bucket list thing for me. I made a promise to myself, without seeking it, if this opportunity came up again, I would seriously consider it because life is too short, I want to have fun. I'm not a wrestling journalist. I think people are confusing me for my role in MMA, it's not the same. All things aren't equal."

-Ariel Helwani
Prior to his appearance on WWE television, Helwani provided the voice-over for the Elimination Chamber video package, where he dove into the history of wrestling in the city of Montreal.
"I said yes, and I said, 'this time, I am going to get paid.' The reason I didn't say it beforehand, I didn't want to ruin the surprise. I wanted it to be organic and fun. As of right now, I haven't been paid, but you get the point, I agreed to it. Unless they decide to not pay me because I sucked, which is fine. I might have been fired,"

-Ariel Helwani
Helwani continued, explaining that he headed to Smackdown after he'd recorded the voice-over, although he wasn't sure if he'd have an active role in the show. He noted that he ran into someone backstage who thought it'd be good for Helwani to be in the crowd on television discussing the significance of the moment, but he never revealed who that person in question was.
He also noted that WWE's Head of Talent Relations Triple H went to bat for him and approved the idea, stating that Levesque was "very kind" to him.
"I don't care what anyone says about him [Triple H]. He's a mensch, salt of the earth guy, and very welcoming and kind to me,"

-Ariel Helwani
Helwani also added that Paul Heyman helped him with some wording before he headed out into the crowd.
Khan sent out his tweet shortly after Helwani's first appearance on Smackdown, with the MMA journalist revealing that he wasn't planning on checking his phone, however, he was shocked to see what had unfolded online.
"I swear to God, I looked at it three times and I thought it was fake. Anyone can have a blue check. This guy doesn't follow me, he's never tweeted me, there is no way he actually tweeted this. Number one, proving that he was watching, which is bizarre. Why would you do that? Why would you put the competition over and show that you're watching some random SmackDown and a random moment in the telecast,"

-Ariel Helwani
As explained by Helwani, he initially thought that Khan had also taken a shot at AEW interviewer and commentator Tony Schiavone in his tweet, however, it was later pointed out to him that Khan was implying that Helwani being a roving interviewer on WWE television is no different than how AEW utilizes Schiavone.
Circling back to his original point, Helwani poked fun at the Khans' handling of Premier League team Fulham FC, before labelling his tweet an "own goal" due to the eyes it likely brought to WWE's product.
"The real thing he should have done is not say anything because why put over the competition's broadcast? You talk about an own goal, I know Fulham is having a better season, they certainly haven't had a great run with the Khans involved, but this was an all-time great own goals. I couldn't believe it. I had to check multiple times if it was really him."

-Ariel Helwani
Helwani then turned his attention back to his interview with Khan last October, stating that he believes Khan's issues with him stem from his follow-up comments where he labelled the interview as one of his worst yet.
"He is still upset, clearly, over the fact that he gave me one of the all-time worst interviews, and ignoring the fact that I have continuously praised the product ever since they launched. It was a bad interview, objectively, a bad interview. What is amazing about that interview is, everyone loves to talk about, 'he couldn't talk about this, legal this,' where is the legal? Where is the proof? What legal are you talking about? What is this investigation that you guys keep talking about? I had asked Tony multiple times to come on the show. I stopped asking because I was told that he wasn't sure, I'm Nick Khan's guy, I work for BT, which is stupid because that's just the broadcast partner. That's like saying Bellator guys shouldn't speak to Marc Raimondi because he works for ESPN and UFC is on ESPN. They reached out to me several months later and said, 'do you want to have Tony on?' Never said, 'Don't ask about this, don't ask about that.' You don't think I'm not going to ask about these things? Anyone worth their salt is going to ask about these things. There is a million different ways you could have answered those questions. At the time, I had no relationship with anyone in terms of business. This was early October. To now, pin those questions on me appearing on SmackDown, is a bullshit move, because one has nothing to do with the other. He's just mad that he came off looking like a guy that didn't know how to handle these situations and is only comfortable promoting and talking on about a product, but that's not what the public wants to hear. Now, he wants to say, 'Ah ha, look, this is why he asked me these questions.' It's all silly bullshit. Why do you care? I said it was a bad interview, I praised your product, why are you so quick to run to your phone and tweet this in my moment."

-Ariel Helwani
Regarding the tweet itself, Helwani revealed that he thought it was hilarious and wanted to wait until after he'd finished his second segment on Smackdown before responding.
Additionally, Helwani made comparisons between Khan and UFC President Dana White, a man Helwani notoriously isn't fond of, a stated that he thinks Khan is just trying to get into White's good graces.
"The amazing thing was is how the whole thing spread backstage. 'Did you see the tweet? Did you see the tweet?' I don't even know a lot of these people. 'It's amazing. How could he? Was that really him?' He's no different than Dana (White). What I thought about tweeting back to him was, 'Dana is not going to shag you, mate.' I know he's just trying to curry favor with his idol Dana White. I was thinking of that one, but I thought it might be a little too much of a deep cut for the wrestling audience,"

-Ariel Helwani
Helwani continued, claiming that Khan likely wouldn't be anywhere near as successful as he is without his father. He also mentioned that there were moments during his interview with Khan that we didn't see that he could bring to light, however he opted not to do so.
"I was not going to let this guy, who has built an amazing thing, all credit to him. This kid, who, if it wasn't for his old man…let me tell you something, my dad gave me a lot, but as far as MMA journalism and everything I've built, that was all on me. I'm very proud of what I've built. I wasn't going to let this guy fucking soil my name, drag it through the mud, ruin my night. I know he's trying to get himself over on me because lord knows he needs it, I wasn't going to let that happen. Absolutely not. I can tell you a lot of other stuff about that interview that we didn't show about how weird and bizarre that whole thing was, but I'm not going to do that."

-Ariel Helwani
When asked about his reply to Khan, Helwani joked that whilst initially, he didn't plan on responding, he eventually decided that he couldn't let Khan's slanderous tweet slide, and thus went on the attack.
"I thought I wasn't going to reply, but then I was like, 'Fuck it, Heelwani, 10-7, all day, every day.' I was like, 'I'm not going to let this slide. You're not going to call me a fraud and get away with it.'"

-Ariel Helwani
Helwani then emphasised once again that he doesn't consider himself a wrestling journalist by any means, downplaying comparisons between himself and Dave Meltzer, although he did state that might be similar to Meltzer in his MMA coverage.
The following night, Helwani appeared in the crowd once again at the Elimination Chamber event, accompanied by MMA legend Georges St-Pierre. Michael Cole acknowledged Helwani's presence onscreen, introducing him as "The unbiased, world-renowned combat sports journalist Ariel Helwani who asks all the hard questions whether you want to answer them or not!"
Discussing Cole's introduction, Helwani revealed that the Smackdown commentator had told him before heading out to the crowd that he had an intro planned, with the journalist later getting a warm reception backstage due to the jabs he'd allowed the company to throw at the competition.
"Michael Cole, legend that he is, says to me before the broadcast, 'Wait until you hear how I introduce you.' I go to the back and my phone explodes because of what Michael Cole said. Everyone is going nuts over this, I'm getting high fives in the back. I'm like, 'I didn't do anything.'"

-Ariel Helwani
Closing the discussion on Tony Khan, Helwani stated that he'd be willing to show up on AEW TV for the right price, seemingly poking fun further at Khan's accusations towards him.
"I'm not a WWE employee. If they come back and we talk about something else, would I be open to it if it makes sense, I don't think me being a character is the right move, I don't know. I would consider anything. Tony, I am done. If you want to talk about me helping out the product, I'll show up on Dynamite for the right price. You want me to be bought and paid for, let's put out the 'Fraud' t-shirts right now, I'll lean all the way in."

-Ariel Helwani
Helwani was thankful towards WWE staff on the show and stated that he was having fun and living the dream in Montreal.
Regarding his "snowman" comment directed towards Khan, the only slight mention of it during the show came when Helwani said that Khan's TV reception may have been "snowy" and he didn't hear the broadcast.
As always, we'll aim to provide any updates on the war of words between AEW President Tony Khan and MMA journalist Ariel Helwani as soon as we hear more.
H/T to Fightful for the transcription.