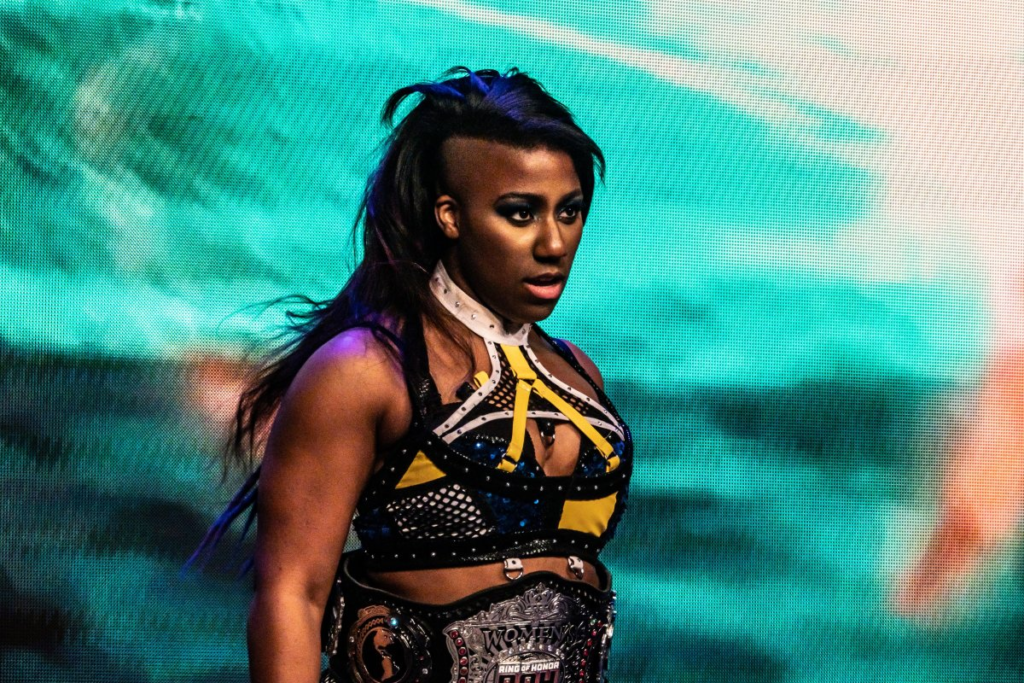 Athena says she wants to do more in All Elite Wrestling.
Upon being released from WWE in November 2021 and debuting for AEW in May 2022, fans expected her to quickly become one of the faces of their women's division.
Athena has had far from an unsuccessful post-WWE career, winning the Ring of Honor Women's Championship against Mercedes Martinez at Final Battle last December and being one of the highlights of ROH's weekly television programming upon the show's relaunch earlier in 2023. However, much of her work for AEW itself has been on Dark and Dark: Elevation. With those shows being canceled in April, she has yet to be seen on either of the company's main shows this year, last appearing on Dynamite on the October 5, 2022 episode. She wrestled on the Forbidden Door pre-show last month, defeating Billie Starkz in the quarterfinals of the Owen Hart Foundation Tournament.
Speaking with Righteous Reg and Phil Lindsey of Fightful's Grapsody podcast, Athena was asked if she wants to do more in AEW, and her answer was an affirmative one.
"Absolutely. I've wanted to for a very long time, but apparently, 'Athena doesn't play well with others.' I don't know what you're talking about. All of these lovely women signed beautiful waivers saying, 'I'm going to be challenging Athena to a match, I understand what I am doing. I am putting my life, body, everything at risk going into this match.' They understand what they're walking into. They understand that they might not walk out. Because of that, I feel like there might be a little hesitation (returning to AEW) because everyone doesn't want me to break their favorites. It's kind of a thing I do. I would love to challenge my buddy Kris Statlander. I would love to challenge Toni Storm. I would love that opportunity, but right now, Ring of Honor is my priority. I kind of feel like I'm getting to the point where I've broken all the porcelain, which is why I really wanted to be in the Owen, to showcase what I can do within in a different platform, and I got what I wanted. Of course, my priorities are straight. I'm wrestling on Collision this week. I'm crossing over all of that right now. I would love to do more, but honestly, we all know there are certain people who don't want Athena on the show because they are afraid they're going to be on the injured list."

– Athena
Athena then listed the people she's beaten during her reign that went back to AEW shortly after, saying that none of them can cut it in Ring of Honor.
"We got Skye Blue. Hell, I beat her so bad she went back to AEW. Everyone that I've beaten in Ring of Honor has left and they don't come back. They can't cut it in Ring of Honor, so they go back to AEW, they go and hide there, but what's going to happen when Athena comes there? Oh no. Their time is ticking. I'm going to come and clean house. If they want to run away from my brand, that's fine. Eventually, I will come and find them. Right now, Ring of Honor is my priority. This championship means the world to me. Making an entire division step up means the world to me. Literally every person I've wrestled has left Ring of Honor. Sure, they come back, but they don't even attempt to wrestle me again. I would at least try for a champion again, but I guess they don't want it that bad. Lady Frost went and left. Vertvixen, Willow, the list goes on."

– Athena
Athena was scheduled to wrestle Willow Nightingale on the July 8 episode of Collision in the semifinals of the Owen Hart Cup. Unfortunately, the match was rescheduled after Nightingale was deemed unable to wrestle after suffering injuries during her matches for NJPW Strong earlier in the week. Tony Khan announced the match is now set for the July 14 episode of Rampage, and if it happens, fans should expect a hard-hitting affair between two of the best wrestlers the women's division has to offer.
(H/T Fightful for the transcription)