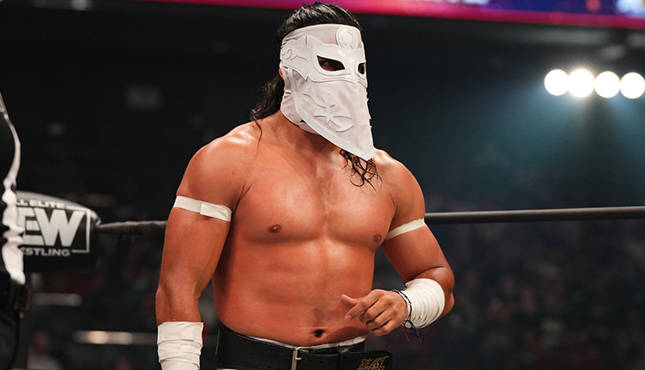 On November 11th last year, former ROH World Champion Bandido officially signed with All Elite Wrestling following a bout with fellow Mexican superstar RUSH. Bandido had made his AEW debut back in September against Chris Jericho, putting on an impressive performance that led to further interest not only from AEW but from WWE as well.
During a recent sit-down conversation with SO CATCH by Hal 2, Bandido revealed that despite being All Elite, he still hopes to make it to WWE one day, citing his positive experiences at the Performance Center and the friends he made their as the reason for this.
"At some point, I'd like to go to WWE. Not in this moment but I hope after, later. I was in WWE. They invited me to the Performance Center. They give me a Camaro for all my week to drive. That was amazing. I made good amigos. Chris Hero, I saw him in the Performance Center and now he's really, really good to have friend. I love you amigo… He's very nice, he's very nice."

-Bandido
As previously mentioned, Bandido made his AEW debut back in September of last year as he took on Chris Jericho for the ROH World Championship during an episode of Dynamite. Bandido had the chance to discuss the match, describing AEW as being "like a dream" to him before revealing that he didn't hesitate to accept their offer when the bout was first proposed.
"I have bruises so he (Chris Jericho) broke my mouth and he kick very strong, my nose and I think that is a very important and fantastic night for me. AEW is like a dream to me, to my life. When I took a match against Chris Jericho, that was fantastic. Fantastic match, fantastic night, everything was amazing. I really, really enjoy. Yeah (I was contacted for it several days before). I was landing in Denver Sunday, the morning and they called me, 'Hey, you can come to AEW.' 'Okay, yeah, I wanna do it. That's perfect. See you on Wednesday' and it's oh, okay… Easy deal. Thank you very much. Thank you Mr. Tony (Khan)."

-Bandido
Bandido last competed for AEW on January 18th, as he fell short to Bryan Danielson during an episode of Dynamite. The luchador enmascarado has made a number of appearances across the independent scene since that date, although it has also been noted that he's had trouble with visa issues as of late.
The Wrestling Observer Newsletter previously reported that Bandido's AEW contract is a three year deal, and thus it appears unlikely that he'll be making the jump to WWE anytime soon.
As always, we'll aim to provide any updates on Bandido's status with AEW, as well as his interest in WWE, as soon as we hear more.
H/T to POST Wrestling for the transcription.