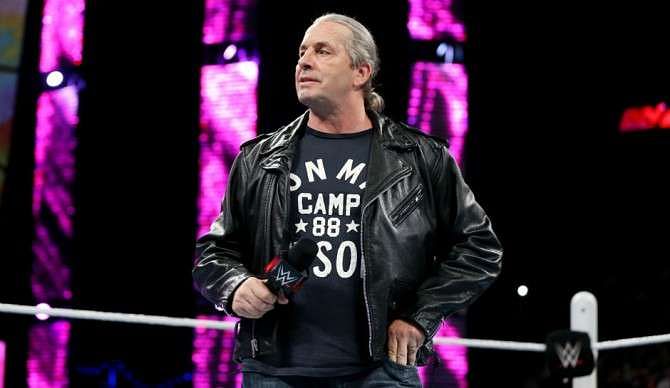 Bret Hart has been a hot topic amongst wrestling fans in recent months, with many speculating that the former WWE Champion may be AEW-bound.
Talents within AEW such as CM Punk, Dax Harwood, & Cash Wheeler have expressed their appreciation for The Hitman, and have highlighted the influence he has had on their respective career's and in-ring styles.
Hart recently spoke to Lucha Libre Online, where he admitted that'd he'd be happy to help in AEW & would enjoy being in that environment again, although he reaffirms that he is happy at home.
"I'd be happy to help a lot of them [talents in AEW] and I know a lot of them and I talk to them, a lot of them sometimes by text or on the phone and people call me up and I always got advice and I can always pinpoint little things that can make a difference in a guy's match or something he's doing but, you know, I'm a guy that likes being home, so they're gonna have to call me on the phone. It's not something I'm — I wish I could go [to] stuff more easily but I'm getting a lot older now and it's getting harder for me to keep flying around and doing stuff, so I gotta pick my days that I can do stuff and there's a lot of things I would love to be part of with AEW and what they're doing. I know they've got some great wrestlers there and I have a lot of respect for the organization and all that but, right now, I'm happy at home."

-Bret Hart
Hart also commented on the Wrestlemania 38 return of his former foe Stone Cold Steve Austin, with the Texas Rattlesnake competing in his first singles match in 19 years, defeating Kevin Owens.
Bret touched on how big of a moment it must've been for Austin, and claimed that it would've been nice for him to have a proper retirement match had the opportunity not been taken from him.
"I appreciate it a lot [today's wrestlers praising him]. I think, you know, a lot of wrestlers — even Steve Austin, you see Steve Austin wrestling at WrestleMania this year. It's like, how sweet that is, you know? Would have been nice if I could've wrestled in my — have a proper retirement. To get hurt in the ring and never really get a goodbye, never get the right send-off, it's always missing, it's always — and I think for me, it's always been a bit of a sore spot and makes me kind of mad, because some guys are flying all the way over to Saudi Arabia and making three million dollars in a match and the same guy is the guy that kicked me in the head. Never thought of thinking about me or what he cost me and my family and what he did to me and the kick that I got from Bill Goldberg was — it was a really dangerous kick to give somebody and I don't know if he ever showed any remorse or frankly, I don't think he gave a sh*t to be honest."

-Bret Hart
Elsewhere in the conversation, Hart was asked to comment on who he would've liked to have seen his brother Owen Hart wrestle if he was still with us. Hart selected Chris Jericho as a potential opponent that could've worked well with Owne due to their similar in-ring styles.
"You know, I would love to see Chris Jericho kind of wrestle my brother Owen. That would have been a good match. Chris is a, you know, very capable and really great wrestler in his own way and Owen was a great wrestler and they would've had some great — they both had some lucha libre stuff kind of going on and both high flying and I would've loved to have seen them work with each other. That would have been a good one."

-Bret Hart
AEW are currently presenting the Owen Hart Foundation Tournament, with the brackets for both the men's & women's tournaments now revealed following the completion of the qualifying rounds. Both brackets feature a mystery 'Joker' participant, and we look forward to seeing who each of the surprise competitors turn out to be.
H/T to POST Wrestling for the transcription.