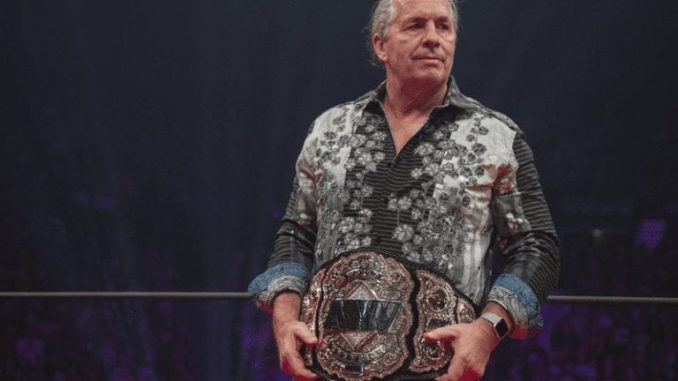 Bret Hart's illustrious in-ring career, as we knew it, ended in the tail end of 1999 when he was kicked in the head by Goldberg at WCW's Starrcade. Although we would see Hart wrestle a few matches in early 2000 and in a return to WWE in 2010, the kick to the head brought about concussion issues that would limit what he could do.
Part of the disappointment for Hart has always been the dream matches that were left on the table that he wishes the fans could have seen. Hart spoke at a K&S WrestleFest signing where he listed some opponents he would have wanted to share the ring with (while not forgetting to take one of his signature shots at Goldberg).
"Kurt Angle would have been one of my primary guys. He always wanted to work with me and I wish I could've worked with him. I would have loved to work with Brock Lesnar just because I always heard he was a good pro in the ring. The opposite of Goldberg."

Bret Hart
Bret continued, naming Rey Mysterio as another competitor he wishes he could have shared the ring with.
"A guy I really wish I could have worked with would have been Rey Mysterio. Rey was really as special or unique as Andre The Giant was, in a different way. There is only one great masked wrestler in the history of wrestling, that was really great, and that's Rey Mysterio. Rey has always been one of the best. When I think of great wrestlers, I always overlook Rey but he's one of the greatest of all time. I've always respected him and wish I could have worked with him."

Bret Hart
Currently, Rey Mysterio and Brock Lesnar can both be seen on WWE programming with Mysterio penciled in to face Gunther for the Intercontinental Championship somewhere down the line and Lesnar set to take on Bobby Lashley at WWE Crown Jewel.
Bret Hart is set to once again manage FTR at Big Time Wrestling this Saturday, October 22.
H/T to Fightful for the transcriptions.