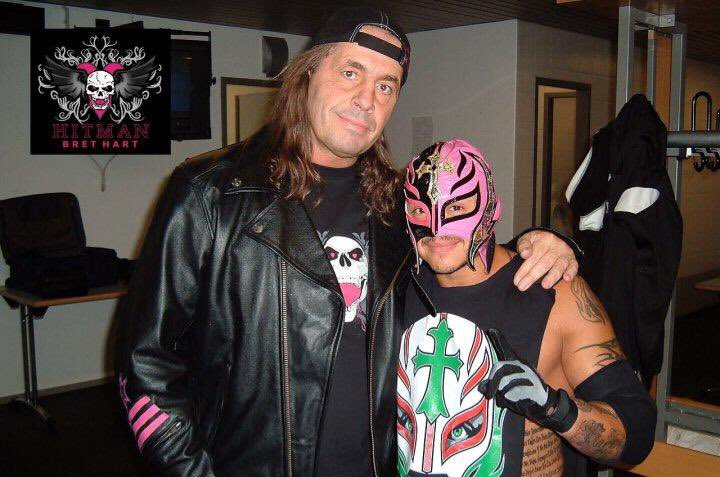 Bret 'The Hitman' Hart is seemingly a big fan of fellow WWE Hall of Famer Rey Mysterio.
On March 31st, earlier this year, WWE inducted the 2023 Hall of Fame class, featuring The Great Muta, Stacy Keibler, Andy Kaufman, and Warrior Award winner Tim White, with the headliner being former WWE Champion and lucha-libre legend Rey Mysterio.
Fellow WWE Hall of Famer Bret Hart was recently interviewed on the Johnny I Pro Show, where the 65-year-old was asked to list some of his dream matches. Hart listed several names, closing out by naming Rey Mysterio as someone he believes to be in the conversation among the greatest professional wrestlers of all-time.
"There's so many. If I could go in the past, I would go, I would love to wrestle Sweet Daddy Siki just because he was my hero or Abdullah. I think I did work with Abdullah, so I had that memory. But of today's wrestlers, I would love to wrestle Brock Lesnar. I would love to wrestle Roman Reigns. I would love to put John Cena in the sharpshooter. I just know that when I was the, you know, the American bashing Canadians. John Cena would have been the perfect American. We could have danced for a long time, and we could have done some great stuff, and I wish I could have done that with someone like John Cena. CM Punk, and Daniel Bryan are also two of my favorites. I'll say this like one of the greatest, maybe the greatest wrestlers of all time that people don't often forget about or don't recognize. Rey Mysterio is maybe one of the greatest. I wish I could have had one match with Rey Mysterio just to be in the ring with him. He's one of my favorites and is always a class act. Very few wrestlers have the respect that I have for Rey Mysterio."

-Bret Hart
Elsewhere during the interview, 'The Hitman' discussed his decision to become a pro-wrestler, his favourite wrestlers growing up as a fan, and his favourite match he had during his legendary career.
As for Mysterio, he currently finds himself competing on Friday Night SmackDown alongside his LWO stablemates Santos Escobar, Jaoquin Wilde, Cruz Del Toro, and Zelina Vega, with multi-award winning artist Bad Bunny also considered to be a part-time member of the group.
H/T to WrestlingNews.co for the transcription.