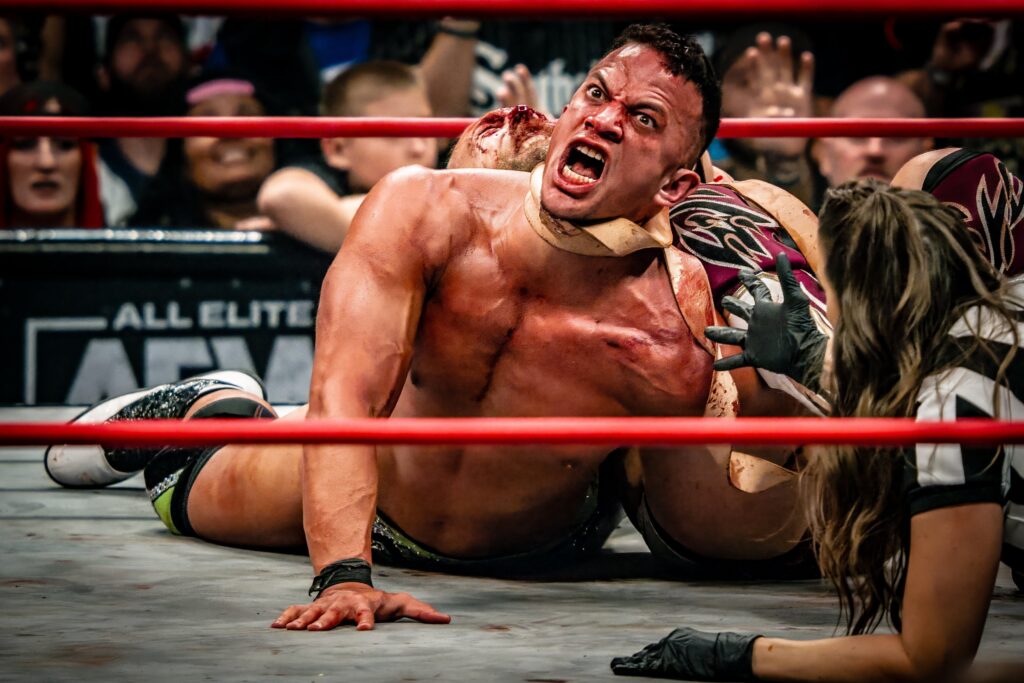 Since Collision's premiere, Ricky Starks has made considerable progress on his path to main event status. For much of the three years prior, he had hovered within the tier below, waiting his turn to cross the bridge that's seldom truly completed. He'd taken steps in that direction, even flirting with the promise land on occasion, yet never quite cementing himself at those heights. It's felt different on Saturday nights though, with Starks serving as a central foe for CM Punk.
That seemed set to secure a show-closing strap match for Starks, who was the obvious opponent for Punk's PPV return to Chicago. Clearly, that wasn't to be. Instead, CM Punk's AEW contract was terminated on the weekend of that very event. Left without a dance-partner, Starks addressed the situation with a live microphone, getting visibly emotional in response to this latest hurdle.
"Well, here we are again huh? I find myself back at square one. It seems that every time that I climb up the hill, I get dragged back down, but I always get better. It seems like every time they throw an obstacle in my way, I overcome that and I get better. I am so tired of having to start over, but I do it because I show up and show out and I deliver, every single time."
Those were Starks' first words on Collision, eventually returning to the matter at hand and challenging Ricky Steamboat, making as much sense of that pairing as he possibly could. That set up the contract switch that followed, as Starks signed on to face 'The Dragon,' which brought out the returning Bryan Danielson. That segment was an admirable feat, as Starks expressed very real frustration before directing that passion towards the business that still needed to be done.
Wrestling is a fascinating beast in that regard, as there are often two stories at play. At core, it's still a story about Starks' comeuppance, paying the price for his heinous actions opposite Steamboat. Beyond that though, there is a broader tale that's apparent to much of the audience in attendance. This was supposed to be the biggest match of Starks' career, a chance to make up for what he missed out on at Wembley.
With Danielson, it still could be, but it was hard to do anything but sympathise with Starks' latest stumbling block. That segment encapsulated both those stories at once, contextualising them in a way that allowed for a feasible marriage. It also added a gravity to the emerging strap match, a jeopardy beyond the obvious violence ahead. Starks couldn't afford to miss here, he needed a hit, the biggest hit of his career thus far even.
Danielson's presence was a story in itself, returning to the ring after breaking his arm against Kazuchika Okada. For the first two months and change of 2023, Danielson was crafting yet another historic run, producing thrillers weekly before his Iron Man classic with MJF. Since then, he'd wrestled just twice prior to Sunday, brawling within Anarchy in the Arena before the aforementioned duel opposite Okada. With that in mind, this was quite the task, shaking off the rust in a strap match that simply had to deliver.
If there were any doubts though, they quickly dissipated. As Danielson entered to The Final Countdown, it was clear that something special awaited. Unlike his dream match opposite Okada, those lofty expectations weren't really the story in Chicago. There was a novelty to this, a charm earned by its unusual circumstances. This had all come together so swiftly that while it absolutely had to hit, those in attendance were simply thrilled by the matchup's mere existence.
Bryan Danielson was back and in terms of atmosphere, that was enough, positioning this to succeed before the bell even rang. That's an advantage of this scenario, though it's certainly not one that either man relied upon. Instead, there is immediate physicality, with Starks jumping Danielson in order to set the tone. Before they are even hooked to one another, Danielson is bleeding, with Starks going through the gears in response. There's an edge to him here, an intensity befitting the occasion.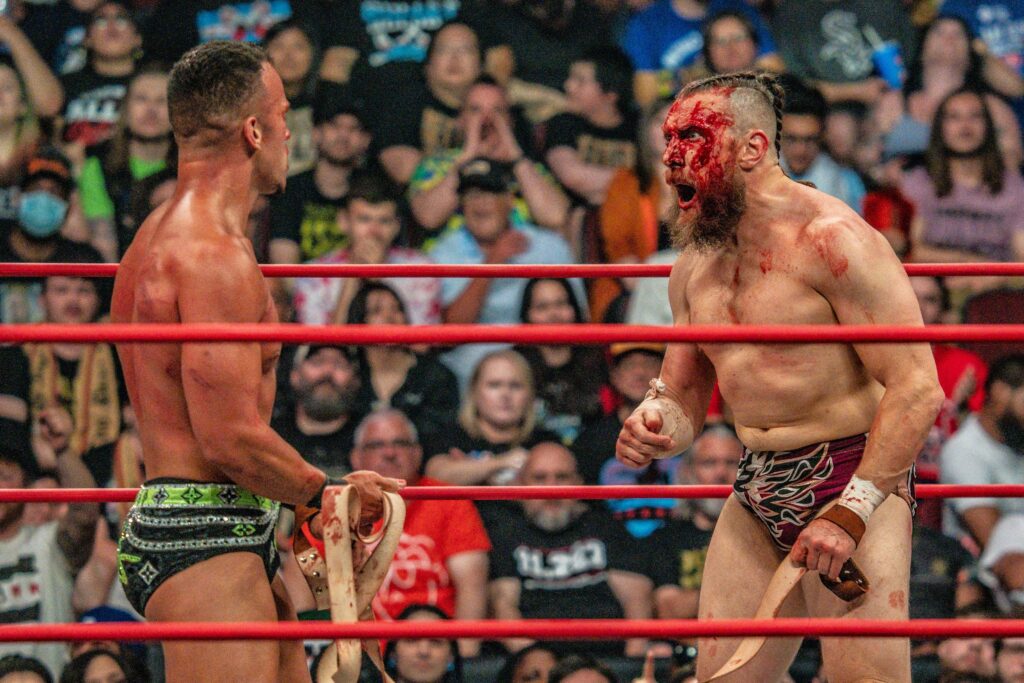 Starks' usual urgency is instantly on display, this time arriving with a palpable spite. He very much remains 'Absolute' too, sprinkling in some showmanship and steering the ship with a virtually perfect poise. Starks manages a seamless balance in that regard, keeping the people engaged with his personality, yet never even slightly sacrificing the potential violence. It doesn't take long to become quite gruesome, with a dominant opening act leaving Danielson desperate.
Danielson gives Starks so much room in that first act, but swiftly makes up the difference as the tide turns. That quickly transforms the match, as Danielson rallies with thunderous whacks to Starks' spine, drawing gasps he makes his first strides towards revenge. It's a superb transition, with Danielson waiting a mere moment before firing, only making the inevitable more apparent. Danielson is so at home in this kind of brutality, which is perhaps his defining trait in terms of legacy.
One of the industry's greatest ever technicians, Danielson's knack for a pro wrestling horror scene is almost unfair to his historic rivals. That range is central to his all-time standing, an almost frightening glee for the bloodbath. No matter how far he goes, Danielson never loses his role as the match's protagonist either, with each swing of the strap feeling like overdue retaliation. That's a credit to Starks beforehand, both in this match's opening act as well as the prior weeks on television.
He eventually finds an answer, producing a double down as they reach their final act. In terms of structure, it really is that simple. Starks takes the first, Danielson takes the second and with blood covering both their faces, they then reach a shootout to close the show. It's a fittingly simple approach, which captures much of this match's identity. This is stripped to its raw ingredients, an instinctual affair that embraces its task of working from zero, operating without any fear of those new and existing expectations.
In that sense, this is far more about feel and tone than it is concept or theme. The latter is already covered by the strap stipulation, they don't overcomplicate things beyond that. For much of its runtime, that weapon shapes things, brutalising one another in barbaric fashion. Outside of some brief expansiveness late, they only go beyond that core brawl once, using Big Bill's interference for a wonderful Steamboat set piece. The expansiveness follows, producing a near fall each and earning an extraordinary ovation along the way.
Their actual finish is one that'll live long in the memory, with Danielson and Starks producing their horror movie variant of WrestleMania 13. It's a haunting visual to conclude a special match, one that warrants respect within AEW's substantial match catalogue. This felt like a unique addition to those ranks too, especially with its runtime. At not even seventeen minutes bell to bell, it's not exactly a sprint, but it does feel restrained in its approach, though the work itself is anything but.
The content here is quite extreme, quite often making for a frankly cruel watch. That content is the story though, as they embraced this stipulation rather than stretching it thin by attempting to escape its limitations. Instead, they maximised its potential, accepting the physicality that such an approach would require. This is a strap match that seeks no evasion or delay, willingly walking into the fire and producing an instant classic that lives and dies on its harsh, wicked work.
That took guts. The kind of guts that empowered Starks to overcome and get better, the kind of guts that allowed Danielson to overdeliver after a serious injury and months away. Ideally, this is the night that in history, we look back on as the showing that got Starks across that figurative bridge. His performance here is that good, showing greatness to a degree that could feasibly change his life. This version of Ricky Starks isn't flirting with main event status, he's comfortably living at that level.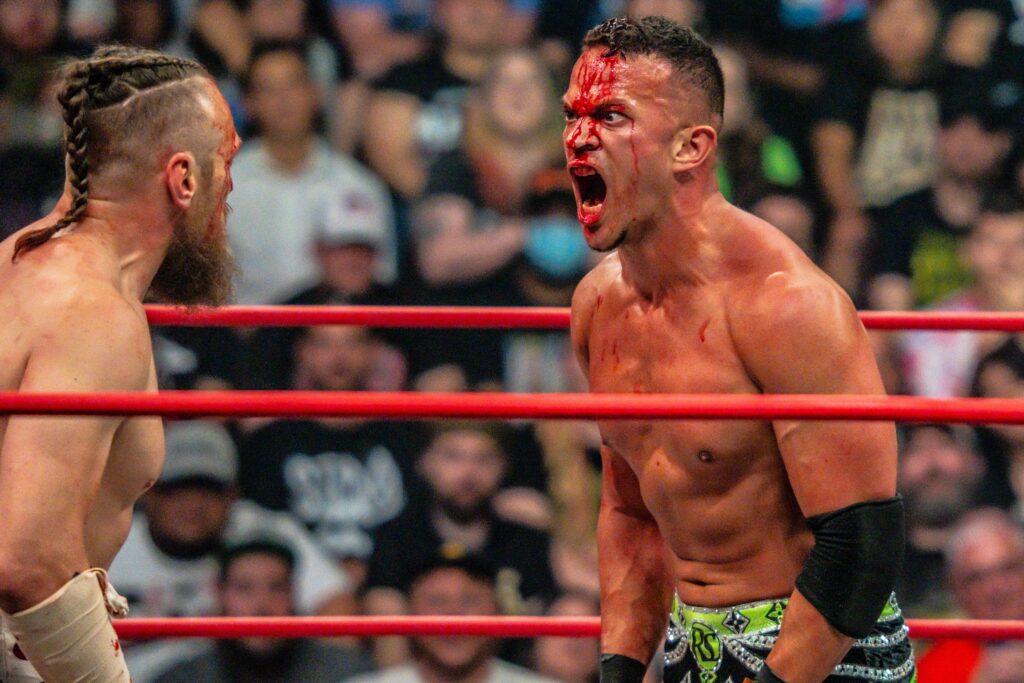 As for Bryan Danielson, it's just another classic. I can't imagine that we are too far away from returning to the reality that we lived in a few years ago, a reality in which Danielson is no longer an active wrestler. Now more than ever, I fear that reality, as the day that wrestling is once again without Danielson will be a terribly sad one. For now though, we still have our 'American Dragon,' a wrestler who increasingly cements himself as the greatest that I've personally ever seen.
Clearly, these are two wrestlers who are at very different points of their respective careers. At All Out though, they were equally at home in this pro wrestling massacre, an instinctual and emotional modern classic.
Thanks to the remarkable JJ Williams (@JJWilliamsWON) for his always fabulous photos.