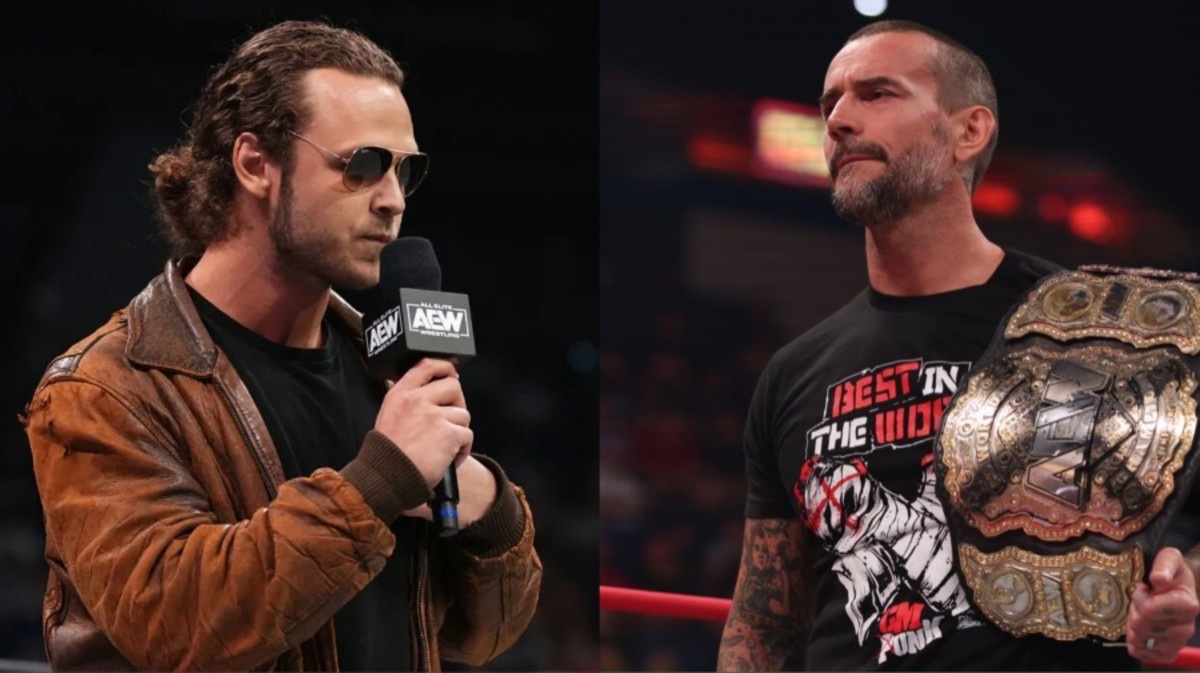 On August 27, At AEW's All In show at Wembley Stadium, London England, CM Punk & Jack Perry were involved in a physical altercation just before the PPV was about to start.
The show itself was one of the high points in AEW's history, with over 81k paying fans in the building, it was announced as the highest paid attendance ever for a professional wrestling show. However, the news of CM Punk & Jack Perry's altercation has been all over the headlines in days since.
To give some background of what lead up to this altercation. A few weeks ago, there were reports of a disagreement between CM Punk and Jack Perry at a prior AEW Collision. Essentially, the conflict arose when Perry was set to film a pre-taped segment where he was pushing for the use of real glass. This reportedly prompted others trying to talk him out of it, resulting in CM Punk stepping in to 'have words' with Perry, and, when word spread around the locker room, the situation was described as an argument. It was also believed that CM Punk felt that Jack Perry wanted to use real glass, so he could possibly get cut and miss the next week's TV.
According to reports, Jack Perry was unhappy with how this news got around and how it was relayed by people on CM Punk's side. It was also being said that he told people that he planned on taking a verbal shot at CM Punk during his pre-show match at Wembley Stadium.
This led to last Sunday's AEW All In show at Wembley Stadium, where Jack Perry took on HOOK for the FTW Championship on the Zero Hour. A limousine was set up on the stage, leading to a spot which would see Perry slammed into the windscreen by his opponent. Though, before this, Perry knocked on the windshield of the car, leaned into the camera and shouted 'real glass, cry me a river', in direct reference to the reported argument between himself and CM Punk.
Not long after the match, it had been said that multiple AEW staff had been seen sprinting to the back, seemingly indicating something may have happened backstage. Shortly after Sean Ross Sapp tweeted that a confrontation had taken place in the immediate aftermath of the FTW Title match between CM Punk & Jack Perry.
According to different reports, people on CM Punk's side have described the situation as Jack Perry approaching the Punk backstage, getting in his face, pushing and shoving occurred, then CM Punk got Perry in a chokehold. With it even being described it as Perry 'came at Punk and got choked', per Fightful Select. it was noted by Nick Hausman that Punk's 'chokehold' on Perry was simply a way of neutralising the situation.
In terms of other points of view that have been reported, it had been said that CM Punk stepped to Jack Perry first after his match and asked if they had a problem. Punk got physical, ranging from a pieface, to a push, then getting Perry into some form of headlock or choke. Some accounts claimed CM Punk threw punches, which CM Punk's side reportedly have repeatedly denied.
As a result of the altercation, it was quickly reported that Jack Perry was asked to leave the stadium. CM Punk's showdown with Samoa Joe opened the PPV as planned, but, it was indicated by PWTorch that CM 'confronted' Tony Khan in a 'heated' and 'intense' manner prior to going out for his match.
It's said that CM Punk went as far as to tell people that he 'hates this place' due to the issues that have occurred during his time in AEW. In the aftermath, it had been reported that there was an extended period of time in which there was no communication between CM Punk and Tony Khan, something which is unlike other previous incidents involving CM Punk.
The situation was addressed by Tony Khan in the post-show media scrum, where he acknowledged that there will be an investigation into what happened. It was later revealed that both CM Punk and Jack Perry had received suspensions off the back of their altercation at AEW All In, though, this is reportedly something which Punk found out about via his lawyer rather than directly from AEW.
As of writing, both men are still serving their suspensions and seem likely to miss AEW's All In PPV in Chicago this weekend (Sept 3). A huge blow to the Chicago card as CM Punk is very much the hometown star in Chicago.
As always, we'll aim to provide any updates on the confrontation between CM Punk and Jack Perry, as well as their subsequent suspensions as we hear more.