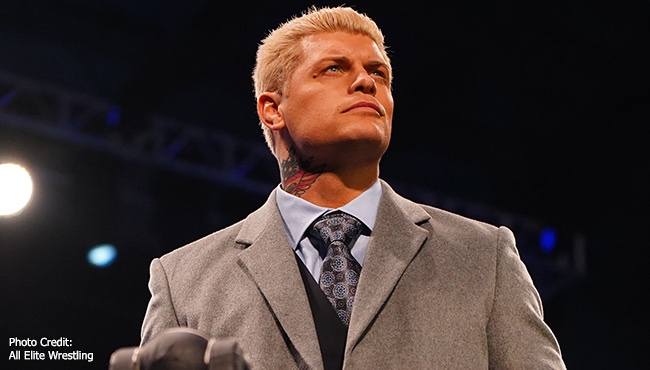 Cody Rhodes is still a free agent as it stands.
Cody Rhodes became a free agent earlier this year when his AEW contract had ran out and couldn't come to a deal about an extension.
Ever since then, many fans have wondered about what his next move will be and there have been many reports attempting to update fans with the situation as it happens. Indeed there has been a lot of talk.
Some fans have wondered why they are still yet to see Cody Rhodes debut in WWE, hoping it still can happen before, or at Wrestlemania
Whilst talking on Wrestling Observer Radio, Dave Meltzer says that Cody could simply just be taking time off, or he could be debuting soon
"Im in contact with Cody a little bit, he's not telling me anything, but you know, he could just be taking time off. Or he's gonna be on RAW Monday and be in Wrestlemania in two weeks and wrestle Seth Rollins"

– Dave Meltzer
Meltzer also said during the show that Cody could also end up back in AEW and that he believes this is a financial thing.
"Its always possible he could end up with AEW. I don't think he's going to right away, but you know, I just think that it was a financial thing and it makes sense WWE would offer a lot of money for him."

– Dave Meltzer
It seems that Monday's upcoming RAW in Jacksonville has always been a show that many fans circled when Cody first left AEW. Jacksonville being the "home" of AEW would make a very interesting spot for Rhodes to make his WWE return. Meltzer believes that if we do not see him this coming Monday, we wont see him in WWE before Mania:
"From a WWE standpoint, it was like is it just, he hasn't decided what he wants to do and he's just gonna take time off or is it this big elaborate game? Did they close the deal in the last couple days? And they very well, I know they wanted to do. I don't know it they have, I dont know if we know by Monday.

If he's on the show Monday, you already know. If he's not on the show Monday and they dont do anything with Seth (Rollins) whatsoever, that means they're still talking and hopefully doing something.

And if they start Seth Rollins on a new feud with somebody different, that tells you that Cody is not at Wrestlemania, or they're playing hardball back with him"

– Dave Meltzer
If you use any of the quotes above, please credit the original source with a h/t and link back to WrestlePurists.com for the transcription.