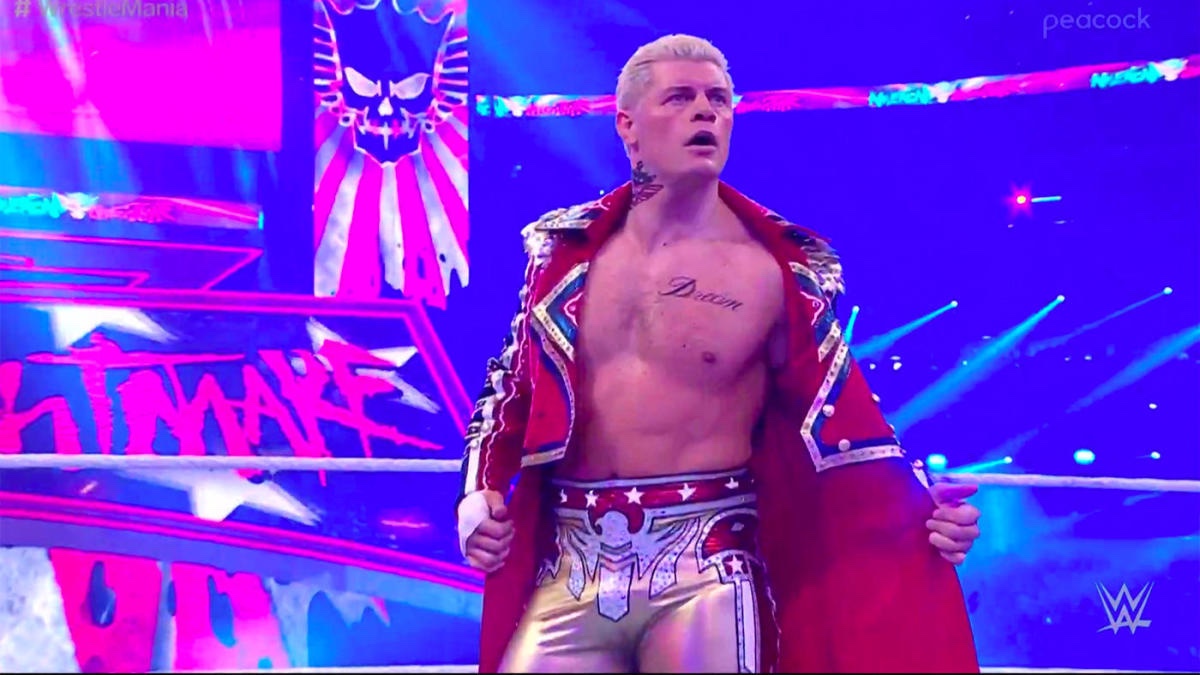 Cody Rhodes finally made his heavily anticipated return last night at Wrestlemania Night 1.
Cody was the surprise opponent for Seth Rollins. The two men would have a great match, with Cody Rhodes getting the victory.
After the show, Cody Rhodes spoke with The Ringer to discuss a number of thing, such as how it felt for him to come back to WWE after doing so much and after so long and also getting the reaction that he did
"I feel so vindicated, so vindicated. To go from just nowhere on the card, no desire to have me in, no priority, and thats not a knock on anybody, and to go out there in the freakin wilderness and try everything i could to make some noise and change our business and pro wrestling and sports entrainment, whatever the f you want to call it.

Ahhh i fell like they appreciated it and I appreciated them

– Cody Rhodes
Cody Rhodes would of course also talk a bit about his reasons for leaving AEW and making the jump back to WWE, noting that it was the "easiest decision" he's ever made.
I dont think it was a matter of confidence as much as I am so proud of AEW, God I'm so proud of Matt, Nick, Kenny, and I really want to see Tony move forward, no bad blood in the best of ways, all the respect in the world, but the decision to come here, was the easiest decision I've ever made, it was just time. That show was doing well, wrestlers are getting paid that werent getting paid, and I had a small part in making that happen, maybe kinda a big part depending on who you ask, but im so proud of it. But its one of those things. How much are you going to do for everybody else until you say you know what? I want one for me" and that felt like tonight

– Cody Rhodes
Cody Rhodes being part of the legendary Rhodes family, being a son of the all time great, Dusty Rhodes is always going to be a talking point when discussing his legacy and career. Rhodes would talk about how it would feel to carry the family name, and how he now feels like he can do it.
"Long story short, the reason I got into this whole thing was to be like your Dad. That specter is so heavy, I veered away from it. To be able to do one jab, and they (fans) knew (it was a Dusty Rhodes tribute), ahhhh."

"I hate when people are like "oh he'd (Dusty) be proud of you". I know they mean well, but he's not here, and I wish he was here to see it."

"I feel such a responsibility to carry the name, and the whole thing finally felt like, 'you know what? I can do it.' I am no longer going to be the Ugly Duckling of the family. I can do it, I can carry the Rhodes name, I can carry it in Texas, on a show featuring Charlotte, Steve Austin, freakin' Undertaker, and I felt good about it."

– Cody Rhodes
Rhodes whilst in AEW, especially in the early days of the company was definitely one of the loudest people in that company when it came to taking shots at WWE. Whether that be verbally on the mic during a promo, or smashing a Triple H throne during his entrance. This lead to many people being somewhat surprised that WWE were so willing to welcome him back with open arms.
Rhodes would talk about meeting with Vince McMahon, Bruce Prichard & Nick Khan. Saying that he remembers telling them that he has to be the original American Nightmare & getting their reaction, also giving his impression of Nick Khan:
"I talked all the smack on earth, but none of it mattered. It was just hey, 'you went out and did it'

And I remember saying "I have to be me", it has to be Kingdom (entrance music), it has to the American Nightmare. And to hear Vince say "well its not broke, that's what we're buying"

again, just vindication. It felt good."

"Everyone has these opinions on Nick Khan, that guy was the nicest guy Ive ever met in my life. And Bruce to come in and have the chairman himself. And just, God, that courtship felt so good."

– Cody Rhodes
He also went on to talk about how Triple H is his favourite wrestler and that Triple H was in fact the last person he saw before he went through the curtain to face Rollins at WrestleMania:
"Triple H is my favourite wrestler ever, even though I destroyed his throne and bad-mouthed him to the end of the earth, he was the last person I saw before I went out there and if he never knew he was my favourite wrestler, now I have to tell him"

– Cody Rhodes
The American Nightmare was also asked about his contract with WWE, although he didn't elaborate too much, he did confirm that it is a multi year deal, Cody was asked if he was "all in"
"Yeah, that's great way to put it is all in. Maybe the most complex document or contract ever drawn up in the history of our game, but full commitment, multi year commitment"

– Cody Rhodes
Cody would talk briefly too about his last promo in AEW, mentioning how it looks different now in hindsight:
"That interview looks a lot different now, I think everyone knew, respectfully that something was wrong. I wasn't mad at anybody. I was so happy we set the table. Then (CM) Punk came, Bryan (Danielson) came, (Adam) Cole came.

Great. Great I can do my thing now"

– Cody Rhodes
In the past, there has been occasions when WWE superstars have taken shots at other promotions, usually calling then stuff like "minor leagues", mentioning bingo halls etc etc etc. Rhodes definitely doesn't want any of that going on with him:
I hope no ones lazy enough here, which no one is, to make AEW jokes or bingo hall references and any of that, because its nothing against them, it was just time for me to move on

– Cody Rhodes
Towards the end of the interviews, Cody Rhodes would talk about wanting fans to not have the wrong perception of him, wanting them to know something's "real" and the only way that he'll be able to do that, is talk:
"If people begrudge me and they say anything like "sold out", I want them to know what that really means and why that doesn't bother me at all."

"I don't mind if people boo me or cheer me, whatever but I want them to know whats real. I hate the idea that they have something built up about me thats not. And the only time you get to do that is when you talk."

– Cody Rhodes
However, even though Cody wasn't to talk to set the record straight, he also mentioned that sometimes his promos can make him sound like a lunatic (lol)
I have some up and down interviews. Sometimes theyre out of the park homeruns and other times they're just "this guys a lunatic"

– Cody Rhodes
Cody Rhodes back in WWE truly is a wildly fascinating story. It will be very interesting to see what he has to say when given a mic in the middle of a RAW ring on Monday.
If you use any of the quotes above, please credit the original source with a h/t and link back to WrestlePurists.com for the transcription.