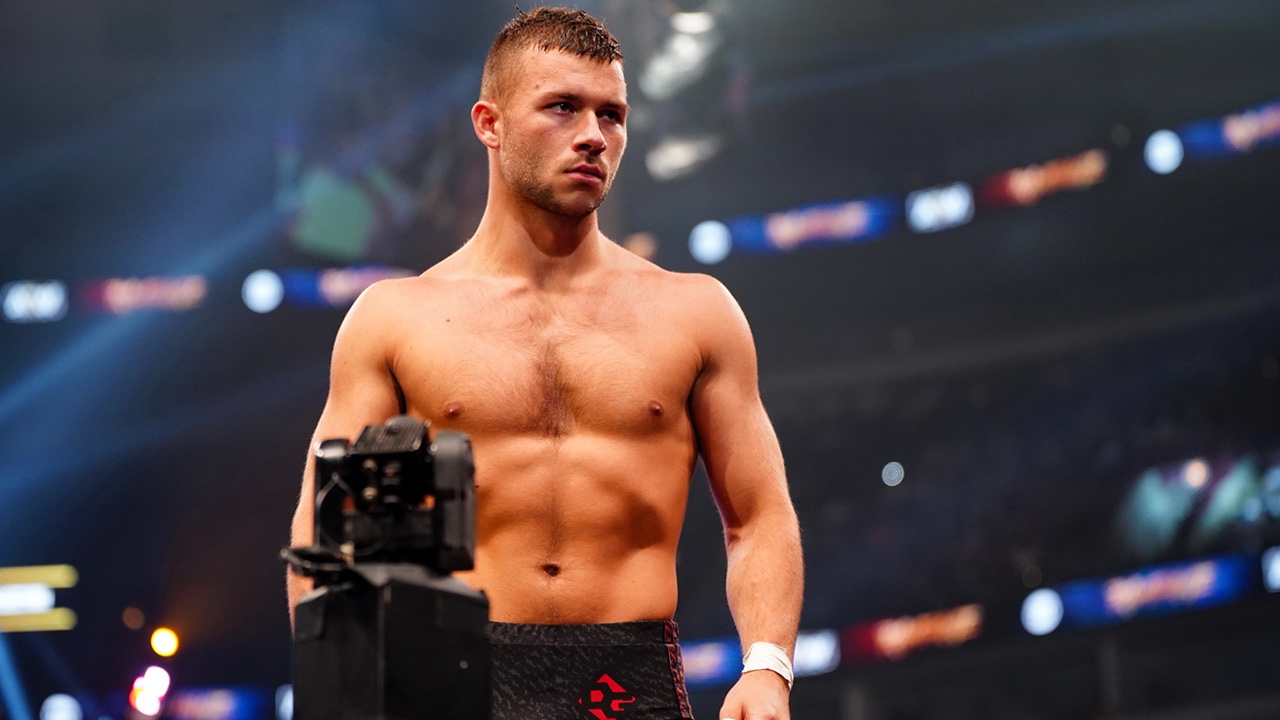 Daniel Garcia has revealed that his AEW contract is up next year.
On November 8's edition of Dynamite, Daniel Garcia challenged MJF for AEW World Championship. In terms of his career, it was certainly the most high-profile match that Garcia has had in AEW to date, and came at a time at which a portion of fans had grown frustrated with the lack of screen time he had been given over the last few months.
In an interview given prior to his recent title match, Garcia spoke on The Walkway to Fight Club with Steven Muehlhausen where he discussed what being world champion would mean to him. Interestingly, the 25-year-old revealed that his current contract would be up for renewal next year, so he's trying to put himself in the best possible position for securing a deal when the time comes.
"I mean, the champion is the person who gets to put the company on their back. They're the one who's on every poster, every pay-per-view, every TV show, they make the most money. It would mean a lot for me. This is a contract year for me. So I'm doing everything I can to solidify my next deal, where I end up. So I feel like winning the title, it would be the biggest deal in the world for the place that I'm at right now. It would be amazing,"

-Daniel Garcia
Garcia would then go on to make reference to how he hasn't been on many AEW pay-per-views in the past, but made it clear that he's ready to put the company on his back and lead it into the future.
"I haven't been on a strictly only AEW pay-per-view since Double or Nothing 2022. That's the only strictly AEW pay-per-view I've been on. That's the only one I've ever wrestled on. I've been on Forbidden Door, I've been on some of the Ring of Honor [events], but that's the only AEW pay-per-view I've ever wrestled on. Like I said, opportunities are hard to come by. I get frustrated and I get mad in a good, motivated way, where I see these pay-per-views pass by. I'm just sitting there, not on them. When I see the intros to the TV show and I'm not on them, when I see the faces on the truck and I'm not on them. So I feel like winning the title, it's gonna force the hand. They're gonna have no choice but to put me on every pay-per-view and on the trucks and on every merch, and on everything. I want Daniel Garcia's beautiful, gorgeous, Hispanic face to be on every AEW-related thing possible. I want to be on Dynamite, Rampage, Collision, Ring of Honor every single week. That's my aspirations. I'm not somebody that wants to win the title just to say, 'Look, I have this metal object that I can flaunt around and bring through TSA. I want to be the person to carry AEW into the future, and I want to be the person to put it on my back and lead AEW in the right direction,"

-Daniel Garcia
It seems as if we can add Daniel Garcia's name to the list of wrestlers whose contracts are worth keeping an eye on in 2024. Taking WWE into account too, we know that Drew McIntyre, Sheamus and Becky Lynch also have deals that expire in the next 12 months, suggesting that there could potentially be a lot of movement amongst talent in the year ahead.
As always, we'll aim to provide any further updates on Daniel Garcia and his contract situation as we hear more.