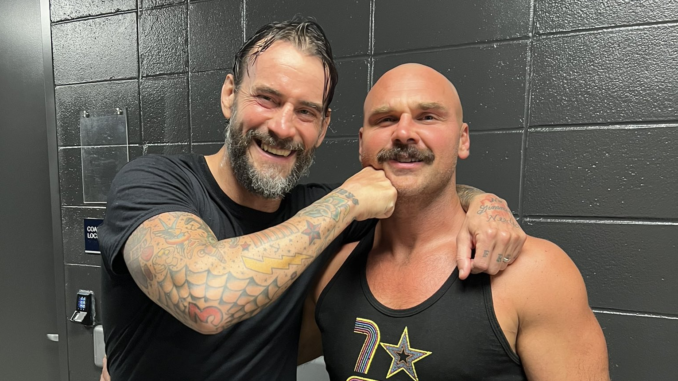 On September 4th, CM Punk finally recaptured the AEW World Championship from Jon Moxley in his hometown of Chicago, Illinois, in the main event of the annual All Out PPV. Unfortunately, however, it would be Punk's post-show press conference antics that grabbed headlines that evening, as he called out the likes of AEW EVPs The Elite, Hangman Adam Page, and Colt Cabana, leading to a brawl breaking out between himself, Ace Steel, and The Elite that has since come to be known as the 'Brawl Out' incident.
In the build-up to Punk's clash with Hangman Adam Page at AEW Double or Nothing, the former Elite member delivered a fiery promo directed towards the Chicago native, with Punk taking exception to one line in what is believed to have caused the backstage heat between the pair.
Speaking on the first episode of his FTR podcast (set to premiere on December 29th), Dax Harwood, who aligned himself with the former AEW World Champion as CMFTR, revealed the conversation he had with Punk following the segment.
"After the promo segment, I went to Punk and I said, 'that was really good, that was a great segment.' They got the fans to react. It's hard sometimes to get the fans to react to a babyface-babyface match. I thought it was a great segment. He was like, 'Ahhh, I'm kind of feeling a certain way about it.' I had no inkling that anything went wrong or went sideways or anything like that,"

-Dax Harwood
Co-host Matt Koon then asked Harwood whether Adam Page seemed like the type to take that kind of shot in a promo, prompting Dax to respond by stating that whilst they don't talk much, that isn't the impression he has of Page.
"To be honest, I don't really know Adam Page very well, we worked together once on the North Carolina Indies. I don't know him very well, but I don't think so and I didn't think so. I didn't have that notion of him. He's a family man, he loves his wife, he just had a newborn, he's always pleasant and polite to me. We always talked and get along. Even after the disagreements we've had with the Young Bucks, he and I have always talked and got along great."

-Dax Harwood
Hangman and Punk would eventually go on to work their match at AEW Double or Nothing, with Punk walking away with the AEW World Championship, however at the aforementioned All Out press conference in September, Punk stated that Hangman threatened the first-ever million-dollar gate in AEW, referencing their bout and his earlier comments.
Punk unfortunately was forced to vacate his newly-won World Championship due to a foot injury shortly after Double or Nothing, with Jon Moxley eventually crowned as the interim title holder. Moxley would defeat Punk upon his return to become the official title holder once again, setting up a rematch between the pair at All Out, a show now infamous for its aftermath.
When asked if he got the feeling that Punk started to become bitter towards AEW as All Out was approaching, Harwood replied stating that he didn't get that impression at all, and instead believes that Punk was still full of passion for pro-wrestling at that point.
"No, not at all. Punk was still so joyous and happy to be in the wrestling business. To be honest, he told me, when they were going to put the belt on him, that he didn't want the belt. He said, 'I just want to have fun,' but he understood that Tony putting the belt on him would put AEW in a better light. He took it, begrudgingly a little bit, but he took the belt. At the time, he was taking me, Cash, Max [MJF], Wardlow, Hobbs, I'm missing so many guys, he was taking us out to eat, always paying for it. He bought all the girls in the locker room Starbucks gift cards and had one of the girls hand them out, anonymously, and didn't say who they were from, but it was from him, just because he loved the atmosphere and loved being there. He also loved the work the girls were putting in. He thought they were busting their ass to try and get the attention that WWE's women's division was getting."

-Dax Harwood
FTR also competed at the All Out event, teaming with Wardlow to defeat Jay Lethal and the Motor City Machine Guns, although numerous reports have since confirmed that the duo had left the Chicago Centre by the time the press conference had begun.
Shedding further light on the events that transpired that day, Dax shared that he spoke to Punk shortly after everything went down.
"All the boys in the locker room were drinking and having a good time, and we were hugging, I have picture of me and Jay Lethal on the ground together just laughing our ass off. I had my wife and daughter there, Cash had his girlfriend. It was such a great time. After our match was over, I shower up, we had a couple of drinks with the guys real quick, grab my girls, and head back to the hotel. I was laying in bed and I got a text from one of the wrestlers that said, 'is this shit true?' I had no idea what he was talking about. Right after that, I got a call from my buddy CM Punk and he told me what happened. I said, 'You're lying to me dude. There is no way that happened.' He was covered in blood from the match. He FaceTimed me, it was that night. He said, 'I want to let you know, you're going to hear some things. I want you to hear it from me. This is what happened.' I said, 'Dude, are you okay? Do you need anything? I'll come right now to help you out, get you cleaned.' 'No, no, everything is fine, it's died down, we're good.' That's when I first heard about it,"

-Dax Harwood
According to a multitude of sources, the incident involved CM Punk throwing punches, a chair being thrown, and even Ace Steel allegedly biting Kenny Omega. One aspect of the story that is yet to be officially confirmed is the identity of who started the brawl itself, as each side has a different recollection of the events that day.
Regarding what he believes to be the true story, Dax highlighted once again that he wasn't present for the brawl itself, although he does believe that certain aspects of the reported story are true, whilst other aspects are questionable based on his understanding of the situation.
"Obviously, I wasn't there. Who I perceive to be God is the only person who really knows the truth. Everyone is going to have their own version in their head. We've all done it before, we've made what we perceive to be the truth. What I've heard that is reported, there are elements of truth in it, but then there are also some things that raise a red flag to me. It seems like we're only getting a portion of the story or what this journalist wants to put out, whether he has a bias or grudge against one of the parties, that's just how I felt. I also knew that I didn't know the whole story. I also felt that the stories that I heard from a few people, I don't feel like they would blatantly lie to me. I do think there are bits of truth, but I also believe that some fans have read too much into it and I think they should let what happened, happen, and it die down. When it's all said and done, I can't tell you that I know 100% of the truth and I can't tell you that the journalist reporting is 100% of the truth. I know what I perceive to be the truth and from the things I've read and heard, there is partial truth and partial things that are a bit exaggerated."

-Dax Harwood
Though The Elite have now returned to television following the completion of their suspension, Punk is yet to make a comeback, with many sources reporting that he'd need to make "major amends" should he hope to return to AEW.
Harwood was asked as to whether he believes we'll see Punk in an AEW ring again, and whilst he was unable to answer due to the complicated aspects of the story, he hopes that a resolution where both The Elite and CM Punk coexist in the company can be found.
"I can tell you what I hope, because I don't know. Everyone knows about the legalities of the situation and no one is really expressing what is going to happen, what has happened, and what won't happen. I can tell you, all I can be truthful about, I can only tell you what I know and what I perceive to know, I hope that he comes back. I feel that AEW should have the Young Bucks in their locker room. AEW should have Kenny Omega in the locker room. I know that I feel AEW should have CM Punk in the locker room. With those four entities, it makes our talent roster so much deeper and better. It's four guys who want to be the best. Regardless of what any of us think personally, I know that we all want to be the best and I know we all want the best for professional wrestling. It's given us a life that we could never have otherwise."

-Dax Harwood
Closing, Harwood described how much the pro-wrestling industry has given to all four men and their families, further emphasising his hope for a return to the company for Punk that doesn't jeopardise The Elite's position with AEW at the same time.
"This is my plea to all four guys. Please find a way to make it work. If we can make it work, we can set up the future of professional wrestling for a long time and we can change the course of professional wrestling for a very long time. When you think about it, unselfishly, we're doing this for 20-30 years down the road so guys and girls can make a living."

-Dax Harwood
Thus far, AEW President Tony Khan has only answered the question of whether Punk will return to the company with a "no comment", and thus it appears unlikely that we'll be seeing him appear for the company any time soon.
FTR are set to defend their IWGP World Tag Team Championships against Bishamon (Hirooki Goto & Yoshi Hashi) at NJPW's upcoming Wrestle Kingdom 17 event in the Tokyo Dome on January 4th, 2023.
H/T to Fightful for the transcription.