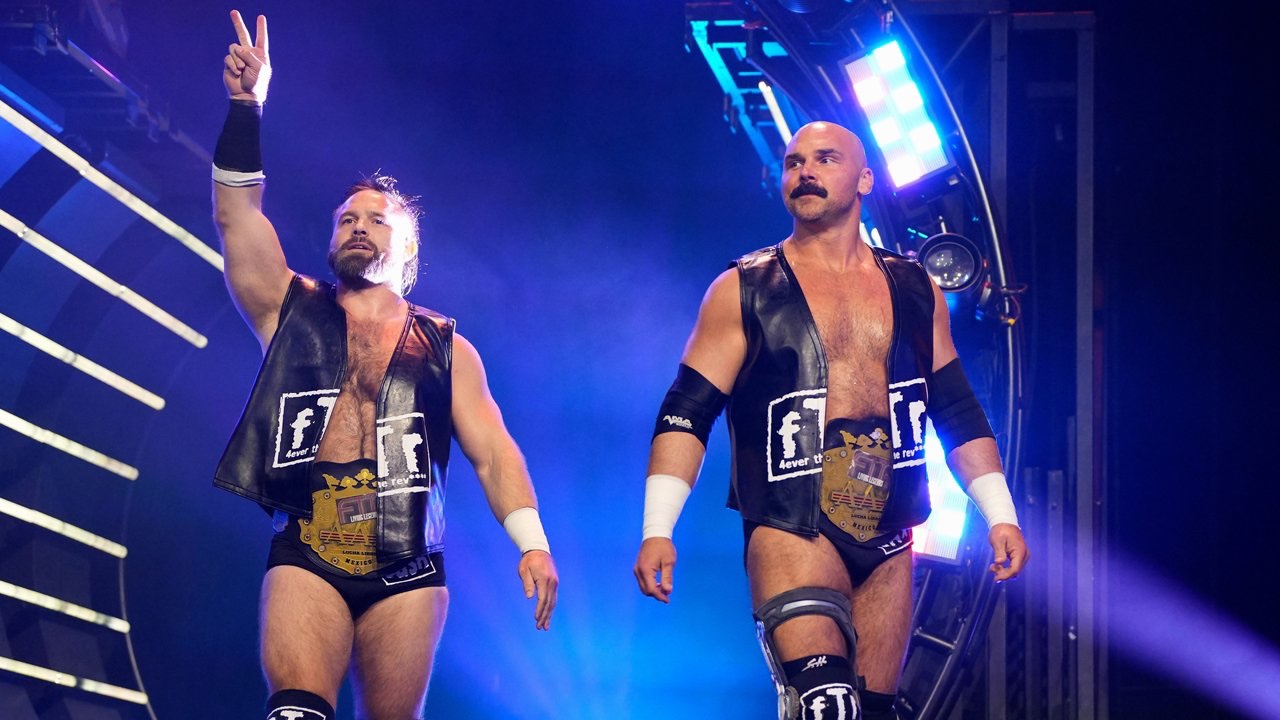 FTR, formerly known in WWE as The Revival were one of WWE's best tag teams. Particularly in NXT, they really stood out as a team you could rely on for a technical masterclass, having done so with several teams including American Alpha and DIY. They brought a more old school feel back and focused on battling against the more modern work rate style of the modern day, this lead to the catchphrase 'No Flips, Just Fists'.
However, as is the case with many of the NXT call ups, they never hit their full potential on the main roster. The tag team division in WWE can be quite stagnant at times and teams can get lost in the shuffle. Originally, The Revival asked for their release in January 2019 but weren't granted that freedom until fifteen months late on April 10, 2020.
It didn't take long for The Revival, now FTR, to make their debut in All Elite Wrestling which happened on May 27, 2020. Dax Harwood and Cash Wheeler are now the current joint AAA and Ring Of Honor Tag Team Champions and have had multiple classics whilst being "All Elite". Though, the rumour mill has started to turn on potential interest from WWE in bringing back FTR. While appearing on the Wrestling Perspective Podcast, Dax Harwood addressed these reports.
"We didn't need any damage control, I think both companies are in the business of getting talent and getting talented talent, not just any talent, and I think they've seen the wave we've made, especially in the last 8-10 months, more so in the last 4 months. So yeah, why wouldn't they put feelers out? Why wouldn't they ask about it?"

-Dax Harwood.
"Here's the thing; we respect Tony so much. We would never, in a million years, while we're under a contract with the company, would we ever go behind his back and talk contract status with anybody else. No other company. We would never do that to him because we have too much respect for what he's given us and what he's allowed us to do."

-Dax Harwood.
Though Dax Harwood in fact does comment on what could happen after the team's current deals with All Elite Wrestling expire, suggesting that money is not a driving factor and their legacy as performers would be more important.
"Now on the flip side of that, we're gonna go where professional wrestling takes us, and wherever the best opportunity is for us and wherever we can build on our legacy," Harwood said. "That's the most important thing. Obviously, money is really, really cool. I'm allowed to take care of my wife and daughter.

But whenever we initially got the contract offer from WWE, I called my grandmother and I told her how much it was, and I told her, 'I think I'm going to turn it down.' And her exact words were 'David, how much money do you need?' I was like 'oh my god, she's right.' My dad and my mom busted their ass to take care of me. If they can do it, I can do the same thing and I don't have to do this. I do it because I love it. So we're going to go wherever the love of wrestling takes us."

– Dax Harwood
FTR are undoubtedly one of the best tag teams in the world, if not the very best. They're focused on the wrestling side of things and suggest that the opportunities in ring are the most important thing to them for the rest of their careers.
H/T to WrestlingInc for providing the transcription