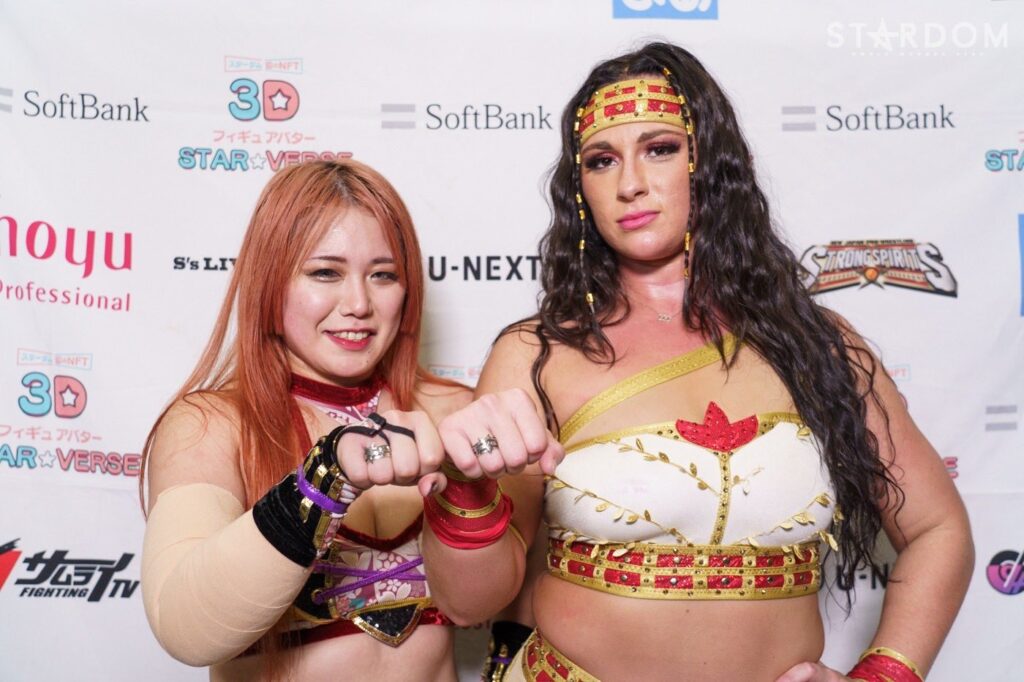 STARDOM
The 13th Goddess Of Stardom Tag League concluded in Niigata on Sunday, with the deciding matches in the Red Goddess Block and the overall final, with the two Block winners facing each other for a shot at the Goddess Tag Team Championships held by the Cosmic Angels duo Saori Anou & Natsupoi.

Maika & Megan Bayne won the Blue Goddess Block on Saturday after defeating MIRAI & Mai Sakurai, but their opponents for the final were yet to be decided. Still in the race were Mei Seira & Suzu Suzuki, who got a forfeit victory over Saki Kashima & Syuri on the final night. Momo Watanabe & Natsuko Tora and Hiragi Kurumi & Risa Sera.

The Oedo Tai team needed to beat Club Venus to advance to the final. Tora & Watanabe dominated the first half of the match, controlling the pace and beating up Shirakawa & Tsukiyama without remorse. The Club Venus duo started their comeback and scored multiple near falls before Tora tried to mist Mina, but the former Wonder Of Stardom Champion ducked, and Tora hit her tag partner with it, which led to Mina rolling up Momo for the three-count, and eliminated Oedo Tai from the tournament.

Prominence needed to beat Mafia Bella to force a decision match against Crazy Star. Giulia & Thekla got eliminated by Kashima's injury but didn't want to end the tournament with 6 Points, and tried to spoil their rivals here. They had a great back-and-forth match, with both teams laying in everything they had to force a decision. The final minutes between Kurumi & Giulia were outstanding and teased a potential singles match between the two former Ice Ribbon Wrestlers. Neither team was able to win, so the match ended in a time limit draw, which means Crazy Star advanced to the final.

In the final, the Red Goddess Winners Suzu Suzuki & Mei Seira faced off against the Blue Goddess Winners Maika & Megan Bayne in an interesting match-up. Maika & Suzuki had already faced off in the 5STAR finals just last month, with Suzu picking up the victory. Maika wants revenge for her loss in the Tag League final. At the same time, all four have been teaming together for the past few months, with especially Mei Seira & Megan Bayne seemingly becoming closer with every match, while Maika & Suzu started to fight more and more.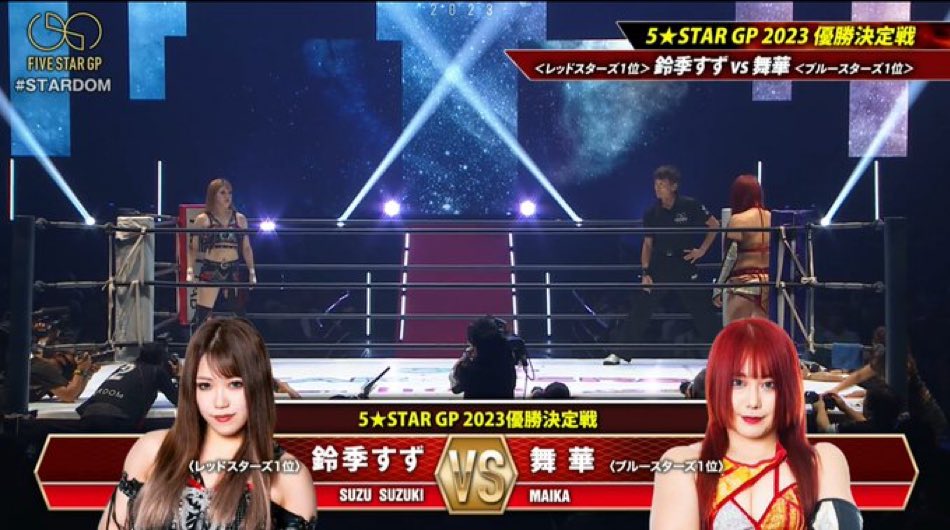 The four had fantastic chemistry in this match, with Maika & Suzu going at it from the moment the bell rang, and beating the living crap out of each other, but it was Mei Seira who stood out here for me. An incredible performance from her, with fantastic bumping against the two Powerhouses, and her great counter game, which caused Megan a ton of trouble. On the other side, Divine Kingdom continued to show their fantastic tag work in this match, with multiple tag team moves, including a double Powerbomb and a Doomsday Device that led to Maika hitting the Michinoku Driver II to win the Goddess Tag League for Divine Kingdom in the best match of the entire tournament. It's the first tournament accomplishment of both, which is especially important for Maika, who failed in three finals in STARDOM already.

After the match, Divine Kingdom hit a Chokeslam on Suzu Suzuki, and Maika proposed that she & Megan should get the Goddess Championships, if Anou & Natsupoi can defend them, due to Natsupoi's injury. It's yet to be revealed when the Championship match will happen, but I would expect it to be on the Queendom card on December 29th.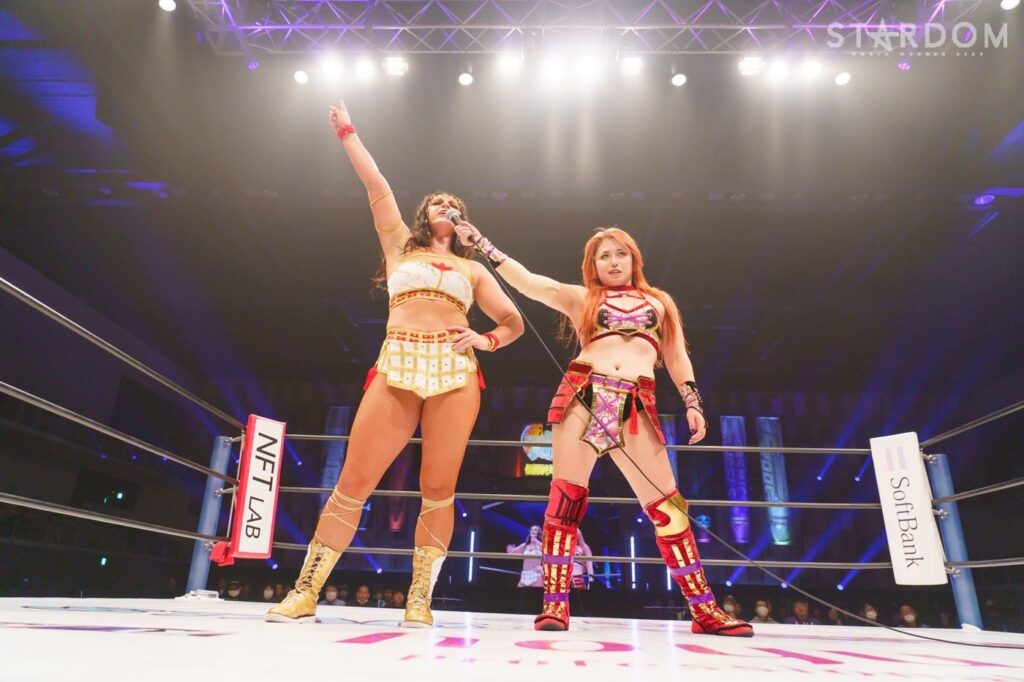 Official Goddess Of Stardom Tag League Standings:
RED GODDESS BLOCK –
9 – Mei Seira & Suzu Suzuki (4-1-1) (Winner)
8 – Momo Watanabe & Natsuko Tora (4-2-0)
8 – Hiragi Kurumi & Risa Sera (3-1-2)
7 – Giulia & Thekla (3-2-1)
4 – Saki Kashima & Syuri (2-4-0)
4 – Mina Shirakawa & Waka Tsukiyama (2-4-0)
2 – HANAKO & Saya Iida (1-5-0)

BLUE GODDESS BLOCK –
10 – Maika & Megan Bayne (5-1-0) (Winner)
8 – Hanan & Mayu Iwatani (4-2-0)
8 – Mai Sakurai & MIRAI (5-2-0)
6 – Ami Sourei & Lady C (3-3-0)
6 – AZM & Miyu Amasaki (3-3-0)
2 – Hazuki & Koguma (1-5-0)
0 – Tam Nakano & Yuna Mizumori (0-6-0)
---

Ice Ribbon
The Main Event of "Ribbonmania", Ice Ribbon's biggest show of the year on December 31st, is set! Ibuki Hoshi is defending the ICExInfinity Championship against Kaho Matsushita. Both are just 20 years old and two of the brightest future stars in Joshi.

Ibuki is a second generation Wrestler who debuted in 2017, she has won multiple Championships in Ice Ribbon including the Tag Titles with Hikari Shida and her mother Hamuko Hoshi, and captured the top title of Ice Ribbon in August. Kaho debuted not even two years ago and is aiming to win her first Championship. She has challenged multiple times for various belts in IR, including her two recent Tag title matches together with Ibuki but was never able to get the job done. Now, Kaho is going to challenge for the Top Title of Ice Ribbon for the first time and try to win the first title of her career.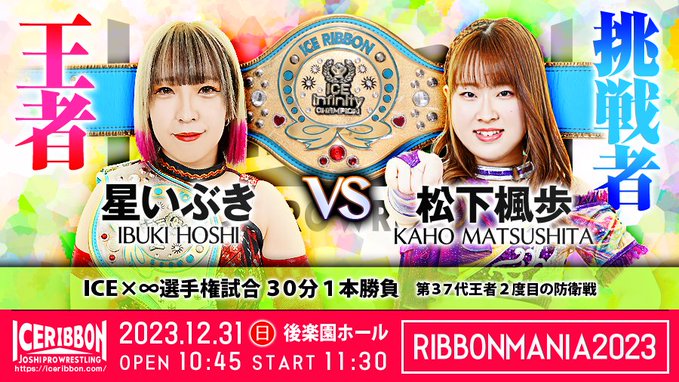 ---

DDT Pro Wrestling
Saki Akai had the final match of her ten-year-long career on Sunday at DDT's Ultimate Party 2023 in Ryogoku Kokugikan, where she teamed together with her Eruption Stable Mates Yukio Sakaguchi & Hideki Okatani, against the dream team trio of Naomichi Marufuji, Kazusada Higuchi and Miyu Yamashita.

It was an amazing retirement match, not only from an emotional standpoint but also from an in-ring standpoint. All six Wrestlers went crazy, with the focus especially being on Saki Akai. The match showed perfectly what Akai is in the ring, while not being the most athletic in-ring Wrestler, she makes up for it with her tremendous crowd connection and her selling. She worked her ass off in her final match ever, and went out with a bang. She stayed down after the Skull Kick from the Princess Of Princess Champion Miyu Yamashita in an exciting, emotional, and fantastic retirement match.

Important to catch is also the pre-match VTR and the post-match VTR including messages from Tenryu, Hiroshi Tanahashi, Togi Makaba, and Shinsuke Nakamura, which sadly didn't get aired.