It's a special time for Joe Hulbert Promotions and so, we have eight matches to cover in this week's match guide. New Japan's STRONG brand dominates the headlines, producing two of the year's coolest events at Korakuen Hall. That makes up much of the action while elsewhere, Kenny Omega headlines Dynamite and Natalya rocks RAW with Rhea Ripley. It's a busy weekend also, as TJPW makes its match guide debut while Collision runs wild again, with CMFTR leading the way.
Lots to cover and no time to waste, so let's get to some unsolicited opinions. All hail.
Natalya vs. Rhea Ripley (WWE RAW)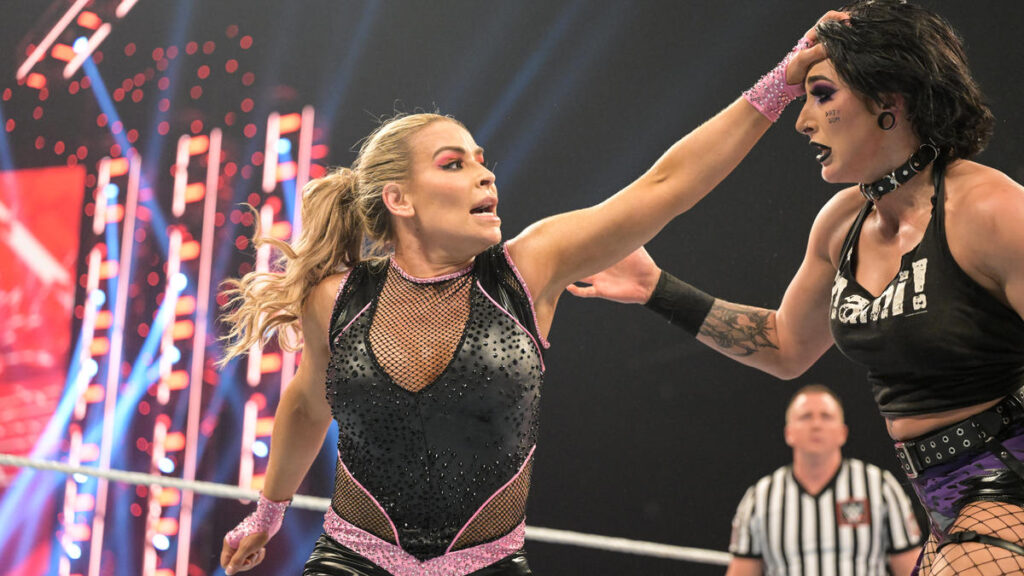 At Night of Champions, Rhea Ripley beat Natalya in barely a minute. At the time, I had no issue with the choice, as Natalya wasn't a believable contender to begin with. However, it's become clear in the month and change since that if this reign is going to work, that bridge would have to be crossed. As part of The Judgement Day, Ripley has been presented with such protection that by contrast, RAW's struggling women's division mostly feels a tier or two below.
Fortunately, Ripley is skilled enough to overcome that hurdle, it's just a matter of allowing her to do so. That's the case on this episode of RAW, as Natalya and Ripley conclude their rivalry with an actual match, imagine that. It's an impressive triumph, all things considered. These two wrestled three times on the recent UK tour, presumably finetuning their eventual television effort. They do show obvious chemistry too, which reminds me of their enjoyable bout from ThunderDome RAW.
This particular outing is defined by its physicality, with Natalya really bringing it in that regard. They set the stage with a jumpstart from the challenger and she seldom looks back, wrestling with as much intensity as she can muster. Obviously, that's Ripley's domain, immediately thriving in the emerging firefight. In fact, she actively ups the ante, giving this a grit that you wouldn't necessarily expect from such a throwaway RAW match. Frankly, that's the match's biggest strength.
It has an element of surprise, dramatically exceeding the almost non-existent expectations and finding something genuinely compelling. That's not to understate the work either, as it's consistently good, boasting bruising blows throughout. Most importantly, they convince the crowd that this is worth their time also, which is no mean feat considering where they started. For most of this, they're either completely silent or half-heartedly rooting for Ripley, even as she takes a control segment.
Natalya doesn't necessarily win them over on that front, but she does earn increasing investment. Her performance here has such passion and spirit that there's even some drama late, with Natalya sporting a noticeable grin as she applies the sharpshooter. Perhaps I'm overthinking it, but that smile sure seemed sincere, a satisfaction that they'd clobbered this match into relevance. That really is the heart of the match too, champion and challenger just bringing it in a fashion that demands attention.
When paired with Ripley's star-power, you have a winning combination. Her polish here is obvious, wrestling with impressive maturity in a role that really captured her constant improvement. Ripley shines bright, filling gaps and operating at a poised pace, yet still finding the room for Natalya's retorts. It's a match that ultimately helps both women, with Natalya getting a more flattering last stand while Ripley produces her first truly substantial title defence since becoming champion in April.
Genuinely good match but beyond anything else, a nice surprise, as this graphic didn't exactly jump off the page beforehand.  
Giulia vs. Willow Nightingale (NJPW STRONG Independence Day)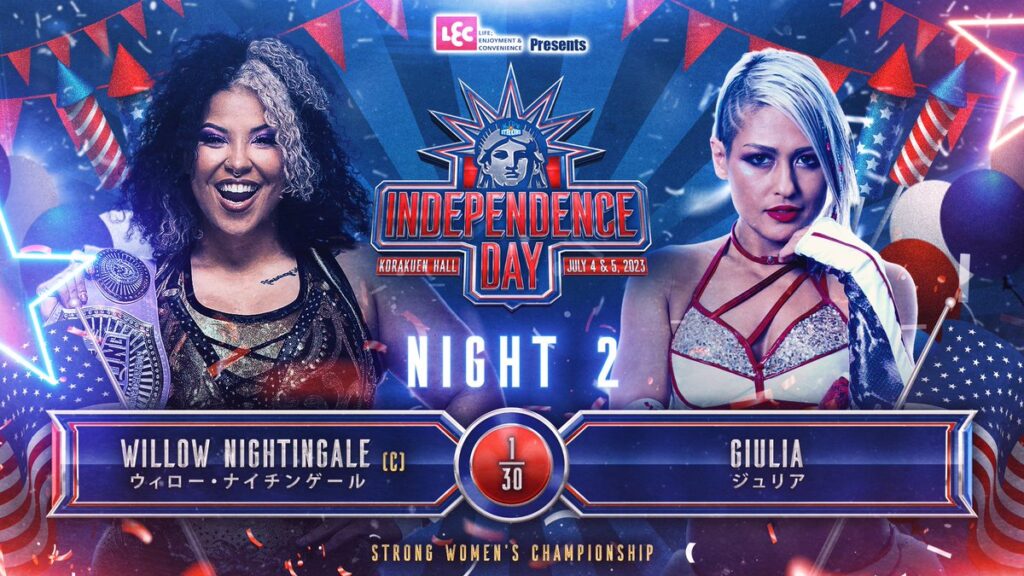 Thus far, 2023 has been a big year for Willow Nightingale, steadily turning potential into an undeniable final product. One of her career highs came at NJPW Strong Resurgence, as she unexpectedly claimed this brand's Women's Title, pinning Mercedes Mone to become the inaugural champion. Well, "unexpectedly" doesn't quite do that particular situation justice but nonetheless, Nightingale carried the belt into another major moment last week, meeting Giulia for a Korakuen Hall title tilt.
In the best way, there's something slightly unusual about this matchup, but it quickly makes sense once the bell rings. There's an immediate contrast in demeanour, as Giulia greets Nightingale's grin with aggression. That sets the tone, with the challenger using brute force to erase an unfamiliar strength disadvantage. Nightingale follows suit, finding her own intensity in a fashion similar to her effort opposite Athena. Giulia is stubborn though and before long, we're in the midst of an outright shootout.
Naturally, that puts Nightingale ahead early, tasking her with leading the dance. Once again, she's surprisingly compelling in control, steering the ship just as she did with Mone. It's uncanny, she's a wonderful babyface but on sheer power offence alone, is so capable of dominating these matches. Either way, that aforementioned shootout soon returns, with Giulia sprinkling in some different tactics throughout. There's this sense that while she won't concede on the brawling front, she's aware that it'll take more to slow Nightingale.
You can see the struggle also, a constant battle for position. As a result, any momentary miscommunications don't detract from the bigger picture, instead feeling at home in such a gritty affair. Giulia's more diverse approach proves increasingly effective, chipping away at Nightingale by taking things to the mat. That somewhat levels the playing field elsewhere, though it doesn't stop Nightingale from clobbering the challenger late. As a result, it's a palpable race to the finish, with the physicality only escalating in the process.
It's a wonderful thirteen minutes or so, working on a level that comfortably exceeded my already hopeful expectations. Stylistically, I had some concerns but in truth, Nightingale has rapidly improved beyond those doubts. Obviously, she'll work better with some than others but she's no one trick pony, not a babyface conqueror simply waiting for her ideal antagonist. Nightingale is better than that, showing range where necessary and adjusting her approach based on scenario and setting.
Giulia is obviously terrific here too, absolutely whacking Willow but keeping the size disparity present throughout. She doesn't do that with caution or delays either, instead scrambling desperately and slowing Nightingale by taking her to deep waters. In every which way, this is a real treat, two absolute stars doing the dance in a matchup that not long ago, would've seemed unlikely at best. Very good match, one of Nightingale's absolute best.
Eddie Kingston vs. KENTA (NJPW STRONG Independence Day)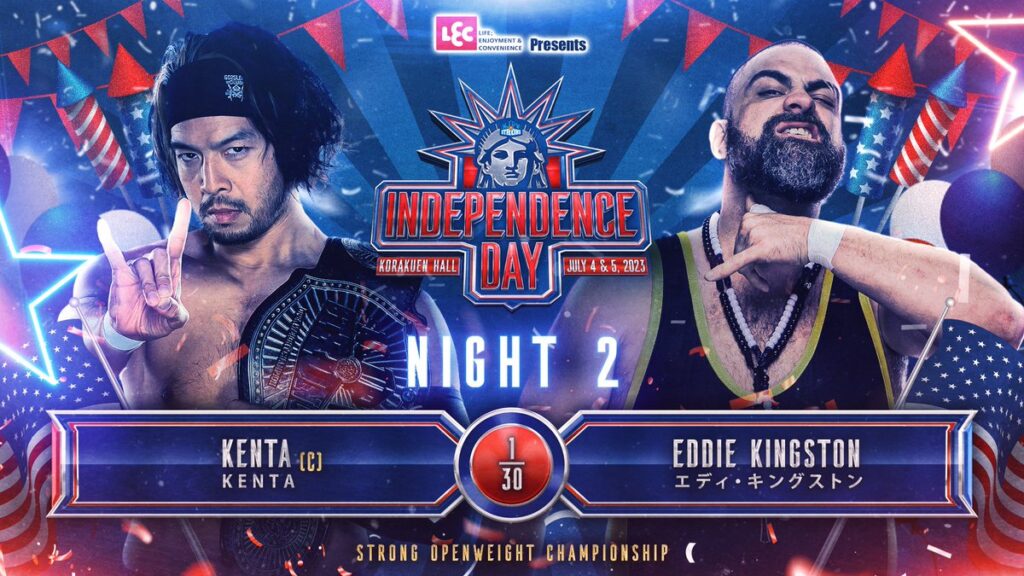 Since returning from hernia surgery, Eddie Kingston has been in the thick of things, to say the least. That carried over to NJPW last week, as Kingston made his Korakuen Hall debut, first wrestling a tag match and then challenging for gold. That gold was the NJPW STRONG Openweight Title, as KENTA defended the belt that he'd reclaimed in May. It's a wild pairing, especially in this setting and certainly, a very different match now than it would've been previously.
Even still, it's an effective one, with Kingston being the perfect protagonist for KENTA's territory heel shtick. As usual with KENTA's bigger matches these days, you still get those flashes too, the explosive outbursts that remind you of yesteryear. Those pair nicely with Kingston's usual physicality, producing some fiery exchanges throughout. In addition, KENTA has a clear target to accompany his antics, going after Kingston's damaged right arm. That's an immediate theme, with some of Kingston's biggest bombs being limited.
Admittedly, Kingston's selling is a touch less consistent than usual but when it's present, his sheer commitment is enough to make up the difference. KENTA plays his part too, attacking the injury with palpable spite. He really is a horrible presence these days, such a bully in control and almost pathetic in retreat. It's quite fun, providing his matches with the smoke and mirrors that while divisive, create undeniable drama. Even before that though, his mean-streak is unlocked opposite Kingston, drubbing him at times.
The aforementioned smoke and mirrors are elaborate, with extended shenanigans shaping an unusual middle act. Again though, they add a jeopardy to the match's almost unexpected final act, with Kingston escaping the jaws of defeat to even reach that point. It arms the closing stretch with a desperation, a sense that this could reasonably end at any moment. That only helps the match's strongest portion, ensuring that the eventual outcome packs a suitable punch.
Ultimately, it's probably more moment than match, but this is still quite good. I don't think it climbs beyond that for me, but it's a good time, an effort befitting the inevitable lasting memory. As you'd expect, Kingston feels like the driving force, almost willing this into something substantial. KENTA is no passenger though, thriving in the role of antagonist and putting multiple hurdles in Kingston's way. He seems to relish the atmosphere, neatly pairing his villainy with some knockout blows.
At not even fourteen minutes, it flies by too, with each piece feeling purposeful. Good match and a great moment, there's only one Eddie Kingston.
El Desperado vs. Jon Moxley (NJPW STRONG Independence Day)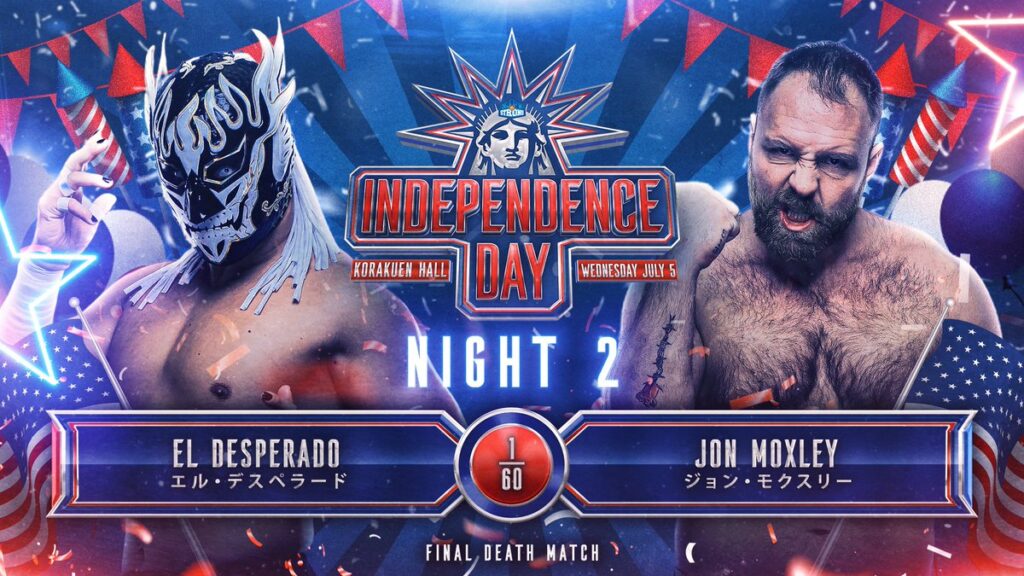 On night one of NJPW Strong's Independence Day event, El Desperado and Jon Moxley went to war in one of the year's most violent major matches thus far. In front of an electric Korakuen Hall crowd, they were joined by Jun Kasai and Homicide respectively, producing a staggering spectacle in their Doomsday No Disqualification main event. Few moments in recent memory can compare to Kasai's entrance, let alone the gory extravaganza that followed. That was only night one, though.
The following evening, Desperado and Moxley returned to Korakuen Hall and shared the ring again, this time battling in a Final Death bloodbath. Hilariously, it was a noticeable improvement on the prior tag, trading that bout's novelty for even more brutality. In fact, the match feels assisted by that erasure of formalities, almost as though their night one meeting allowed them to cut the small talk. In Final Death, they're immediately teasing the barbed wire, with varied weaponry not far behind.
Certainly, there's unsurprising overlap, as they once again brawl through the crowd. That leads to a suitably unhinged table spot, as Moxley veers even further toward Terry Funk territory than usual. Moxley has a unique ability to embrace the insanity with a gleeful enthusiasm while still maintaining his generally serious demeanour. He's wild and woolly but still feels truly sinister, a sense of danger accompanying his craziest stunts. That's especially present here, as Moxley takes an awful lot of this match.
He's outright dominant in fact, going far enough in that direction that it feels as though Desperado's retort may never arrive. Deep down, you know it will but Moxley is so unrelenting, erasing signs of hope with such consistency that the eventual momentum shift feels significant. Better yet, Desperado capitalises as though it's his only shot at survival, which feels appropriate after sustaining such an onslaught. Ultimately, he merely levels the playing field, allowing for a fittingly vile final stretch.
That shootout showcases the underlying quality on display also, as they share a modern fireworks display to close. In fairness, there's quality across the board here, with the bout's big barbed wire spot neatly encapsulating the entire affair. That's a great spot and on concept alone, earns an obvious reaction. These two don't simply waste it though, teasing multiple outcomes and pairing the eventual violence with palpable drama. Don't be fooled, there's a method to this madness.
It's great, a virtually perfect rendition of Moxley's favourite routine. Beyond the gore, which is worth the price of admission in its own right, it's actively exciting too, maximising this genre with an undeniable thriller. Desperado is such a compelling pro wrestler, especially in this environment. It's been great to see him earn increasing recognition in recent years, and I'm hopeful that it'll lead to more and more opportunities for outings such as this.
Kenny Omega vs. Wheeler Yuta (AEW Dynamite)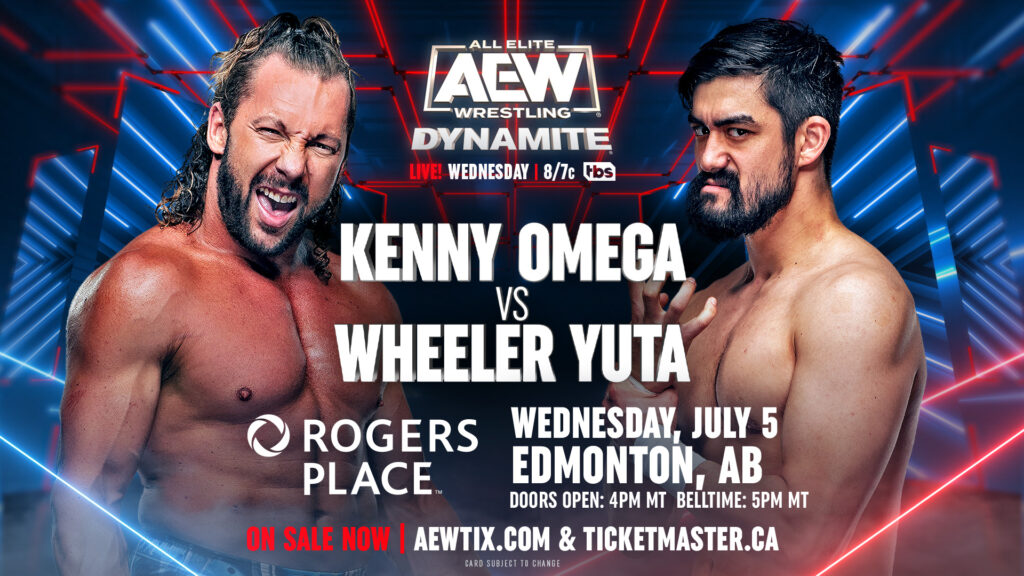 After so long without him, there's a noticeable novelty to Kenny Omega singles matches in 2023. Moreso than usual I mean, a charm beyond the obvious quality ahead. I especially feel that way about scenarios such as this, as Omega closes an episode of television with a match that's simply one piece of a bigger programme. Don't get me wrong, the epics are great and have defined Omega's career, but his brilliance is just as evident in these snapshots, which are increasingly infrequent unfortunately.
Even still, that only makes this feel like a bigger treat, as Omega headlines Dynamite opposite Wheeler Yuta. As Blackpool Combat Club's young lion, Yuta has come an awful long way, recently levelling up following the faction's heel turn. Now operating as the ultimate loudmouth little brother, Yuta is riding high, surprisingly pinning Omega at Double or Nothing. He's found a real sweet spot in this presentation as while that result was totally tainted, he's competitive enough to remain credible.
That's a credit to his work, as Yuta continues to belong in matchups of this magnitude. In fact, he even sets the tone here, jumping Omega and giving the bout an immediate intensity. Omega emphatically matches him in response, producing a fiery first act. After his war with Will Ospreay though, Omega is sporting injuries, struggling to play the hits as Yuta turns the tide. Omega did a more expansive version of this after returning last August, and it's quickly becoming a favourite tune of mine.
Beyond all the offensive innovation and creativity, I adore Omega's absolute passion for scaring folks, just pure pro wrestling. Yuta is willing to play ball in that regard also, really going through the gears with his emerging advantage. Along the way, Omega finds a home for a hope spot or two but Yuta is simply superb here, believably dictating the pace while targeting his foe's injured neck. It's a remarkably polished effort, working with intent and still offering seamless crowd work throughout.
Omega's comeback is gradual, fighting uphill before finally resetting things in centre ring. A more extended retort follows, transitioning the match to a captivating closing stretch. In that domain, Omega brings the bombs that you'd expect but still feels slowed, worn down by Yuta's immense prior work. They push a serious pace though, with Yuta being relentless in that regard while Omega gleefully embraces the challenge. There are some memorable near falls late, fooling fans on more than one occasion.
It's a virtually perfect TV main event, delivering on the matchup's potential without even slightly overreaching. In the complete Kenny Omega catalogue, it's probably just another match but at this point, just another match feels like a treat in itself. Every time that Omega wrestles a singles match of any kind, I'm again left unsure as to how anyone could possibly be better, with these somewhat infrequent outings proving to be a guaranteed highlight of AEW TV.
There's something comforting about seeing him simply wrestle, putting a little time in and doing the dance against a worthy opponent. Yuta is certainly that too, stepping up as usual and wrestling fearlessly against one of the world's best. Again, just an absolute treat, one to simply enjoy, even without the year-end list exclamation mark. It's not chasing that and doesn't need it either, elite television wrestling is enough in this case.
Maki Ito vs. Mizuki (TJPW Summer Sun Princess)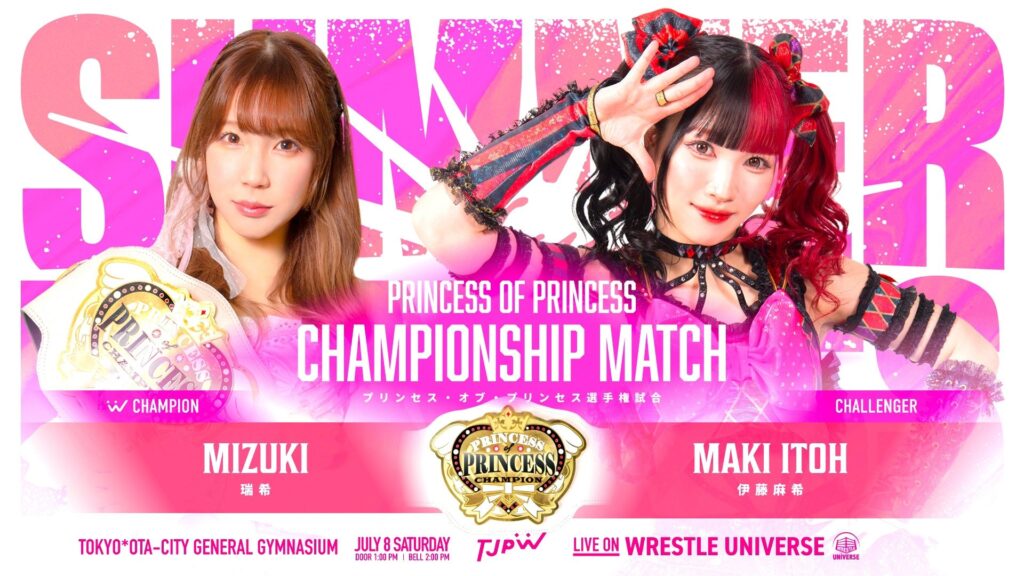 In March, Mizuki claimed the Princess of Princess Title, defeating Yuka Sakazaki in one of the year's most dramatic bouts. As someone whose prior knowledge and investment were limited, that match's theatrics were slightly challenging for me, with the tag partners offering conflicted performances. Now, almost four months later, Mizuki wrestles a different tag partner, defending her belt against Maki Ito. Known as Ito Respect-gun, Ito and Mizuki teamed until 2019, since sharing two Princess Cup semi-finals as well as an initial singles following their split.
Considering my experience with the Sakazaki match, I was concerned that I'd have similar issues connecting with this bout. That wasn't the case, as Ito and Mizuki worked a mostly classical World's Title match. They take their time early, wrestling for position as the crowd leans heavily in Ito's direction. They sprinkle in some strikes, giving a preview of the match's inevitable destination. Speaking of such, they soon spill to the floor, with Ito landing her first of approximately fifteen DDTs.
I don't mean that as a slight either, Ito just commits to landing every possible DDT, each one looking good. After taking control at ringside, Ito leads a control segment of sorts, loosely targeting the back. Her focus is broader than that, but it's the general direction. Either way, Ito is so fabulous in this portion, talking trash at every turn while still finding the time for some genuinely slick offence. She's spiteful in that sense, setting the tone by flooring Mizuki with a shot to the kidney.
The champion continually fires back also, throwing bombs in response to every insult. All within the first half, Mizuki turns the tide too, flying her way to a sustained advantage. She veers towards the midsection but ultimately, it's all just building blocks. More than anything else, those sections allow a palpable exhaustion, pairing the finishing stretch with an increasing desperation. The match escalates at a traditional main event pace, with some fireworks in place to close the show.
They transition to the final act with a memorable stare down at ringside, thudding forearms following. The pin attempts ramp up from there, trademark spots neatly emerging throughout. It feels as though both champion and challenger are running out of time, trading superb submission false finishes. It's a frantic finish that increasingly spotlights Ito's defiance, allowing some brief theatrics after a mostly conventional show-closer. That moment feels earned, even as someone without extensive frame of reference.
I'm not stunned by this match's quality, but I am slightly surprised by the kind of hit that it is. This is a match that truly works in a vacuum, finding a back and forth rhythm for its 25 minute runtime. It's a really good title tilt, the kind that feels increasingly uncommon within today's wrestling landscape.
BULLET Club Gold vs. FTR (AEW Collision)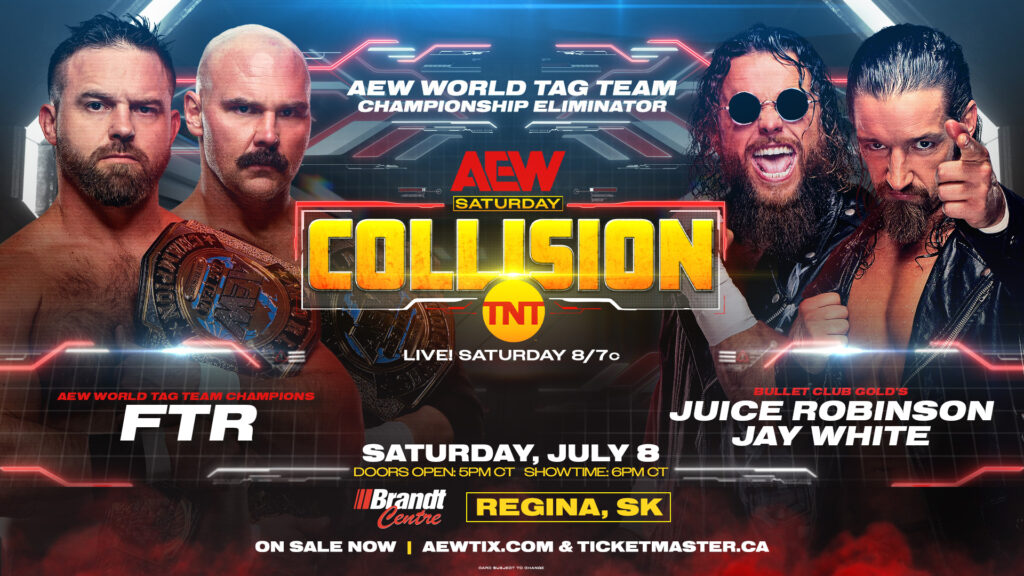 It was hard not to roll your eyes at BULLET Club Gold's formation, but it didn't take long to change that perception. Jay White has been fabulous since arriving in AEW, especially thriving with Collision's emergence. That wasn't a surprise, though Juice Robinson's form has been, appearing rejuvenated after a slim few years. On paper, their Collision clash with FTR appeared promising but with an Eliminator stipulation and bigger matches surrounding them, seemed likely to settle at good.
Those expectations were quickly blown away, as an AEW television classic unfolded. There's an immediate chemistry to the bout, building on the enticing exchanges within those prior multi-man tags. In these hands, that chemistry is captured by physicality, with razor sharp action setting the stage. Collision wasn't armed with a packed house, but it was a lively crowd, particularly for this match. They especially adored FTR, only elevating the champions' initial onslaught.
Assisted by the throwback bumping heels opposite them, FTR shine bright here, absolute poetry in motion on offence. It's been awhile since FTR worked a truly substantial tag match, let alone one with this runtime. The result is an increased novelty to their extended shine, continually combining for those effortless bursts of tandem offence. It's a gorgeous watch, seamlessly showcasing Dax and Cash's greatest hits. That pretty much encapsulates the entire first act, FTR in their most idyllic form.
When White is in there, it's as aesthetically pleasing as such bruising pro wrestling can be. When it's Juice, there's a cloud of chaos accompanying things, this palpable sense that things could explode. It's a wonderful dynamic and once it's time to turn the tide, they do so in emphatic fashion. After teasing some heat on Harwood, they isolate Wheeler, who is a simply extraordinary babyface in peril. He's given content to work with here also, bumping violently as BULLET Club Gold go through the gears.
Robinson and White are relentless in control, pairing Wheeler's efforts with an overwhelming feel of desperation. Even more so than usual, White has been quite staggering as of late, always applying just enough roughness to his silky smooth execution. The whole heat segment is simply perfection, on both sides of the ball. Harwood's hot tag follows suit, building steadily as the match transitions to its increasingly elaborate finish. Admittedly, they threaten to get a touch too cute at times, but usually steady the ship with something violent.
That's a theme throughout, a constant crunch to the work that counteracts any emerging flaw. With that being said, they do go a near fall or two beyond their absolute peak, especially considering the relatively flat finish ahead. Even still, there are some electric exchanges, with White producing some of the strongest late kickouts in recent memory. While not perfect, this is comfortably one of my favourite matches of 2023 thus far, tag team wrestling at its most enthralling.
It's an epic that emerges organically, escalating to heights beyond any reasonable expectation. They set such a pace early that you don't even have time for that adjustment either, it just roars out of the blocks and seldom looks back. At 28 minutes, it still manages to feel like an absolute thriller, like a television tribute to that original Briscoes match. These are the matches that have defined FTR's place in history, the high octane epic that doesn't sacrifice drama for excitement.
Few teams have ever married those two so beautifully, a distinctive flavour of FTR's finest efforts. Their foes weren't simply plugged into the formula either, with BULLET Club Gold continuing to deliver as Collision's lead heel group. They haven't missed yet and this was their biggest hit thus far, a simply timeless tag team tilt.
CM Punk vs. Samoa Joe (AEW Collision)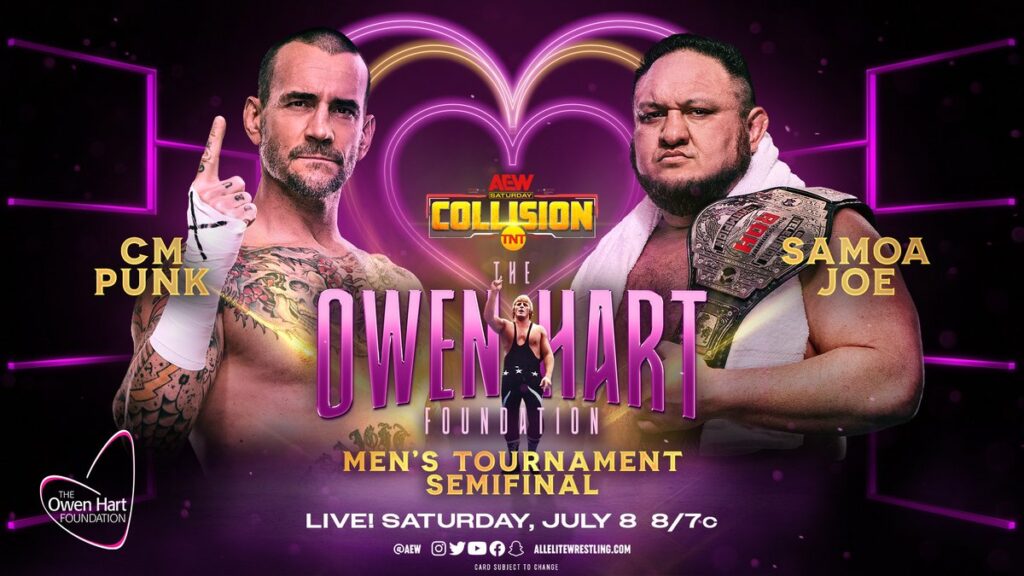 Nineteen years ago, CM Punk and Samoa Joe shared the most important trilogy of a wrestling generation. Last month, they reunited, as time stood still during the Collision premiere's main event. Even within that trios bout, it was clear that a unique magic remained, a special connection that even with age and injuries, had failed to fade. Now they expand on those stirring flashes, meeting in The Owen semi-final for their first singles match since 2005.
As if the matchup itself wasn't surreal enough, this is a unique set of circumstances. With a light Regina crowd in attendance, they enter a match that feels substantial and yet still somewhat premature. They've certainly heated the match up on Collision, even adding to that build with this episode's opening segment. It's still not quite as you'd have imagined though, an unexpected middle ground between that rumoured premiere attraction and waiting for a more blockbuster occasion.
Thankfully, Joe and Punk were unmoved by those challenges, navigating the situation perfectly. It's a match that comfortably delivers in its own right while still leaving an incredible amount on the table. They barely even play their respective hits, instead simply re-introducing themselves while reiterating their central theme. Though he's been unable to beat Joe previously, Punk has never been short on ideas, going back to those familiar tricks in Regina. That briefly includes the headlock, but only after some successful stick and move tactics.
Punk is prepared to evade Joe's bombs early, scoring counters as he frustrates the big man. Joe eventually adjusts, finally making Punk chase him and turning the tide in typically casual fashion. That returns to the match to its usual roots, as Joe goes to work on Punk, dominating his prime's most famous punching bag. Suddenly, Joe has the answers, steering the ship in a direction suggests that while these two men have changed, the dynamic between them hasn't.
That's one of the match's great strengths too, as both men understand their limitations in 2023. They colour within those lines, but do so with such detail that it's hard to dwell on the differences. In fact, there's a charm to the match's more grizzled stylings, neatly suited to the core idea that beyond anything else, this is simply who they are. It doesn't matter what they've done or where they've been since last battling, their rivalry is forever.
As they head towards the finish, some signature spots emerge, though many stay untouched. By the bout's conclusion, there's an increasing gravity to the meeting, a sense that only something truly definitive will do. That was never destined for this particular match though, which only makes their effort more impressive. They go fifteen minutes here and produce something incredibly compelling while leaving you absolutely desperate for more. They both know this can't be it, but we now know that we don't want it to be, either.
As a standalone match, it's not quite great in my view, but that's not really the point. Beyond anything else, it's effective, the perfect match for an imperfect moment.