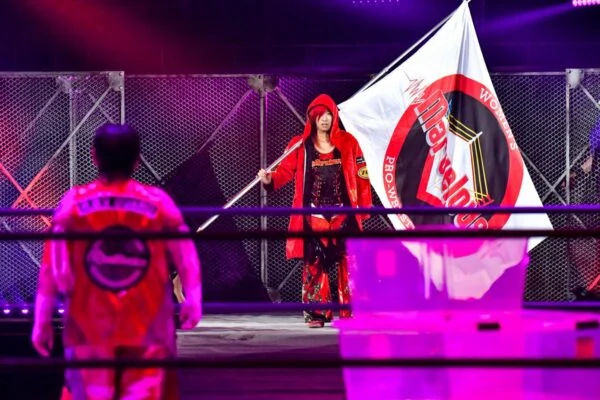 Takumi Iroha is a former AAAW Champion and one of our generation's great female wrestlers. At just 29 years of age, Iroha won multiple top titles in different Joshi Promotions and is Ace of Marvelous. I got the chance to talk with her about Marvelous, her interest in facing Nyla Rose and Masha Slamovich and her World Of Stardom Title Match against Utami Hayashishita in Osaka-Jo Hall.

In 2012, she attended a Stardom event in the legendary Korakuen Hall and decided to drop out of college to pursue a career in pro wrestling. After dropping out of school, she moved from her hometown to Tokyo and applied to join the Stardom dojo to train under Fuka, where she was accepted after passing the tryout. Iroha talked with us about what match inspired her to be a Pro Wrestler and made her follow the path that she went.
"When I was a high school student, I had a chance to watch the 'Hair vs Hair Match' between Nagayo Chigusa and Dump Matsumoto on Youtube. Two wrestlers, just around my age at that time, covered with blood and fighting so hard. I was somehow completely fascinated by them. What made them do such a thing?!' 'Could I ever do something like that?'"

– Takumi Iroha
Takumi Iroha made her Pro Wrestling debut on April 29th, 2013 in Stardom. Takumi is part of the 4th generation of Stardom trainees, together with Sumire Yoshino and Yui Yooko. Her debut opponent was non-other than the living legend Meiko Satomura, who is now wrestling under the WWE banner. The Match took place in front of 5500 fans in the Ryogoku Kokugikan which is still the biggest attendance Stardom ever had. She talked about this match and what it taught her for the rest of her career.
To be honest, my memories of that match are blurry. The only thing I remember is how strong her kicks were, they stopped me in my tracks. That was the match taught me how pro wrestling could be both painful and awesome in equal measure.

– Takumi Iroha
After 2 years with Stardom, Iroha left the promotion on February 22, 2015, to sign and train with Chigusa Nagayo in Marvelous. She was adopted as the prodigy of Nagayo who is one of the biggest female Joshi wrestlers of all time. Nagayo trained some of the best female Wrestlers of all time like for example the "Dangerous Queen" Akira Hokuto and Meiko Satomura, so training under her is a big deal. Iroha learned a lot of things under the wing of her mentor but the two most important advices were the following:
"A wrestler's job is 'to enchant', as she always says: 'the real fight is not between the wrestlers but with the audience.'"

– Takumi Iroha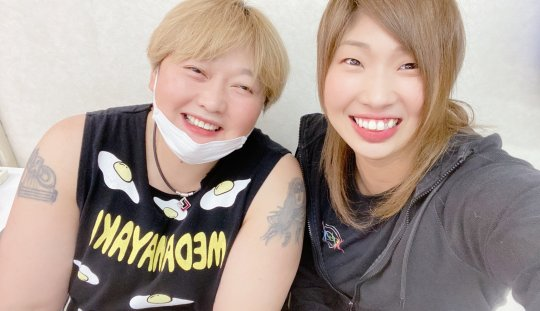 Over the years, Iroha has grown from being a roster member in Marvelous to being the figurehead of the promotion. She's the biggest attraction on the roster. She is on every poster, in every big match. She IS Marvelous but with that new responsibilities and challenges come up. Furthermore, she told us how her role within the company has grown as time has progressed.
As the number of younger wrestlers has increased, the responsibility placed on my shoulders as the senior have too. But at the same time, I am used to responsibility. as a wrestler trained by Chigusa Nagayo, you always carry her legacy with you, and I try to live up to it every time I step into the ring.

– Takumi Iroha
Marvelous has a core roster of six female Wrestlers and with that fills their card with outsiders. From Wrestlers in Sendai Girls to Aoki and Yuu challenging Iroha for her title. In recent weeks, Maya Yukihi and Unagi Sayaka were the latest outsiders to appear in a Marvelous ring. Unagi even challenged Iroha for her AAAW Title, which would have happened at the December Korakuen Hall show if Iroha didn't get injured at last week's Marvelous event. As the Ace of the promotion, there is a lot of pressure by getting challenged by all the outside talents. It feels like that Iroha needs to defend Marvelous from the great talents from other promotions that are coming in, but Iroha has a different mindset.
"There are a lot of outsiders coming up into our ring these days. I think that this is actually a good experience for all of us in the promotion, especially the younger wrestlers. Each of them knows when they step into the ring, they are not just representing themselves, they are representing Marvelous. As for myself, there's no doubt that I feel the need to defend the honor of Marvelous from the outsiders. But moreover, I think about how exciting these matches are for our fans to see."

– Takumi Iroha
But Takumi Iroha not only represents Marvelous in Japan but all over the world. Her latest international booking was in EVE, which is a small female-only Promotion in the UK. Iroha took part in the SHE-1 2022, which is a round-robin tournament full of female Wrestlers from all over the world. Iroha won two of her three matches in her Block but sadly couldn't qualify for the final. She talked about her experience in EVE and her worries.
"Before I stepped into the EVE ring, I was worried about whether the fans in the UK would know me. It was such a pleasant surprise to hear the audience chanting 'TAKUMI'. I was glad they were so warm to me; I hope to return there one day soon. I also had the opportunity to meet many skilled wrestlers there. If possible, I'd like to see a competition between EVE and Marvelous soon, to find out who is the strongest."

– Takumi Iroha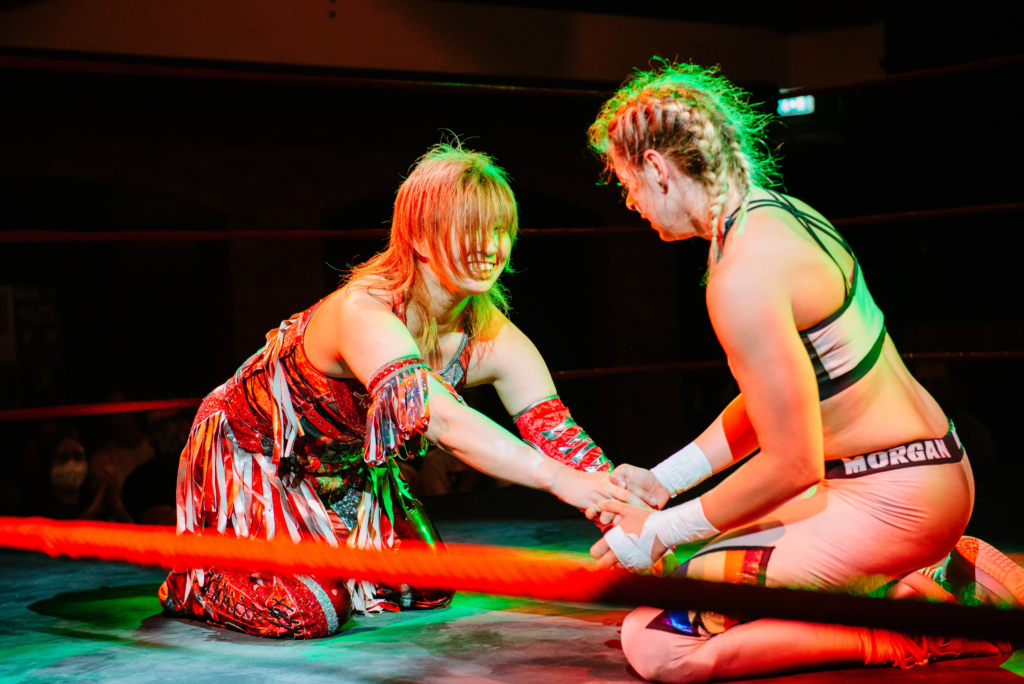 Takumi's wrestling style is full of kicks that can finish her opponent with a kick out of nearly every position, but she also utilized a lot of power moves in her arsenal. The deadly combination of her kicks and power moves makes her stand out. She described her style in one word.
"In one word? AMAZING (smile). I believe I can amaze fans all over the world. Don't believe me? Just wait until you see me step into the ring, then you will."

– Takumi Iroha
And her style works out well for her and she was able to secure multiple Championships in her career. She's the current AAAW Tag Team Champion and AAAW Singles Champion. The AAAW Belt was reintroduced as an official title when Iroha won the title in January 2022 and she holds it since. The title itself was introduced in GAEA JAPAN in 1996 which is an older promotion by Chigusa Nagayo. Many of the best Joshi Talents ever held the belt like Nagayo herself, Aja Kong, and Meiko Satomura but holding a Championship with that the lineage puts on pressure like Iroha told us.

Edit: Since Iroha fractured her collarbone during her last match and got surgery, she vacated her AAAW Title on November 4th and the new title will be fought for in a single elimination tournament on December 4th. Iroha will be back in the title hunt the moment she comes back.
"This AAAW Singles belt is the same one that was fought for in GAEA JAPAN, and many legendary wrestlers have fought fierce battles for the honor of wearing it around their waists. When I wear it, I not only feel the weight of the belt itself, but the weight of that legacy. I hope that one day, my name will not just be remembered as one of those legendary wrestlers, but as the greatest of them all, and that I can spread the legacy of this belt to fans around the world."

– Takumi Iroha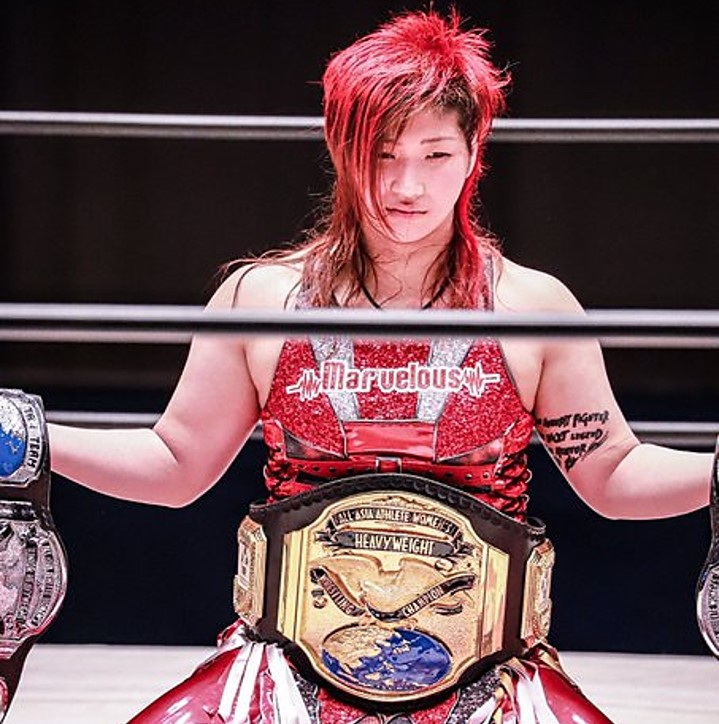 When fans talk about who they want to see challenging Iroha for that belt, the answer is always the same – Mio Momono. The Powerpuff Girl of Marvelous returned from injury in June after she was out for a couple of months and looks better in the ring than ever before. Their last singles match in 2019 was an outstanding match that ranks as one of the best matches of the year. Mio talked about wanting to challenge for the belt in an interview shortly before her return and many fans see Mio as the one to dethrone the dominant Champion but Takumi has other plans.
"I absolutely want Mio to challenge me for my belt in her best condition and timing, I'm sorry to say that she has no chance to take the belt from me yet but I am sure we could show our pure Marvelous style wrestling to the fans all over the world when this fight comes true."

– Takumi Iroha
In an exclusive interview with WrestlePurists Masha Slamovich said she was interested in fighting Iroha. We asked Takumi if she shares an interest in fighting the Russian Dynamite that spend a whole year in Japan.
"I never got the chance to have a singles match with Masha while she was in Japan, but I know she wants to be the best. Of course, If she wants to wrestle me, I am willing to fight with her whenever and wherever. I hope that I can give her the kind of challenge she has never faced before."

– Takumi Iroha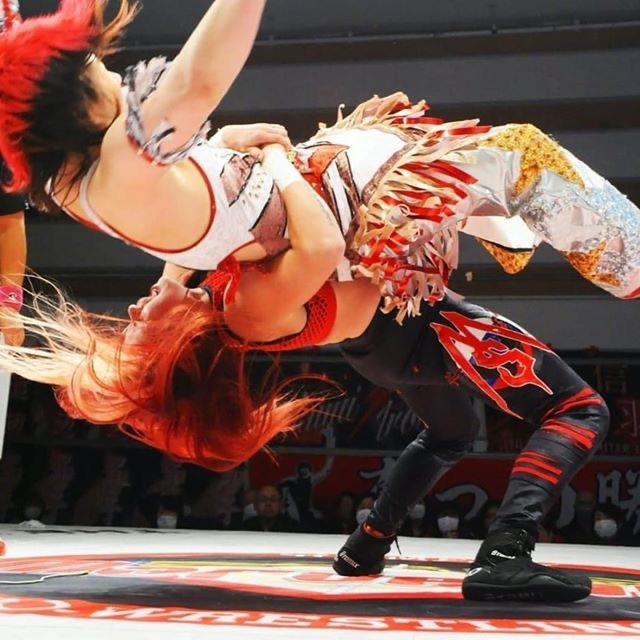 In her career, Iroha faced a ton of different wrestlers from all over the world in various promotions in amazing matches. With that, she gained a lot of rivals over her now already 9-year-long career. When she got asked who her greatest rivals are, she mentioned the following three names:
"Three names; Mayu Iwatani of STARDOM, Nyla Rose of AEW and Chihiro Hashimoto of Sendai Girls."

– Takumi Iroha
One of the names she mentioned is Nyla Rose. The former AEW Women's Champion spend time in Japan before she joined AEW and wrestled in Marvelous and other Joshi Companies. Over two years, Nyla and Iroha faced each other three times in singles matches, with Nyla winning two of them. Takumi has high praise for her rival and would love to meet her again, but this time in an AEW ring.
"She is really a splendid pro-wrestler. She has every gift you could wish for;power, technique and an unbridled imagination. I would like to fight with her anytime, anywhere, and hopefully, we could inspire each other to get even stronger. And of course, if I have a chance, I'd like to face her in an AEW ring someday."

– Takumi Iroha
A Wrestler she never faced but is interested in facing is the Pink Striker Miyu Yamashita. The Ace of TJPW has a similar wrestling style than Takumi. A clash between the two titans of TJPW and Marvelous would be amazing. Truly a dream match that everyone wants to see.
"Personally, I am very interested in wrestling Miyu Yamashita. Her wrestling is particular about her deadly kicks. Let's find out once and for all who's the better striker."

– Takumi Iroha
Shortly before the interview occurred Iroha suffered an injury and due to that, she will be out for the next three months. It isn't her first injury in recent times. Iroha had a significant knee injury and was out of action from the end of 2020 till July 2021. She talked about what helped her through the rehabilitation process.
"It might sound funny, but I was really looking forward to seeing how Marvelous would grow without Takumi Iroha, and how I will find my place after I come back. I try to avoid negative thinking, and it was by always staying positive during my time off that helped me overcome it."

– Takumi Iroha
Wrestlers always talk about matches they are proud of, but Iroha has a different answer to that than most wrestlers. She will never be satisfied with any of her matches and searches for improvement in every move. She explained to us why she can't be satisfied with her matches.
"As far as I am concerned, as long as I am still wrestling, I will never be satisfied with any of my matches. Whenever I leave the ring, there are always so many things for me to reflect and improve upon. As long as there is another wrestler in front of me, I can't be in total control of the match. Matches aren't predictable, they are like 'living things'. And that is what makes pro-wrestling exciting! If ever the time comes when I am fully satisfied with a match, I will know it is time for me to hang it up and retire, because then I will have lost sight of the true excitement and thrill of professional wrestling.

But if there was one match that I had to say was my best at this point in my career, it would have to be the match against Mayu Iwatani."

– Takumi Iroha
The Match against Mayu Iwatani in February 2020 she is talking about was a Perfect Match for a Wrestler. Iroha destroyed the Icon Of Stardom Mayu Iwatani in her own company. From the moment the bell rang till the three count Iroha dominated Mayu and gave her a beating that the back-then World Of Stardom Champion never felt before.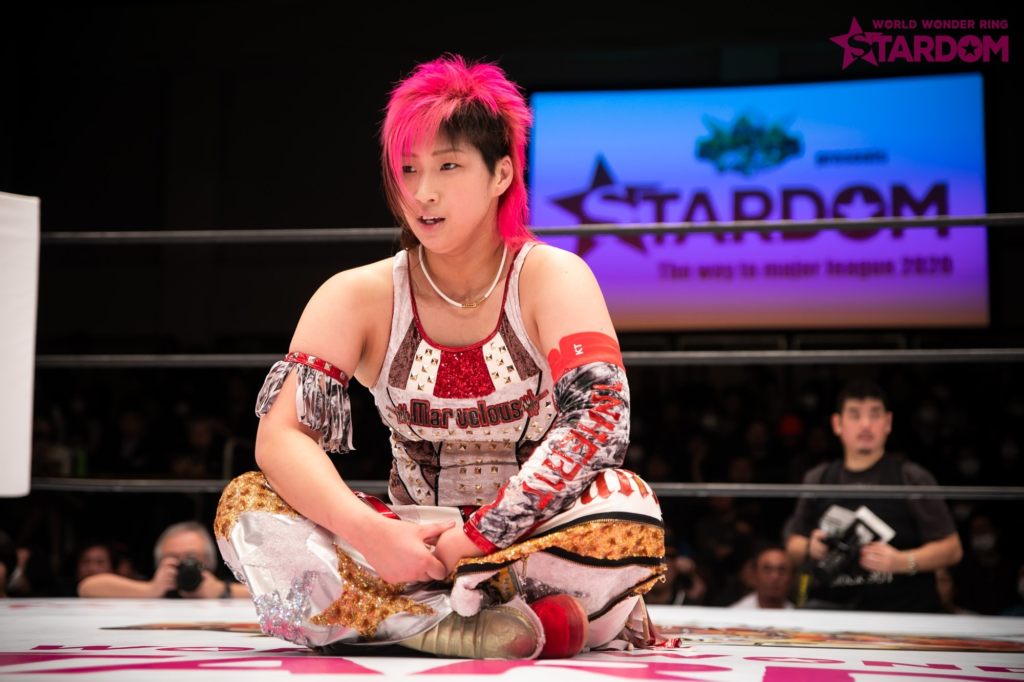 In October last year, Takumi Iroha challenged Utami Hayashishita in the main event of an Osaka-Jo Hall for the World Of Stardom Title. It was the first Joshi show in that venue in decades and for Iroha an important match due to her and Nagayo's history with the venue. She came out with the sword of her mentor Chigusa Nagayo who brought to the ring for Hokuto's retirement match. Iroha felt like she was a bit overwhelmed by the pressure in that match.
"Osaka-Jo Hall is a special place for me, because that was the venue where Nagayo-san and Dump Matsumoto fought their 'Hair vs Hair Match'.That was the match which inspired me to be a professional wrestler, so it could be said that Osaka-Jo Hall was the place where my dreams were born. Though the show was sponsored by Stardom, not Marvelous, It was still satisfying for me to be able to say 'I main evented Osaka-Jo Hall'.

However…I do feel that maybe, at the time, I was overwhelmed by the pressure of performing in such a big venue"

– Takumi Iroha
Many of our readers might never have seen or heard about Marvelous. Iroha told us why currently is the best moment to follow and support the Promotion and what makes Marvelous so special compared to other Promotions
"I would say that, despite Marvelous being a small company, our technique and skill level is quite high compared to other promotions in Japan. At Marvelous, we are very confident that any of us can wrestle with the very best in the world, and we want everyone in the world to know it. I see it as my mission to make Marvelous as popular as it can be. While our skill level is high, Marvelous isn't just about how many fancy moves we can do in the ring. What we really seek to convey to our audience, through our matches, is the pure emotions and drama of professional wrestling."

– Takumi Iroha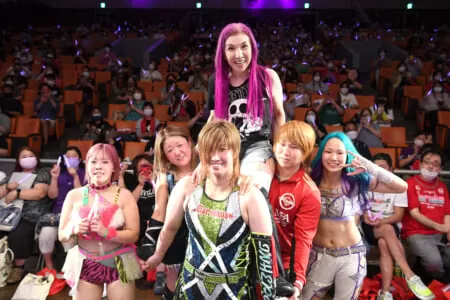 Takumi Iroha had a final message for everyone:
"To all my fans (and those that haven't had the chance to meet me yet) all over the world. It is my great pleasure for having this chance to introduce myself and Marvelous. Thank you so much.

Unfortunately, I fractured my collarbone during the last match. Now I find myself am answering these questions from a hospital bed. I will receive the surgery this Monday ( Oct 31st, Halloween!). The Doctors tell me it will take about 3 months for me to make a complete recovery. But don't worry! Now I get another chance to watch Marvelous grow stronger without me during my time off.

And I promise, I WILL be back. Stronger and cooler than ever. I look forward to meeting you soon, wherever you are in the world. Thank you. Arigatou Gozaimasu ありがとうございます."

October 29th, 2022 – Takumi Iroha

– Takumi Iroha