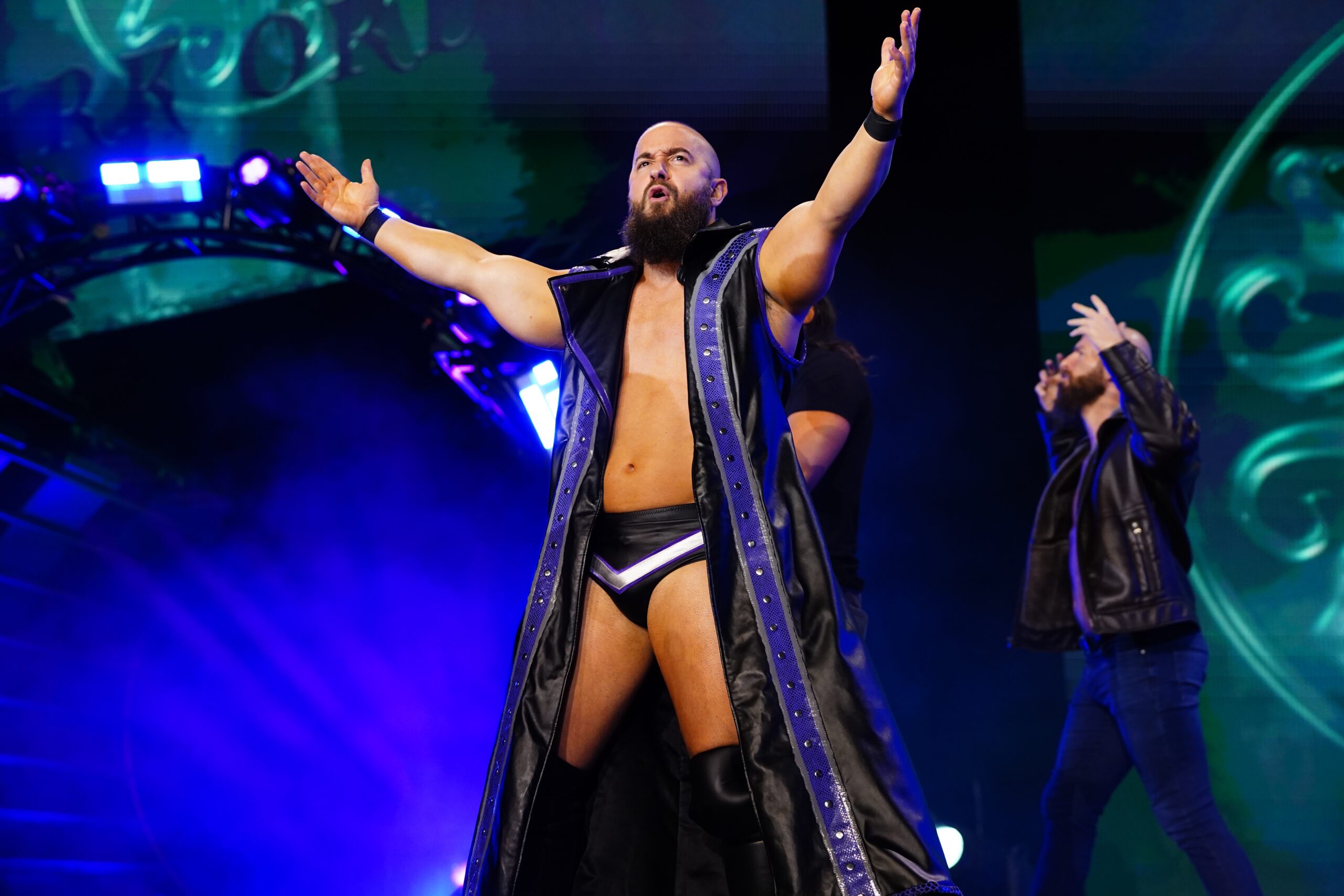 John Silver Interview AUDIO:
Long Island, New York has produced some of the most athletic, promising performers on the All Elite Wrestling roster. Hook, Trent Baretta, Tony Nese, MJF and of course, the Dark Order duo of Alex Reynolds and John Silver, all natives of the southernmost point of the state.
Well, last week on Dynamite, it was announced that on May 11th, Silver would be making quite the homecoming, facing CM Punk in Long Island, NY. Taking place at UBS Arena, John Silver will be returning to a building just fifteen minutes from his home. I sat down with Silver just days before perhaps the biggest match of his career, discussing this week's Dynamite and much, much more.
Usually fired up in front of the camera anyway, Silver is particularly excited about his upcoming homefield advantage. "Yeah, [I'm] super pumped," Silver said. "UBS, it's a huge arena, it's really cool there and its only like fifteen minutes from my house, so it's really cool. I've done UBS before, but it's always good to just be home and wrestle in front of my people."
Hometown crowds hold a special place in wrestling history, often making for unforgettable moments. In John Silver's mind, it's due to a deep connection unique to these occasions. "When they get to see someone that grew up similar to a place real close to you, or pretty much exactly where you're from, it's always like a big thing. I think it just makes them a little bit more excited. There's more on the line. It could be a regular match, no backstory, but if your guy's wrestling from your hometown, you are extra excited about it. I'm expecting the Long Island crowd to be fantastic."
For John Silver, it's been a long road to this point, with his journey starting at New York Wrestling Connection, located in Deer Park, NY. Silver started training at the prestigious wrestling school when he was only fourteen years old, absolutely driven by his already immense fandom. "I always wanted to do it, so I watched it from since I can remember as a kid really," Silver recalled. "My earliest memories in life have been watching wrestling, basically." Though his especially early start wasn't particularly common, Silver was an immediate outlier. "They [NYWC] said 'well, usually you're supposed to accept people at sixteen,' but I was an athletic kid and they said 'if your mom signs off on it, we'll start training you now.' I actually found out about NYWC because I went on like a Myspace, wrestling fan page and just asked."
Understandably, John Silver was an initially quiet student before much like his stint on AEW TV, becoming increasingly confident. "It was a lot of fun, especially when you're starting," Silver said. "I was so young and I was so nervous and scared of everyone when I first started. I barely talked to anyone so there's very few people I talked to at first. Then eventually, I became a lot more lively, but it's just a lot of hard work being new. I never tried to miss a practice, get there as much as possible. If someone was opening up the ring for us to train another day, I'd be on to them to make sure I was there. A lot of hard work, just trying different things too. Some people, from the minute they get into wrestling, they know exactly what they want to do and they have an idea how there character is. I had no idea."
Now one of AEW's most beloved protagonists, that's obviously changed in the many years since, but John Silver was experimenting from the very first chapter of his in-ring career. "I was just . . . guessing and trying different things all the time and seeing what stuck. My time as NYWC was a lot of fun, a lot of hard work, met a lot of good friends, it was good!" Speaking of those friends, it was at NYWC that Silver met Alex Reynolds, current tag team partner and fellow Dark Order member. Reynolds began training not long before Silver, and the pair quickly formed a special bond. "I think Alex [Reynolds] started training about a week or two before I started training, so we were in the same class of people who joined around the same time.
"There was actually about 8-10 people who joined around the same time me and Alex did, but they all eventually quit, then it was just left to me and Alex [laughs]. He lives pretty close to where I live so, not all the time, but eventually he would drive me home. I'd get my Mom to drive me to training, then Alex would drive me home, so of course we became friends through that way."
Though they'd eventually become a world-renowned tandem, John Silver and Alex Reynolds were not an immediate in-ring match. "His original gimmicks were a lot different than me, his original gimmick was more of like, a rich person from the Hamptons," the AEW star recollected. "I was more of a…I guess just like a crazy smaller guy, I guess? I don't even know, just kind of wrestling," Silver joked. The training partners would soon find themselves operating as a bell-to-bell unit however, not looking back since. "We just kind of made a joke about us tagging together and when we did a separate show that we'd never been to before, we just decided to just try it and have fun with it."
From there, the rest is history, "we realised that we do have a lot of good chemistry in the ring, so we just started doing that everywhere else." Silver and Reynolds' first AEW appearance came in the very early days of Dynamite, losing to Santana and Ortiz. "We did the third show ever for AEW, TV Show, and we kind of weren't told much. I don't even know if they had a plan but I remember after the first show we're just regular, just ourselves, we lost in about a minute and a half to Proud and Powerful. After, Matt Jackson is like 'hey, maybe we'll just have you guys come back every week and you'll always be called local talent even though we're in different places every week,' so maybe that's funny, I don't know?
"Then we didn't hear anything for like a week or two, and then we got asked to come back again and wrestle the Best Friends, a three minute match this time!" Silver joked. "After that, Matt Jackson again was like 'you know what? Maybe we'll just put you guys on the Dark Order or something' and I'm like 'okay!' but like, he says it very nonchalantly so I never really believed it was going to happen, just kind of like, maybe he was just talking, I don't know."
Clearly, the AEW EVP wasn't just talking after all, as John Silver and Alex Reynolds were soon added to the group and have been integral members ever since. However, the duo had to wait slightly before becoming officially All Elite. "Eventually, yeah they put us in the Dark Order, but even when we were a few shows into being part of the Dark Order, we didn't have any contract, we were just kind of coming to every show. Then I think I found out because I was taking a nap, and Alex called me and was like 'hey! Did you see your email?' and I said 'no.' He was like, 'we just got offered contracts' and I was like 'holy crap! Now I'm awake!' This is awesome, this is what I've been working for since I was fourteen years old and I was a little kid that joined a wrestling school, so it was fantastic. It was just such a proud of myself moment, which doesn't really happen too often but this was like 'wow, I'm actually proud of myself now.'"
Since then, John Silver's popularity has soared, even becoming known by the now famed 'Johnny Hungee' moniker. Though an almost immediate hit for live crowds, the nickname wasn't even originally intended for AEW television. Instead, it started within Silver's friend group, eventually becoming popularized on Being The Elite. "That was just me joking around with my friends really," Silver recalled. "It wasn't even wrestling related, we'd just kind of say it when I was hungry and would notice that people would laugh from it.
"I didn't really think much of it, I didn't think it was one of my best jokes [laughs] or anything . . . but I remember every time I'd say it, people were just giggling or laughing or whatever, so I'm like 'okay, let me just say it on BTE and see what happens. Then it just became a big thing, then all of a sudden you've got JR [Jim Ross] saying it every time I wrestle ten times," Silver said. "So now the crowds, they don't really chant John Silver but they chant Johnny Hungee, so I guess they caught on pretty well."
At the last AEW show held at UBS Arena, Silver squared off with Bryan Danielson in the main event of the December 8th, 2021 episode of Dynamite. Usually calm and collected, that occasion's significance was apparent to Silver, struck by the massive match and moment. "Yeah that was my first time wrestling him (Bryan Danielson). I think I was on one other show with him ever on the indies before he came to AEW. That was a big thing, I was nervous, I don't really get as much anxiety, or I don't get nervous as… I do get nervous, but this for some reason was like a different level. He's also one of my favourite people to watch wrestle and he's so good. He's one of the best in the world, if not the best in the world, so it was big, I was super excited, super nervous."
Though on the losing end of his headline bout with 'The American Dragon' though, John Silver certainly learnt from the outing. "I did learn but its more inside wrestler, just like timing stuff, its hard to explain exactly what that means but certain things in the ring he definitely showed me and it was good to feel that. It's always good, like you could watch someone wrestle and you kind of learn, but also it's when you're in there you kind of see it a different way, so it was really cool. I learned a lot from him. It was a really a big, awesome moment for the first time wrestling for AEW in Long Island, in the main event against one of the best wrestlers in the world, it was awesome."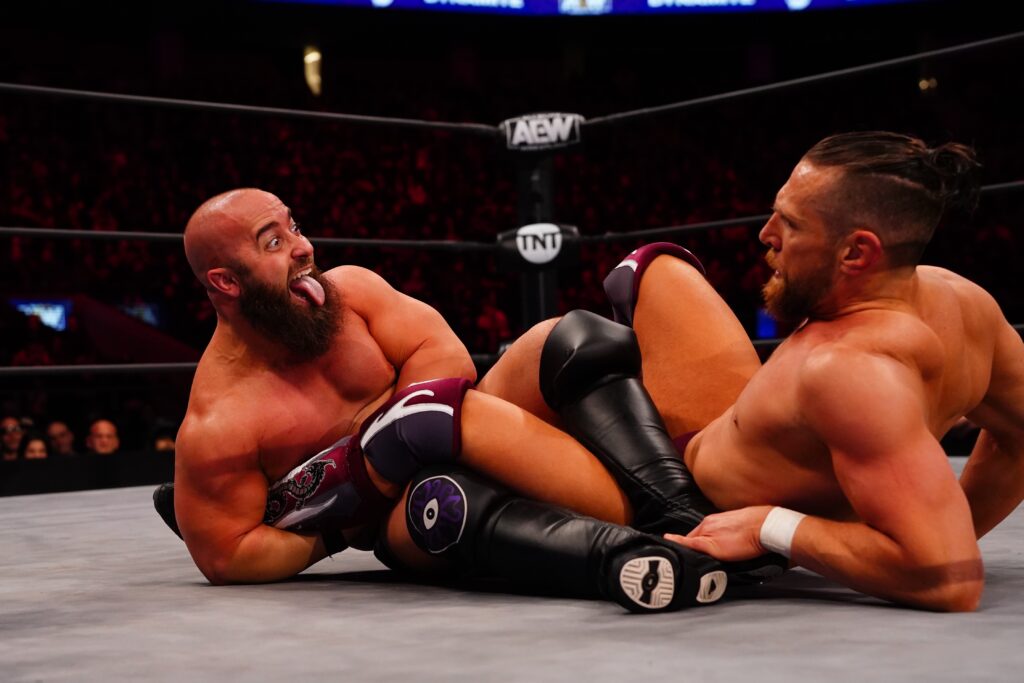 With one all-time great in his rear-view mirror, John Silver now looks ahead to this Wednesday, as he takes on CM Punk. At the time of this interview though, Silver remained calm about the opportunity, "the nerves aren't as bad right now, I hope I don't get as nervous again eventually," he said. "Right now, I feel pretty good. I'm excited, another guy I've watched forever and he's one of the biggest stars in pro wrestling, so to get to wrestle him at home in front of my family, my friends, it's going to be awesome. It's going to be exciting, I'm just pumped. Just getting ready, just doing a bunch of cardio, watching some wrestling and I'm pumped, I'm excited."
For Silver, this Wednesday represents the latest extraordinary stop in his lengthy, but still ongoing journey. From his time at NYWC to now wrestling on a worldwide stage with AEW, 'The Meat Man' remains in awe of the position he's currently in. "It's just, it's a full circle thing, because wrestling at NYWC and some other shows that have been on Long Island or have been in like the Brooklyn, Queens area, like some of it is so, so, so small scale. Like, it's you know, we've done shows in front of, I mean the normal NYWC would probably be at least a hundred people, but I've done shows that have been like twenty people, so it's pretty cool.
"If you would have told me when I was doing that show in front of twenty people and they're not even that loud or making that much noise that 'hey, one day you're going to wrestle at this new huge arena and you're going to be wrestling people like Bryan Danielson and CM Punk there on TV,' I would probably think you're crazy. Thinking of it like that is pretty nuts. I mean, super small arenas that we done . . . I say arenas, venues I should say. Like, gyms and warehouses and these just tiny places and now, like UBS is a really big arena so it's just come full circle. It's just crazy. It's just a crazy thing, it's awesome though," Silver concluded.
If you use any of the quotes above, please credit us & link back to wrestlepurists.com