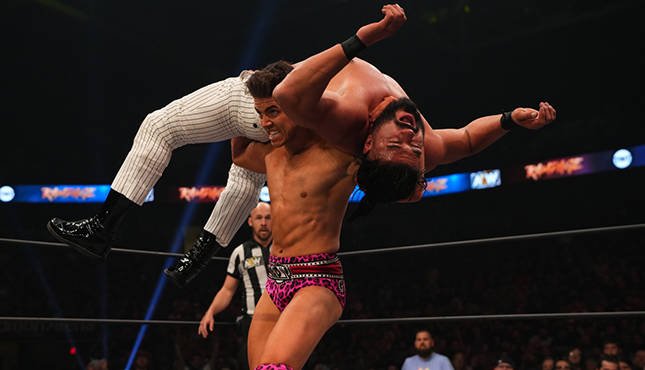 Ahead of last night's AEW Dynamite in Washington D.C., TMZ reported that Andrade and Sammy Guevara had both been sent home after a brawl broke out between the pair following their twitter spat in the days leading up to the show. The report was then corrected to state that only Andrade had been sent home, as Guevara remained at the arena in order to compete in the main event as scheduled.
Fightful Select have now provided further insight into the backstage confrontation, noting that Andrade is believed to have been the aggressor in the situation, thus clarifying why Guevara wasn't also sent home.
"Most of the accounts we've heard of thus far have indicated that Andrade was the aggressor and Guevara made attempts to not participate in the fight. Many accounts we've heard indicate that Andrade arrived and had waited to see Sammy Guevara, and threw a couple of punches before it was broken up."

-Fightful
The report then states that both men were spoken to and warned about not fighting eachother, with the belief backstage being that the pair's differences were expected to be squashed prior to the show as opposed to a fight breaking out.
The Wrestling Observer have since corroborated many of these reports, and have additionally reported that Andrade was told he wouldn't be fired in the event of a fight, although Fightful noted that they're yet to confirm this themselves as of writing.
Original reports regarding the confrontation claimed that Guevara had pushed Andrade, leading to punches being thrown, however Fightful pointed out that this detail was more in line with what Andrade's side of things were claiming, and emphasised that ultimately Guevara was left on TV whilst Andrade ended up being sent home.
As always, we'll aim to provide any updates on this developing situation as soon as we hear more.