Another match guide, another newsworthy block of pro wrestling. The "biggest party of the summer" dominates this week's headlines, with WWE's SummerSlam being the promotion's most divisive event since last year's shift in regime. Elsewhere, Gedo makes his own mess, shocking the world with a controversial conclusion to the G1's A Block. The best work is done elsewhere though, with the B Block closing in style while in Tokyo, KAIRI and Sareee come together for an all-star team.
In addition, Rampage rebounds, building on its recent improvement with an outrageous main event. World Championship Wrestling gets in on the action too, heading to South Carolina for a triumphant edition of Collison. Lots of wrestling and much to review, so let's get to everyone's favourite weekly wrestling match review column! All hail.
Arisa Nakajima & Takumi Iroha vs. KAIRI & Sareee (Sareee-ISM Chapter II)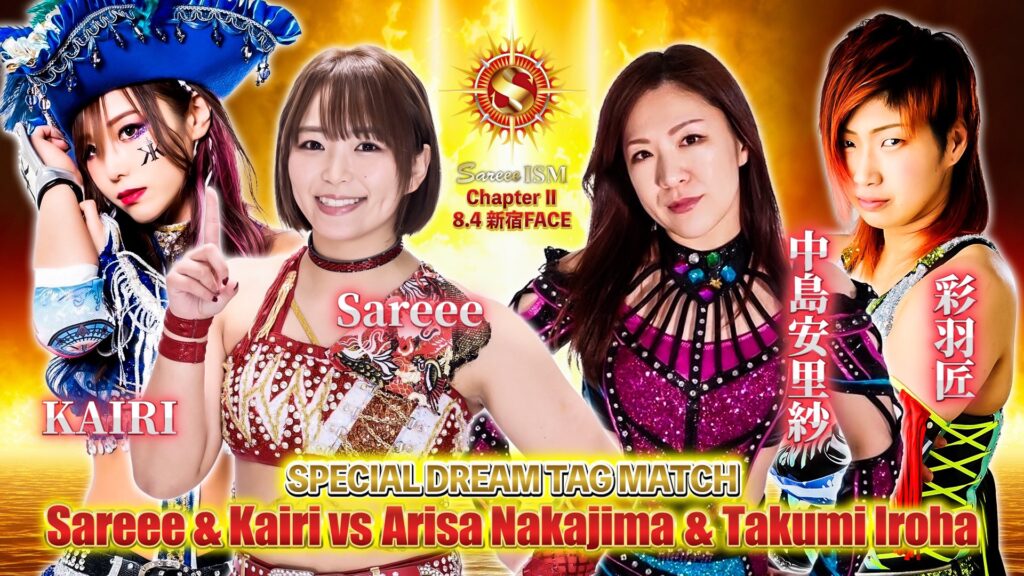 On Saturday, PWInsider reported that KAIRI had come to terms with WWE for a return to the promotion. That had her name in the headlines but one day prior, she'd earned critical acclaim inside the ropes, forming an all-star team with Sareee. Those two had never shared the ring before, with their dream team being the second Sareee-ISM show's main attraction. Sareee wrestled her first match since leaving WWE at the initial event, sharing a gruelling main event with Chihiro Hashimoto.
KAIRI and Sareee's opponents are slightly more familiar with one another, coming together for a tag team main event in April. That was Iroha's only appearance in SEAdLINNNG since 2019, with Nakajima remaining a constant in the promotion. The latter is on a collision course with Sareee, seemingly approaching their first singles match since 2015. The interactions between those two steal the show here, though KAIRI and Iroha carve out their own dynamic along the way.
There's immediate intensity at the bell, with Sareee whacking Iroha in place of a clean break. That very much sets the tone, but the match doesn't fully explode for some time. Instead, it frequently threatens to, with pockets of action emerging before they return to a more rigid form. They really have fun with this setting's freedom in that regard, stretching things out across their 27-minute runtime. Like with a recent Collision main or two, it's probably more time than they need, but there's a charm to that steadier pacing.
Each portion is able to breathe and the fleeting firefights feel earned, arriving just as you settle into the match's latest shape. Iroha and Nakajima implement much of that outline, taking an awful lot of the match. They briefly control KAIRI early, forcing Sareee to charge in for some tandem offence. That's a theme throughout, with the all-star pairing bending a rule on occasion in order to overcome their opponents' more cohesive effort.
KAIRI and Sareee combine for big dives to the floor, but the latter is soon halted, being isolated for her troubles. She never concedes in that role though, always fighting back and launching some clubbing forearms for continued signs of life. KAIRI's hot tag isn't far away, receiving a double feed after they tease an immediate cut-off. That soon arrives anyway, using quick tags and working as a team to slow her momentum.
That allows Sareee's own hot tag, and as the match veers towards twenty minutes, they go through the gears. There's a double submission spot and Nakajima's duel with Sareee finally takes centre stage, trading absolute bombs in centre ring. it's an incredible shootout, further selling their eventual singles bout as things begin to explode. Again, it feels earned after the meat of the match's patience, capturing chaos that's in total contrast to Iroha and Nakajima's prior tactics.
There are some gorgeous sequences late, including a great save on one of the final near falls. Ultimately, the uptick in pace allows the first time team to prevail, making their foes pay for a single mistake. Admittedly, much of this bout's appeal is rooted in the novelty to a matchup of this ilk, especially in such an intimate setting. Even without that element though, I enjoyed this very much, and really liked the twists and turns that its structure allowed.
It's not always silky smooth but there's a palpable spite to the action throughout, becoming outright thrilling in the closing moments. Really good match, wrestling stripped to its raw ingredients.
Best Friends vs. Claudio Castagnoli & Jon Moxley (AEW Rampage)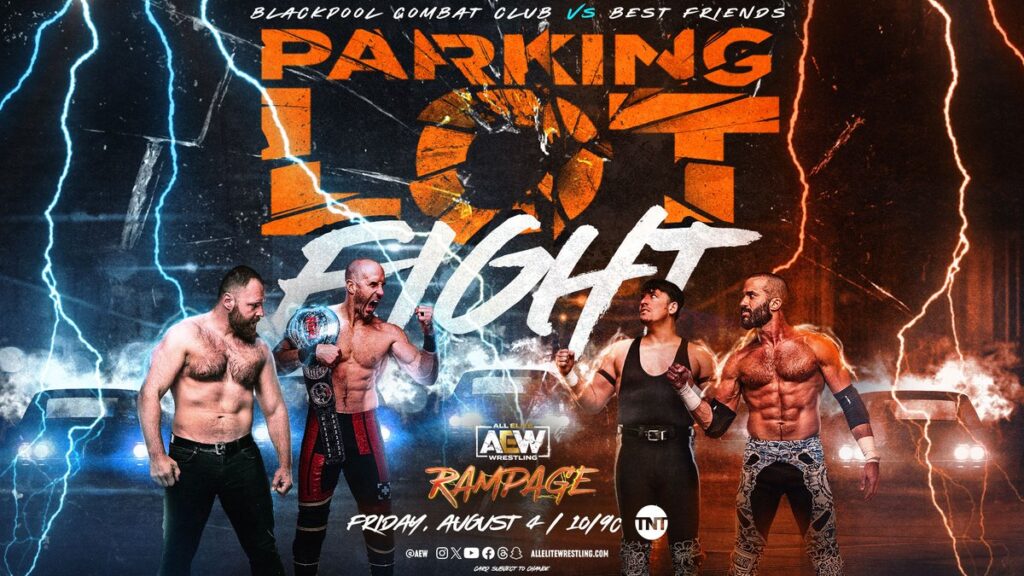 In 2020, the Best Friends produced a genuine television classic, sharing a violent Parking Lot Brawl with Santana and Ortiz. Now, they return to that setting, closing Rampage opposite the Blackpool Combat Club duo of Claudio Castagnoli and Jon Moxley. In the three years since that violent masterpiece, Chuck Taylor and Trent Beretta have had their ups and downs in terms of usage. They've been riding an uptick in that regard as of late though, seemingly benefitting from the soft brand split.
In recent weeks, they've become embroiled in a rapidly escalating war with the BCC, reigniting their conflict opposite The Lucha Bros along the way. On Wednesday, that produced an insane triple threat match, with Trent scoring the rare television win, scoring a timely blow on Moxley and pinning Penta. That match was violent, especially for the second match on a weekly Dynamite, but it'd be emphatically topped two days later, with this Rampage effort proving a worthy sequel to the 2020 epic.
It's an incredibly impressive match as within the carnage, they allow for something really watchable, even at an extended runtime of eighteen minutes. Immediately, they pair off, with Castagnoli and Taylor locking horns while Moxley goes to work on Trent via fork. He is bleeding in seconds, with Moxley not far behind. It's not understated necessarily, but I'm still not sure that Trent gets quite enough credit for just how insane he is, seemingly in constant pursuit of the most damaging destination possible.
He's in rare form here, visibly destroying himself in this setting. Upon thought, it's not all that rare at all really, this is just what Trent does. Meanwhile, Castagnoli begins to deconstruct the surrounding vehicles, which is a theme throughout in some form or fashion. It's hard to review these matches without giving in to the temptation of just listing all the awesomeness, and there's an album's worth here. It's nonstop in fact, just an onslaught of stuff, ranging from horrifying to innovative, sometimes managing both.
They soon crossover some, blending those dynamics as Blackpool Combat Club begin to dominate. Their performance is terrific here, maintaining the constant contrast between Castagnoli and Moxley while sharing that bruising bully demeanour. Taylor is no mere passenger either, making a big comeback after they isolate Beretta for a brief but spiteful portion. The match does a wonderful job of feeling organic, working those beats into what feels like a fluid shootout.
Moxley is playing his favourite Funk covers at times, staggering in circles after eating a piledriver on the hood of a car. Some of the stunts are truly preposterous, including a barricade resting on two car doors for a senton. It's all delivered with such aggression that they maintain a credibility though, still feeling rooted in reality, even as they get increasingly outlandish. It's a fun watch but feels more hateful than that, avoiding the very real possibility of getting too cute for its own good.
There are some shenanigans late, or shenanigans beyond the norm in a Parking Lot Brawl at least. Like most interference spots, that's introduced by Chuck Taylor syphoning gasoline, with more antics following suit. It's all handled well, adding some theatrics to the violence while still landing upon a fittingly gruesome finish. Awesome match, coming closer to the original than I had expected, all things considered. It's an insane effort for Rampage in particular, but I shouldn't be surprised.
Speaking of such, what an inspired choice for the taped show's main event. This is an extreme example obviously, but they should experiment with more wacky on-location additions to Rampage. Don't go full cinematic, if possible, but get weird with it, this gave the show a really unique, engaging vibe.
Gabe Kidd vs. Yota Tsuji (NJPW G1 Climax)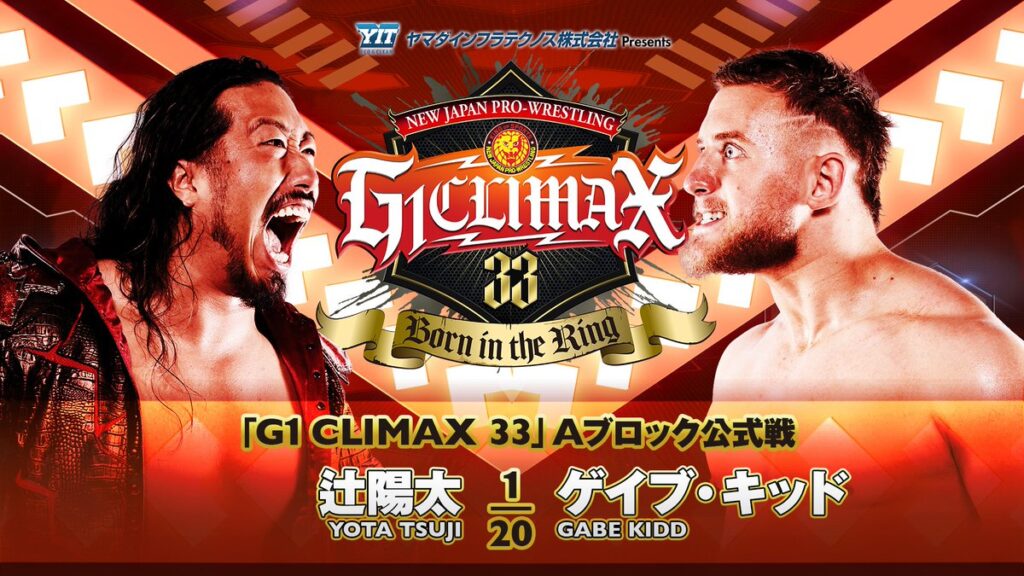 Saturday wasn't a particularly good day for this year's G1 Climax, violently erasing much of the tournament's remaining goodwill. They'd rebound some the following day, but the A Block's closing chunk will be remembered most for its outcome. Even still, there was a gem within that controversy, as Gabe Kidd and Yota Tsuji got the night's tournament action underway. These two have been bright spots throughout, making the most of their first G1 campaigns after recently scoring prominent roles.
Now part of BULLET Club War Dogs, Kidd is arguably leading that pack in terms of output. He's been a natural fit, playing wild man and returning the faction to its ruthless roots. Kidd's G1 has been impressive, even if more from a performance point of view than any individual classics. Tsuji has been even better, producing at a rate befitting his recent main event push. Sporting a slightly strange charisma and almost baffling athleticism, Tsuji jumps off the page, earning an early lead over his peers for my money.
Though they are new to these presentations, Kidd and Tsuji are certainly not new to each other. In 2020, they wrestled thirteen singles matches, battling frequently in the young lions' unofficial G1 block. Those matches bled into early 2021, with their two bouts since taking place in England. The most recent of those outings came in February, as they closed a RevPro show in London. Their chemistry is apparent six months later, producing my favourite match of either man's tournament.
In truth, they secure a headline or two before the bell even rings, running a twin magic spot as Tsuji counteracts Kidd's usual pre-match attack. The reaction to that is quite incredible, as it's greeted by a stunned silence that contrasts incredibly with Kidd's rather colourful commentary. That switch-up allows Tsuji to shine, scoring first only to be halted by a thudding back suplex on the floor. At the first sign of an advantage, Kidd thrives, absolutely relishing the chance to run wild.
He's still finding his way with this act, and is probably pushing a touch too hard right now, but Kidd very much has the right idea. There's a sense of danger to his game and though it won't win any awards for subtlety, Kidd is believable as the crude brawler unleashed. His offence fits the bill too, chucking Tsuji (and his twin) around while dishing out some clobbering along the way. The trash talk is constant, eventually opening the door for Tsuji's retort, as Kidd talks himself into a violent chop exchange.
For all his bluster, Kidd undoes his advantage with that misstep, stubbornly battling on and only eating further bombs for his troubles. There's a great deal of physicality to those exchanges, with that firepower shaping much of the match's runtime. Tsuji's range remains staggering, showing obvious comfort in these firefights but just as capably flying through the sky. There's a unique dynamism to his work, with Kidd not far behind, producing thrilling momentum shifts late.
They get an awful lot done here, ultimately producing the ideal G1 bout for two young, bullish prospects such as these two. Their work looks good and they really bring it, operating with a refreshing enthusiasm in a tournament that's had its fair share of sluggishness. This is more like it, great action until a sudden, sharp finish. Really good match, closing both campaigns with a bang.
Drew McIntyre vs. Gunther (WWE SummerSlam)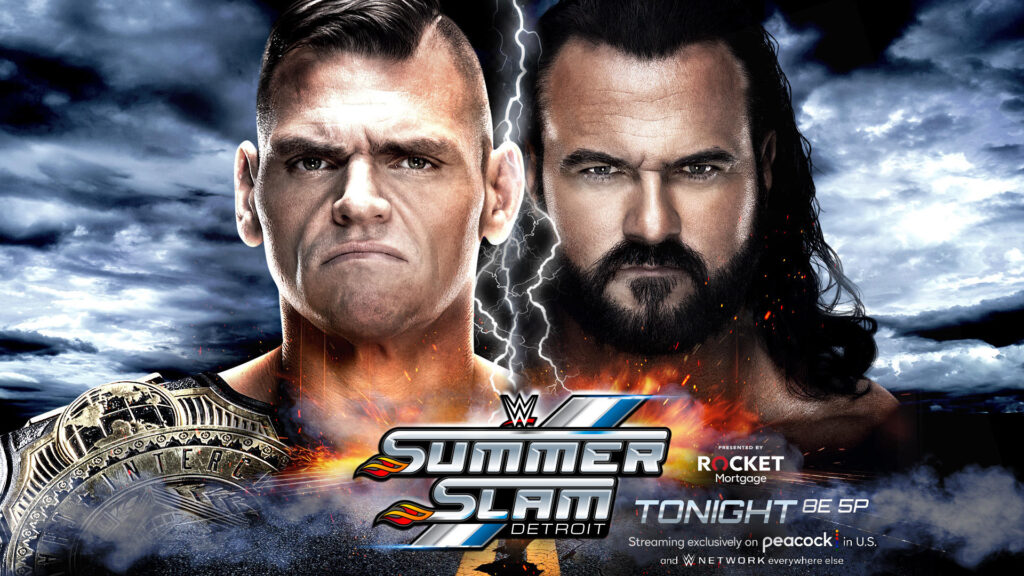 On paper, this appeared to be in pole position for SummerSlam show-stealer. Since becoming champion last June, Gunther has produced probably the greatest Intercontinental Title reign in history, making magic with multiple contenders. At WrestleMania, that included an unfathomably great triple threat, trading knockout blows with Sheamus and Drew McIntyre. Last month, the latter returned, flooring Gunther after his Money in the Bank defence, setting up this substantial title tilt for their first singles match with one another.
It's good, maybe even very good, but struggles mightily to reach the lofty expectations awaiting them. Much of that isn't really their fault, with the runtime of just fourteen minutes or so certainly limiting them. However, this isn't without strange choices beyond that, producing a slightly peculiar first act. It seemed as though they'd overestimated their heat in this setting, sharing a standoff at the bell to minimal response. That's a theme early, with their feeling out process not quite matching the audience's reaction.
That issue is exacerbated by the eventual conclusion, as it arrives far sooner than this opening would suggest. Considering that, it certainly feels as though they'd have been well served to skip the formalities in this environment. It's worth noting that beyond the bigger crowd and building, this match also went on after Ronda Rousey and Shayna Baszler's misplaced "MMA Rules" match. That definitely didn't help as though they tried and weren't without ideas, that match did not suit this setting.
Either way, things improve once Gunther takes control, leading a typically superb control segment and loosely targeting McIntyre's back. Eventually, that brings his famed chops to the dance, with McIntyre responding accordingly. A bruising exchange follows and the match finally takes the shape that most expected, with the physicality swiftly earning some engagement. McIntyre's comeback builds on that, with some nice heavyweight momentum swings emerging afterwards.
It quickly goes through the gears, even while still slightly struggling for the response that they'd like. Regardless, the work is terrific, with champion and challenger clobbering this match towards its potential. There's enough time left for a strong near fall also, but the finish line is fast approaching. Ultimately, you're left wanting more, which certainly isn't a bad thing but even still, SummerSlam would've greatly benefitted from a more complete version of this match.
As is, it's a good addition to Gunther's catalogue, but settles at that level, only briefly threatening to explode into something great. Again, that's mostly due to circumstance, though I wish they'd have adjusted to the surprisingly lukewarm crowd that greeted them at the bell. Hopefully, there's a sequel in their future. If so, I have no doubt that this'll be comfortably surpassed.
Finn Balor vs. Seth Rollins (WWE SummerSlam)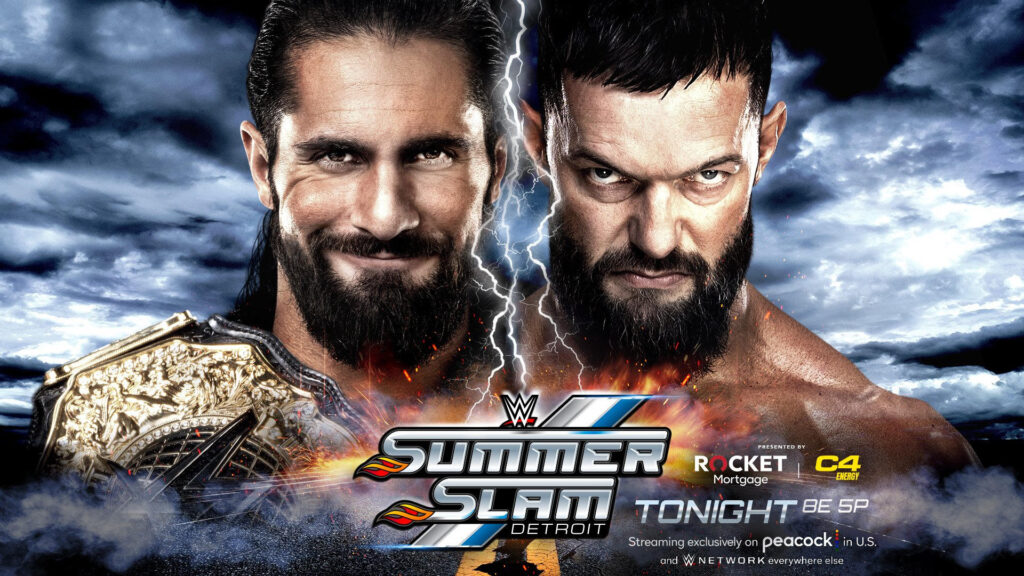 Seven years ago, these two wrestled a slightly strange match, crowning the first Universal Champion at SummerSlam 2016. Last month, they wrestled a stranger match at Money in the Bank, not really getting out of first gear for an ultimately forgettable World Heavyweight Title tilt. Now, they meet again, returning to the SummerSlam stage for almost certainly Balor's last shot at the gold. Though the crowd seemed intent on another strange encounter, they actually had my favourite match of the night.
They found immediate intensity at the bell and even before, sharing a brawl to set the tone. The heat for this was minimal, which was the case for much of SummerSlam unfortunately, even with a substantial house in attendance. Even still, that opening was a positive first step, working with the urgency befitting a main event match, even if the audience wasn't quite with them in that regard. They go into a brief Seth shine from there, scoring first only for Balor to turn the tide, targeting Rollins' arm.
Until the finishing stretch, it's a very simple match, but one that I enjoyed quite a bit. Balor takes much of it, working that arm diligently, utilising varied offence along the way. It's a fabulous control segment, even if the audience isn't exactly rocking in response. Balor keeps it sharp and snug on his end, working physical and operating with palpable intent. Rollins has nice fire in response too, pairing timely hope spots with admittedly inconsistent selling.
That's frustrating, especially late, as Balor's work feels increasingly irrelevant as they go beyond this portion, which doesn't do his output justice. Even still, he makes a strong comeback and they go into some nice back and forth action. Their efforts earn some engagement from the crowd, particularly as they play with the infamous Buckle Bomb as a theme. It's not groundbreaking action or anything but it's rock solid, and the correct way to navigate an audience such as this.
They get to work, plain and simple. The result is increasing investment, which is dramatically accelerated by The Judgment Day's arrival. Their presence provides genuine drama, even convincing the people of a potential title change. That includes one especially great interference spot, but it's all well done, adding an exclamation point to the more workmanlike meat of the match. It's a really nice bout, improving greatly on last month's match in London and making good on their chance at a sequel.
I don't think this was ever destined to be a classic or anything approaching that level, but they make the most of their time and produce a worthy title match. Balor is especially great here, even if to limited response. Unfortunately, I don't think these big crowds really buy him as a likely candidate to be champion, but I really like what he's found as a veteran heel in recent months. Just sound pro wrestling, the basics done well, pairing that silky smooth movement with a striking spite.
Good match, my favourite on The SummerSlam.
CM Punk vs. Ricky Starks (AEW Collision)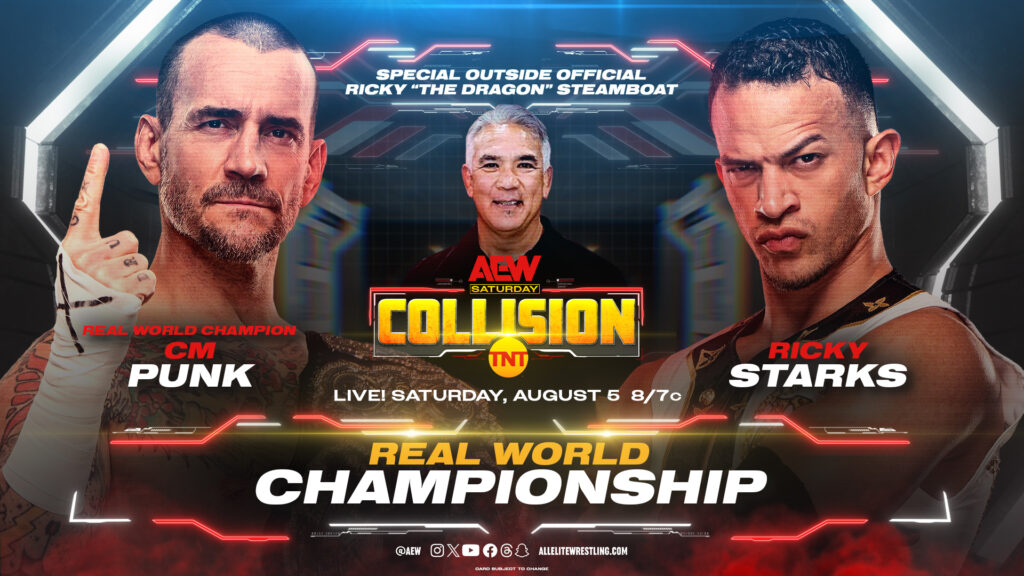 In all the ways that matter, Collision has been transformative for 'Absolute' Ricky Starks, finally making his way across the bridge to main event status. For losers like myself though, he's yet to produce the match to accompany that feat, always showing flashes of brilliance in final products that settle at solid. For me personally, that was the case with his Owen Hart Tournament win too, sharing an incredibly divisive match with CM Punk.
There's a lot to like about that match, but it became slightly disjointed as they swam into deeper waters, now meeting again for Punk's "Real World's Championship." Ricky Steamboat is in attendance also, providing an extra pair of eyes at ringside in order to prevent Starks' recent rule breaking. They establish his presence seamlessly, establishing a conduct befitting the great man. Like every other Punk match since his return, this is armed with an incredible atmosphere, duelling chants accompanying their opening act.
They wrestle a traditional match early, letting that excitement expand while continuing to build upon this almost mirror image between them. That idea was present in their first match, with showy one-upmanship being a central theme. It was almost passive then though, with Starks' recent turn allowing more animosity on this occasion. They play around with that intensity too, as the split crowd equally enables an almost babyface match at times, featuring frequent momentum shifts.
As a result, they're able to gradually ramp things up, with an explosive brawl emerging along the way. Eventually, they settle into some heat, with Starks grabbing a hold in centre ring. it's a slightly jarring change of pace, but Punk's popularity quickly overcomes that hurdle, with the people remaining firmly onboard. With that being said, it does stretch Starks' content slightly thin, especially within a dynamic where many still very much want to cheer him.
He does display growing comfort here though, appearing noticeably more at home in his second attempt at colouring inside Punk's outline. Even still, it's not the smoothest ride, with some messiness creeping in as they approach and go beyond twenty minutes. That's an issue with the finish itself unfortunately, concluding the drama in slightly flat fashion. Before that final note though, they really do manage some drama, admirably getting the people to bite on near falls not even involving Steamboat.
It's a really good match, and a clear improvement on their first effort. Even still, it's not without issues. I'm not sure they quite had the ingredients for a 22-minute match. in addition, I'm not sure that they have much natural chemistry either, still willing this in the right direction on sheer talent and knowhow. Their matches slightly struggle for rhythm at times, but the atmosphere following Punk comfortably overcomes those flaws here, with Starks really belonging in that regard also.
In addition, Jim Ross was terrific as the third man, only adding to Ian Riccaboni's fabulous dynamic with Nigel McGuinness. Thrilled to hear the big man's voice again, am glad that he seems to be doing better.
El Phantasmo vs. Will Ospreay (NJPW G1 Climax)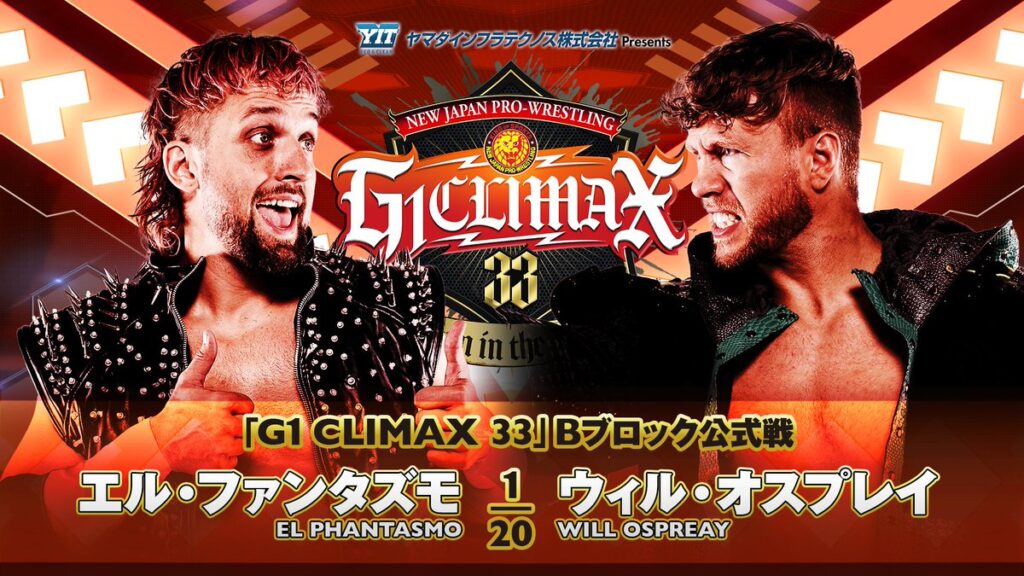 "In a night that featured Diaz vs. Paul, UFC and SummerSlam, G1 B Block Finals was never going to match the level of star power that they had. But if you did tune into tonight's match, I hope in terms of quality, we topped the above with the best pro wrestling on the planet."
That post-match tweet gives an idea as to Will Ospreay's mindset entering his bout with El Phantasmo. In terms of offering the world's finest wrestling, he and Phantasmo wouldn't have much assistance, with the block's best being tied up in a limiting and/or unfavourable matchups. That only seemed to motivate Ospreay more though, entering this match with palpable intent, desperate to make magic with a familiar face. As junior heavyweights, these two were frequent foes, sharing three matches in 2019.
Last year, they opened their G1 campaigns against one another, now meeting again in a decider for the B Block's 2-seed. It really feels like the perfect version of this match, or ideal for my taste at least. They quickly establish Phantasmo's remaining speed advantage, exploding with these pockets of pace that rattle Ospreay. While his own acrobatics aren't totally absent, Ospreay wrestles a match mostly in response to that idea, almost operating as a knockout artist, making each bomb count.
After all, he's the much more established heavyweight, using his noticeable size and power advantage to really rough Phantasmo up. In control, Ospreay's a borderline bully at times, clobbering the smaller man and making the most of any opportunity to trade bombs. Those offerings really unlock Phantasmo as the match's protagonist, embracing Osaka's adoration and turning in a terrific babyface performance. The shtick is barely even teased, it's a presentation built on bravery, as Phantasmo valiantly soaks up thudding blows.
As someone that's not watched tons and tons of Phantasmo but has found his prior antics slightly frustrating, I loved his stripped-down effort here. That's not the right phrase for it really, as all the fireworks remain intact, they are just paired with a simple story of an underdog trying to shock the world. It's the perfect match for this setting too, really convincing the increasingly excited live crowd that Phantasmo is approaching the finish line.  
His bursts of offence feel desperate and urgent, with that element only emphasised by Ospreay's always explosive bumping. They push an awesome pace throughout but it's extraordinary late, producing an incredible, extended finishing stretch that's almost breathtaking at times. It feels as though Phantasmo is sprinting away from the inevitable, constantly avoiding the conclusive blow and riding a wave of momentum to threaten the unthinkable. That only makes the eventual finish more impactful, ending things in blunt, brutal fashion.
It's my match of the tournament thus far, with only Kingston – Ishii even in the conversation, frankly. Am not surprised by this rocking the live crowd, but will admit that I'm slightly stunned by how much it worked for me. Ospreay is at his spiteful best here and Phantasmo produces a traditional babyface performance that's wonderfully at home in Osaka. Great match, a must-watch thriller.