Yep, you guessed it, another big week in pro wrestling. This past weekend, the G1 Climax concluded, with Tetsuya Naito rolling back the years for two epics in a row. Elsewhere, other tournaments rolled on, with Stardom's 5STAR Grand Prix producing another hit while NOAH's N1 Victory found one of its first. Meanwhile in Gotham, a new United States Champion was crowned, while Collision added another all-star tag main event to its catalogue. In addition, the match guide returns to HonorClub!
As always, these are not the week's best matches, simply a selection that I've opted to cover in more detail. With that in mind, let's get to the main event, your friendly neighbourhood match guide.
Natsupoi vs. Syuri (Stardom 5STAR Grand Prix)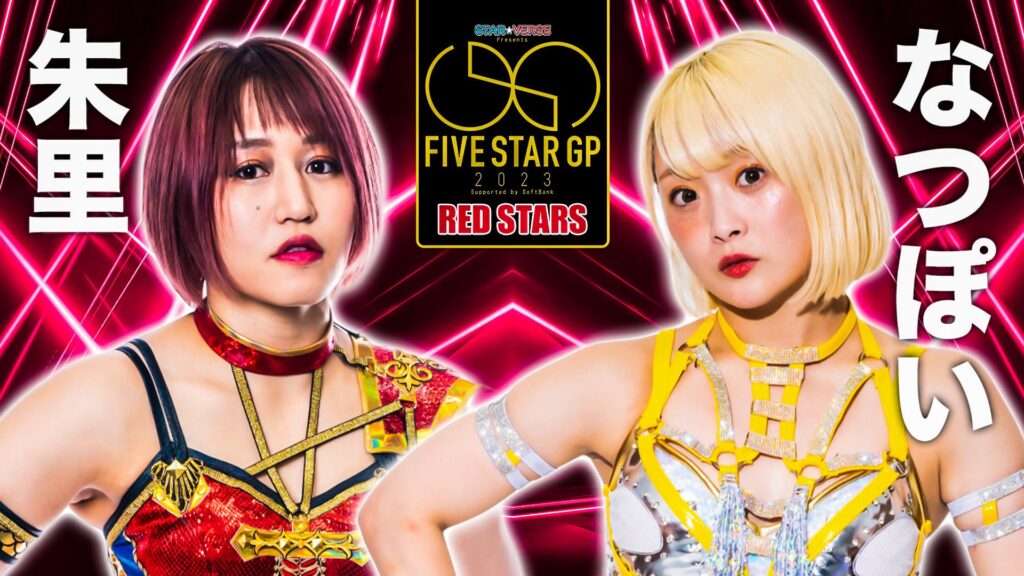 Now a few weeks removed from the 5STAR Grand Prix's critically acclaimed opening night, Stardom earned further praise for its show at the wonderful KBS Hall. That event was closed by the second singles match between Mayu Iwatani and Suzu Suzuki, with Mariah May also earning rave reviews opposite Giulia. Natsupoi and Giulia stole the show though, producing a tournament standout in the co-main event spot. This is just their third meeting, and the first in well over two years.
For anyone unaware, these tournament matches are all limited to a 15-minute time-limit, which very much shapes the action. Generally, that ensures a certain pace, often requiring matches to focus on a core idea or two. That's very much the case here too, as Syuri takes an awful lot of this one. They hit the mat early, where she establishes an immediate advantage, attacking the arm and threatening a rapid finish. Natsupoi responds by increasing the pace, scoring a fabulous sequence.
That only makes Syuri's approach more direct though, bringing her strikes to the party and quickly charging ahead. As usual, those blows look immaculate, positioning Natsupoi as the match's protagonist and allowing her to sell. That makes up much of the match's content, with hope spots scattered throughout. Syuri really relishes her role within that dynamic also, getting increasingly violent in response to each valiant retort. At one point, that includes a flurry of knees to the gut, ruthlessly slowing Natsupoi.
They find some real variety for Natsupoi's fleeting comebacks too, scoring a bulldog on the floor only to be halted by a thudding apron spot. Even a German suplex on the floor can only slightly turn the tide, with Syuri swiftly kicking her way back ahead. Some of those are flashy while others are downright mean, literally booting Natsupoi to the mat. Either way, those momentary signs of life are frequently halted with a single strike, maintaining the match's rhythm.
Until the final stretch, it's mostly one-way traffic, as Natsupoi takes violent bumps while wearing agony on her face. That includes an extended submission sell late, with Natsupoi then finally finding her most sustained success of the match as they cross thirteen minutes. That allows for an exciting race to the finish, as Syuri is suddenly holding on after such extended dominance in the meat of the match. She survives, adding a sense of mystery to the time limit draw.
It's a really simple match, but a very good one on the work's quality alone. Syuri is offensively unlocked here, taking advantage of the space given while Natsupoi is an absolute delight on the sell. Both roles are played to perfection, focusing on a core dynamic for a really nice fifteen minute bout, creating intrigue for a sequel along the way. Really good match, a nice snapshot of both brilliant talents.
Gates of Agony vs. The WorkHorsemen (ROH on HonorClub)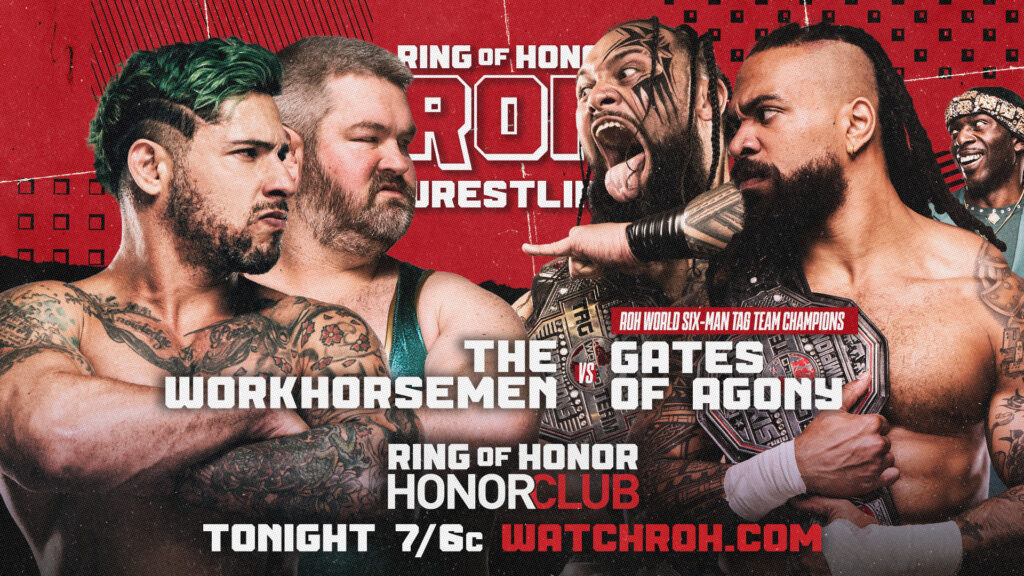 Since their cursed and/or incompetent build to Death Before Dishonor, ROH TV has quietly improved following that PPV's surprising quality. Some stories are being told and a touch of coherency is accompanying them, warts and all. With that being said, it's still not necessarily a product for this particular format, mostly using shorter matches to feature an army of talent. This week, only one match crossed ten minutes, with Gates of Agony meeting The WorkHorsemen.
Though they're very much at contrasting points of their careers, both teams feel as though they have more to offer on a stage beyond this. Even still, Ring of Honor allows opportunities such as this, giving these two teams some time to do the dance. The WorkHorsemen are operating as babyfaces here, with JD Drake receiving a positive reaction in particular. They are in Greenville, South Carolina for this one, hitting the ring around an hour following CM Punk vs. Ricky Starks.
Anthony Henry and Bishop Kaun set the stage, sharing a slick exchange as the people chant for Drake. He enters opposite Toa Liona, producing the rare but relished headbutt – chop exchange. Liona has some real flashes and they often emerge out of nowhere, at one point greeting Henry with a sudden tackle that feels as though it's from a different match. Moments later, Gates of Agony explode into action on the floor, leaving a crime scene at ringside.
That transitions into some heat on Henry, which remains the actual challenge for Kaun and Liona. On sheer athleticism and firepower, they'll always have the weaponry for the match's more explosive moments. They're noticeably improving elsewhere also though, with Kaun steering the ship as his team's more experienced, polished worker. He's impressive here, sprinkling in some heel antics and actively cutting the ring off, constantly giving Henry something to sell.
He capitalises accordingly, delivering as babyface in peril and adapting to a role that I wouldn't necessarily associate with his skill-set. Henry makes the heels earn their heat, finding some hope spots along the way. Their efforts build nicely to Drake's comeback, which gets a good reaction, especially for this show at that hour. The big man clubs things back to neutral, even scoring a near fall via Boss Man Slam.
With Kaun isolated, they go into a slightly messy sequence, ultimately making up the difference due to Drake's big dive. The Workhorsemen's big comeback produces some genuine excitement, logically building on Kaun's time alone. Unfortunately, they wind up out of position on a near fall late, awkwardly clawing their way to the ropes in a fashion that momentarily hurts their heat. It's hard to dwell on that misstep though, as Liona then flattens Henry, returning for some tandem offence as the heels emphatically close the show.
Perfect finish here, giving the babyfaces just enough before halting their momentum in sudden fashion. This felt as though they'd ran into a brick wall one time too many, which certainly fits Gates of Agony's look. It showcased Prince Nana's importance also, leading Henry into a trap that ultimately decided the match. More of that, especially on TV, it answers the obvious question. Good match here though, even with a miscue or two. This is efficient matchmaking, pairing Gates of Agony with two selfless veterans.
Perhaps when they hit a town that'll favour Kaun or Liona, they could switch it, as I sense this works just as well with the roles reversed. For now though, a nice outing, good television tag.
El Hijo del Dr. Wagner Jr. vs. Go Shiozaki (NOAH N-1 Victory)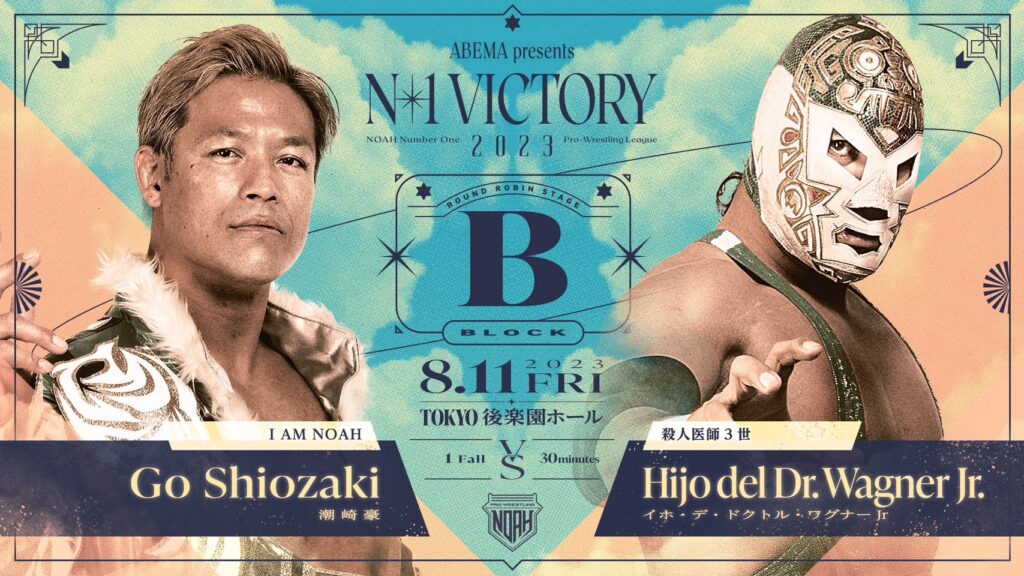 Once again, the match guide finds itself at Korakuen Hall. Last week, NOAH's N-1 Victory tournament got underway, starting in tepid fashion, to put it politely. After struggling to earn much attention, the fourth night finally stole a headline or two, producing an exceptional main event between Go Shiozaki and El Hijo del Dr. Wagner Jr. The latter is currently NOAH's GHC National Champion, winning the belt last November. On the other hand, Shiozaki returned to the ring in May, coming back after being sidelined in September.
Prior to this tournament, Shiozaki had just one singles match since returning, being toppled by Kenoh at Korakuen Hall. Shiozaki did not get his N-1 campaign off to an exactly electric start either, but delivered big opposite Yuma Anzai, building on that effort here. This is just the second singles match between these two, with the first coming in last year's N-1 Victory, also at Korakuen Hall. As usual in that iconic building, there's a great atmosphere for this main event, with the people noticeably behind Wagner.
They work a main event opening, wrestling for position and sprinkling in some antics along the way. There's taunting back and forth, planting seeds for the match's eventual explosion. They establish a slight styles clash early too, as Shiozaki quite literally swats Wagner out of the air. Shiozaki immediately extends that advantage, roughing Wagner up at ringside and cementing his control of things. He then grabs a hold in centre ring, with Wagner earning genuine drama by desperately pulling the fingers apart.
That aforementioned explosion arrives shortly afterwards, with Wagner throwing a thudding chop of his own. That earns about what you'd expect in response, with Shiozaki whacking Wagner to the mat. Wagner hangs in there on that front though, still showing some offensive range for his success, including a heavy dive to the floor. He follows that with an extended submission spot, as Shiozaki displays some range of his own to regain control.
Wagner's reply is admittedly messy but they immediately get back on track, returning the match to its core identity as an outright slugfest. Even as they get expansive late, that physicality remains, really capturing the tone of a dangerous shootout. They certainly do get expansive too, with Shiozaki even bringing Wagner Jr. off the top via 'rana late. There's a wonderful escalation to the closing stretch, blending the match's many elements while keeping each momentum shift rooted in those back and forth bombs.
Each near fall builds on the last, ultimately culminating at the match's absolute peak, also. This is a great match, and a surprisingly brisk watch considering its near-25-minute runtime. Their range allows that, adding some variety to the core chop exchanges that'll rightly steal the headlines. Loved this, a must-watch for anyone who like myself, lives for the horrifying sound that only a great chop can provide. Great match.
Austin Theory vs. Rey Mysterio (WWE SmackDown)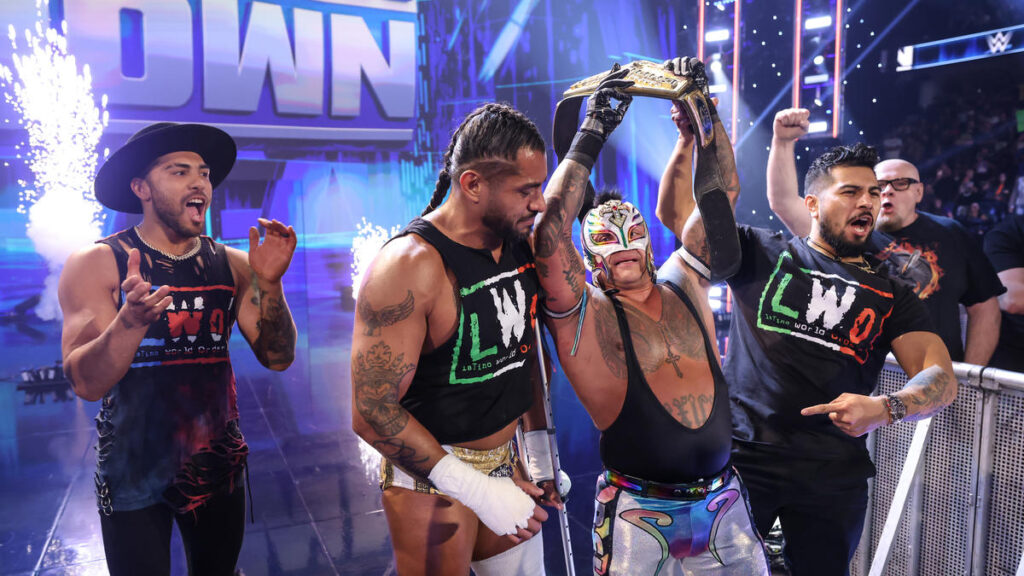 This is a match guide and so naturally, a particular type of bout often dominates my weekly selection. With that being said, I thought this was an interesting chance to showcase the unique opportunities that television wrestling allows. At not even three minutes bell-to-bell, Austin Theory vs. Rey Mysterio isn't likely to make anyone's year-end list. With that being said, this is a wonderful piece of pro wrestling, truly triumphant television.
As fans arrived at Friday's SmackDown, they expected to see Theory defend his United States Title against Santos Escobar. Instead, Theory attacked Escobar backstage, then repeating that crime as the intended challenger made his entrance. That set up an impromptu situation, with Mysterio stepping in to a thunderous ovation. Immediately, the broadcast is brought to life, as fans piece together the unexpected but now seemingly inevitable outcome ahead.
These sudden scenarios allow for an almost dizzying dynamic, throwing an equation our way that we didn't even have time to calculate. Instead, it's revealing itself before our eyes, making us question if indeed, this is really about to happen. Now, there is more physicality here than that aforementioned runtime suggests, with Mysterio flurrying big before the bell. They go to a break before its official also, with Theory getting some heat on Mysterio while we're away.
We return to Mysterio's timely retort, rocking Theory and making his comeback. That sets the tone for much of this mini-match, as Mysterio produces just about every move he can muster from there. It's an inspired approach, riding the wave of excitement rather than crowbarring this into a more traditional match. Theory has a moment or two, but it's mostly Mysterio and the match is better for it, stringing together signature offence and emphatically claiming gold.
The building erupts as he does, getting the happy ending that they didn't even consider possible until mere minutes prior. It's not a great match, nor does it have any intention of being one. It's barely a match at all, it's a moment, in fear of quoting that cliché. Frankly though, there really is something quite beautiful about this occasion. At core, it's a triumphant title win for Mysterio, one of the all-time greats.
That's always touching, especially as Mysterio nears the end of his staggering journey. Even beyond that though, this is a reminder of the wrestling simplicity, and how powerful its television can be. This is a piece of the industry that offers its own playbook, one that we can limit at times with the modern priorities. Clearly, I'm part of that, writing a whole match guide each week. Wrestling television isn't necessarily about those classics though, nor is wrestling in general.
Ultimately, it's about the emotional rollercoaster that wrestling allows and with just a few minutes here, this title change embodied that potential. It's a special moment, taking an unusual route to an already unexpected destination. That's television wrestling, fittingly showcased by Mysterio, the genre's greatest constant.
Tetsuya Naito vs. Will Ospreay (NJPW G1 Climax)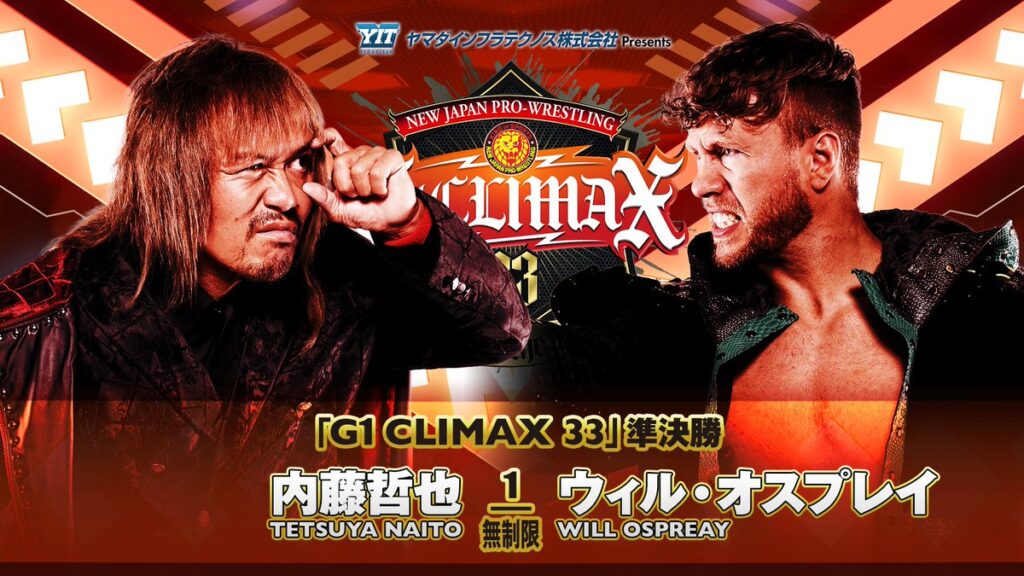 In last year's G1 Climax Final, Kazuchika Okada and Will Ospreay shared one of the year's most acclaimed matches. Personally though, I preferred the bout that preceded it, with Ospreay meeting Tetsuya Naito in the tournament's semi-final. That match was the most I'd enjoyed Naito for some time, brutalising Ospreay's neck and giving him the ultimate mountain to climb. It revealed a side of Ospreay that'd return at the Tokyo Dome too, thriving as the protagonist of a blockbuster NJPW encounter.
One year later, they meet again, clashing in yet another semi-final while Okada waits for the winner. At the bell, they're armed with an incredible atmosphere, with strong support for both men. If anything, the people initially lean in Ospreay's direction, which only assists their eventual direction. Early though, they take their time, wrestling in a fashion befitting the occasion. After all, there's an awful lot on the line here, with a month's tour and much more hanging in the balance.
After falling short in last year's final, Ospreay is here to finish the job, needing to go 3-0 over Naito before getting the chance to do so. For Naito however, it's even more urgent than that, with the clock ticking on his time at the top. That gravity is present in those early exchanges, with each and every moment feeling deliberate. They do one flashy sequence in that stretch and it's uncharacteristically sloppy, which I actually found to be refreshing.
It fit that initially cautious tone, not losing the match's initial edge for something almost too slick. Either way, the physicality soon ramps up, with Ospreay whacking his way to an early advantage, turning up the spite. On the receiving end of those blows, Naito almost feels like an old prize fighter at times, staggering vulnerably as he soaks up each strike. It's a nice dynamic but they soon find something even better, reverting to that prior form of Naito in control.
With Ospreay's neck as his focus, Naito works with palpable intent, violently chipping away at his foe. It's a measured effort, yet still feels brutal on sheer execution alone. Ospreay's offence in response can only be so limited, but the match's pacing at least allows him to show the lasting effects of that work. Each explosion is paired with a display of increasing exhaustion, giving the match a gruelling grit. Naito goes through the gears as they get deeper too, ramping things up accordingly.
Ospreay's comeback isn't especially smooth, but feels fittingly desperate, unleashing an offensive onslaught after being so depleted. Just as he looks to close the show though, Naito lands a timely DDT that looks just gorgeous, immediately halting Ospreay's momentum. It very much feels as though the damage is done, with Naito making his redemption inevitable by investing in the neck. Unfortunately, he plays with fire, heading up top for Stardust Press and paying the price, producing a shootout to close.
It's an exhilarating stretch, pairing Naito's prior stagger sells with frantic blows to Ospreay's neck, marrying the match's two most prominent themes. Unfortunately, they meet a brick wall in the dying moments, as Naito ducks directly into an Ospreay kick. That understandably rocks him, forcing Ospreay to quite forcefully lead them to the finish line. Naturally, that brings a quite concerning tone to those final moments, but they cross the line nonetheless.
Beyond anything else, I'm glad that Naito seems to be okay. Clearly, hurting a match is the least of anyone's concerns when an injury occurs. Honestly, it's barely blemished anyway, as this is one of the year's most extraordinary affairs. These two really bring the best out of each other, with Naito's physical decline grounding Ospreay just enough, focusing their pairing on a palpable nastiness. Ospreay's dynamism allows Naito to pick his spots too, ensuring that the match always features fireworks.
It's a really compelling dynamic, rich with chemistry and fire. Beautiful bout, the finest of this year's G1 Climax.
CMFTR vs. House of Black (AEW Collision)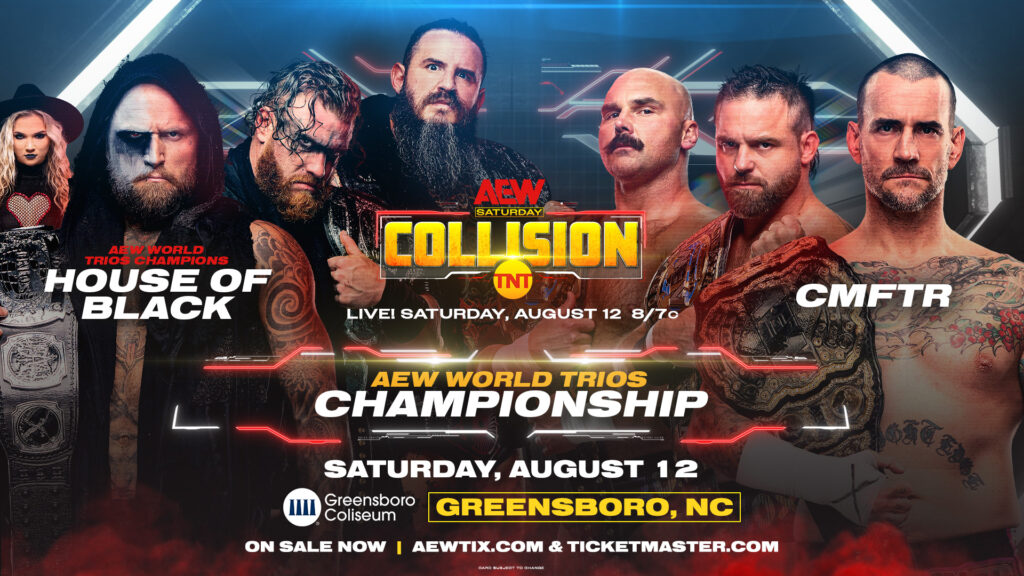 Since Collision's premiere, Saturday nights have been home to extended main events, particularly of the all-star variety. On paper at least, this latest entry may be the most loaded yet, as CMFTR challenge House of Black for AEW's Trios titles. Collision's lead undercard act thus far, this was House of Black's first main event, sharing the spotlight with this show's centrepiece. As you'd expect, it goes well, even if not without some unsurprising issues along the way.
With almost half an hour to play with, this is very much House of Black plugged into CMFTR's recent formula. That isn't the most natural fit but on sheer talent, this mostly trends in the right direction. As usual with these matches, there's a great atmosphere for this, allowing them to have some fun with that energy early. There's a real novelty to this matchup too, with Punk having his first interaction opposite all three members of House of Black.
Speaking of such, the initial duelling chant of "Let's go Buddy – CM Punk" was quite the moment for all twelve of us 2018 205 Live viewers. Matthews and Wheeler share the match's most fluid moments, with Cash being the star of this show before long. First though, it's very much a matter of previewing the different dynamics at play, including a chop exchange between Brody King and Dax Harwood as well as most memorably, CM Punk meeting Malakai Black.
As they go beyond that, the action's quality becomes a touch less consistent. There are moments of clunkiness, particularly during King's longer stays. During his recent outings, I've noticed a slight lack of rhythm to big Brody that I didn't detect previously, though this increase in activity should help him in that regard. Even still, he brings a great deal of physicality and allows for some of the match's more explosive exchanges. It's not Punk's best night either, though his presence alone assists the bout.
There's an awful lot to like here also, moments in which the matchup's potential reveals itself. Those instances mostly occur when things break down and leave the more traditional outline, which has been a theme for House of Black. This trio has such firepower that when things slow down, it's almost jarring. They lead two heat segments here and neither is bad, their work always looks sharp. It's just not this act's appeal, which is especially noticeable in front of a crowd that like this one, loves them.
Fortunately, Wheeler's eventual hot tag makes up the difference, running wild and rocking North Carolina. He's been unbelievable since Collision's arrival, noticeably better than his brilliant norm. Wheeler's efforts transition the match to its big finishing stretch, building on the live crowd's increasing electricity. Unfortunately, the finish itself fails to match those fireworks, with production struggling mightily to capture either piece of the match's conclusion. It happens, but that really took the edge off this particular finish.
Nonetheless, this is a good match and clearly, a real crowd pleaser. With that being said, it felt more like a glance at this matchup's potential than anything else, as I'm almost certain that these two trios are capable of much better. To do so though, they'll need to find a formula that's more suited to House of Black, an outline in-between the two groups' contrasting ideals. I'm intrigued as to how that'll look, but imagine it'd have to be shorter than this first attempt.
Warts and all though, I enjoyed this and would like to see a sequel sooner than later.
Kazuchika Okada vs. Tetsuya Naito (NJPW G1 Climax)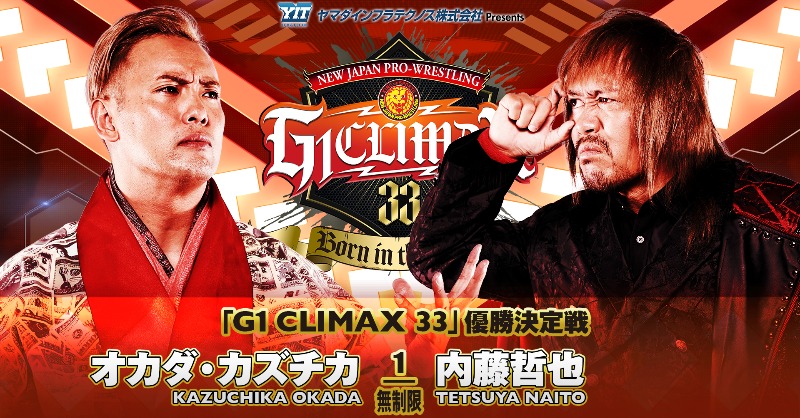 After surviving his war with Will Ospreay, Tetsuya Naito advanced to the G1 Climax Final, meeting Kazuchika Okada just one day later. Okada's semi-final had been slightly different, avoiding EVIL's Home Alone traps and producing some drama along the way. These two have shared many a main event previously, but this is their first G1 Final against one another, last meeting in the tournament nine years ago, battling for just fourteen minutes in 2014's B Block.
Just as there was in the previous round, there's a great deal of caution to this final's opening moments. They're armed with an unsurprisingly electric crowd, wrestling for position and letting the atmosphere speak for itself. The first increase in pace favours Naito, which he uses to slow things down afterwards. There's a sense early that after being rocked by Ospreay, Naito is simply trying to find his footing, attempting to set the pace by controlling Okada.
The live crowd's support for Naito is immense, actively drowning out any hint of an "Okada" chant. Nonetheless, Okada soon turns the tide, dumping Naito on his head and taking over at ringside. That only increases the volume of those "Naito" chants, allowing him to sell as Okada embraces the atmosphere also, getting cocky to boos. We don't go especially far in that direction however, or not as far as I'd like at least, with Naito making a swift comeback instead, targeting Okada's neck.
Once again, Naito's work on the neck is immense, marrying creativity with downright spite, mercilessly chipping away at Okada. Unfortunately, it doesn't draw quite the fire from Okada that it did from Ospreay, who begins to wrestle as though his very own hourglass is emptying. Okada's response is more muted, but he sells a palpable exhaustion if nothing else. Incredibly, this chunk only makes those "Naito" chants louder, which is a fascinating dynamic that speaks to his staggering popularity.
It's an extended chunk too, ultimately concluding with three double downs after Okada's retorts. Okada's comeback follows, earning a knockout tease via dropkick, smartly playing on Naito's semi-final scare. That briefly puts Naito back as the punching bag, selling big but rallying defiantly. His own aggression brings some defiance out of Okada, demanding more as they approach the finish line. That's a captivating shift, though the match is admittedly less interesting when Okada is the nail to Naito's hammer.
That's captured well by a late submission spot, not killing the crowd by any means but noticeably struggling to maintain the match's prior electricity. They wait it out an awful long time too, never quite getting the juice quite worth that squeeze. Either way, any lost momentum is soon regained, with Naito going through the gears before once again crashing and burning on Stardust Press. As usual, that spot brings a great deal of drama, transitioning the match to its epic finishing stretch.
That burst very much delivers, with the conclusive pinfall earning an eruption from the Sumo Hall crowd. It's a great match, even without a plethora of particularly innovative ideas. Instead, it's an example of the live crowd's importance, actively antagonising their terror at the thought of another tragic ending for Naito. At over 34 minutes, it does feel bloated but only barely so, with the atmosphere and general gravity making for a mostly gripping watch.
If anything, I'd say that their bridge from the meat of the match to its big finish is a touch more winding than necessary. Even still, there's an awful lot of brilliance on display. The match is at its best when Okada is dominating, working with resentment as the crowd roots Naito upright. It's always good though, with Naito's work on the neck ensuring that the match remains interesting when those roles reverse.
Certainly, it's a match that works best with years of investment, not playing nearly as well in a vacuum as Naito's semi-final effort opposite Ospreay. That's part of the appeal though, and is the driving force behind Naito's G1 win anyway. It's a great match, maybe even my favourite between these two, as I haven't always loved this pairing. Few bouts this year will have a crowd as hot as this one and 34 minutes after the opening bell, they're louder than ever.
It wasn't the best G1 Climax by any means, but they certainly closed in a fashion befitting this iconic tournament nonetheless.