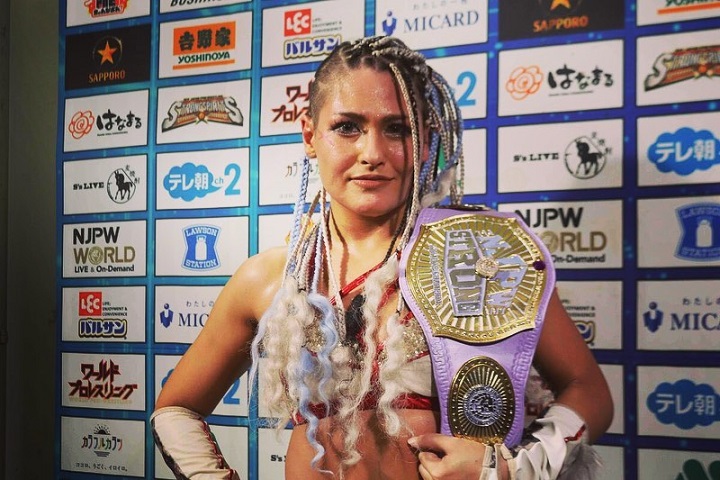 The Donna Del Mondo leader is still of major interest to WWE.
Earlier this month, PWInsider reported that WWE are massively interested in signing World Wonder Ring Stardom's Giulia, with talks believed to be far enough ahead that the 29-year-old was expected at the Performance Center this month, however Dave Meltzer, whilst confirming WWE's interest, noted that Giulia is under contract with STARDOM until March 2024, and thus would be unable to head to the PC without Bushiroad's permission.
PWInsider have now provided yet another update on WWE's pursuit of Giulia, reporting that the initial expectation was that the former World of Stardom Champion would be heading to visit the PC, as opposed to a fully-fledged tryout.
"There was a belief within some in WWE that Giulia would be at the WWE Performance Center earlier this week to tour the facility. We are told it was not slated to be a "tryout" but a visit."

-PWInsider
Additionally, the report notes that Simon Inoki, who has worked with WWE previously, was expected to come in and act as Giulia's translator during the visit, as her first language is Japanese.
PWInsider then added, however, that Giulia was not present at the WWE Performance Center this week, despite initially being expected there on Wednesday.
"As it turns out Giulia was not at the PC this week. One source admitted she was initially expected there this past Wednesday but was not there."

-PWInsider
Whilst it appears as though Giulia is likely to remain with STARDOM until at least early 2024, the report stated that WWE sources are still insistent on their interest in the DDM leader for the future.
As always, we'll aim to provide any further updates on WWE's interest in Giulia as soon as we hear more.