If you're in any way familiar with the current Japanese Wrestling scene, you'd be aware of the ongoing controversy surrounding Pro Wrestling NOAH. Baffling decisions have led to a huge loss of momentum for a promotion that at the beginning of the year, seemed to be enjoying an upwards trajectory in terms of popularity and quality. The downfall first presented itself when the former GHC Heavyweight Champion Katsuhiko Nakajima shockingly dropped the title to his older counterpart, Kazuyuki Fujita. This sparked some immediate frustration, as Nakajima was not only a fresh face in the main event scene, but a beloved champion also. Things then became only more sour over time, as reports emerged of backstage politics within the company. Fujita apparently refused to lose the match, therefore forcing Nakajima to take the shocking loss, switching the GHC title in the process.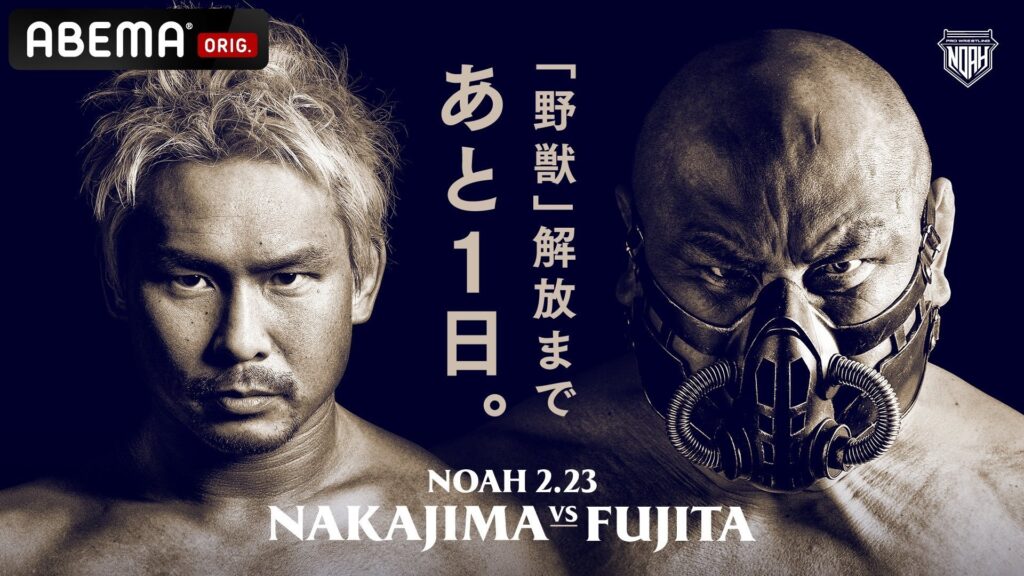 The situation swiftly had a noticeable effect, as certain fans felt less inclined to watch the product in response. Matters got even more bewildering recently, as just days ago it was announced that Michael Elgin, a controversial figure to say the least, would be making appearances in NOAH starting this month. It's bizarre to witness just how quickly a company can go off the rails after such a promising start to the year. Pro Wrestling NOAH has several cracks in its current system that drive people away from the promotion and the repairing process won't be an easy task. That's not to say there isn't a clear direction to take however, as the next challenger for the GHC Heavyweight Title is Go Shiozaki. Making his long awaited return in November 2021, Shiozaki even challenged Katsuhiko Nakajima for the GHC Heavyweight Championship at the NOAH 'New Year' event.
Despite falling short, it was a very fulfilling moment for the audience as we were given the belief that this was a new era for the promotion, one that would push them to that next level and perhaps even rival NJPW in terms of popularity. As for the aftermath of this encounter, Go Shiozaki would begin his thoroughly enjoyable 'Road to GHC' series. If there was any doubts beforehand regarding the workrate of the man, all questions were answered after he produced four brilliant bouts against the best that NOAH has to offer. Surprisingly though, after the Road to GHC concluded, Go Shiozaki would find himself with a record of 0-4, suffering defeats to Takashi Sugiura, Kenoh, Masato Tanaka and Naomichi Marufuji. An unexpected learning curve of sorts for Go Shiozaki, but a necessary evil as he prepares to take a significant step in his journey.
He'd refuse to let his spirit and dedication get diminished, earning back to back victories over Manabu Soya and Masaaki Mochizuki. It seemed as if Go Shiozaki was moulding back into the 'Ace' that we all became familiar with prior to his absence. However, there would be a familiar foe standing between him and his destiny, that foe being Katsuhiko Nakajima. Similarly to their earlier encounter in the year, the two performers annihilated each other with devastating chops and vicious kicks. Ultimately, Go Shiozaki would get revenge on Nakajima, avenging his prior loss and earning the victory. Due to this newly found momentum, Go Shiozaki would earn yet another opportunity at the GHC Heavyweight Championship.
There would be one last major twist in this tale though, one that will undoubtably have major implications on the GHC Heavyweight Title scene. Just mere days before the Fujita and Go Shiozaki match was scheduled to take place, it was announced that due to a positive PCR test, Kazuyuki Fujita would NOT be able to compete in the match and as a result, the championship has been vacated. However, NOAH have confirmed that there will indeed still be a World Title match featuring Go Shiozaki on April 30th. At the official press conference, the young prodigy Kaito Kiyomiya demanded that he be the one to face Go Shiozaki for the vacant world championship. Due to this, it has been made official that it will be Go Shiozaki vs Kaito Kiyomiya for the vacant GHC Heavyweight Championship at Ryogoku Kokugikan on April 30th.
By the end of this month we shall know the result of this increasingly unpredictable journey, and it can't be stated enough how important it is that NOAH make the correct decision this time. As we discussed, they've made decisions recently that may have benefited those backstage with inflated egos, but they have been detrimental to the company as a whole. It's time for those with power to take a step back and consider what's best for business, rather than what works for certain individuals. The Fujita situation is just the biggest example of the evident issues that have existed within NOAH for a while now. Even with the change in opponent, my view on the outcome has not altered whatsoever. Kaito is absolutely fantastic and should hold the belt very soon, but some credibility has to be brought back to NOAH first. They need to remind fans why they fell in love with their product in the first place.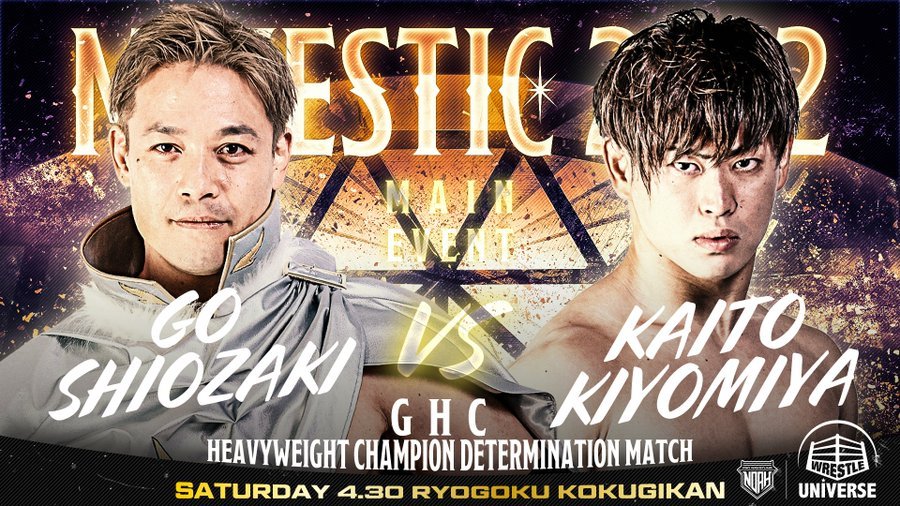 This all perfectly emphasises why Go Shiozaki desperately has to emerge victorious on April 30th. It makes sense from every perspective. Storyline wise, NOAH have documented the struggles of Go Shiozaki since his return and his slow, yet satisfying, rise from the ashes. His journey has been all about figuring out if he had what it took to still call himself NOAH's ace. He has fought heroically against the best in the world, found his step once more and perhaps most importantly, won over the hearts of the NOAH faithful, maybe even restoring people's faith in the overall product.
With Shiozaki, NOAH may somehow have the opportunity to regain that precious momentum that they obtained when Nakajima was champion. Furthermore, the hopefully lengthy reign that follows would be incredibly beneficial, with Shiozaki putting on classics and again expanding the promotion's reach in the process. Best of all, Go Shiozaki would likely be willing to actually drop the belt to one of the company's younger talents if given the opportunity also, such as the aforementioned Kiyomiya. They could tell a wonderful story with Kaito being forced to take a similar route to Go Shiozaki himself, until he would eventually fulfil his own destiny. It would be a delightful moment where Go Shiozaki could pass the torch to the next big star of the company
It's almost time, so what will happen? Well, we'll find out on April 30th at Ryogoku Kokugikan. If you are interested in checking out the match in question, you can view the show on Wrestle Universe, which includes Japanese wrestling content from various promotions such as NOAH, DDT and TJPW. It's a genuinely sensational service so if you like the sound of that, go ahead and sign up. With all that being said, it's time to find out, once and for all, who is NOAH?