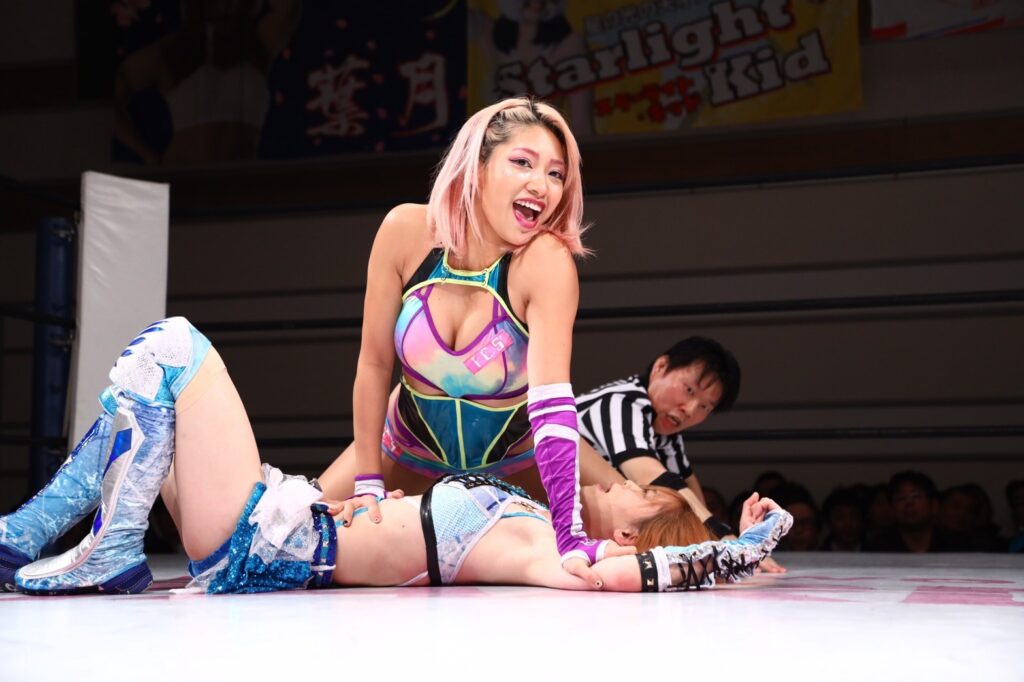 Hana Kimura is the greatest of us all.
It was about 3:00 a.m. on Sunday that I was simply searching for a photo of Hana Kimura for an article I was editing. Usually when I do any sort of research regarding Hana or watching of her old matches or even talking about her, I'm pretty good about it. But after editing and going through countless articles about her darker days rather than the bright life she lived, it all just hit me. Maybe more than ever before.
For anyone who doesn't know my journey into Joshi, it started right around the time of Hana Kimura's passing. I was getting into STARDOM by going through its history, and I'll always remember how I specifically watched. When she passed, it hurt me to see someone who had such a bright and lovely presence pass away so young with the brightest future ahead. But I don't know, maybe it's because I was still really getting into it that my full-on appreciation for her as a competitor wouldn't hit me until then.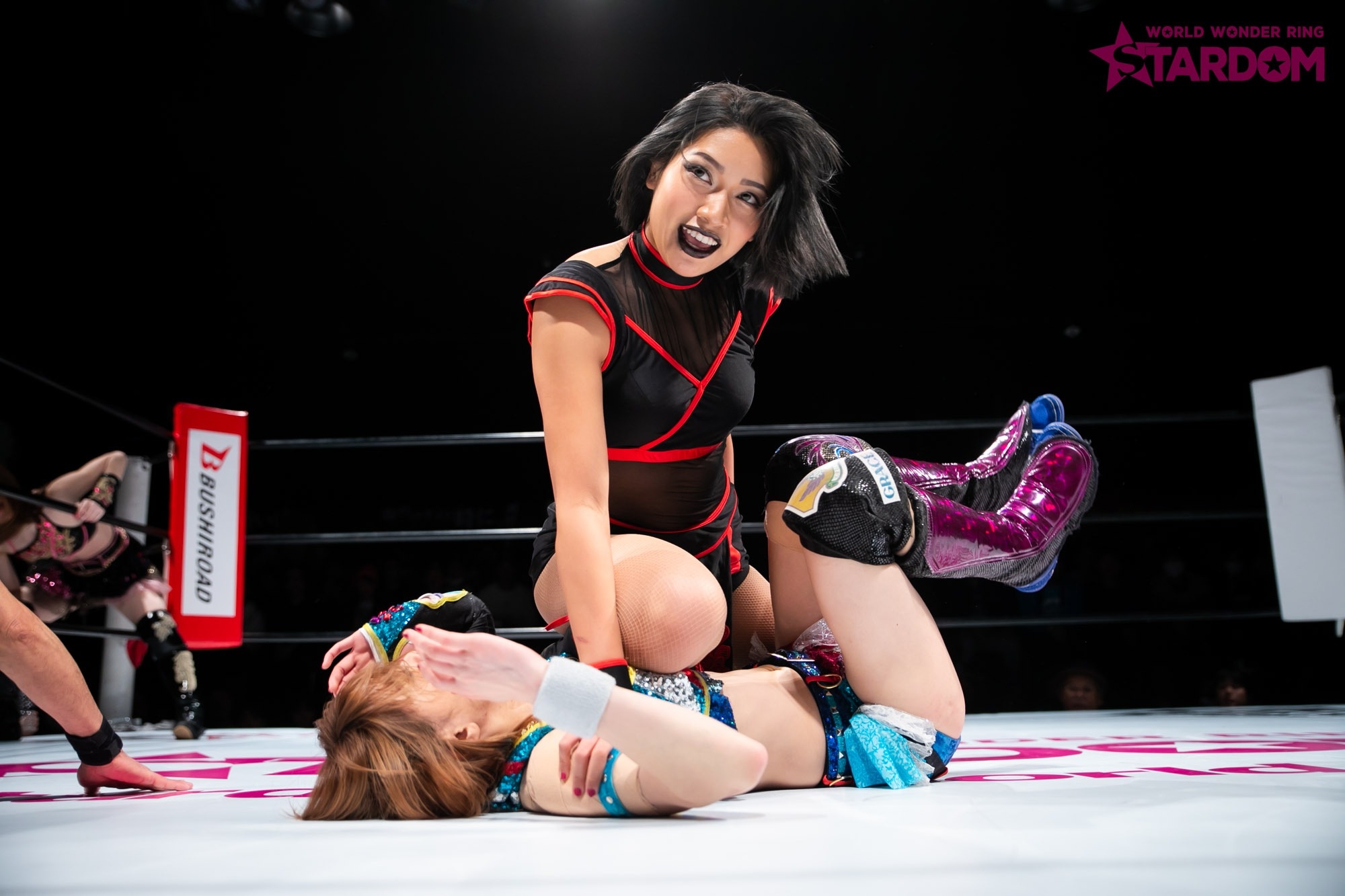 When I was getting into STARDOM, I had a specific way of doing so. I wouldn't read the names getting introduced (because I knew a few at the time, Hana included), but would just watch and naturally become a fan the way many do when they're just a kid. After the match I'd go back. At the time, I didn't know of Hana Kimura's time in Oedo Tai so when she tagged in during a random match I had been watching, I was instantly blown away by her presence and natural ability even if she didn't have the flashiness of Io Shirai or the advanced skillset of someone like KAIRI. Kimura just had that magic, that "it" factor you can't teach, and I noticed it right away.
When I went back to see that it was Hana Kimura, I was both sad but happy that was the way I noticed her. It proved everything I ever was told about her — she was special. Her catchphrase of "Everyone's different, everyone's special" were words that she not only fully meant, but perfectly described her. Whether you watched a match from her time in Oedo Tai or when she was leading Tokyo Cyber Squad, she was the one that'd instantly catch your eye. While her beauty spoke for itself, it was the way she carried herself in and outside of the ring that caught your eye even more. She wasn't just a star but the definition of a superstar.
Her match with Giulia, to me, it's the match that I saw all of Hana's greatness for the first time. I watch that match back once a year at least because of the connection those two shared. It's the STARDOM match I recommend to anyone who wants to jump in and become a fan. So much of what Giulia is now is because of that match, because of Hana Kimura. It brought out the best of Giulia and equally brought out the best of Kimura. It was everything and more.
Giulia has and does her best to keep Hana's legacy alive. We are watching someone like Rina, who is still so young, carry Hana Kimura with her in every match. Winning her first championship with her own version of the Hydrangea brought the biggest smile to my face because you know it'll be that move that makes Rina a world champion somewhere down the line as well. You just know it. But she will get to walk into pinx! as champion, already delivering on the promise she made last year.
Hana's 5STAR Grand Prix run may not have been to the level in terms of pure wrestling as we saw out of Syuri and Giulia in years later, but it's the 5STAR that I firmly say a world champion, mainstay superstar was born. By the end of that tournament, the puzzle was completed. She had the in-ring, the emotion, the care, and the crowning moment. Even if she didn't defeat Bea Priestley for the World of Stardom Championship, she still felt like an uncrowned champion that you knew it was only a matter of when, not if. And maybe that's part of the reason why it hurt all the more the other night.
Back to the beginning. When I say it hit me harder than ever before, it did, and I'm not totally sure why. Maybe it's how if you Google her name, all you see is the darkness rather than the beauty that was her 22 years on this Earth prior to that day in 2020. I don't really know, but it just knocked me out and left me crying about Hana Kimura more than ever before. Many times had just been me tearing up, wishing things were different. There's also been many times I've had tears of joy watching Giulia and Konami pay their respects to her in one of my favorite matches of all time or the tremendous memorial shows that her mother, Kyoko Kimura, has put together since her passing. Also the times I've had my special podcasts with fans of hers who just shared their favourite Hana Kimura stories, matches, and moments. I maintain that'll be the best content I've ever done because of how much it meant to others and myself. Talking about Hana Kimura doesn't get easier, but to me, it's the least I can do to keep her light shining because those bright days are what should be remembered.
All those times have featured tears, sadness, and heartbreak, but it was this past Sunday, May 21, 2023, at 3 a.m. when it hit me harder than maybe any other time, maybe only the day of her passing and Matane — one year later — hitting harder. Life works weirdly in that way. Seeing the articles… followed by her moments in the Tokyo Dome and countless other moments — it sent my emotions out of whack. I just thought of why, what if, and everything else all within minutes. It hurt. But I guess that night, in some odd way, is a way I can appreciate and love who Hana Kimura was all the more.
"Everyone's different, everyone's special" follows me everywhere I go. I use those words to help friends when they're down, family when they're upset. They don't usually have a clue those are the words of a pro wrestler who touched the hearts of millions, but they do know that those words and what they mean carry a lot of weight. They give importance to people who should know that they are exactly that — important.
Maybe the greatest Hana thing I've ever been told isn't even something I experienced myself, but it was instead a story a friend told me (shoutout JPQ). He told me about how when STARDOM came to America for their New York show, the lines were long for all the wrestlers but none more than Hana's. After they had wrestled and their days were done, she made sure to spend every single second she could talking with each fan that got in line to see her. Genuine, taking photos, and enjoying every moment.. Not only that, but she told fans who had hoped to meet their other favorites to get in her line to meet her. She wanted to meet everybody. That's who she was.
She left a legacy, a magic, and a light that will go on forever. Hana Kimura is the flower that will forever breathe life into so many in and out of pro wrestling. To people like Mercedes Moné who debuted in NJPW wearing gear that was identical to Hana's Tokyo Cyber Squad look, thank you. You introduced Hana Kimura to more people who may have never known who she was before.
Kyoko Kimura, like Hana Kimura, is the best of us. The Hana Kimura Memorial shows have turned a dreaded day into a meaningful one. Every May 23, we get to witness one of the best wrestling cards of the year featuring the friends of the Kimuras and the best of the best in pro wrestling inside Korakuen Hall. It's an event unlike any other and allows us all to celebrate Hana together — that's special. Thank you for being as amazing as you are, Kyoko.
I've been doing a podcast series on my historical STARDOM podcast — Stardom Road — about Hana. Three-part series talking Oedo Tai, Tokyo Cyber Squad, and her best matches and ultimate legacy. That's been hard at times, but also easy celebrating her four-year wrestling career and all that she accomplished. I said that'd be it, but I had to write this. I'm never too sure what I can do to pay my respects to Hana Kimura. Nothing feels like enough, but I try my best at showing her the love, praise, and care that she'll forever deserve.
As I said to kick this all off — Hana Kimura is the greatest of us all. I say is because even after her life, she remains the greatest of what we all dream and hope to be. She was and always will be. Her spirit and mindset to make everyone fit in is something this world so desperately needs. The love and care she showed to everyone — friend, fan, or stranger — is what made her one of a kind. She was going to be the biggest star in wrestling, let alone STARDOM. When you watch pinx! on Tuesday or whenever you are able to get around to it, just sit there and notice how many wrestlers she touched by looking at the incredible talent who take part. Add that to all the tributes, the love, and many other ways of celebrating her life have happened.
I know I'm going to cry all over again thinking about Hana, but I'll do my small part to continue celebrating her life and help keep that light as bright as it was when she was alive. I didn't expect to write this or plan to write this. It just kinda happened. Spontaneous perhaps. I've had tears, smiles, and every emotion imaginable writing this. But most of all, happiness.
I hope when you watch her matches back or see the many tributes, you do as I do someday if you can't right now — with a smile knowing how amazing she was at this whole pro wrestling thing. And to those who maybe can't yet, that day will come. Trust me.
Thank you for the moments, the matches, the memories, and the many smiles you've given me, Hana. You were different, and you were special. You were everything that's great about pro wrestling, and that's shown year in and year out.
You can purchase Hana Kimura's Memorial Show, "pinx!," on FITE TV. Here's the official card:
ASUKA, Syuri & Natsupoi vs. Rina, Konami & Kaori Yoneyama
Mika Iwata & Mio Momono vs. Aja Kong & Sareee
Miyuki Takase vs. Saori Anou
Sakura Hirota vs. X
Four-Way Tag
Battle Royal
Start time: Tuesday, May 23 @ 5:30 a.m. EST
Thank you, Hana Kimura — truly the greatest of us all.