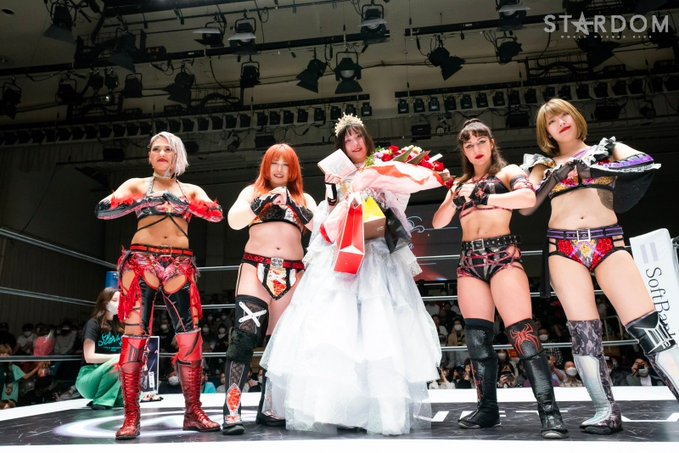 STARDOM
The 8th Edition of 'New Blood' was took place and it was the best one yet. On the undercard, Waka Tsukiyama picked up a win over Aya Sakura, The Inaba Sisters (Azusa & Tomoka Inaba) fought to a 15-minute time limit draw against Hanan & Hina in a Sister's battle, and Mei Seira & Suzu Suzuki continue to win as a Tag Team against Chanyota & Mai Sakurai.

The 4th Trial Series Match of Miyu Amasaki also happened on this show, and this time it was against Momo Watanabe. This was good. Momo Watanabe showed her most evil side and beat the living hell out of Miyu, while the Super Rookie shows how great she is at showing rookie fire and fighting from underneath. She never gave up, even after floor bumps, getting thrown into rows of chairs, and getting hit with the baseball bat. She continued to fight and got the crowd behind her. In the end, Momo won with the Hito De Nashi Driver. For the last battle in her five-match Supernova series, Amasaki wants to face her 02line partner AZM which was announced later for NEW BLOOD 9.

Nanae Takahashi faced Ruaka in a Passion Injection Match and that was also really good and maybe Ruaka's best singles match to this date. Nanae continues to elevate the younger Wrestlers with these Passion Injection Matches and gives them their best career match. It happened with Lady C, Waka, and now with Ruaka. Nanae picked up the win in the end. She'll face Mai Sakurai at New Blood 9 in a Passion Injection Match.
KARMA & Starlight Kid made their first defense of their New Blood Tag Team Titles against HANAKO & Lady C. This was a fun bout, with Lady C & HANAKO doing some cool stuff as a Tag Team. HANAKO already is good for a Rookie with just a couple of matches under her belt, and she had great chemistry here with Starlight Kid. KARMA did her usual KARMA things, that just makes me hope more and more that she'll drop the gimmick soon and come back as Haruka Umesaki. Kid turned a HANAKO Powerbomb into a Momoracci for the pin, to retain the titles. The Inaba Sisters announced afterward that they'll challenge for belts next.

The Future Of Stardom Championship match in the Co-Main Event had a shocking title change. Rina was able to defeat the double Champion Ami Sourei to win the first title of her career. This was the best performance & match in the young career of the Pink Devil. Rina used her own version of Hana Kimura's Hydrangea to make Ami tap out. She'll walk into Pinx (Hana Kimura's Memorial Show) as Champion, as she promised last year. The sky is the limit for the young Oedo Tai Member, who has a great future in Stardom ahead of her.
In the Main Event, the real Tam Nakano defeated the fake Tam Nakano (Nao Ishikawa) in a really fun match. Both came out to Tam's theme song, with Nao even having a fake World Of Stardom Championship and an old gear of Tam. Nao even had a fake Natsupoi with Yuna Mizumori, which was hilarious. Ishikawa was very impressive here. She hit almost none of her traditional offense, instead hitting Tam's offense, while Tam was great as always. Together they showed good chemistry. They had a lot of comedy spots in it which made me laugh like Tam ripping up the fake title from Ishikawa that made the fans boo loudly. Tam Nakano pinned Nao with the Tiger Suplex to win the match.
On Sunday, Stardom had a Korakuen Hall show that featured Himeka's retirement ceremony but before that she had an impromptu match vs 30 Wrestlers with every match having a 1 min time limit.
This was one of the most emotional matches I've seen, with every wrestler coming out to say "Thank You" and "Goodbye" to Himeka in their own way. It featured Himeka and Koguma doing the "Kuma" pose for one minute, AZM having a running up the stair competition with Jumbo, Tam doing a cuteness pose off with her, Poi reuniting HimePoi with the pose and a hug, Himeka playing Baseball with Mayu Iwatani, a Miyuki Takase and Kakeru Sekiguchi surprise appearance, one last MaiHime vs AphroditE match and much, much more. This ended the chapter of Himeka as a professional wrestler on a high note that made everyone not sad but rather happy.
After the match, Himeka got her retirement ceremony with the Ten Bell salute, which was done by DDM Stable Mates. Her Tag Team Partner Maika was crying while hitting the last gong to end the career of her best friend. Every faction gave Himeka a last present. Also, Yumiko Hotta and Jun Akiyama made an appearance to give the Jumbo Princess one last gesture. This was as emotional as it gets, but it celebrated the career of Himeka perfectly.
Thank You, Jumbo Princess!
Queen Of Indies 2023
West Coast Pro & PWR presented the "Queen Of Indies 2023" in San Francisco on Saturday. It featured eight fantastic Women's Wrestler, including three Joshi Wrestler with Mio Momono, Unagi Sayaka and Maria. The latter two made their United States debut and got great reactions by the crowd. Legendary Japanese Joshi Wrestler Chigusa Nagayo also had a match, teaming up with Takumi Iroha and Sandra Moone against Karisma, Lady Apache, and Nicole Savoy. It was great to see a living legend like Nagayo wrestle in the US.

This was a really fun tournament with a fantastic final between the GCW World Champion Masha Slamovich and the newly crowned AAAW Singles Champion Mio Momono. Both wrestlers gave everything in this match, and it didn't disappoint at all. It featured great strikes, comebacks, near falls, and counters, including Masha countering the JK Bomb into a B-Driver. Masha was able to win the match and can now officially call herself the "Queen Of The Indies"

Overall, one of the best Indy Matches of the year with Mio Momono status as one of the best Wrestler in the world getting solidified while Masha proves why she's the best in the Indy scene. It was also announced that the Queen Of Indies will come to Japan soon.