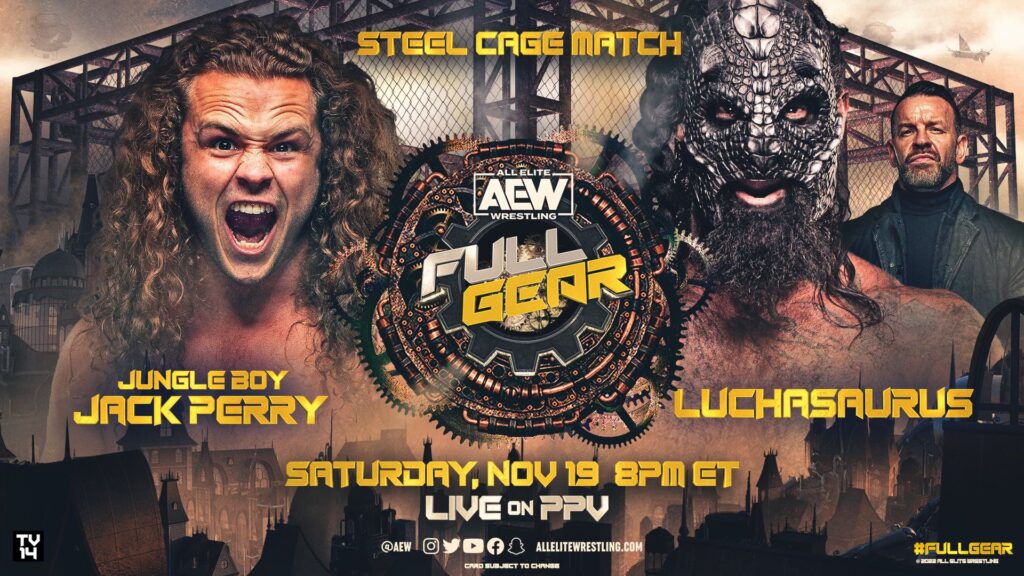 Concluding a story that originally had a very different conclusion in mind, Jack Perry and Luchasaurus didn't enter Full Gear with a great deal of excitement or momentum. In hindsight, that was probably unfair, especially considering their impressive effort on Dynamite but within a loaded line-up, this Steel Cage match almost went under the radar. To put it mildly, I had my doubts about this matchup's fit for that stipulation. While I liked their prior match, I assumed that these two would be better assisted by something more stunt reliant, rather than such an inherently violent arena.
Clearly, the cage still allowed for one stunt that in truth, had the value of many but ultimately, I was simply wrong. Whether it be the cage, their chemistry or this story, both men produced career best performances at Full Gear, maximising their strengths while showing new skills in the process. As well as being a substitute blowoff match due to Christian Cage's unfortunate injury, this was also positioned in perhaps the strangest opening match slot imaginable, tasked with following Eddie Kingston's magical moment with Jun Akiyama.
With that, Perry and Luchasaurus not only had to set the tone for what would prove to be a classic PPV but even as the opener, they still had to follow something genuinely special. Thankfully, this was a wonderful crowd but even if it wasn't, these two told such a simple story that it would resonate regardless, a classic wrestling tale with some updated elements along the way. More specifically, 'Jungle Boy' Jack Perry was extraordinary here, absolutely perfect at every turn.
I've always enjoyed Perry's work but this was something special, a sustained showcase of the skills that have made him such an exciting prospect at times. Here, those prior flashes of brilliance had a polish, placed in a way that shaped this entire presentation. He's a willing hero, fighting with courage and passion but yet, there's an endearing uncertainty to him also. Perry didn't charge at Luchasaurus with a naïve aggression, instead wearing fear on his face as he waited for his old friend to make the first move.
In an instant, Perry then jolted into action, wrestling as though he'd spent the last month considering his gameplan: the only course of action that'd allow him to escape the cage intact. Using his speed, a focused Perry wrestled to an early advantage with palpable intent but within seconds, Luchasaurus brought that momentum to a sudden halt. This is the important part and frankly, the more surprising element. Though he's been presented as dominant in television enhancement matches, Luchasaurus has seldom wrestled like the kind of monster that Perry's performance framed him as.
On this night though, he was every bit up to the task, filling each gap with a refreshingly imposing presence. Perry's selling was excellent, almost immediately assisted by blood but that alone wouldn't be enough. Luchasaurus had to make the most of that space and not with flash or thrills either, instead being the destructive force of pro wrestling nature that this match needed him to be. Using the cage throughout, Luchasaurus launched Perry around violently, earning a few graphic visuals along the way.
It bordered on jarring honestly, as Perry was absolutely obliterated for an extended portion of the match. He'd offer retorts at times but Luchasaurus was so unmoved in response, just batting away any resistance. Luchasaurus' dominance was so pronounced here that you reluctantly bought an early false finish or two, quietly wondering if the match's presumed purpose was incorrect after all. Perhaps this wasn't about Jack Perry, perhaps it was about cementing Luchasaurus as a genuine monster, with 'Jungle Boy' simply his first PPV victim?
That obviously wasn't the case but it's a credit to Luchasaurus' performance that such insane thoughts even momentarily crossed my mind, especially with such an inevitable endgame ahead. Nonetheless, some shenanigans followed, as Christian opened the cage door, being sent to the back for his troubles. In the end, this allowed for the match's defining visual but I'm glad that it didn't completely transform the match in the process. The eventual table spot was all that these two needed, not at all requiring the weaponry that I originally assumed they would.
Instead, Luchasaurus mostly continued on the same path, regularly making stops to dish out a little extra punishment. There was a sense that he was truly untamed in this setting, quite organically finding new ways to devastate Perry. In the meantime, 'Jungle Boy' was still fighting, not taking over in one fell swoop but instead, finally overwhelming Luchasaurus with a hectic string of offence. Perry's every move was now drenched in desperation, creating an almost horror movie moment as he quite cinematically kicked Luchasaurus' head into the cage until he was left lifeless.
It still wasn't a clear transition point though, only depleting Luchasaurus just enough to make the next stage logical. That stage involved more back and forth action, which the match had mostly avoided thus far but even as they veered in that direction, both men still felt cemented in their roles. Luchasaurus was never sympathetic, seemingly powerful until the very end. By contrast, Perry even felt vulnerable on offence, fighting through visible physical agony and wrestling with emotions in the match's most dramatic, striking moments.
With quick pin attempts and frenetic offensive outbursts, Perry was regularly trying to escape with a victory, battling for survival as much as anything personal. That sense of danger was only elevated by the blood but if that wasn't enough, the aforementioned table spot followed. As with any move from that kind of height, this is an objectively insane visual but this entry was particularly frightening. Perry didn't glide or fly but instead just dropped, plunging to the mat in a moment that'll live long in the memory.
The elbow drop landed just enough but in a strange way, this image fit the match better than anything graceful ever could. It truly looked as though Perry was risking everything, the perfect stunt for a match such as this. Perry closed the show seconds later and even on rewatch, I'm amazed by just how comfortably this exceeded my expectations. The bulk of this match worked so well that I almost wonder if they needed even that more bombastic conclusion but if nothing else, they certainly made it count.
With the final act, this match offers the dynamic manoeuvres and heated exchanges befitting a modern opening bout, also building to the closing spot that'll probably define this feud's place in AEW history. In that sense, this match achieves both, a thrilling opener that was still packed with the grit and physicality that a true cage match demands. Better yet, I don't think that the former undercuts the latter, mostly focusing on one spot and not overstaying its welcome with anything beforehand.
At core though, this was the latest rendition of a classic wrestling hit. Covered in blood, our defiant hero conquered his towering rival, concluding their personal conflict in unforgettable fashion. The monster was formidable, using every advantage but ultimately being outmatched by the underdog's unwavering heart and passion. Simply put, that's pro wrestling and when truly committed to, still produces timeless results, regardless of the packaging.