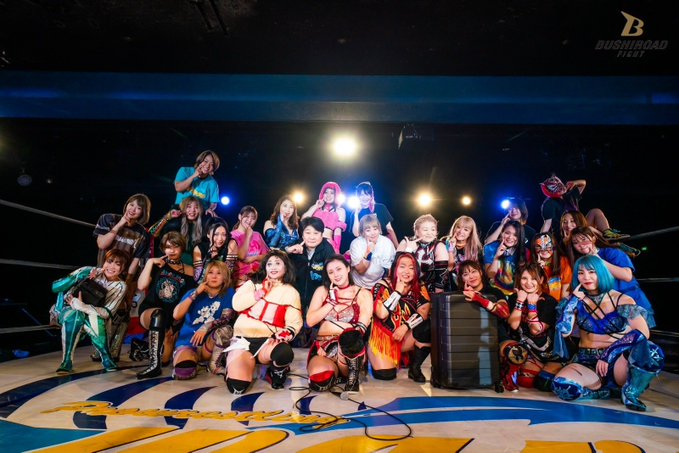 STARDOM
Suzu Suzuki announced that she will be making STARDOM her new home promotion, shortly after, her departure from the death match group Prominence was official. The prodigy is wrestling at the upcoming Golden Week in Stardom, teaming together with Mei Seria. Suzu is one of the most promising freelancers in the entire landscape of Pro Wrestling right now, and her declaring Stardom as her home promotion makes the already stacked Roster of Stardom even bigger and even better. The former Artist Of Stardom Champion is destined to be at the Top of the Womens Wrestling World and in Stardom she can achieve that.
Her announced Matches for the Golden Week in Stardom:
4/29 Suzu vs. Aya Sakura
4/30 Saya Kamitani/AZM vs. Suzu Suzuki/Mei Seira
5/3 Utami/Saya/Lady C vs. Suzu/Mei Seira/Yunamon
5/5 Giulia/Thekla vs. Suzu/Mei Seira
5/6 Suzu/Mei Seira vs. HANAKO/Jessie
5/9 Giulia/Thekla vs. Suzu/Mei Seira
WAVE
On Friday, WAVE presented the "Jumbo Forever" in cooperation with Bushiroad. It was a show centered around celebrating Himeka, who announced her retirement earlier this year. It is yet to be announced where this show will air. The Jumbo Princess had the last match of her career on this show, with her facing Sakura Hirota in a Petite Iron Man Battle. This Match included several Wrestlers from Himeka's past to come out and wrestle ever with Hirota, dressing as Himeka, as her last opponent. It also included a short in-ring return of the Ace of WAVE Nagisa Nozaki, who is out for 10 months now with a torn ACL. She's still rehabbing so her official in-ring is still far away, but it was great to see her here to celebrate Himeka.

The show also featured an opening Six-Woman Tag Team Match with Cohaku, Haruka Umesaki, and Starlight Kid facing the newest Stardom Rookie HANAKO, and the WAVE Rookies Honoka and Kizuna Tanaka. The letter is from the daughter of legendary Junior Heavyweight Wrestlers Minoru Tanaka & Yumi Fukawa. The Rookies lost in the end to the more experienced team. Starlight Kid invited WAVE to the New Blood shows and GAMI, the booker of WAVE, seemed to accept this offer, so WAVE is expected to send over talents for the next New Blood show. The second match featured a Battle Royal that was pretty much an AWG reunion. Several Wrestlers including Saori Anou, SAKI, Mai Sakurai, Ami Sourei, and more took part in a fun Battle Royal. They even danced "Love Riddle" which is the opening dance of Actress Girls. Kakeru Sekiguchi won the Battle Royal.
World Woman Pro-Wrestling Diana
The latest Korakuen Hall show of Diana featured a massive Title match between the current Ace of Diana Ayako Sato and the future Ace Haruka Umesaki for the WWWD Singles Championship. A title that was once held by legendary Wrestlers like Manami Toyota, Aja Kong, Kyoko Inoue, and even former WWE Wrestler Sareee. The 37-year-old Ayako Sato walks into the match as the clear favorite as a three-time Champion against the underdog Umesaki. The Super Idol Wrestler's only singles success came from her winning the Princess Of Pro Wrestling Title from PURE-J last year, so her main eventing a Korakuen Hall was a major spot for her. In the end, Umesaki overcame every odd that was against her and defeated Ayako Sato to capture the WWWD World Champion. In a post-match promo, she said that she wants to face Starlight Kid, Mina Shirakawa, Unagi Sayaka, Kyoko Inoue, and Jaguar Yokota for the title.

Umesaki crowns herself the 17th Champion and solidifies herself as the future Ace of Diana. With her major Championship win, the 22- year old already builds up a foundation for a successful career. She has won the WWWD Tag Titles three times with Miyuki Takase, the WAVE Tag Titles with Takase, the Princess Of Pro Wrestling Title, the NEW BLOOD Tag Titles as KARMA, and now the WWWD World Title. 2023 seems to be the year of Umesaki and there's nothing that can stop her rise to the top of the Joshi World.
Full Results of Diana's Korakuen Hall Show:

Kaho Kobayashi, Kaori Yoneyama, Miran, Miyuki Takase, Nanami & Rina Amikura defeated Ayame Sasamura, Deborah K, Hanako Nakamori, Himiko, Makoto & Sae in a Secret Captain Falls Match
Ikuto Hidaka & Tiger Queen defeated Riko Kawahata & Super Tiger
SPiCEAP (Maika Ozaki & Tae Honma) (c) defeated Kakeru Sekiguchi & Madeline to retain the WWWD Tag Team Championship
Kyoko Inoue defeated Unagi Sayaka
Jaguar Yokota (c) defeated KAZUKI & Megumi Yabushita to retain the WWWD Queen Elizabeth Championship
Haruka Umesaki defeated Ayako Sato (c) to win the WWWD World Championship