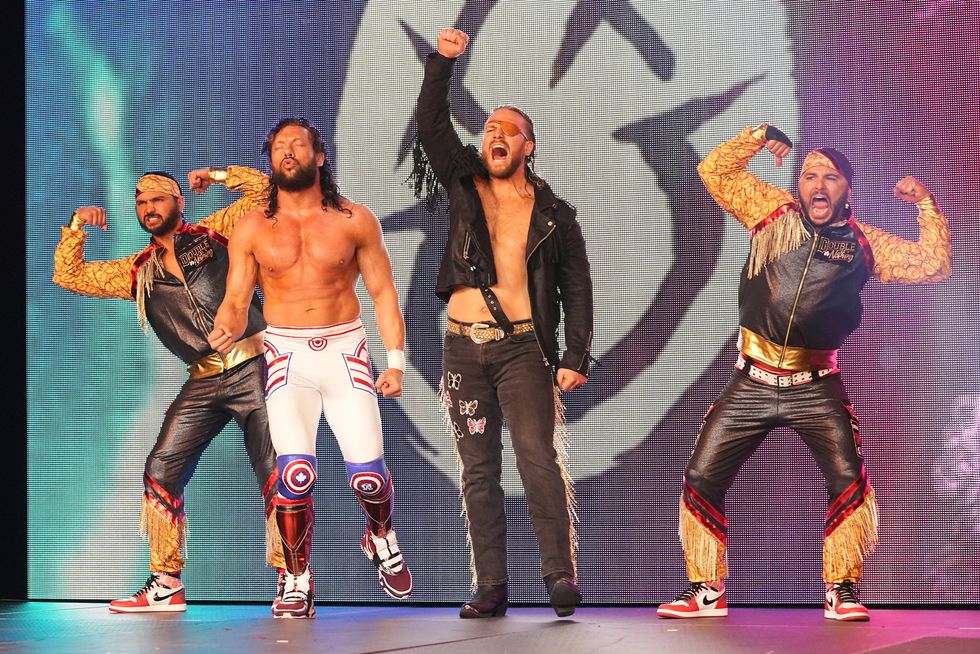 The 'E' in AEW is here to stay.
For the past few months, many fans have been speculating about where the future of The Elite (Kenny Omega, The Young Bucks, and Adam Page) would lie, with their AEW contracts believed to have been set to expire in early 2024 amid reported interest from WWE.
Any doubt can now be cast aside however, as Sports Illustrated have confirmed that The Elite have signed multi-year deals to remain with AEW.
"All four members of The Elite have renewed their contracts with All Elite Wrestling, Sports Illustrated has learned. Kenny Omega, The Young Bucks' Matt Jackson and Nick Jackson, and "Hangman" Adam Page each signed multi-year deals, ensuring that AEW will remain elite."

-SI
AEW President Tony Khan took the chance to comment on the quartet's importance to the company, highlighting his excitement about locking them down for the long run.
"The Elite have been so important to the launch of AEW, with the Young Bucks going all in when I first approached them in 2018 about my dream to create an international pro wrestling promotion. Shortly after that, their partners and closest friends Kenny Omega and 'Hangman' Adam Page joined us to formally launch All Elite Wrestling. All four of them have been instrumental to AEW's success from the very first episode of Dynamite in 2019 through the present day. Now, as we celebrate tonight's 200th episode of Dynamite, I'm excited to share that Kenny Omega, The Young Bucks, and Hangman Adam Page will all be staying in AEW for years to come. We look forward to celebrating the great news with fans around the world."

-Tony Khan
In addition to their work on-screen, Kenny Omega & The Young Bucks are set to retain their position as the company's Executive Vice Presidents, a role they've held since the formation of the promotion in 2019.
Omega has been a central figure to the success of AEW since arriving, having reigned as AEW World Champion, World Tag Team Champion, and World Trios Champion, as well as having an ever expanding list of classic matches with the likes of Will Ospreay, Bryan Danielson, and Jon Moxley amongst others.
Speaking on his passion for AEW and his EVP role, Omega noted that he feels as though the company have done a great job in giving a platform to talented performers, with the 39-year-old adding that helping wrestlers do what they love and provide for their families is the most rewarding part of his involvement.
"Our original goal was to create a wrestling alternative and give a platform to talented people that we'd all felt deserved a spotlight. I feel like we did our best in that time, and hopefully some people you'd never heard of pre-AEW are folks you enjoy watching today. Or if you knew them from their previous work elsewhere, have maybe found a new appreciation for them. That feeling, combined with the feeling of knowing they can provide for themselves and their family doing what they love, was always the biggest reward of being an EVP/founder."

-Kenny Omega
As previously mentioned, Omega has worked with a variety of different talents during his time with AEW thus far, creating several memorable moments and feuds. Omega went on to discuss AEW's incredibly talented roster, as well as the doors that are open thanks to the company's working relationships, highlighting his excitement as he continues to test himself against the best and improve his craft.
"Pro wrestling has a presence almost everywhere on the planet. In my pursuit to become as complete of a performer as possible, my goal was always to experience the styles of the world at their highest level. I believe that with AEW's current working relationships, and possibly future, I can challenge all forms of pro wrestling and diversify my style so that I'm equipped for any scenario I may encounter in the ring."

-Kenny Omega
Prior to re-signing with AEW, Omega reportedly was subject to major interest from WWE, but whilst many wrestlers would leap at the chance to make it to a WrestleMania, Omega prefers to continue paving a new path for future generations to follow.
"I was careful to weigh out all options and was open minded to all possibilities. I'm here to help whomever I can while I'm still around. Up to this point, I've made the choice to sacrifice everything in the name of pro wrestling. I can't say that family or my kids influenced the decision to stay with AEW–I'm not married and without kids–but what I can say is that I'm incredibly proud of my match catalog and the wonderful people I've met and continue to meet. AEW not only allows me to continue doing what I do at a high level, but allows the freedom to pursue some other passions I have in life–which, after nearly 25 years in the ring, have become more and more important to me."

-Kenny Omega
Rancho Cucamonga, California natives Matt & Nick Jackson (known collectively as The Young Bucks) are founding fathers of AEW, and thus its exciting to see their journey continue.
Speaking on their extension, Matt emphasised that The Elite will forever remain the foundation of the promotion, adding that their desire to ensure that that foundation remained solid played heavily into their decision to stay.
"We're literally the 'E' in AEW. The Elite are the main characters of this company. No matter how different AEW is now from its original inception, we are the DNA. And if you lose the foundation of your home, it eventually collapses. It'd be a lie if I said that didn't weigh on us, when making the decision."

-Matt Jackson
Whilst it certainly would've been interesting to see what a WWE run for the Bucks would've looked like, the decision ultimately comprised of more than just the wrestling side of things, as Nick noted that the WWE schedule simply wouldn't have allowed the pair to see their families as much as they'd like to.
"If we're going to be honest the schedule was a huge part of it. I have a wife and three young children and seeing them as much as possible was a big factor. I'm not going to lie, the money was a huge factor, too. At this point of my life and career, I just couldn't see myself being on the road half of the year or even more than that. I have so much respect for the guys and girls that are able to do that year after year. We for sure could've made memories in WWE, but what's more important to me is making memories with my family. With the position we're in, I'll be able to do that and still make memories in AEW."

-Nick Jackson
Whilst significant feuds and stories awaited them in WWE should they have made the jump, with the likes of The Usos, Kevin Owens & Sami Zayn, and The New Day springing to mind, The Young Bucks ultimately decided that creating those lasting memories in the promotion they helped to build is far more significant.
When combining the passion he has for All Elite Wrestling with his desire to see his family as often as possible, the decision was clear for Matt, and thus, The Elite as a whole continue to create memories in AEW.
"In my older years of my career, being closer to the end than I am the beginning, I'm not really one who worries much about my legacy anymore. I've kind of noticed, like a summer tan, most memories fade. Or, they're remembered differently or told with errors anyway. Oftentimes the memory is almost instantly forgotten, because you hit the refresh button. As far as my own personal stories, I'll have enough to retell my grandchildren for a lifetime. And much of those stories can be about how I helped create a massively successful wrestling company where all of your favorites can be seen on live television every week. Ultimately, I made the best decision for my family. Working in AEW will allow me the most time with my children, and they're still at the young age where they need their dad home as much as possible. Having the strongest marriage possible with my wife Dana is so important to me as well. When wrestling is finished, I want to come home to a full, healthy home. The entire Elite was going to make the decision of where we were going, together. And that's what we did. We stuck together. Which isn't typical in the wrestling business. But again, I used the word family earlier. We're not just locker room pals. We're more like a family. And we did what the family wanted."

-Matt Jackson
Similarly to Omega, the Bucks also have a seemingly endless list of classics during their time with the promotion thus far, including brutal encounters with The Lucha Bros, emotional battles with Omega and Hangman Adam Page, and tag team dream matches with FTR.
As the pair continue to to blaze their own trail, Nick laid out their short and long-term goals, highlighting their desire to make the upcoming AEW All In event at Wembley Stadium the biggest and best show in company history, as well as ensuring that they remain a true alternative for wrestling fans across the globe.
"The goal for us is to continue to build the company and still be the true alternative. We can't lose that identity. Short-term goals, the goal is to help make All In as successful and big as possible. I don't think any of us ever thought we'd be able to sell 70,000 tickets for one show but here we are. It's mind blowing and we keep moving that goalpost further and further. This is what we helped create. It's made the wrestling business so much healthier. We take pride in the success AEW has achieved. I think it's huge for AEW to keep The Elite. It's a W for the company and for us."

-Nick Jackson
Matt also shared his goals as their AEW journey continues, and to put it simply, he's looking to do more of what they've already been thriving at.
"Our next goal in AEW? Piss more people off. Make people happy. Continue to think outside the box. Tell unique stories. Share a laugh with the guys in the locker room. Make my parents proud. Shine a light in an often dark place. And when it's over, to come home to my family in one piece."

-Matt Jackson
Whilst the fourth member of The Elite, 'Hangman' Adam Page, hasn't always been on the best of terms with the group on-screen, he now finds himself as united as ever with his stablemates.
His ascension to becoming the AEW World Champion remains one of the promotions' best-told stories to date, and thus, with his long-term future now secured with AEW, he's looking forward to making new memories, as well as building the future.
"I think it's very meaningful that, as a day one guy, I stay with AEW. It's likely that I will one day finish my career here. Hopefully that can help the future generations see that there can be more than one path to success."

-Adam Page
As was the case for the Jackson brothers, Page's decision to extend his AEW contract ultimately came down to the schedule, as he wanted to ensure he could both see his family and maintain his physical health to the best of his ability.
"At this stage of my life the selling point was the schedule. AEW's schedule allows me to be home with my family for the majority of the week and will ideally help my body hold up better in the long run. And the pay is good. AEW emerging as a legitimate wrestling company has helped drive up bargaining power for wrestlers and others who work in the industry. Making a long-term commitment to a still-growing AEW I felt was the best way I could help continue that progress."

-Adam Page
Having made his professional wrestling debut in May of 2008, Page is the least experienced of the group, however he doesn't view this as a weakness, instead benefitting from the wisdom and advice of his more tenured peers.
Because of this, Page looks to ensure that he, too, can pass down the knowledge he's picked throughout his career to the next generation of AEW stars.
"Pro wrestling has given me so much, starting with free hot dogs, and now the ability to provide a secure future for myself and my family. I want to eventually leave it better than I found it for future generations."

-Adam Page
The 'E' in AEW isn't going anywhere anytime soon, a decision that will likely elicit a wide variety of reactions across the board, such is the controversial and decisive nature of the group that makes them so special.
"Love us, hate us, cheer us, boo us, send us sweet comments, or heckle us. As long as you feel something and you continue to watch the very company we announced on our YouTube series all those years ago, thank you. If you were hoping this would be our grand exit, sorry to disappoint you. You're stuck with us. We're not going anywhere."

-Matt Jackson
Tonight's episode of Dynamite will be the 200th instalment of AEW's flagship show, with Omega and The Young Bucks set to take on Jeff Jarrett, Jay Lethal, and Satnam Singh in trios action.
As always, we'll aim to provide any further updates on The Elite extending their deals with AEW as soon as we hear more.