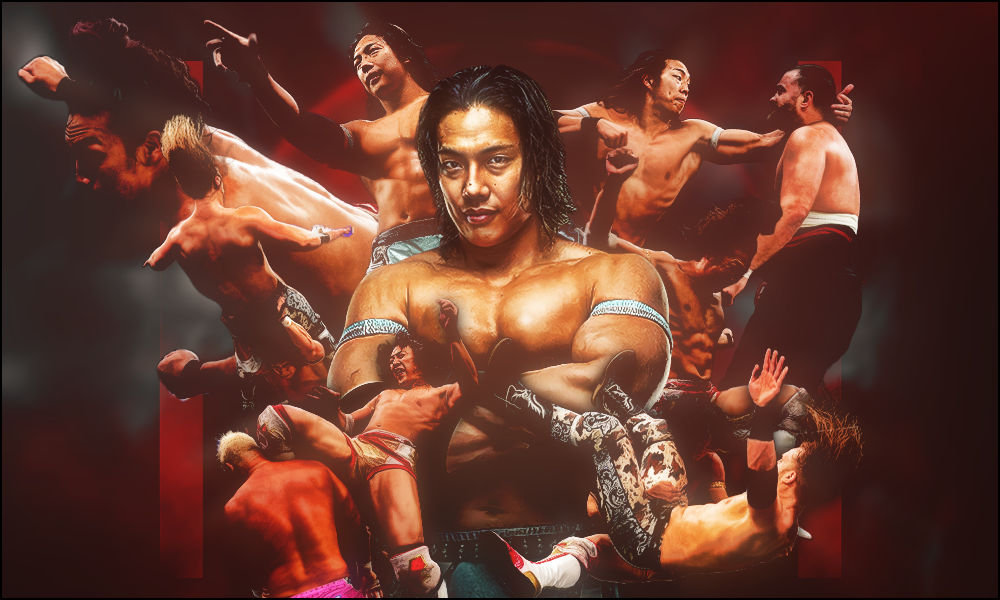 Konosuke Takeshita isn't just going to be a key player for AEW but he has all the makings to be their next main event superstar — and will be.
All Elite Wrestling (AEW) has become the promotion of creating stars. As much as people like to complain about former WWE names taking up too much of the roster space, the reigning champions of the promotion should tell you all you need to know about what AEW does best.
The reigning AEW World Champion is MJF, the Women's World Champion is Jamie Hayter, and the two television champions of each division are Darby Allin and Jade Cargill, respectively. Add in The Acclaimed and Orange Cassidy to only further the point which is that when it comes down to making stars, AEW has figured out the recipe. And as we begin to witness the rise in real-time, Konosuke Takeshita is not only on his way to being a champion but the guy for AEW.
After being the latest wrestler to receive a tongue lashing from MJF who questioned if he could be a star when only speaking Japanese, Takeshita quickly twisted that back him by saying he'd kick the AEW World Champion's ass before MJF forced Aubrey Edwards to back him off and out of the ring. As Takeshita followed orders and was pushed out of the ring, it's fair to say everyone would have loved top see Takeshita instead smash the AEW World Champion with one of his hard forearms rather than become an afterthought in the segment. That said, Takesthia quickly made people forget about MJF's pedestrian monologue when he did what he has done what feels like countless times now and that's delivered a tremendous match, this time against Bryan Danielson.
This is important not because it's shocking that the five-time KO-D Openweight Champion went out there and had a great match against one of the best in the world but because by the end of the two segments that featured the AEW World Champion and his likely challenger for the title at the next AEW PPV, the fans were chanting Takeshita's name and no one else. People want to see this man not only win but have success. That's a credit to his natural connection to the crowd and much of the reason why he's primed for All-Elite greatness sooner rather than later.
Once that beautiful "Konosuke Takeshita is All Elite" graphic was posted by Tony Khan on Nov. 19, it was hard not to feel this was the official graphic of "it's officially Takeshita's time in AEW." While he remains with DDT along with AEW, this man's future and legacy will be carved out in the AEW ring moving forward more than anywhere else. We're already beginning to see him find the success all had hoped for when he went back to Japan at the end of 2022 as he was a finalist in this year's PWG Battle of Los Angeles. Something which Takeshita had said he dreamt of. Any other time he appears on US independent shows, he feels like the main event and that was before the AEW signing became official. Everyone knows the talent. Everyone is noticing how special he is. So what's his ceiling in AEW? World Champion and nothing less.
"The guy is special," Bryan Danielson said after his match with Takeshita. Danielson and the fans aren't the only ones noticing. When one of the main eventers of AEW wants a true challenge, Takeshita has been the one to answer the call. The first match to put him on the map of AEW fans who weren't watching Dark or Dark: Elevation was when he faced AEW World Champion Hangman Page on the Wild Card Wednesday edition of Dynamite. Not only did he compete with the AEW World Champion but he felt like he could beat him. For fans of his from his time in DDT, this wasn't too shocking but getting the attention of AEW fans made the day of him becoming All Elite possible and this was the one that did exactly that.
Within two weeks in July, Takeshita would continue to show the world why he was a special talent like Danielson called him when he'd go to war with Eddie Kingston on Rampage then AEW World Champion Jon Moxley the next. As we know by now, neither were wins for the 27-year-old but they were marks of growth and improvement since his last big challenge against Hangman Page two months prior.
The difference in who Takeshita is in AEW and DDT are interesting and perhaps why he's gone from one of the best-kept secrets from his time in Japan to simply one of the best in the world nowadays. As the Ace of DDT, Takeshita had the same hard-hitting style he does now but it was less impactful in some of his biggest matches. He's learned to prioritize the best of his offense since coming to the United States and it's allowed him to be better for it. The Plus Ultra, a Crossface Chickenwing-Sleeper hold combo, played as his finisher in Japan but has only become a secondary move as his opponents have changed her in the US. Now it's all about that Jumping Knee Strike that was passed down from Jun Akiyama and, again, it's made him a major favorite here in the US.
There are other ways to get over in wrestling. Cutting a promo that changes the way fans look at you, having a single performance that has fans invest in you… all that has been done and has happened. What Takeshita has done to make AEW fans love him is just wrestle with the fire and passion he's always had. It can be so simple. And it has been for "Soup."
We know what the next step is for Konosuke Takeshita and it's achieving that first major television win. He's getting the opportunities and he's getting oh so close to acquiring such a win. As the Kia Forum got to their feet following Takeshita's Hitodenashi Driver transitioned into a Deadlift German Suplex that got a terrific near fall on Danielson, you felt the magic that he's been creating for months.
People connect to him. People love him. He oozes the cool, exciting charisma that you're not taught but few just have in them. Takeshita doesn't need to cut promos for the connection or to tell a story. He's connected. They love them. And we are experiencing the story each time he gives it another go against AEW's best. It's not a matter of "if" but more so a matter of "when" for Takeshita and his success in AEW.
Some may feel the All-Atlantic Championship is the step he needs with TNT Championship fitting in as well. But as we know with AEW, they have long-term plans for guys to become AEW World Champion. Hangman Page followed that journey to finally become champion. MJF had been seemingly hand-picked since the moment he signed. If there's anyone whose journey to the AEW World Championship should mirror the long-term plan of both Page and MJF, it's Takeshita. He's that good. He's that loved. And he's that ready to get there.
Takeshita's story has been underway since that first match with Hangman. We've seen it against Moxley (twice), Kingston, Claudio Castagnoli, and most recently Danielson. Each time he's come closer. Each time he has gotten better. So when he does get that win, then what? Championship gold feels likely.
But we'd be fools to ignore the fact that Don Callis, "The Invisible Hand" who is always by the side of Kenny Omega, has been scouting the Japanese superstar. That's the next part of the story that is so exciting. If you've been attached to Callis and The Elite in AEW, that means success is on the way.
The Cinnabon-loving, uberly talented Takeshita has a limitless future in AEW and professional wrestling as a whole. He may not have smacked MJF in the skull when he was getting talked down to by the AEW World Champion, but he was the one hearing his name cheered at the end of the night when it was all said and done. Takeshita may not have that huge win on television yet against one of the best in AEW, but he's getting closer each time he gets an opportunity. The moment it happens, the crowd is going to erupt and Takeshita is going to be made to all the fans worldwide. He has the potential to hold every single championship in AEW and if they know what's right for them, he will.
Konosuke Takeshita has the main event written all over him. This guy is the guy for AEW.