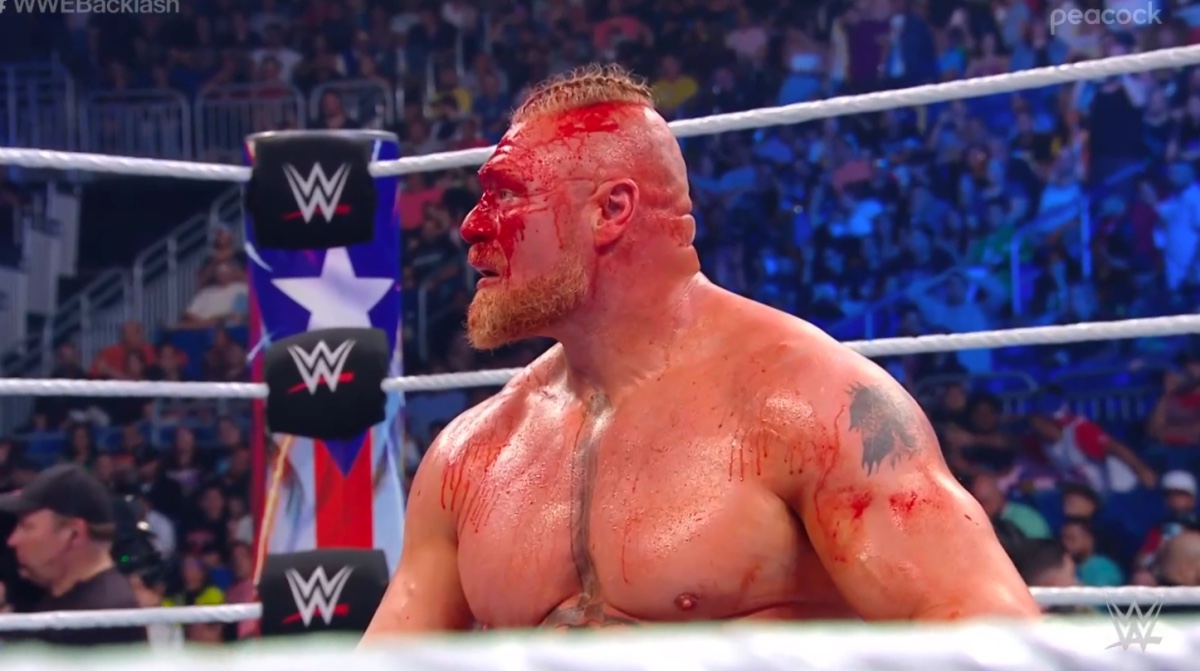 WWE are said to be more accommodating towards the use of blood when it comes to Brock Lesnar.
This past weekend's WWE Backlash proved to be one of the best shows the company have put on all year. Some of its highlights included celebrity involvement as Bad Bunny battled Damian Priest in a street fight and a blockbuster main event between Cody Rhodes and Brock Lesnar. It wasn't long before viewers saw The Beast
However, spectators may question the execution of the blood given how the wound that Finn Balor suffered against Edge at WrestleMania was treated. During their Hell In A Cell match, the action was stopped to allow extensive treatment to Balor's head, whereas The Beast was allowed to continue as normal following his clash with the exposed turnbuckle that resulted in pre-planned blood.
Providing, an update on the situation, it was said by Dave Meltzer on Wrestling Observer Radio that WWE's policy around the use of colour hasn't changed. However, the company are more relaxed around the topic when it comes to Brock Lesnar.
"Its unusual if its anyone else, and you've seen with Finn Balor…

The difference is that with Finn Balor it was an accident, but this was part of the show. Brock Lesnar has different rules than everybody else and if Brock Lesnar wants colour… we've seen it how many times on PPVs? Probably half a dozen times? Maybe more? If Brock Lesnar wants to do colour, Brock Lesnar can do colour. Everybody else might get in trouble for it but he has different rules. It's crazy because if Brock Lesnar insists on getting colour, they might as well let him blade rather than risk concussion or something dangerous by running his head into metal buckle as hard as he can to split his head open."

– Dave Meltzer
Lesnar ended up on the losing side on May 6, though, it appears as if his feud with Cody Rhodes is all but over given The Beast's attack on his Backlash opponent last night on Raw, which cost The American Nightmare a shot at the new World Heavyweight Championship.
As always, we'll aim to provide any updates on Brock Lesnar and his future as we hear more.
If you use any of the quotes above, please credit the original source with a h/t and link back to WrestlePurists.com for the transcription.