There have been countless times in pro wrestling where someone has bet on themselves. And so many times, it's been worth doing so that they can return as a bigger star to where they left. But there are very few times that it's the biggest stars who bet on themselves in a unique path that none have done before. That's what we are seeing with Mercedes Moné, who left WWE because she knew her worth, and rather than just jump ship to AEW, she went down the path so many fans wanted her to and that is taking on the Joshi world as a part of NJPW-STARDOM. Not only has she taken on the Joshi world, but she's proven what so many believed — she belongs there.
People will argue, but Mercedes Moné is the greatest North American women's wrestler of all time, and the more she showcases what she can do against the best of the best in pro wrestling, the more undeniable it becomes. When she was in WWE as Sasha Banks, she had some of the best women's wrestling matches the promotion has ever seen and, for my money, the top two in the form of her match with Bayley at NXT TakeOver: Brooklyn and the match with Bianca Belair in the main event of WrestleMania 37. Somehow, someway, that company never fully grew to appreciate 'The Mandalorian' actress' star power and how much of a ratings draw she was. There was a preference (questionable), but fans have won as a result because Moné said enough is enough. And now she's living up to the nickname of "The Blueprint" by creating the blueprint for major stars to fully bet on themselves by chasing their dreams.
When rumours began to swirl that Moné would potentially be making the jump to Japan and agreeing to a contract with Bushiroad, it was one of those scenarios where people couldn't believe it until she showed up. And then once she did, many were ready to question her decision as we waited a month and a half to see her NJPW debut but it became apparent from the moment she made her entrance, this was the right choice and there's a reason she is "The Conversation" and has been since that moment. She knows the star that she is. Moné has known for a long time. It was following WrestleMania 35 that Moné walked out of the company the first time and wanted to leave. She took time off, went to Japan and trained with Meiko Satomura's Sendai Girls promotion, and eventually came back better than ever. Her first extended period in Japan gave her a hint of what could be, but she had to go back to WWE first. By returning, her star only rose to levels that would classify her as a true superstar – which pro wrestling has few of. So, of course, she remains "The Conversation." The wrestling world can't stop asking themselves if All Star Grand Queendom was her final date with Bushiroad and if she'd leave Japan for good. But by everything she's shown, there's no way she's done chasing the dream in Japan for herself and the future.
"This isn't just for me," Moné said in an interview with Sports Illustrated. "This is for the future. It's for every girl that has a dream. I'm showing the world you can achieve feats that no one else has done before."
So many can talk, tease leaving, and then ultimately walk back in the door a few days, weeks, or months later. She's been there. But 2022 saw the end of "The Boss" and gave the wrestling world "The CEO." As we've seen, it's been a perfect choice and there's seemingly no looking back for Moné after winning the IWGP Women's Championship and what she's done in the first three matches of her Japan run.
Battle in the Valley saw Moné make her NJPW in-ring debut after making countless promises heading into the match. When she first appeared at Wrestle Kingdom and went face-to-face with KAIRI, she was about the moment rather than the attack. It was from there she promised to be "The CEO" of NJPW and STARDOM, named wrestlers' names incorrectly like AZM's, and said she'd have the greatest match of all time with the IWGP Women's Championship on the line. She made even more enemies than the ones heartbroken she left WWE and the others all the more hurt she didn't show up to an episode of AEW Dynamite that she never said she'd be on in the first place. People questioned her place in all this, and if she was "as good as people think she is." She's not only as good, but she's better.
Moné donned Hana Kimura-inspired gear and almost shut people down within seconds as to who was questioning her at the time. The bell didn't even ring, and many had instantly realized that she wasn't only bringing meaning to her matches, but she had respect for what she was doing. As we've seen in Moné's recent trips, she's taken that to another level by meeting and hanging out with Kyoko Kimura, making her moment all the purer. Jungle Kyona wrote up a column about how she felt about the inspired gear, furthering the fact that Moné made the right decision no matter how her matches went. But then the bell rang at Battle in the Valley, and it's then that Moné put every doubter to rest within minutes.
Moné and KAIRI made magic in the ring that night. They not only had the best match of the night on a show that featured Kazuchika Okada vs. Hiroshi Tanahashi, but they were the match everyone had eyes on in the building and worldwide. Moné debuted her Lucha inspirations that she had learned while out of action but also brought "The Boss" version of her as well. This match embodied a big STARDOM-type match while also playing to who she was in her previous life as Sasha Banks. Doing something we don't see much in an NJPW or STARDOM ring by cheating a bit and acting as if it wasn't her intention.
Somehow, she managed to put it all together in her first match back after nearly a year away from wrestling what her new style would be. You know someone who lives and breathes pro wrestling like her has had that new style in her mind for a long while. And as we've seen in the two matches following, it's a near-flawless delivery. When she hit the Moné Maker on KAIRI in picture-perfect fashion, the match witnessed a legendary re-debut for someone who had countless people, even some she called fans, doubting her decision. She proved she belonged in the Joshi world. Not only was it the right decision, but one of the most important decisions we may see in the pro wrestling world for years to come. But one more match was needed for everyone to be convinced, and it'd be her Japan in-ring debut for NJPW that would get us there.
Never would you expect three letters to anger so many fans, but Moné again knew exactly what she was doing. "Ae-Zee-Em, Ae-Zee-Em" Moné said nonstop when talking about the High-Speed Champion of STARDOM, AZM. She said it in her Wrestle Kingdom press conference and said it all the way to Sakura Genesis. AZM (pronounced Azumi if you didn't know) was someone Moné wanted to face from the start, so the 20-year-old was happy to step up with the IWGP Women's Championship on the line. Few people would really challenge Moné to show where she really is in the Joshi world better than AZM. Not because she's the absolute top star of Joshi (she's still incredible), but because she is the best of the best when it comes to high-speed pro wrestling. Could Moné keep up? Well, the addition of Hazuki made sure Moné experienced high speed along with the viciousness that Joshi has.
When the lights were brightest inside Ryogoku Kokugikan, it became apparent that Moné, AZM, and Hazuki weren't going to fail in the big spot. Instead, they tried to steal the show on an NJPW card that delivered from their match and on. The bout lasted 13 minutes and 35 seconds, and through that time, Moné showcased that she can compete with those whom she didn't have familiarity with – the final doubt. Hazuki was the star of the match in many ways, but these three put on a show to be proud of in such a prominent venue. They had one of the best triple-threat matches I've ever seen, and it's thanks to the efforts of all three of them.
Undeniable. That's what Moné continues to be. But if the match with KAIRI wasn't enough and the three-way wasn't either, then the final match of her IWGP Women's Championship reign was everything that was needed to guarantee she made the right decision of betting on herself.
The dream match was set. For the first time ever, it'd be Mercedes Moné vs. Mayu Iwatani at All Star Grand Queendom. It'd be Moné's official STARDOM debut. And it'd be the chance to see the best of the East vs. the best of the West. The ultimate dream match for me as it was the epitome of a dream match. Over the last decade, these two have made their marks in different ways as Moné brought women's pro wrestling to the forefront in WWE and America while Iwatani helped build Joshi back to prominence with STARDOM becoming the number two promotion in Japan only behind NJPW. They were trailblazers in their own ways and the definition of game-changers. A year ago, this never felt possible, and now it was happening. A dream.
It was the fact that Mercedes Moné, the best women's wrestler in the history of North America, was going to participate in the biggest show in STARDOM history and the biggest women's wrestling show in decades. By the end of the show, they may not have had the best match on the entire card, but they did live up to the dreams and created room for more along the way. As we saw in the build to this match, they channelled the rivalry that Moné had with Bayley in their build to NXT TakeOver: Brooklyn. Moné was the bully and made Iwatani, "The Icon" of STARDOM, an underdog – an accomplishment seeing Iwatani's current standing in the company. "Living Legend" vs. "The Icon" had a great ring to it, and when they made their entrances to the ring Sunday night, there was magic in the air.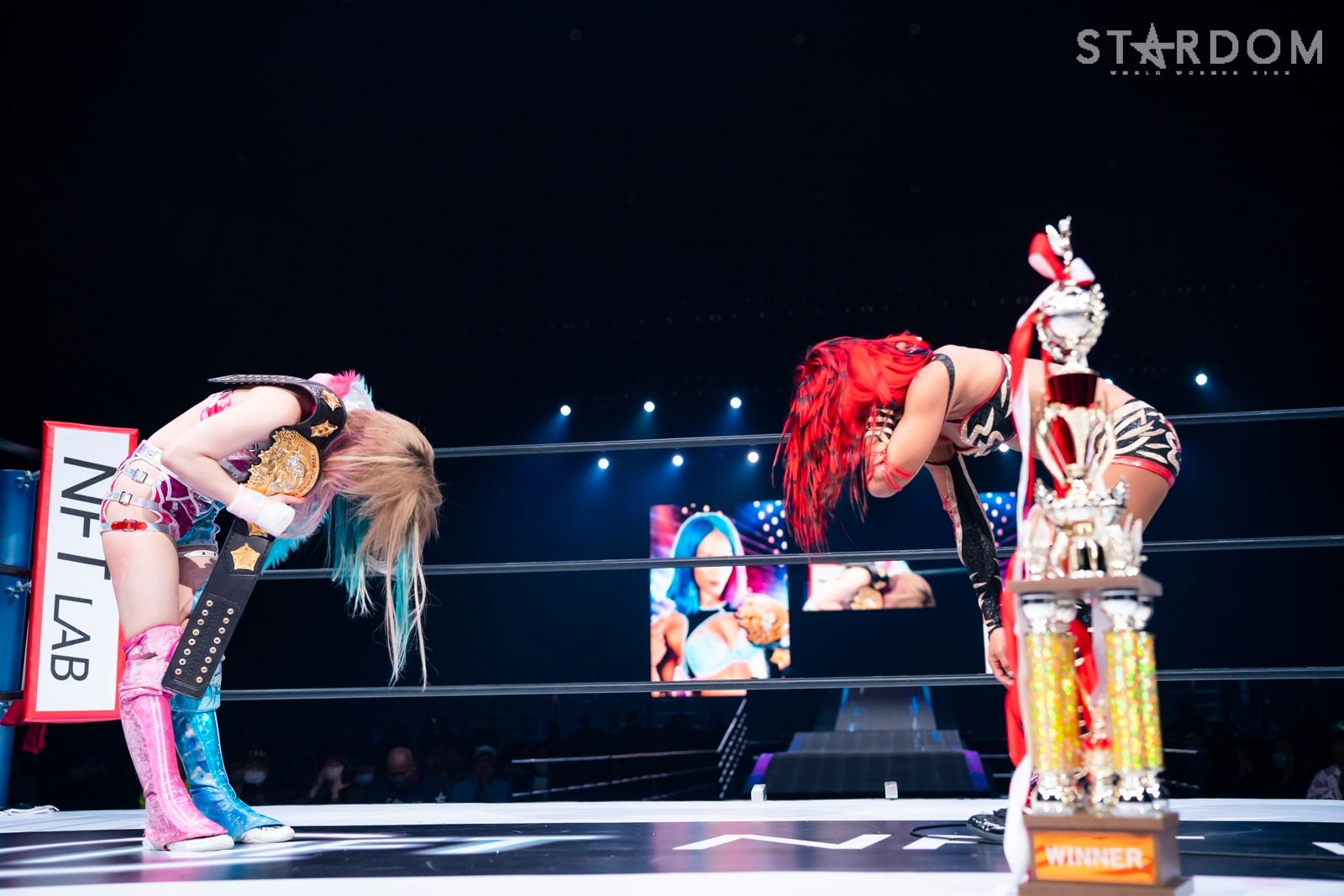 When the match got started, they didn't build and feel each other out but instead went to the next level instantly. By the end of the match, Moné had a huge bump on her forehead because of how physical the match became. Moné hit her Moné Maker on Iwatani, but it was close to the ropes, which allowed "The Icon" to survive. The shocking win came for Iwatani when she hit the Dragon Suplex Hold for the finish on Moné, dethroning "The CEO" and "Living Legend" to set create a cloudy future. We know where her next steps are now, but anyone who thought Moné didn't fit in and couldn't prove herself against the best of the best was sorely mistaken.
The match with Iwatani is a match that will channel that of Bayley vs. Sasha Banks from NXT TakeOver: Brooklyn in terms of history. It'll be the match that is remembered in the history books for one that changed things. As Moné told Sports Illustrated, this isn't just about her but the future. Women's pro wrestling is the healthiest it has been in decades, and Moné has played a major part in that. The IWGP Women's Championship has helped make these things possible, but Moné taking a chance on herself, betting on herself, and believing in her own dreams, in the end, is all we needed for the impossible to become possible.
She is the definition of "The Conversation" but just as much "The Blueprint." She's created a new path for those who are true superstars in women's wrestling and can claim that title without being in WWE. Everyone is entitled to talk, debate, and question her decisions, but every decision she has made has been the right one. She's helped put STARDOM on the map to a degree that even I didn't know was possible this soon, and it feels like it's just the beginning. If you're mad at her for chasing her dreams and acting on them, then you're not a fan of pro wrestling. Changing the game is the Moné way.
Mercedes Moné is an all-time great and an actual living legend. She has solidified her legacy following the first chapter of her time with NJPW and STARDOM. But she's not done, and that's why we sing her praises all the more. The next stop is NJPW RESURGENCE in Long Beach, California, in May. We know she wants matches with other STARDOM talent like Giulia, and we know countless wrestlers like IMPACT Knockouts World Champion Deonna Purrazzo want to face off with her soon. Moné hasn't stopped herself from getting what she wants, so for that, TJPW's Miyu Yamashita and Mizuki will happen somehow and somewhere. The options will never end, and as long as she wants the big matches, she'll have the big matches.
With All Star Grand Queendom in the rearview, we will now look forward to the next steps for Mercedes Moné because the one thing we do know is that whatever it is, it'll be absolute money. "The Blueprint" has been created, "The Conversation" will always be talked about, "The Greatest" has become inevitable.