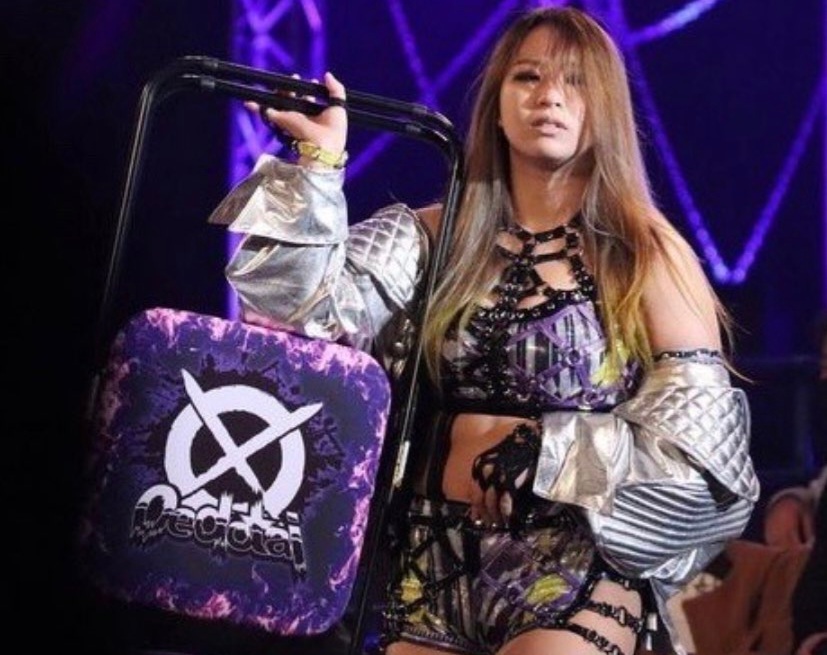 Despite only being 22 years of age, Momo Watanabe currently finds herself positioned as one of Stardom's most experienced talents, having made her debut on November 16, 2014, at the remarkably young age of 14. Watanabe's Stardom career has been one full of highs and lows, with faction betrayals, championship reigns, and a host of top-quality matches to show for her eight-year Stardom career thus far. With the month of July now upon us, Watanabe finds herself just a day away from what could potentially be the biggest match of her career, as she is set to take on Syuri for the Wonder of Stardom Championship at Stardom MidSummer Champions on July 9th. With that in mind, there is certainly no better time than the present to recap the career of OEDo Tai's Black Peach and relive the moments that led her to where she is now.
Watanabe showed undeniable promise during her first year as a member of the Stardom roster, with a brief gimmick as a baseball batter proving memorable, although it wasn't until late 2016 that Watanabe truly came to prominence in Stardom, as she became one of the founding members of a faction that has been host to some of Stardom's premier talents since its inception. Throughout 2016, Watanabe teamed with Jungle Kyona as JKGReeeeN, although their efforts in capturing the Goddess of Stardom Championships proved unsuccessful. The duo failed to reach the finals of that year's Goddess of Stardom Tag League, with tension growing between the pair. The finals of said tournament took place on November 11th, as Thunder Rock (Mayu Iwatani & Io Shirai) lost out to Kairi Hojo & Yoko Bito. This defeat proved to the the final straw for an irate Shirai, who with the help of a returning Reo Hazuki (now going by the name HZK), turned on Iwatani, and just nine days later, Watanabe would similarly turn on her own tag partner, with the trio officially announcing themselves as Queen's Quest on November 27th.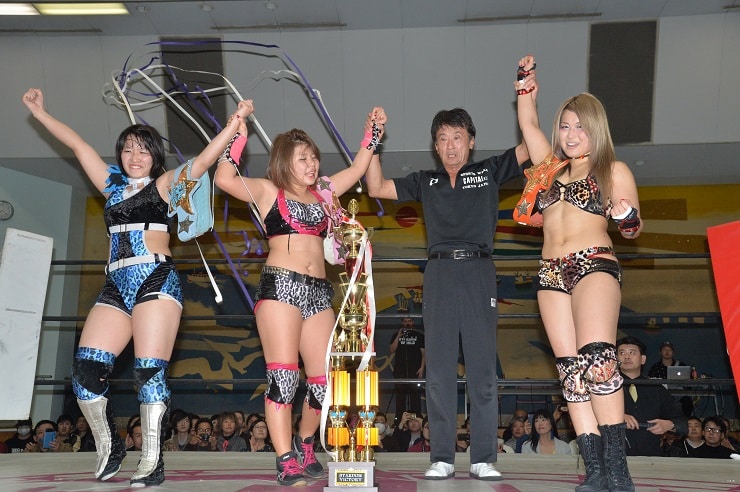 The trio quickly asserted their dominance over their fellow competitors, capturing the Artist of Stardom Championships from the OEDo Tai trio of Kagetsu, Kyoko Kimura, and Viper on January 7th, 2017, beginning a reign that would last until early April, with the team relinquishing the titles following an injury suffered by Watanabe that would unfortunately side-line her for the next 10 months. Upon her return, Watanabe turned her focus to singles action, with Shirai and HZK teaming with the stable's newest member AZM to capture the vacant Artist of Stardom Championship in the finals of a four-team tournament. Watanabe received her first major singles title opportunity on February 18th, 2018, as she challenged her Queen's Quest stablemate Io Shirai for the Wonder of Stardom Championship. Watanabe's challenge ultimately proved unsuccessful, although this wouldn't be the last time Watanabe made a claim for Stardom's White Belt. Watanabe's path to championship glory presented itself at that year's Cinderella Tournament, as she defeated Bea Priestley in the finals on April 30th to capture the crown. Upon her victory, Watanabe revealed her one wish to be another shot at Shirai's Wonder of Stardom Championship, a challenge that would take place on May 23rd.

This time the stars aligned for Watanabe, as she finally defeated her stable's leader to capture the title that alluded her earlier in the year, making her the youngest holder of Stardom's White Belt at the young age of 18. From here on out, Watanabe would embark on a reign that would see her hold Stardom's secondary championship for an impressive 358 days, with a total of 13 defences, more than any other Wonder of Stardom Champion in history during a single reign. Watanabe's reign was so dominant in fact, that Stardom themselves began presenting the young star as the promotion's Ace across their social media platforms, signifying their belief that Watanabe would play a key role throughout the growth of the promotion.
Shortly after Watanabe's victory, Shirai revealed that she would soon be departing Stardom in order to join WWE. Shirai's announcement came on the 17th of June, with the torch being passed to Watanabe as she became Queen's Quest's new leader. Watanabe additionally captured the Goddess of Stardom Championship during her White Belt reign, as she joined forces with Queen's Quest's newest member Utami Hayashishita, a rising star that would play a pivotal role throughout Watanabe's career trajectory, to win the Goddess of Stardom Tag League on November 4th, before defeating J.A.N. (Jungle Kyona & Natsuko Tora) on November 23rd to capture the titles.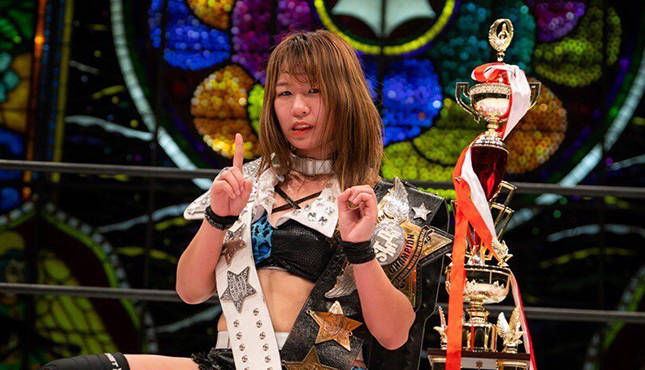 Watanabe's reign eventually came to its end on May 16th, 2019, at the hands of Arisa Hoshiki. Many to this day consider Watanabe's reign as the best in the title's history, having defended the championship against a variety of opponents whilst delivering in each and every match, with her performances establishing her as Stardom's true ace. Unfortunately for Watanabe, despite her evolution into one of Stardom's greatest talents throughout her reign, the end of her time with the championship would also mark the beginning of era that would see her importance diminish, as a host of new stars emerged and began to take centre stage. Watanabe would enter 2020 as one third of the Artist of Stardom Champions once again alongside AZM & Hayashishita, with their brief reign coming to an end at the hands of Donna Del Mondo in early February. A month prior, Watanabe unsuccessfully challenged for Mayu Iwatani's World of Stardom Championship during the main event of Stardom's 9th Anniversary show, a title that has continued to evade Watanabe since the beginning of her career.
Whilst singles success proved hard to achieve for Watanabe throughout 2020, the Goddess of Stardom Tag League would offer her the chance to reclaim some of her previous momentum, as she teamed with AZM as MOMOAZ to once again reign victorious over the competition. Despite this however, Watanabe and AZM would come up short in their challenge for the gold, as they were defeated by fellow Queen's Quest stablemates Utami Hayashishita and Saya Kamitani. MOMOAZ would continue to be a staple of Watanabe's Queen's Quest era, although the duo unfortunately never managed to capture the tag titles, with the feeling of "what if?" lingering in the minds of many fans of the pair, particularly when considering how the team eventually came to part ways.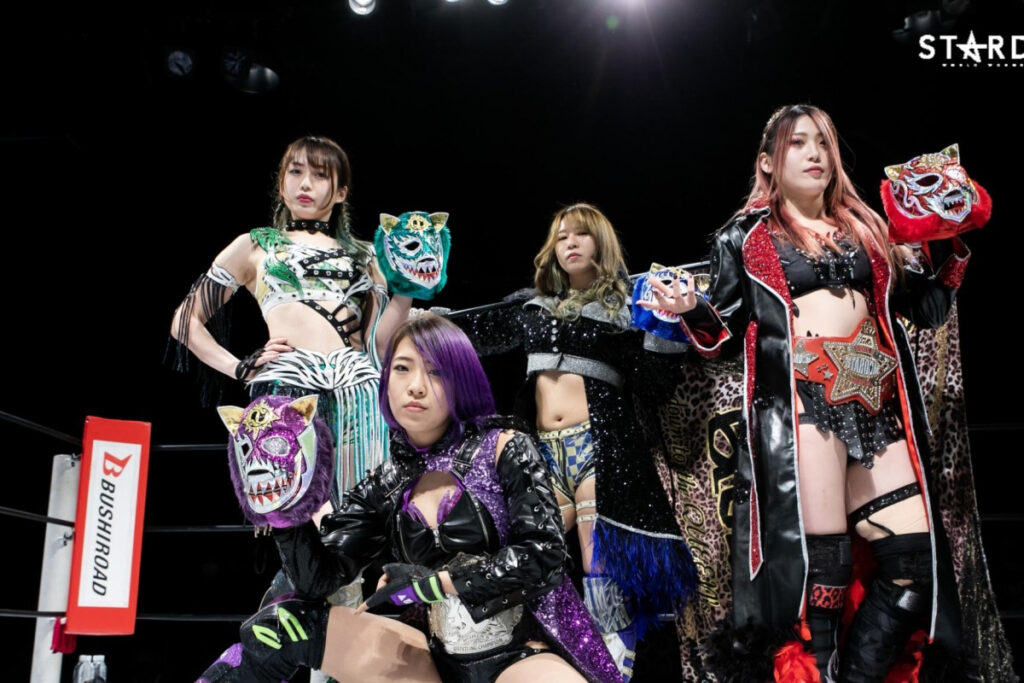 Following Watanabe's unsuccessful attempt to regain tag-team gold, she once again turned her attention to the World of Stardom Championship, a title that now found itself in the hands of Utami Hayashishita. The highly anticipated bout between two of Queen's Quest's best took place on December 20th, 2020, with the result once again proving frustrating for Watanabe as she failed to defeat her stablemate.
Just a month later, Watanabe redirected her attention to the SWA World Championship, although she was yet again bested, this time by DDM's Syuri. 2021 would prove an incredibly important year for Utami Hayashishita, Syuri, and Watanabe, all for varying reasons. Hayashishita continued her dominant reign with Stardom's Red Belt, putting away a number of challengers, whilst Syuri showed undeniable signs of the World of Stardom Championship being her destiny, as her and the then-champion ultimately came to a time-limit draw, followed by a double stoppage after additional time was allowed at Stardom Tokyo Dream Cinderella. Syuri refused to give up on her ambition of defeating Hayashishita however, as she then set her sights on the 5 Star Grand Prix.
Many anticipated that Syuri would ultimately emerge victorious as the tournament progressed, with multiple dominant victories over the likes of Maika and Saya Kamitani leading to her eventually topping the blue block. Looking across to the red block, Momo Watanabe started the tournament how she meant to go on, as she emphatically defeated Stardom's Icon Mayu Iwatani on the opening day. Watanabe and Syuri's victories of their respective blocks led to the pair eventually meeting once again in the finals on September 17th. The moments leading up to the bell ringing heightened the anticipation for what promised to be an immensely hard-hitting affair, as both the backstage promos and the intense stare down indicated both women's intent on stamping their name in the history books. Once the bell rang, the pair delivered and then some, with both competitors' shared passion for kicking the sh*t out of their opponent leading to the perfect concoction of violence. At the end of the night, Syuri once again proved too much for Watanabe, as the Donna Del Mondo member scored the decisive win, cementing herself as a future challenger for Utami's Red Belt.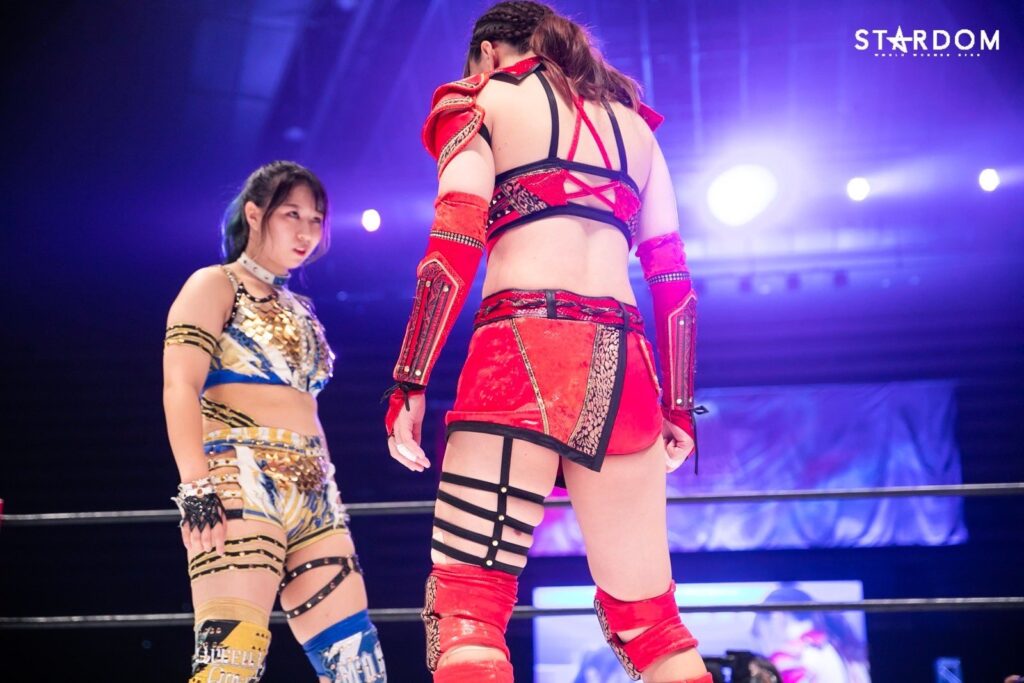 Whereas for Syuri the bout proved to be her gateway to future success, for Watanabe it was yet another setback in her quest to fulfil her prophecy as Stardom's true Ace. Two months later, Watanabe found herself embroiled in a heated feud with Starlight Kid, who had only months earlier joined OEDo Tai, and had since quickly established herself as a force to be reckoned with. Momo begrudgingly challenged Kid for her High-Speed Championship in early November to no avail, with the feud eventually reaching its climax as the pair met in an eight-woman elimination tag match on December 18th at Osaka Super Wars. Watanabe and Kid both captained their respective units, with the stipulation stating that the losing captain would be forced to join the opposing unit. To increase the stakes, and perhaps to further entice Watanabe to take her bait, Kid also wagered her mask should she lose, an offer that Watanabe jumped at the chance of making a possibility. Following a lengthy battle, Queen's Quest held a 2-on-1 advantage over OEDo Tai, as both Watanabe and AZM remained with only Starlight Kid standing in their way. Just as MOMOAZ appeared to have the match won however, Watanabe shockingly betrayed her long-time friend and partner, as she initially appeared set to attack Kid with a steel chair, before turning her attention to AZM instead. As a result, Watanabe handed the victory to OEDo Tai on a silver platter, joining the stable and anointing herself the "Black Peach" of the group.

Whilst at the time Watanabe's betrayal of the faction she'd led since 2018 came as a shock to many, when evaluating her time as leader, the turn appeared inevitable. The most important factor when it comes to Watanabe's betrayal of Queen's Quest irrefutably came down to frustration with her standing in the unit. Since the arrival of Utami Hayashishita, Watanabe had taken a backseat as the unit's top star, with the super-rookie racking up title victories at an alarming rate. To many new Stardom viewers that perhaps began watching the promotion following Hayashishita's epic first encounter with Syuri, Utami appeared to be the true leader of the group purely from a visual standpoint, as she appeared front and centre whilst holding the promotion's top prize. Additionally, Saya Kamitani had a stellar 2021, rising through the ranks to win that year's Cinderella Tournament, whilst AZM also continued to be one of Stardom's most consistent in-ring performers as her, Starlight Kid, and Natsupoi delivered quality match after quality match in the high-speed division. Taking these factors into consideration, Watanabe, despite being the leader of the faction, stood as only the fourth most important member of Queen's Quest in the eyes of the fans, a far cry away from where many anticipated her to be given the level of hype surrounding her reign as the Wonder of Stardom Champion. Coupling this with the undeniable success of Starlight Kid following her own journey to the dark side of Stardom, and it was easy to see how Watanabe came to the decision to turn on the stable she'd been affiliated with for over five years.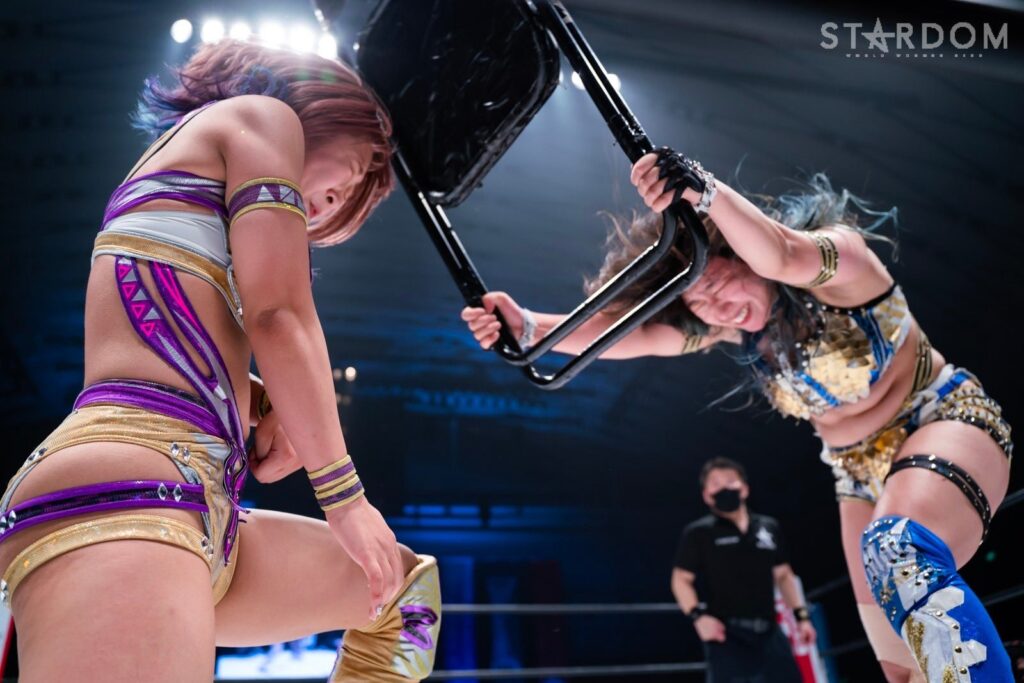 2022 thus far has proved to be a successful first year for Watanabe as a fully fledged member of OEDo Tai, with the former Queen's Quest member debuting a new theme, attire, and in-ring style to suit her new darker side. At Stardom World Climax on March 26th, Watanabe teamed with Starlight Kid under their new team name of Black Desire to defeat FWC (Hazuki & Koguma) for the Goddess of Stardom Championship. Unfortunately for the pair, their reign would prove short-lived, as FWC would recapture the gold on May 5th during the Golden Week Fight Tour. Luckily for Black Desire, gold would soon be in their grasp once again, as the pair joined forces with Saki Kashima to capture the Artist of Stardom Championship on May 28th at Stardom Flashing Champions, putting an end to the 237-day reign of DDM's MaiHimePoi. These two title reigns so early on into Watanabe's OEDo Tai tenure have undoubtably validated her decision to join the villainous stable, with the group's "Black Peach" already reaching a level of success that had evaded her throughout 2021. Granted, Watanabe's run of form must also be accredited to her new habit of utilising her trusty wrench during her matches, with one early instance springing to mind that saw Watanabe slip the wrench into her shinpad, before delivering a brutal punt kick to AZM that broke her former partner's nose upon impact. Watanabe also recently bludgeoned Natsupoi with the help of said wrench at ringside, and whilst injuries such as these are unfortunate and never a sight to be celebrated, there can be no doubt that they've added to Momo's aura as a significantly more dangerous threat than ever before.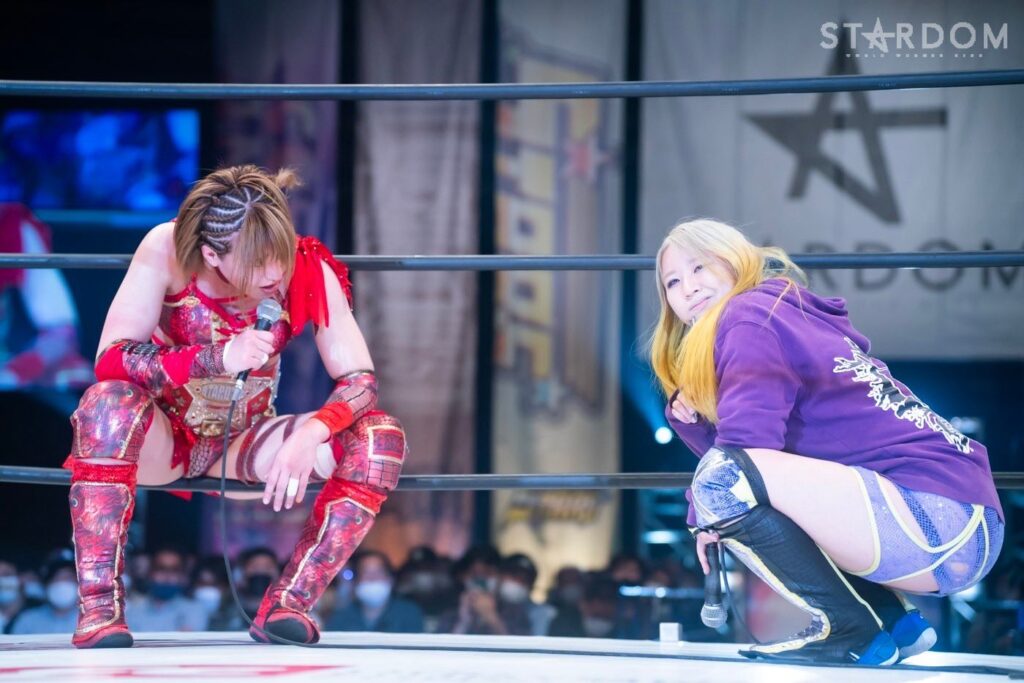 This brings me neatly back to the upcoming World of Stardom Championship encounter between Watanabe and the current champion Syuri on July 9th at Stardom MidSummer Champions. Syuri finally defeated Utami Hayashishita towards the end of last year to capture the title and has since broken away from Donna Del Mondo to form her own unit, God's Eye, alongside MIRAI and Ami Sourei. Since then, Syuri has batted away every challenge that's come her way, defeating the likes of Giulia, Mayu Iwatani, and Risa Sera, although this time, her reign truly feels as though it could be in jeopardy.
The pair's first encounter had the audience audibly gasping at each and every bomb thrown, and with Syuri seeming more dominant than ever and Watanabe possessing a new desire to win at any cost, the pair's rematch of their 5 Star GP 2021 final is sure to deliver as yet another classic between the two vicious strikers. For Syuri, its ensuring that Stardom remains Syuri's World, whereas for Watanabe it's the chance for redemption she's been desperately seeking since last September. Whatever the outcome, the match is sure to have fans on the edges of their seats as the two trade pulverising kicks, and I for one hope that even if Watanabe comes out of the bout unsuccessful once again, it won't be long before she finally has Stardom's top prize in her grasp.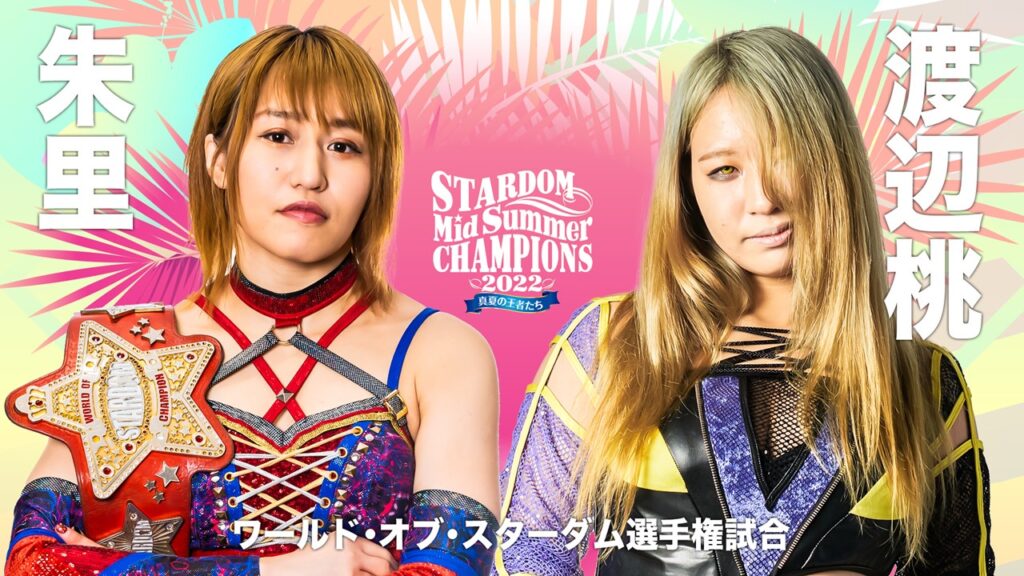 Looking past the upcoming title bout, should Watanabe lose out to Syuri, she will have the opportunity to right the wrongs of last September as she is set to take part in this year's edition of the 5 Star Grand Prix. The field of competitors is perhaps more contestable than ever, with Suzu Suzuki, Risa Sera, and SAKI all taking part to ensure that this year's line-up is better than ever before. Watanabe's trajectory may follow Syuri's route to the World of Stardom Championship, as she came up short in her own challenge for the gold prior to the tournament beginning, before capturing the title later in the year having proved her worth throughout the 5 Star GP.
Additionally for Watanabe, a ghost of the past may soon come back to haunt her, as reports recently emerged revealing that Io Shirai's WWE contract is set to expire next month, with the former NXT Women's Champion eager to return to her homeland. Should Shirai return to Stardom in a similar fashion to KAIRI, she may take umbrage with Watanabe over the way she betrayed the faction that Shirai trusted her to lead into the future. The pair, as previously noted, have shared the ring before, but with significant time passing since their last encounter, and a new added motivation for both to defeat the other, an Io Shirai vs Momo Watanabe singles match in 2022 may perhaps be one of the biggest matches Stardom have up their sleeve.