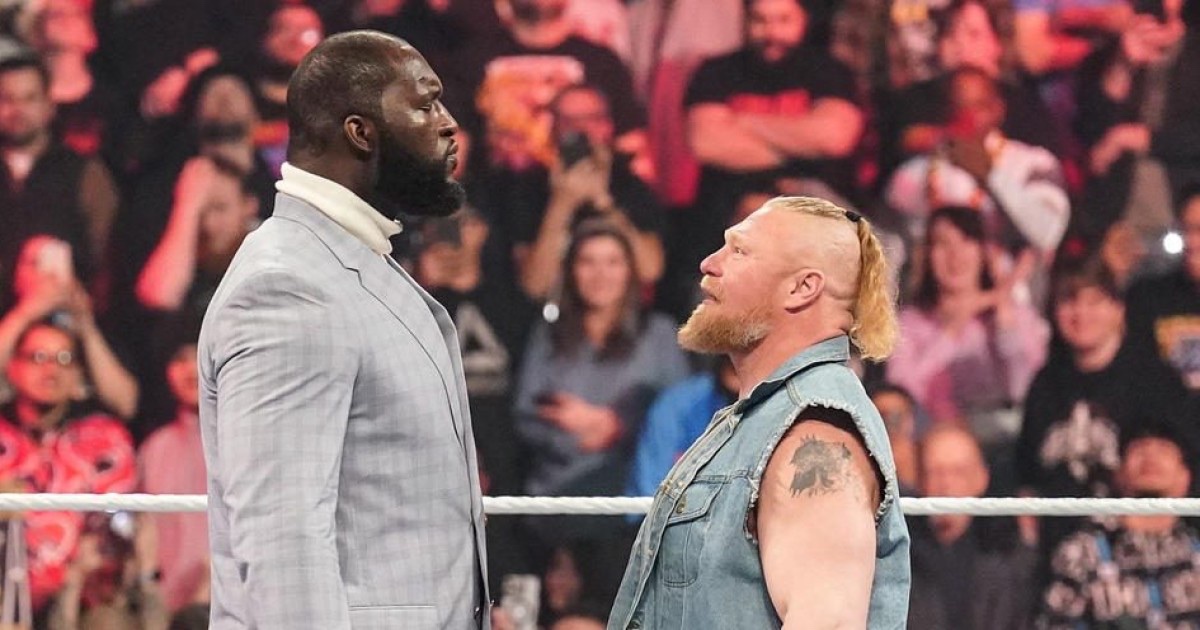 Omos has heaped a mighty amount of praise onto the massive shoulders of his former Wrestlemania opponent, Brock Lesnar, as well as described in detail how their Wrestlemania match came to fruition.
As we drew ever closer to the two-night spectacle that came to be of Wrestlemania 39, some fans found it safe to assume that Brock Lesnar, the former UFC Heavyweight Champion, would be continuing his ongoing feud with Bobby Lashley. This was particularly the case when The Almighty defeated The Beast via DQ at Elimination Chamber, leading some individuals to believe the feud would continue at Wrestlemania.
However, once Omos and his mouthpiece MVP called out Lesnar, the feud between two of the absolute largest men in the locker room would commence, culminating in a victory for "The Beast Incarnate" at Wrestlemania 39.
Omos spoke recently with Mail Sport's Alex McCarthy, where he would go on to recall working with Lesnar, and would also celebrate his talent.
"I don't think he gets the credit he deserves. He's such an amazing and talented worker. He has figured out this business to the core. From his facial expressions, to his physicality, to his selling. He gets it. Most importantly he understands his role depending on where he's put. He has such awareness and that's the person he is. Working with him, at first he was getting a feel for me and making me feel comfortable and he made sure I felt that way around WrestleMania. I remember having a conversation with him about how to prepare and he just said, 'Don't worry,'"

-Omos
The Nigerian Giant would go on to admit that he viewed his bout with Lesnar as a test to see if he himself could stand the test of Brock Lesnar.
"For him, he wanted to see whether I could live up to expectations. Everything in life is a test and I knew I had to go out there and put everything I have learned into that match and I'm glad it came out the way it did. Brock is amazing. He was pleased after. I wanted to make sure he had fun, that's always my goal. When it's fun, you want to keep on doing it,"

-Omos
Omos would then go on to describe the highly unusual way this match came about from his perspective, noting that he was meant to head back home the day following Elimination Chamber, as he had no spot on the card, however, Omos was then informed about the match planned with Lesnar, admitting that upon first hearing the idea he thought he was being 'ribbed'.
"I was going to get a haircut and one of our producers said whatever you do, don't go anywhere. I was on the show, but not a match, a backstage. They said it was a backstage with MVP and you guys are going to call out Brock. The moment they said that I just go blank. They keep talking and I couldn't hear a word they said. They asked if I was OK, I said, 'Yes, did you just say Brock Lesnar?' He said yes. I said, 'No, the Brock Lesnar? Woah, OK.' I thought I was getting ribbed. So I go in and get there early and I see Paul Heyman. I say hi, he says Brock is coming and I know it's real. This is happening,"

-Omos
He would go on to elaborate on his first major singles storyline, opposing Bobby Lashley following MVP's turn on the 46-year-old former WWE Champion. Omos would praise Lashley, describing how much he learned from the veteran. He would circle back and once again mention how thankful he was for the time spent working with Lashley.
"I learned a lot. Before this Mania, I told Bobby thank you. Brock is very intense. If I hadn't worked with Bobby, I don't think I'd have been prepared as a worker to face Brock. So me wrestling him got me prepared. That's not possible without the work I put in with Bobby Lashley,"

-Omos
Despite wrestling Brock Lesnar at this year's Show Of Shows, Omos has only had two matches on Raw since April, one of which was a squash victory over Elias. As of now, it's unclear what the future holds for the seven-foot star.
As always, we'll aim to provide any further updates on Omos and his feud with Brock Lesnar as we hear more.