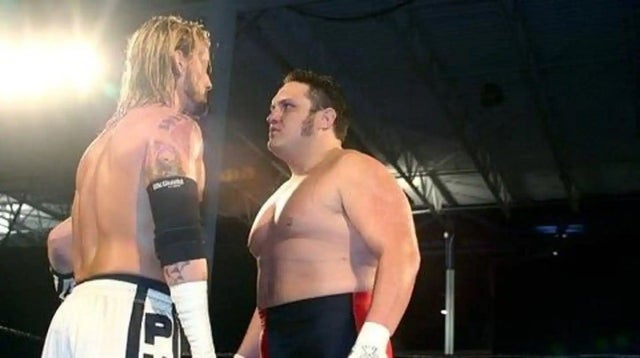 Samoa Joe & CM Punk undoubtably had one of the most iconic rivalries in Ring of Honor history in the mid-2000s.
During 2004, the pair had two 60-minute bouts for the Ring of Honor World Championship, which stood out at the time considering the scarcity of one hour broadcasts across the wrestling world at the time. Both of these bouts ended in a draw, although a third match between the pair would finally see Joe claim the promotions top title, embarking on perhaps the greatest reign in the title's history.
Speaking on AEW Unrestricted, Joe discussed the difficulties of putting together a 60-minute match, along with noting what he enjoyed about having the opportunity to make history with CM Punk.
"The biggest difficulty is kind of getting over the mental stigma. I know, for me, you think, 'Oh man, it's just it's hard to really go those lengths and to keep the crowd engaged and keep everything going.' That's the biggest thing and then once you're in there and it's funny, I think after the 15-minute mark, your body kind of falls into a rhythm. Mentally you fall into a rhythm, you're locked in, at least for me. Then like I said when you're in the ring with guys who are talented and both of those individuals, make that 60-minutes move at a blistering pace. So it was something that kind of was lost with the annals of time and television, to be able to kind of do that and 60-minute match or have that much time in the modern era was such a rarity and such a cool experience and there were fun matches."

-Samoa Joe
The pair both now reside in All Elite Wrestling, with their former promotion also under the ownership of AEW President Tony Khan. Joe & Punk also featured in the inaugural class of the Ring of Honor Hall of Fame this year, and the possibility of the pair crossing paths once again is now greater than ever.
H/T to Fightful for the transcription.