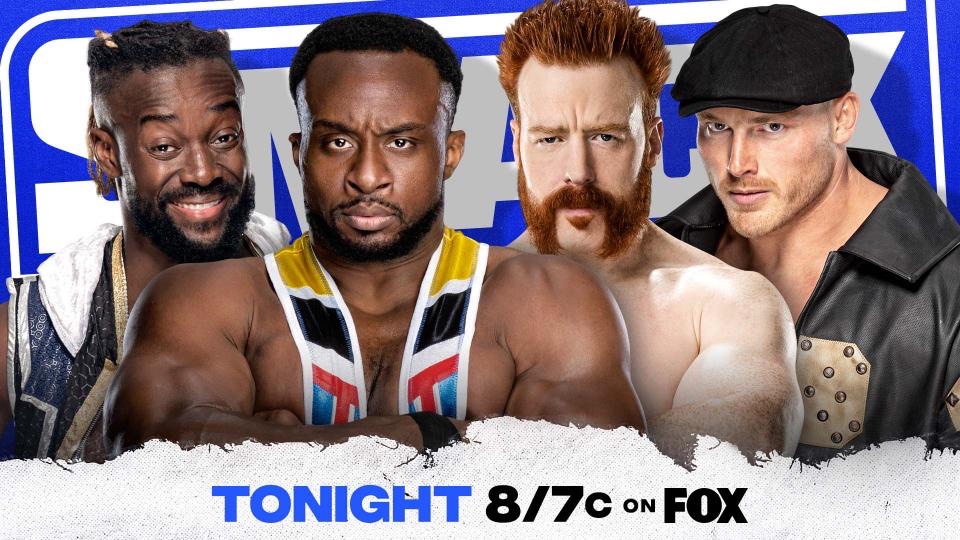 Welcome to Wrestle Purists' coverage of Smackdown on March 11th 2022.
Brock Lesnar in-ring promo:
Brock Lesnar cuts a promo on Roman Reigns, says he doesn't care about Wrestlemania and titles and demands Roman gets out there now.
Paul Heyman interrupts and says Roman Reigns is not here this evening. Brock replies by saying if Roman isnt here, who's going to protect Heyman. Heyman flees and Brock chases him. Heyman drives away from the arena.
Backstage Promo With Sheamus & Ridge Holland:
Sheamus & Ridge brag about smashing up New Day's ATV last week and put over their upcoming match. They also introduce Pete Dunne here, who will seemingly be going by the name "Butch"
Sheamus & Ridge Holland Defeated The New Day:
Sheamus pinned Kofi Kingston. Butch (Pete Dunne), distracted Kofi leading to the finish. Butch then attacked Kofi after the match. There was a ugly spot in this match where Ridge Holland attempts to give Big E a belly to belly suplex on the outside, but drops him on his head. Big E was taken away on a stretcher. Big E announced on Twitter after the match that he had a broken neck. Wishing him a speedy recovery.
Kevin Owens / Stone Cold Video Package
Video package summarising how we got to Stone Cold being booked for the KO show at Wrestlemania
Backstage With Sami Zayn:
Kayla Braxton shows Sami Zayn the video of Johnny Knoxville leaking his phone number. Sami Zayn then cuts a promo about it and also on Ricochet and winning the Intercontinental title back later tonight
Happy Corbin, Madcap Moss, Jinder Mahal & Shanky attack Drew McIntyre:
This was supposed to be Drew McIntyre & The Viking Raiders vs Corbin, Moss, & Mahal, but the heels attack the Viking Raiders before they can make their entrance, leaving McIntyre in the ring by himself. The heels all then come to attack McIntyre. McIntyre starts to fights them off, but is outnumbered. The heels then beatdown McIntyre and Corbin is setting McIntyre up for a claymore, but McIntyre eventually fights off the heels and Corbin runs away.
Ronda Rousey In-Ring Promo:
Ronda Rousey cuts a promo about how shes more than a just a one-trick pony like Charlotte Flair previously said, and points to the ankle lock she put on Flair last week which she says she learnt from Kurt Angle. Flair then comes out and cuts a promo putting herself and the match at Wrestlemania over, and that by the end of the night she will tap Rousey out. As Flair walks off, Rousey says she will either be taking Flairs arm home, or making her tap out.
Michael Cole announces Brock Lesnar has left the building due to being fed up about Roman Reigns not being there
Sasha Banks & Naomi Defeated Shayna Baszler & Natalya:
Carmella & Queen Zelina were ringside & got involved multiple times, including distracting Natalya leading to the finish. Banks pinned Natalya
The Usos In-Ring Promo:
The Usos put themselves & Roman Reigns over and say they have no worthy opponents for Wrestlemania. Shinsuke Nakamura & Rick Boogs interrupt and challenge the Usos. The Usos laugh at the idea, but say if Boogs can defeat Jey Uso then they can have a shot.
Rick Boogs Defeated Jey Uso:
Rick Boogs appeared to have an injured leg as his leg was wrapped, but as the match started and Jey tried to attack the leg, Boogs unwrapped his leg and revealed his leg was fine. Rick Boogs & Shinsuke Nakamura now have a SD Tag Title shot at Wrestlemania. The Usos attacked Boogs after the match.
Ricochet (c) Defeated Sami Zayn (Intercontinental Championship):
Austin Theory came out before the match and sat next to Pat McAfee. Theory then stands up and slaps Pat. Pat then dives over the commentary desk and attacks Theory, Theory then flees. Pat was taken away.
This was a nice match. Ricochet won after hitting his 630 on Zayn.
Backstage With Ronda Rousey & Charlotte Flair:
Both women are attacking each other whilst officials try to split them up. Flair then hits Ronda with a suplex on the hood of a car and puts a submission on her.