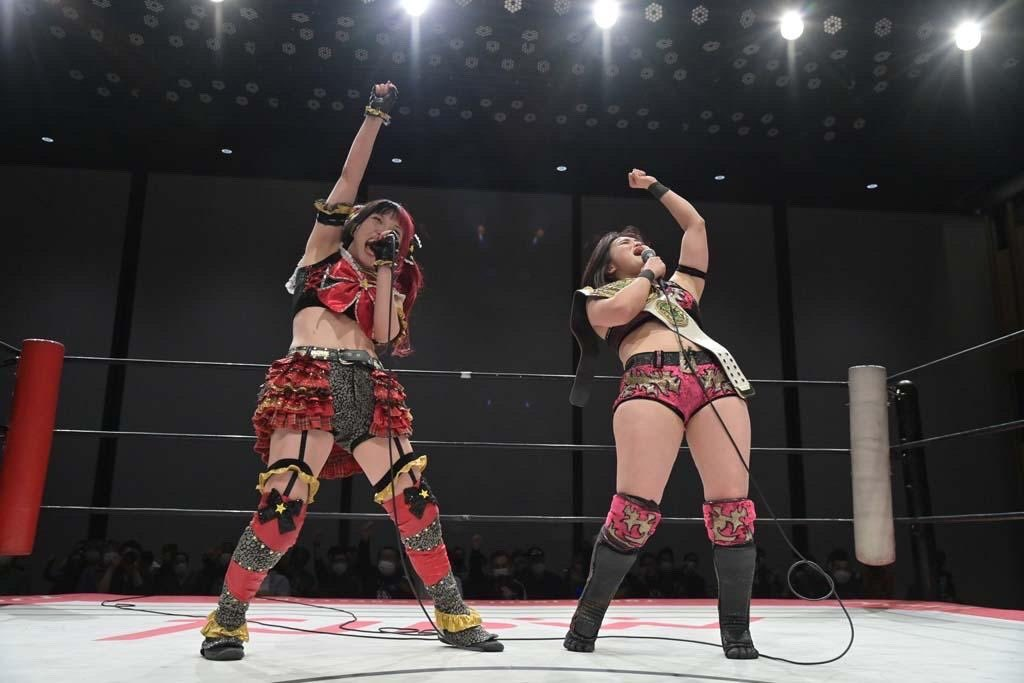 STARDOM
Over the last week, Stardom had three Triangle Derby Shows, with the first one being live on YouTube. The Tam Nakano hometown show in Anjo featured a big main event match between the two Cosmic Angels Trios. The team of Waka Tsukiyama, Rina Amikura and Yuko Sakurai faced The top Trio of Cosmic Angles SAKI, Tam Nakano and Natsupoi. On Paper there was a clear favorite, but Waka gave everything to prove to Tam Nakano that she is getting her first win before the 3 months expire. Tam Nakano had a hard time overcoming the heart of Waka, but two seconds before the end of the time limit Tam was able to finish the job and get two important points for the Top Cosmic Angels Trio.
The other two Shows in Osaka were nothing special, but it had one bigger result. The Neo Stardom Army was able to defeat the current Artist Of Stardom Champion's Prominence, which could lead to a future Title Match between these two trios. Another big winner of the weekend was Unique Glare, who picked up two huge victories over Lady C & MaiHime and RebelxEnemy. The most momentum has the Gold Ship. Momo Watanabe, Saki Kashima and Natsuko Tora stay undefeated with a 3-0 record to put themselves as an early favorite in this tournament, but as of right now everything is still open. Nearly every team has a chance to advance in their block. The next few weeks will be interesting.
The big talking point of this week was outside the ring. Stardom announced that the February 4th PPV in Osaka EDION will allow cheering for the first time since the pandemic started. Many Wrestlers haven't heard fans cheering in their matches since and Lady C & Miyu Amasaki never wrestled in front of a Crowd that cheered at all. It will be a great expierence to finally hear cheers again in Stardom!
Official Triangle Derby Standings following Day 6:
RED TRIANGLE BLOCK –
4 – Neo Stardom Army (Nanae Takahashi, Yuu & Yuna Mizumori) (2-0-0)
4 – Cosmic Angels (Tam Nakano, Natsupoi & SAKI) (2-2-0)
4 – Club Venus (Mina Shirakawa, Mariah May & Xia Brookside) (2-1-0)
4 – Unique Glare (Starlight Kid, Ruaka & Haruka Umesaki) (2-1-0)
2 – Bari Bari Bombers (Giulia, Thekla & Mai Sakurai) (1-3-0)
3 – Queen's Quest (Utami Hayashishita, AZM & Saya Kamitani) (1-1-1)
0 – H & M's (Mayu Iwatani, Momo Kohgo & Hanan) (0-3-0)

BLUE TRIANGLE BLOCK –
6 – Prominence (Suzu Suzuki, Risa Sera & Kurumi Hiiragi) (3-1-0)
6 – Gold Ship (Momo Watanabe, Natsuko Tora & Saki Kashima) (3-0-0)
4 – MaiHime With C (Maika, Himeka & Lady C) (2-1-0)
5 – Abarenbo GE (Syuri, MIRAI & Ami Sourei) (2-1-1)
2 – Rebel x Enemy (Ram Kaichow, Maika Ozaki & Maya Yukihi) (1-2-0)
2 – Classmates (Hazuki, Saya Iida & Koguma) (1-2-0)
0 – Team Lollipop (Waka Tsukiyama, Rina Amikura & Yuko Sakurai) (0-4-0)
---
TJPW
The 3rd ever Max Heart Tournament started on Sunday with three tournament matches. In a first round match, Juria Nagano and Moka Miyamoto pick up a shocking victory over Mahiro Kiryu and Yuki Kamifuku in a solid bout. The Toyo Mates were dominating the entire match but Juria and Moka fought back and were able to advance to the next round where they are facing the Dark Horses of the tournament Suzume and Arisu Endo. In the 2nd Tournament Match, the road of the former Champions Saki Akai and Yuki Arai to get the title back starts when they defeated Yuki Aino and Raku. With their win, Reiwa AA Cannon advance to the 2nd round, where Rika Tatsumi and Miu Watanabe are waiting for them.

The Main Event Match was a good one where Free Wi-Fi faced the tournament favorites, 12100000. Itoh and Miyu wanted the title for a long time now, and this year it feels like it might finally happen. They look dominant, have the chemistry and gaining the momentum to do so. Noa and Kakuta looked good in this match, but they never seemed to have a chance of pulling the upset off. With their win, Miyu and Maki gets a buy in the 2nd round, and they are facing the winners of Daisy Monkey vs. Moka and Juria.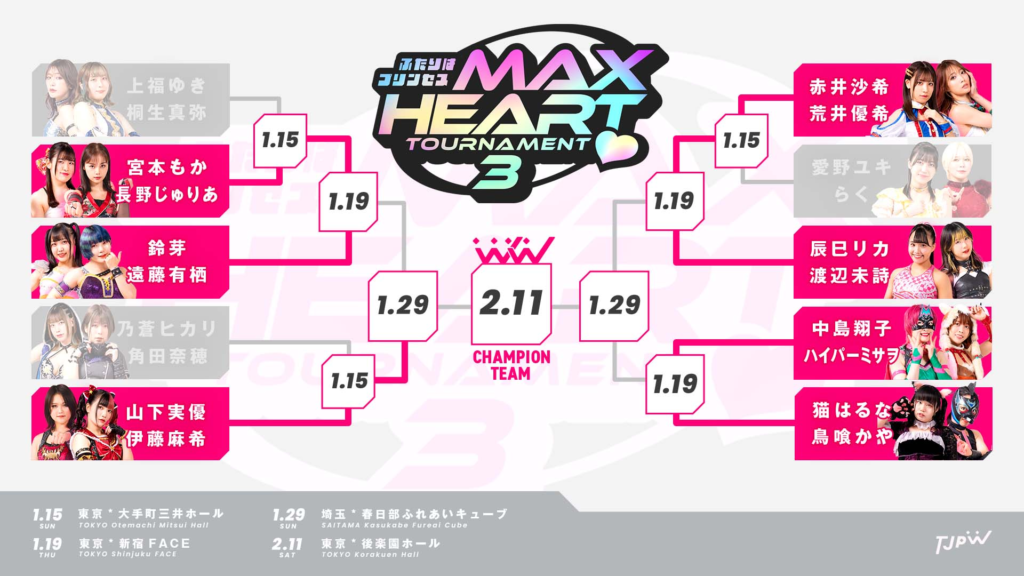 ---
Sendai Girls
Sendai Girls started their year with a Big Show in Sendai. The show suffered a bit with Manami and Yurika Oka missing the show. Due to that, a last-minute change occurred and the vacant Tag Team Titles weren't on the line. Unagi Sayaka replaced Manami in the Semi-Main Event of the show. She teamed up together with Ryo Mizunami to face Yuu and Chihiro Hashimoto. The Match was really fun and the best Unagi had since the Gyan Period started. She plays her role amazingly in this match, fighting from below after talking shit over the last few months to Hashimoto. Unagi and Aniki put on a good fight here against the former Sendai Girls Tag Team Champions until Hashimoto finished Unagi with her Powerbomb.

In the Main Event, ASUKA defended her title for the first time after defeating Big Hash against Mika Iwata. ASUKA worked on the leg of Iwata from early on to weaken the biggest strength of Iwata – her kicks. Iwata played a great underdog here who was willing to jump over her head in order to win, but this time it wasn't enough. Iwata yet again lost another title challenge, but the reign of ASUKA continues and going to be fantastic.