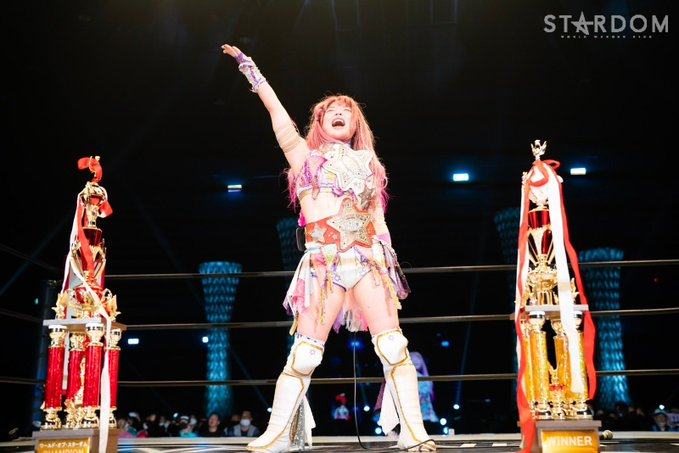 STARDOM
STARDOM announced that Tam Nakano will miss the Gold Rush show in Osaka. As a result, the World of Stardom Championship match has been canceled and will be postponed to an unannounced date as the champion continues to heal from a knee injury that she suffered during her Red Belt defense against Natsuko Tora last month at Nagoya Golden Fight. As a replacement, Suzu Suzuki will face AZM and the returning Starlight Kid in a three-way match on the PPV.
Official STARDOM GOLD RUSH 2023 Card
– Wonder of Stardom: MIRAI (c) vs. Saori Anou
– Moneyball Tournament Finals
– High-Speed: Mei Seira (c) vs. Momoka Hanazono
– UWF Rules: Syuri vs. Aliss Ink
– Suzu Suzuki vs. AZM vs. Starlight Kid
– Moneyball First Round: Mayu Iwatani, Hazuki & Hanan vs. Ami Sourei, Saki Kashima & Konami
– Moneyball First Round: Giulia, Mai Sakurai & Thekla vs. Natsuko Tora, Momo Watanabe & Ruaka
– Battle Royal: Maika, Mina Shirakawa, Megan Bayne, Saya Iida, Miyu Amasaki, Lady C, Yuna Mizumori, HANAKO, Fukigen Death
Official Goddess Of Stardom Tag League Standings:
RED STARS BLOCK –
7 – Mei Seira & Suzu Suzuki (3-1-1)
6 – Momo Watanabe & Natsuko Tora (3-1-0)
5 – Hiragi Kurumi & Risa Sera (2-0-1)
4 – Saki Kashima & Syuri (2-2-0)
4 – Giulia & Thekla (2-2-0)
2 – Mina Shirakawa & Waka Tsukiyama (1-4-0)
2 – HANAKO & Saya Iida (1-4-0)
BLUE STARS BLOCK –
8 -Hanan & Mayu Iwatani (4-2-0)
6 – Mai Sakurai & MIRAI (3-1-0)
4 – AZM & Miyu Amasaki (2-2-0)
4 – Maika & Megan Bayne (2-1-0)
2 – Ami Sourei & Lady C (1-2-0)
2 – Hazuki & Koguma (1-3-0)
0 – Tam Nakano & Yuna Mizumori (0-4-0)
---
Sendai Girls
In the semi-main event of the show, Aja Kong competed in a hardcore match against DASH Chisako, and it was an all-out brawl. Both wrestlers took a huge amount of bumps, especially Aja, who took more in this match than she took during the entire rest of the year combined. Fantastic spots, brutal chair shots, and a great performance by DASH made this match awesome. Chisako even jumped from a ladder to the outside through a table to a huge ovation by the crowd, but Aja came back with a huge brainbuster from the ladder and a piledriver on a pile of chairs. The last few minutes were incredible, with Chiskao showing her fighting spirit, surviving multiple big moves of Aja Kong, until she ate the Uraken, which led to the victory for the legend.

In the main event, the Sendai Girls World Champion Mika Iwata took on the Beyond The Sea Champion Sareee. This match is not about any championship. It's about the pride of both champions. Two of the top champions of the Joshi scene facing off is a rare sight, especially in a major match like this. They started slow, but it didn't take long until it developed into a fight with stiff elbow strikes and kicks that made the fans gasp. After an intense finishing sequence, Sareee picked up the win after 10 minutes and defeated the Sendai Girls World Champion in her own ring. After the match, Sareee called out Chihiro Hashmoto to a singles match to avenge her loss at the first Sareeeism earlier this year.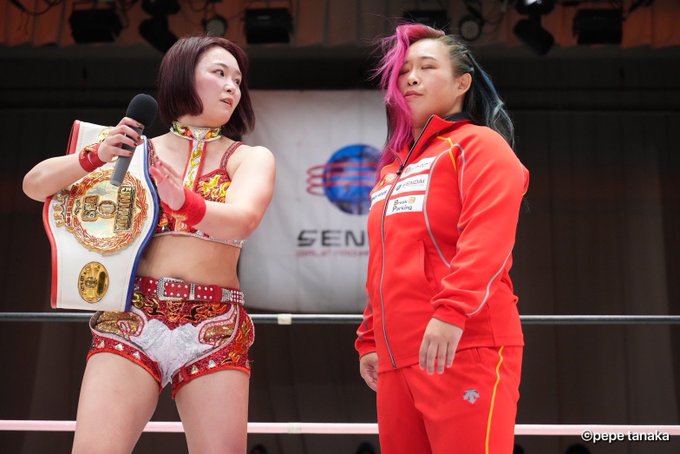 ---
WAVE
WAVE announced on their latest show that the Ace of Pro Wrestling WAVE, Nagisa Nozaki, has left the company after 6 years and will be a freelancer once she is healed from her injuries. The two-time Regina di WAVE Champion is currently out with a torn ACL and hasn't been in the ring since July last year.

Nozaki is one of the biggest stars in the Joshi Independent scene and has had countless battles with some of the biggest names, including Takumi Iroha, Risa Sera, and Syuri. It's yet to be revealed when she will be back in the ring, but STARDOM's Starlight Kid already expressed her interest in facing Nozaki. The two already faced each other in the ring once before at Korakuen Hall's 60th Anniversary show, which saw the Starlight kid teaming with Ozaki-gun against Nagisa Nozaki, SAKI, and Takumi Iroha.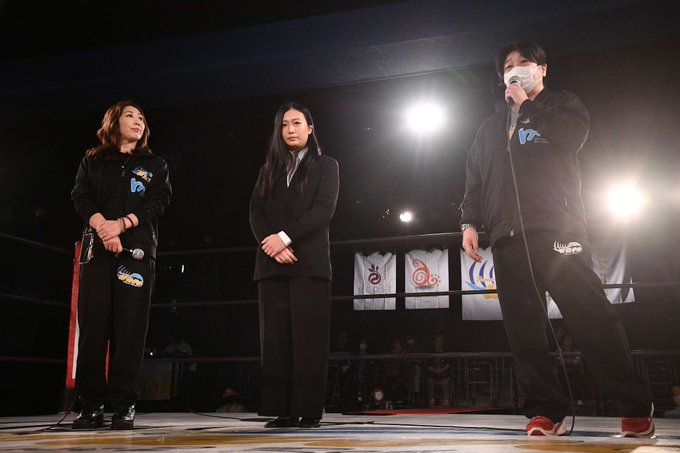 ---
Sukeban
Sukeban announced through their official social media accounts that the current Beyond The Sea Champion Sareee has signed a multi-year deal with the company. She will be part of the Cherry Bomb Girls unit moving forward together with Supersonic (Natsuki Taiyo), Riko Blondie (Riko Kaiju) and BINGO (Hiroyo Matsumoto). The announced came shortly after rumours emerged that WWE are interested in bringing the Sun Goddess back to the company.

Sareee will make her official debut on the next Sukeban show in Miami in December in a four-way match against Atomic Banshee (Ram Kaicho), Countess Saori (Saori Anou), and Babyface (Ancham). The show in December will be headlined by Ichigo Sayaka (Unagi Sayaka) battling Commander Nakajima (Arisa Nakajima) to crown the first-ever Sukeban World Champion.

Official Press Release of Sukeban: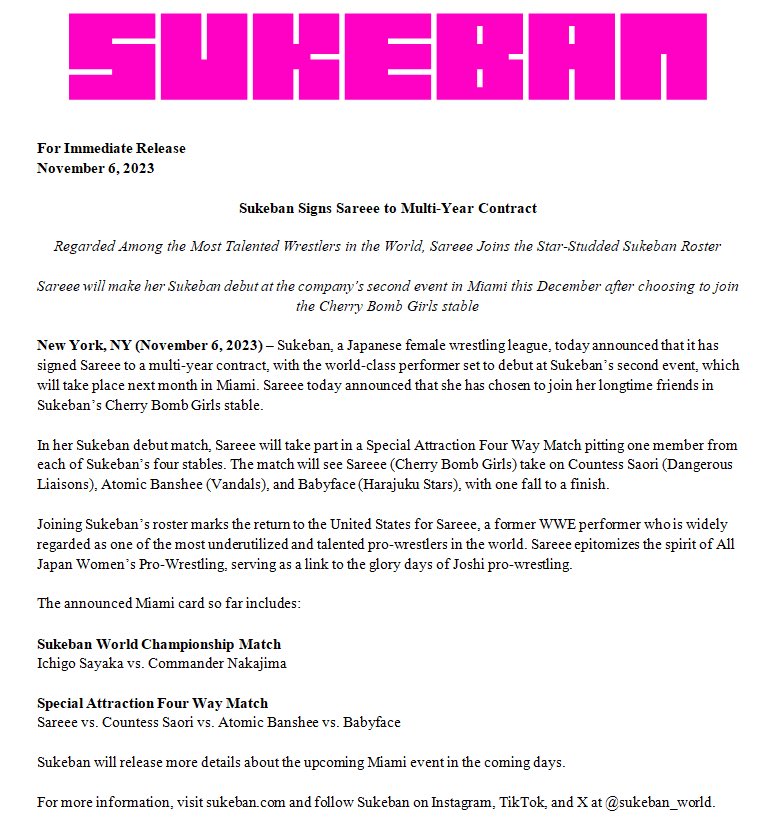 ---
Tokyo Joshi Pro Wrestling
TJPW announced that Masha Slamovich will compete for the promotion at the beginning of next year, with her first match being on the annual January 4th Korakuen Hall show against Miyu Yamashita for the Princess Of Princess Championship. The pair have faced each other once before in Prestige when Miyu defeated the current IMPACT Knockouts Tag Team Champion. Masha's second date will be on January 6th, where she will face the Up Up Girls' Hikari Noa in a deathmatch.
Slamovich has wrestled and trained in Japan for Marvelous and in recent times for GCW. Her arrival in Tokyo Joshi is something every fan can look forward to.