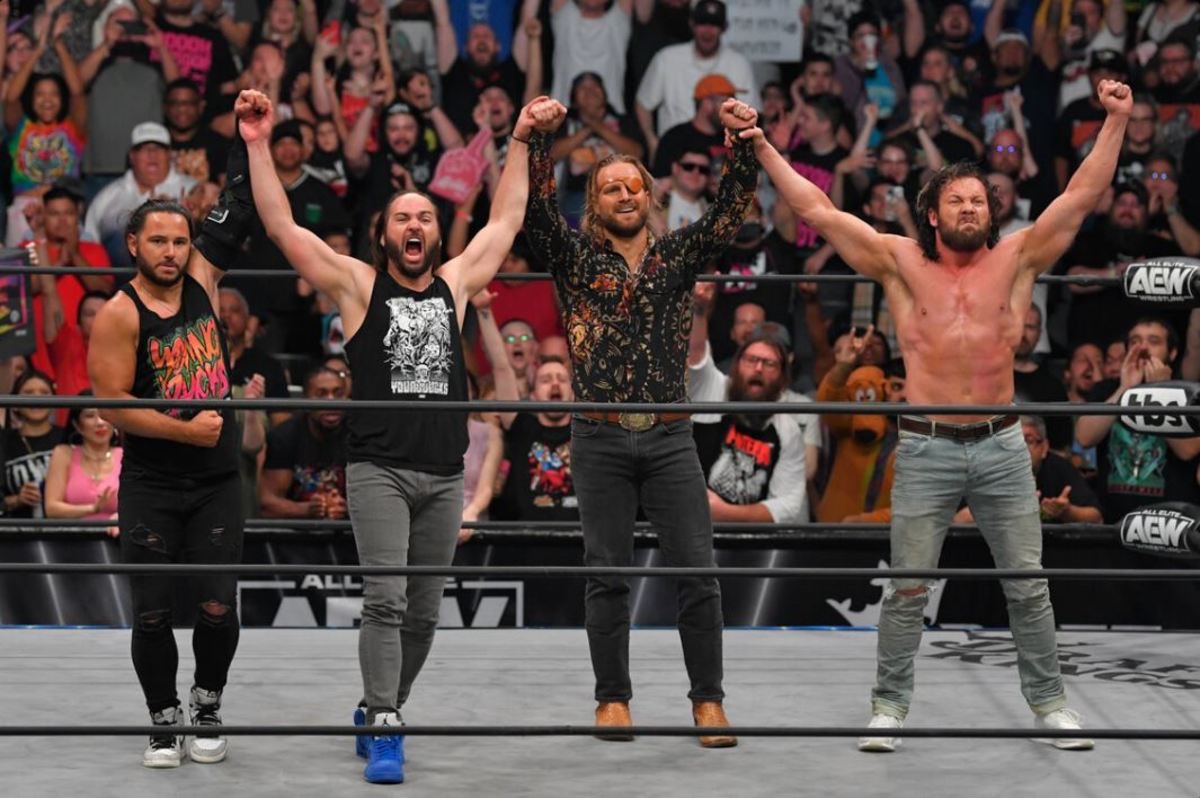 Now that Kenny Omega, Hangman Page and The Young Bucks have put pen to paper on new AEW deals, more has come out on their thought process.
Yesterday, Sports Illustrated revealed that The 'Elite' in All Elite Wrestling had signed new deals with the company. This put to rest months of speculation regarding their future and ensured that they were tied down to AEW past their initial contract expiry dates of 2024.
To provide some insight into their decision to stay, Dave Meltzer has spoken on Wrestling Observer Radio, where he revealed that the four men had a pact that they would stay together as a group regardless of which company they decided to sign with.
"The four guys had made a pact that they were going to stick together, whether it would be in WWE or AEW, and they basically had made an agreement that it was gonna be majority rules. It had gone back-and-forth, but essentially, whatever it was, three of the four or four of the four, made the deal. But they all had agreed that they were gonna go together as a group, either to WWE, or stay as a group, so it was not gonna be a split up, and you know, that was the thing. And Views changed, People think that it was like 'They were never going to go (to WWE)' or anything like that – there were discussions, there were votes to change, there were things that happened, since this pact was made, and I think this pact was made some time back, but they are gonna be in (AEW)."

-Dave Meltzer
Meltzer would continue by discussing the potential details of The Elite's new contracts, stating that they each have multi-year deals and are likely to be around four years in length, though, this is yet to be confirmed as those involved want the exact terms to remain confidential.
Also, it was confirmed that Tony Khan is making no effort to cut back on the financial agreements in any of AEW's contract renewals, as the money included in The Elite's deals prompted them to sign extensions now rather than waiting until the end of the year.
"It's a multi-year deal, I think four. I don't have it confirmed either, and it's supposed to be a secret, whatever the number is, I do know that, as far as the length of the stay. Obviously the numbers financially were very high, because if they weren't very high, they wouldn't have signed at this point because they had until the end of the year to negotiate. So Obviously AEW and Tony wanted them signed now and made it worth their while financially to sign now. Which, the point of this is, he did the same with Rush is that he is not shying away from spending money whatsoever. It's not like there's thoughts of cutting back or anything like that. As far as like, Are there guys who may not get signed when their deals are up? Yes, of course, that's possible. And there have been guys like that, but they're guys that haven't been used. As far as the key guys in the company, to me this is a sign that they're willing to bid again equal to… because if WWF, if these guys thought that WWE was hoping to make an offer substantially better, you know, they'd listen. They were. WWE could not legally make an offer because they're still under contract, they couldn't make that offer for many months. But WWE did have interest in all of them, especially Omega, they had great interest in Omega in particular, but this is how it went down so they're gonna be around and be on the London show and all the shows going forward."

-Dave Meltzer
As mentioned by Kenny Omega on the 200th edition of Dynamite, fans can now look forward to many more years of himself, Hangman Page and The Young Bucks on AEW programming, including Rampage and Collision alongside the flagship show.
Also on last night's episode, viewers saw Rob Van Dam arrive in All Elite Wrestling and, with this acquisition coming at the same time as The Elite and Rush have renewed their contracts, it's fair to say that the AEW roster is in a very strong position heading into All In at Wembley.
As always, we'll aim to provide any further updates on The Elite and their new contracts with AEW as we hear more.
If you use any of the quotes above, please credit the original source with a h/t and link back to WrestlePurists.com for the transcription.