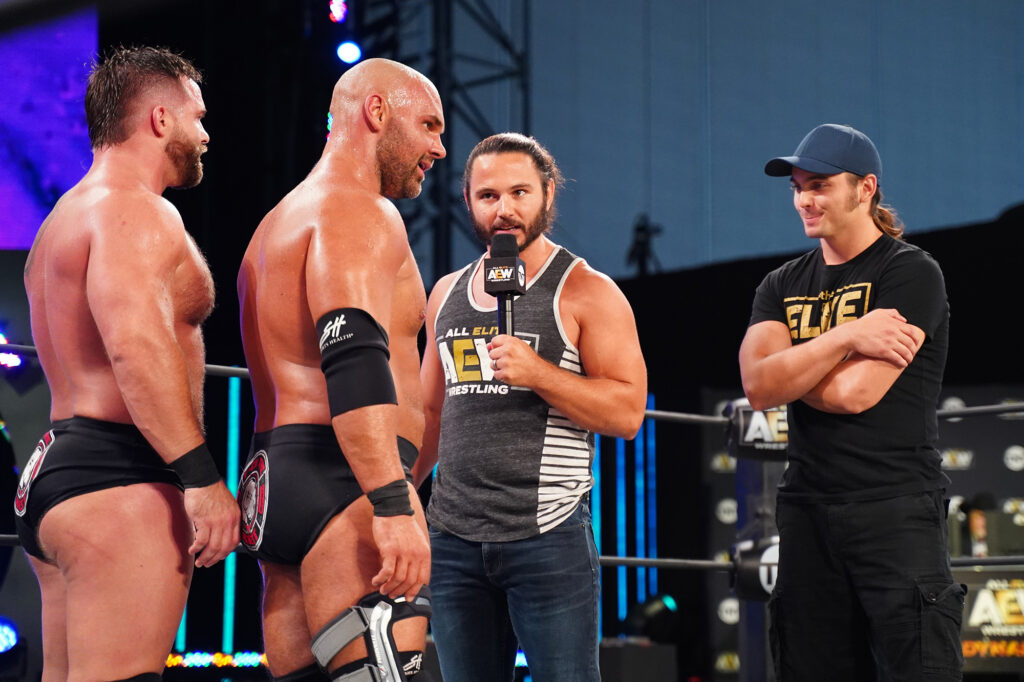 Last week's Dynamite saw Dax Harwood & Cash Wheeler of FTR defeat the Young Bucks' Matt & Nick Jackson in front of a packed house at Boston University's Agganis Arena.
The match was an instant classic, a true showcase of the greatness of modern tag-team wrestling. It wasn't the two teams' first rodeo however, as the Bucks and FTR first squared off at AEW Full Gear back in November 2020, which was similarly described by fans as a masterpiece.
Speaking with Sports Illustrated, Matt Jackson had a chance to discuss how the different narratives of their two feuds made for a completely different tag-team affair.
"The four of us wanted to have a completely different match than the first. The role reversal really made it interesting and gave us a new dynamic to play with. They say opposites attract, and this might be proof of that. We love to explore all different types of styles and genres in the ring. Sometimes, it doesn't work out. But sometimes, like this match, it does."

-Matt Jackson
FTR are currently on what many consider to be the run of their careers right now, sharing their love of professional wrestling with the fans and providing them with unforgettable in-ring classics. Nick Jackson had nothing but praise for the duo, highlighting why the two teams work so well together as opponents.
"Any time we're in the ring with professionals like that, there's no limit. They understand tag team wrestling. Everything they do is solid and believable. They're top notch and they love professional wrestling."

-Nick Jackson
The two teams' most recent encounter came 18 months after their first in-ring clinic, and Matt Jackson goes on to discuss why there was such a long wait before fans got to see the two rival teams face off again.
"I remember after we did the first match, the four of us all agreed that we should take a breath and not touch for a while. We were all so mentally and physically drained, trying to live up to the pressure and hype of what people anticipated. I don't think any of us intended on it taking 18 months to get to the rematch, but maybe that's why the arena was as electric as it was."

-Matt Jackson
The two teams are undoubtably two of the greatest tag-teams of the modern era, and are destined to do battle for the rest of their careers over who really is the best tag-team in the world today. Matt Jackson acknowledged however that there will come a time when these matches exist only as memories in the minds of the fans.
"I don't get too nervous nowadays unless it's a big pay-per-view match, and I had those same nerves going into this match. When it was over and the crowd peaked, just like how we orchestrated, I felt a sense of pride and relief. And I'll tell you this—we're never ones to talk much about injuries or how we're feeling. People just assume we're the forever-young Bucks and we don't get hurt, that we always chew gum and bounce around like we're invincible. But I don't know how many big matches like that I've got left in me. I'm definitely closer to the end than the beginning."

-Matt Jackson
For now though, fans of tag-team wrestling can still enjoy the greatness of the two teams, and Matt makes it clear that the importance of tag-team wrestling is what drives the Young Bucks to constantly improve.
"Nothing motivates me more than when other teams are tearing it up, that gives us drive and reason to work harder. We never want to be outperformed or outclassed. And it's important for tag team wrestling to strive without us. When we decided to team all of those years ago, our main goal was to make tag team wrestling important again in wrestling."

-Matt Jackson
The pair admitted that 2022 currently belongs to FTR, but indicated that their storied rivalry is far from over, with Nick Jackson stating the following.
"I think this is FTR's year. Sometimes you have to just appreciate what's going on around you. At the same time, it does still motivate me to stay great. But there will be another match, a rubber match. When it does happen, I wouldn't be surprised if it's another classic."

-Nick Jackson
Closing, Matt Jackson added to this, acknowledging their shortcomings and looking ahead to the future as a chance to right their wrongs.
"We're down now to FTR, but we'll be back. I just hope it doesn't take another 18 months to do it again."

-Matt Jackson
Fans of tag-team wrestling across the globe undeniably share the former AEW Tag Team Champion's sentiment regarding the two teams facing off again sooner rather than later, with fans itching to see more modern tag-team masterpieces on our TV screens as soon as possible.
We certainly look forward to the day FTR and the Young Bucks get back in the ring with eachother, and if their two previous bouts are anything to go by, their next match is likely to go down in history as one of the greatest of all-time.