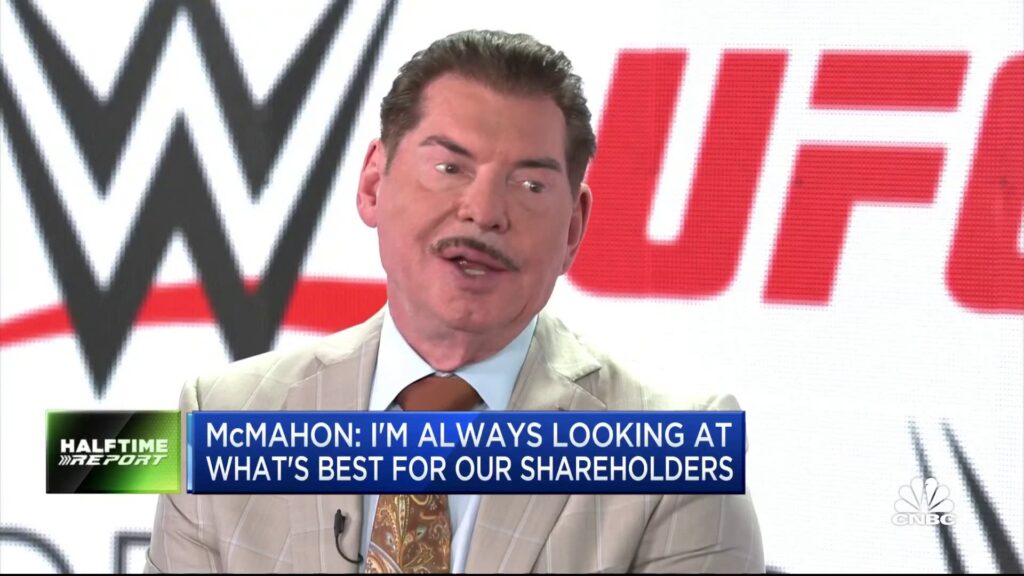 Vince McMahon was reportedly fully in charge of WWE RAW last night following WrestleMania 39 & the news of the WWE-Endeavor merger.
Last week it was announced that Vince McMahon would be returning to WWE's employee list after originally only being a member of the board when he first came back to the company after his short retirement due to sexual misconduct and hush money allegation & discoveries made by a WWE Board Investigation.
This weekend of course was huge for WWE as it was WrestleMania weekend in Hollywood, but one huge story that dropped over the weekend still caught the attention of many. Endeavor and WWE were in "advanced talks" about a sale. Those advanced talks quickly turned into a deal announcement by Endeavor on Monday morning where they announced they had signed a deal with WWE for 51% of the company.
Vince McMahon & CEO of Endeavor, Ari Emanuel appeared on CNBC shortly after the announcement to talk about the deal. Interesting, Ari seemed to be a huge admirer of Vince McMahon and even said he would have not let him leave the wrestling business, confidently wanting him to be around in WWE. Vince McMahon would say in the interview that he will be involved in creative on a higher level, but not "in the weeds". This of course lead to a lot of speculation about whether or not he will be heavily involved in creative or not.
During an episode of Wrestling Observer Radio, Dave Meltzer reported that Vince McMahon was in charge of much of RAW last night and thats the way its going to be.
"He was running TV tonight, he's back. It's what it was. It will be what it was before. And if people think that was bad, it will be bad. And that's just the way it is. And the TV show was changed when Vince got there and it was changing as the show was going on. That was tonight and that will be what it is going forward. Ari Emanuel is not going to be involved in the wrestling, Vince is running the company, Nick Khan will be number 2 and Paul Levesque will be Head of Creative so he's going to be doing the busywork and all that stuff. Vince is going to have the final say in everything when it comes to that, and even with Ari Emanuel being number 1, Ari said in the interview that was released on CNBC Today that if there's a disagreement and Vince doesn't want something on the wrestling side, it's not gonna get done. They wanted Vince, and there you go. That's the big picture stuff."

– Dave Meltzer