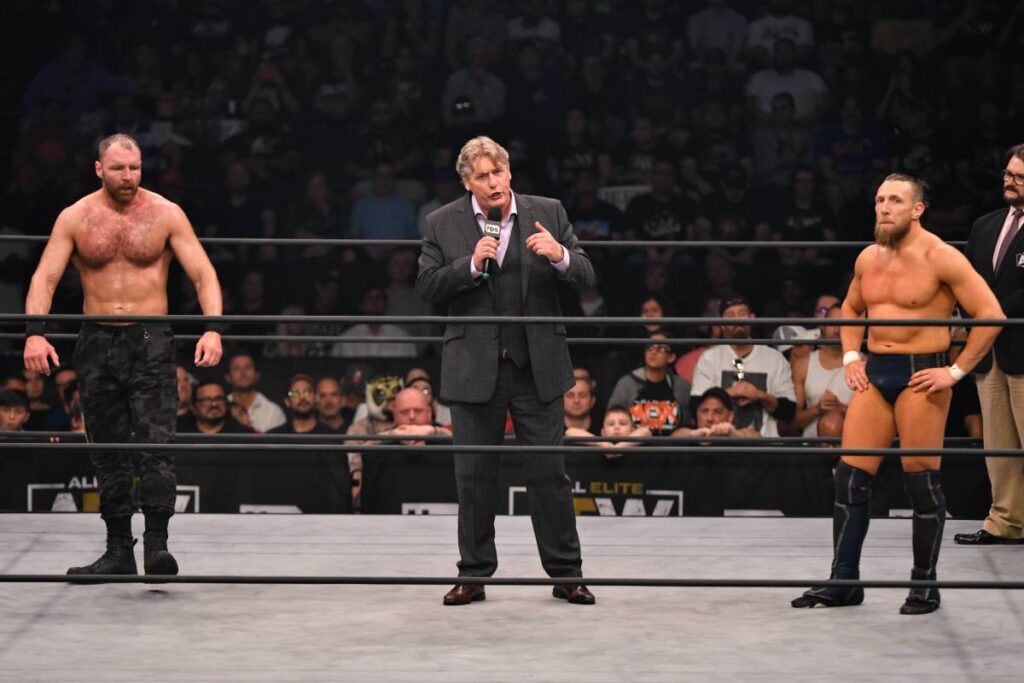 British wrestling legend William Regal found himself on the free agent list in January of this year when he became the newest addition on the ever-growing list of WWE releases.
It wouldn't take long for Regal to find work however, as he made his AEW debut at the Revolution PPV in March, interrupting a brawl between Bryan Danielson and Jon Moxley.
Regal recently spoke with talkSPORT on a number of topics, with the former NXT General Manager revealing that he was ready to take a year-long break before Danielson called him regarding a position in AEW.
"Once I had been let go from WWE, I had nothing. The only time I had time off in 39 years is either when I was really sick or injured. And when I was injured, I wasn't off. And when I was sick most of the time, I wasn't off because I was involved with something. I was ready to just have a year off and do nothing but talk with my son and guide him through what he's doing. And then Bryan called me. And if it hadn't of been Bryan calling me, I wouldn't probably be here now. Nobody else would have talked me into this. He didn't even talk me into it, it's just that he asked."

-William Regal
Regal's relationship with Danielson spans across 22 years and counting, with Regal stating to talkSPORT that he sees Danielson as "like another son". Regal revealed that his AEW debut was put together within three weeks, with him gladly accepting the chance to work with Danielson once again.
Regal now finds himself at the head of the Blackpool Combat Club, with Bryan Danielson, Jon Moxley, and Wheeler Yuta representing the stable inside the squared circle.
The stable has become immensely popular in such a short amount of time, with Wheeler Yuta being perhaps the biggest beneficiary of the groups formation. Regal commented on being able to influence the develop of young talent such as Yuta via his involvement as part of the BCC, and also namedrops Daniel Garcia as another young talent he's been impressed by thus far.
"But it's a real thing. With Wheeler, we're dead-set on making him the best professional wrestler he can be. With all these influences and different styles that we've all picked up from wherever we've found them, I'm just as open to learning everything as they are. He's in Japan now and in daily contact with one of us about something. That's what's making this become what it is. Not only Wheeler, but everyone who gets to wrestle the BCC. That's another thing: You watch every talent, every young talent that gets to wrestle any of them, they're getting better. How I got here was getting to wrestle better people. I'm blown away with Wheeler, and Daniel Garcia as well."

-William Regal
Whilst also serving as the on-screen General Manager, Regal was the head scout for NXT, WWE's developmental arm, for a large part of his run with the company.
Regal revealed to talkSPORT that he came close to signing both Yuta and Garcia to WWE contracts before the company's signing philosophy changed.
"They got themselves noticed in COVID. I was going to hire them last year in WWE. I had them and was ready to [sign them], but then a change in philosophy happened. I was going to hire both of them then, I wanted to hire them."

-William Regal
The former King of the Ring winner also touched upon his stable's training schedule, with an early arrival and a focus on including younger talent being the key aim for the group.
"When I arrive at the building, I get there 11am eastern time. Me and Bryan are there in the ring and Wheeler is with us. We train and we train all day. Any of the young talent out there watching, we say 'come and get in with us'. That's not my job anymore, but that's what I do. My phone is in my bag. It doesn't get out, my wife knows I only check my phone twice a day. I'm not looking at my phone, I'm there to learn, so is Bryan. Bryan doesn't carry his phone with him because he's there to learn. Wheeler doesn't carry his phone with him because he wants to get better. That's what this is all about. It's trying to get a group of new young wrestlers, which there are a lot of and always have been, but, OK, a lot of hard work goes into this and you've got to really dedicate yourself to it. That's why Wheeler is getting good,"

-William Regal
Regal also touched upon the possibility of new members joining the ranks of the Blackpool Combat Club, and whilst he undoubtably has a keen eye for talent, Regal reassured talkSPORT that the group wouldn't be snatching up every young wrestler the roster has to offer, emphasising the point that facing off against the BCC can be just as beneficial as joining the group itself.
Bryan Danielson & Jon Moxley are set to fly the BCC flag alongside Proud & Powerful and Eddie Kingston as they take on Chris Jericho's Appreciation Society at AEW Double or Nothing tomorrow night in Arena Anarchy. The bout is sure to be yet another demonstration of the pair's in-ring excellence, with Regal pulling the strings behind the scenes.