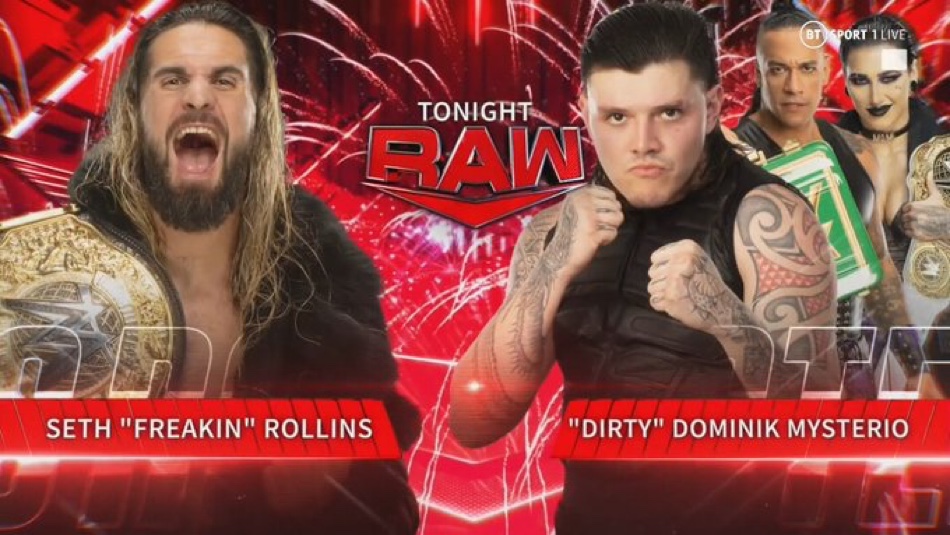 Welcome to the Wrestlepurists' live coverage of Monday Night Raw for the July 3rd, 2023 episode.
Seth Rollins In-Ring Promo:
We are just two days removed from an electric Money in the Bank Pay-Per-View, and tonight's Raw is coming to you live from my hometown of Baltimore, Maryland! There were some big developments on the red brand, and we kick things off in the biggest way possible with the World Heavyweight Champion Seth "Freakin" Rollins. Rollins runs down how sweet Money in the Bank was. He gives a shout out to Jey Uso, Iyo Sky, and Damian Priest. Rollins says that he was able to beat Finn Balor by the skin of his teeth. Wait a minute, that's Cody Rhodes music! Despite us all assuming Cody and Brock Lesnar are having their third match at Summerslam, I am always going to appreciate rivals like this getting together. Before Cody can even finish his opening line, Brock Lesnar's music hits. Cody immediately drops his robe and runs to meet Brock at the ramp. The two brawl their way into the ring and Brock gets Cody up for an F-5. Cody reverses it though, and hits a massive Cody Cutter onto Brock! I LOVED this. Super logical that Cody would try and go after Rollins and the World title, and perfect timing for Brock to answer Cody's open challenger only when Cody is trying to move onto bigger and better things. Would still love to find out why Brock hates Cody, but I've accepted were probably not getting a good reason.
Back from break, Rollins is still in the ring. He can barely get a sentence out before Judgment Day's music hits. Dominik Mysterio, Rhea Ripley, and Mr. Money in the Bank Damian Priest come out. Rollins mentions Balor's absence but Rhea says it's none of his concern. Priest says the only thing Rollins needs to concern himself is Preists' briefcase. Priest says he can cash-in at anytime, maybe even tonight. Rollins says the only problem is that to cash the contract in you have to have the champion down and out, but Rollins planned to go party in Baltimore after this. Priest says Rollins is supposed to be a fighting champion, and he knows Dominik is always looking for a fight. The crowd doesn't let Dominik speak, and Rhea challenges Rollins for him. Rollins acknowledges that it smells like a trap, but he would love nothing more than to beat up Dominik. Rollins leaves it up to the crowd, and they say yes.
Damian Priest Defeats Shinsuke Nakamura:
This Raw had exactly one match announced before hand, but after that opening segment we have two fun ones. The first is Damian Priest trying to keep up the momentum against Shinsuke Nakamura. Will be interesting to see how Priest is booked with the briefcase, WWE has a tendency to book their case holders to lose a bunch of matches before cashing in. The crowd is all over Dominik who is on the outside. Priest suplexes Nakamura onto the barricade and then poses with Dominik and Rhea. Dominik gets SO much heat, but I think they are still trying to figure out how to translate that to his matches (and others.) Nakamura ends up in complete control until one big right hand from Priest that catches a diving Nakamura. Priest goes for a uranage but Nakamura rolls through for a close two count. Nakamura rolls through again this time into an arm-bar. Priest uses his length to escape and nails Nakamura with a perfect spinning kick but it only gets a two. Priest lifts Nakamura up for the Razors Edge but Nakamura escapes and once again rolls Priest up for two. Priest looks for South of Heaven but Nakamura counters into a kick for a two count. Nakamura is countering everything tonight. Nakamura wants the second rope knee and he hits it! Nakamura is calling for the Kinshasa but Priest ducks at the last second. He rolls through and absolutely destroys Nakamura with a lariat. Priest hits South of Heaven for the three count! Really good match here, and exactly the kind of win you want to give Priest now. A guy like Nakamura should be giving his best effort against the briefcase holder, but Mr. Money in the Bank should also be able to put these guys away. So far so good for Priest.
Ronda Rousey In-Ring Promo:
We see a recap of Shanya Baszler turning on Ronda Rousey at Money in the Bank. Ronda stomps down to the ring and demands a mic. Before she can say a word Shayna's music hits and she says she is pretty confident that she speaks for everyone that "we are sick and tired of you trying to speak on a microphone." POP. Ronda says fine, you at least owe me an explanation. Shanya says that she is the only reason Ronda is standing in a WWE ring. The only thing Shanya owes anyone is an apology for bringing Ronda into this business. Ronda tries to say why throw away everything we worked for but man Shanya is all over her. Shanya says that unlike Ronda, Shanya paid her dues. Ronda is the one that waltzed right into Wrestlemania. "Believe it or not, I love this. And you have ruined this for me." Shanya says she owes Ronda the sobering reality that there is someone (her) here that can finally shut her up. Ronda responds by attacking Shayna. Ronda is trying to put Shanya to sleep but Shanya reverses and puts Ronda in an ankle lock. My god, Shanya hits a brutal knee to Ronda. I…wow. I'm not sure if they were trying to make Ronda the babyface here but it was a complete babyface promo by Shanya. THe crowd was a thousand percent on Shaynas side too. This is a must watch, an incredible performance by Shanya here and Ronda did a great job too.
Backstage With The Alpha Academy:
We see Maxxine who has Otis in a headlock. Coach Chad Gable asks Maxxine if she is ready for her first match tonight. She says she is thanks to her coach. They do their normal shtick but it works. A six person tag against the Viking Raiders is booked for later tonight.
Chelsea Green & Sonya Deville Win The #1 Contenders Womens Tag Team Turmoil Match:
The new WWE Women's Tag Team Champions Raquel Rodriguez and Liv Morgan come down to ringside to observe this tag team turmoil match. I know the rumor the reason for the quick split between Shanya and Ronda was a hard out in Ronda's contract. But it's just tough for yet another women's tag team to be split up. This division is always just patchwork teams. To prove my point we come back to break with Nikki Cross and Emma walking down to the ring. But we get a good explanation in a video from earlier today with Nikki asking Candice Lerae to be partners, but Candice says she already promised the spot to Indi Hartwell. Emma then comes up from behind and tells Nikki that she is teaming with her. So the teams are Emma and Nikki, Candice and Indi, Chelsea Green and Sonya Deville, Dana Brooke and Tegan Nox, and Kayden Carter and Kantana Chance. Indi and Candice start with Sonya and Green. The teams have a sub two minute match with Green pinning Lerae after a double team move. Weird choice to have those two go out so early. Nikki Cross jumps in the ring and is dominating until she sees Candice is hurt on the outside. Nikki tags in Emma and goes to the outside to check on Candice. Emma is holding her own against Green, but Sonya breaks up what looks like would have been a three count. Emma goes to tag in Nikki, but Nikki is crying on the outside. Green and Deville hit a finisher combo and this match is flying. Do they know this show is three hours? Women can wrestle for more than five minutes without exploding. Nox and Brooke are in now and they have the advantage as we go to commercial. Let's see if these teams last through the break. And the answer is nope because just before we come back, Green and Deville take out Nox with a double team finish. So now its down to the heels who have survived this whole time and the very fresh babyface team of Kayden and Katana? Green and Deville are isolating the smaller Katana. Kayden gets the blind tag and after some back and forth shots they end up on the top rope. Katana tags back in and hits an incredible hurricanrana on Green who was on top of Kayden's shoulders but Deville breaks up the count. They look for the After Party but Deville breaks that up. Kayden gets out of an Unprettiher but Deville gets a cheap shot and Green is able to hit it for the three! Wow, these two ran the table, I was sure they would lose it at the end. My biggest gripe here is they could have given this match way more time, but I'm really happy they gave Green and Deville this dominant win to make them an actual threat to the tag team titles.
Bronson Reed Video Package:
Bronson Reed says he got where he is through fear. He says his destruction is not by choice because he's a nice guy. But Bronson Reed is inescapable. Good stuff here, Reed is an impressive athlete but eventually I'd like to see him in prolonged feud.
Becky Lynch In-Ring Promo:
We see a recap of Becky Lynch's portion of the Money in the Bank ladder match with Trish Stratus and Zoey Stark. Becky makes her way to the ring to a huge ovation. She says it's okay that she didn't win Money in the Bank. That is something she can move on from. The one thing she can't move on from is Trish Stratus. Becky says she can't think of a better time or place to end it than right here and right now. Becky calls Trish down to the ring. After making her wait, Trish and Zoey come down to the ring and oh yes! Trish is wearing the famous face mask she wore during her original run. Becky laughs at Trish, but Trish says she is not medically cleared because Becky broke her face. Becky says she regrets none of that, so she tells Trish to send her lapdog Zoey instead. Trish says she is the greatest of all time. Becky recalls that Trish couldn't even beat her on her own. So that makes Becky the greatest. Becky says Trish is not going to be sticking around full time, so whats going to happen to Zoey after Trish leaves? Becky asks Trish why she is still here if she wont fight her? Trish says that she is the face of the women's division. Trish finally accepts the match on Zoey's behalf before backtracking because of a medical appointment. Trish says next week Becky can face Zoey. This was…not great. Becky is obviously great on the mic and Trish can be great at times. But their feud is relying a little too much on catchphrases for me.
Cody Rhodes Interview:
Jackie Redmond interviews Cody Rhodes on the end of the ramp, which seems to be a Cody only spot now. Cody says tonight is Jackie's first night on Monday Night Raw and gets the crowd to say "Hi Jackie." Cody says he is a man of his word and he told Brock he would be waiting. "Welcome back Brock, we are not done yet." Cody says there is no way the two of them can continue to coexist on Monday Night Raw after Brock breaking his arm and Cody busting Brock open. Cody says he will fight Brock any night and he will fight Brock every night. Cody signs a kids weight-belt and splits. Really interested in what the stipulation will be here, the rumors of it being one we haven't seen in awhile makes me think dog collar. Which would be really fun.
Alpha Academy Defeat The Viking Raiders & Valhalla:
The Alpha Academy now joined by the "Alpha Queen" Maxxine is out for a six person tag match against the Viking Raiders with Valhalla. I miss Mace and Mansoor, but I'm digging Maxxine with the Academy. We start with Gable and Erik, but Otis is quickly tagged in to a big reaction. Otis hits the Scott Hall pose and its time for the Caterpillar! Otis tags in Gable who is all over Ivar. Erik slides in but gets an exploder suplex for his trouble. Gable hits a second rope bulldog on Ivar and then takes out Erik with a dive to the outside. Gable hits a diving headbutt and Erik is late on breaking up the count. Looks like Ivar kicked out though. Gable and Ivar are down and finally Maxxine and Valhalla tag in. Maxxine hits two arm drags and a nice suplex. She does the "THANK YOU" to a huge reaction. Otis encourages her to to do the Caterpillar and she goes for it until Valhalla cuts her off with a very protected knee. Gable hits a moonsault to the outside to take out the men in the match. Valahlla throws Maxxine into the corner but Maxxine reverses into a rollup for the three count! This is probably not for most of you but man the crowd was hot for this. I'm just happy to see Gable continue to get these great reactions.
Interview With Ricochet:
We see post match footage from the men's Money in the Bank ladder match where Logan Paul and Ricochet were brawling. Ooh so that's what were getting at Summerslam? Ricochet is backstage with Jackie. Ricochet says he respects that Logan can hang in the ring. What he doesn't respect is that Logan got in his face after the match. Ricochet is going to issue a challenge like a man. Next week on Raw he invitees Logan to meet him in the ring face to face. I'm very okay with this match, should be a really fun showcase match. Super happy for Ricochet too.
Rhea Ripley (c) Defeats Natlaya (Womens World Championship):
Rhea Ripley is out for her title defense against Natalya but not so fast! Natalya is the one who jumps Rhea from behind this time. She throws Rhea into the barricade and into the steps before tossing her back into the ring. Rhea tells the referee she can go and all of the sudden Natalya is a much bigger threat. Natalya is all over Rhea with punches and is seconds away from locking in the Sharpshooter before Rhea escapes. Natalya follows Rhea on the outside but one punch from Rhea knocks her down. Rhea drives Natalya face first into the announce table and busts Natlaya open over the eye. Natalya has Rhea in the corner but Rhea traps her with her legs and hits her with a nasty headbutt. Rhea starts to dominate with some vicious strikes but Natalya will not stay down. Rhea places Natalya on the top rope but Natalya hits a headbutt of her own. She flies off with a crossbody but is too hurt to capitalize. Man Rhea stays intense with her strikes. The crowd just doesn't care about this one sadly. It probably didn't help that Rhea dominated one hundred percent of the program. We are back from break with Natalya trying for the Sharpshooter once again. The crowd sounds more alive, though there are some very audible "Let's go Rhea" chants. Rhea goes for a powerbomb but Natalya counters into a hurricanrana. She follows up with a discus lariat for a close two count. Rhea hits a missile dropkick but that only gets a two. Rhea locks in the Prismlock but Natalya rolls through that. She will not give up here. Natlaya goes for the Sharpshooter once again but Rhea throws her off into the turnbuckle. Rhea tries to emulate her man with a froglpash but Natalaya gets the feet up. Natalya ducks a running Rhea who crashes into the corner. Natalya hits a running Powerslam, and then locks in the Sharpshooter. Rhea is bleeding from the mouth, could this be it? Rhea is just too powerful though and is able to drag herself into the ropes. Natalya tries a sliding dropkick but Rhea ducks. When Natalya comes in she eats a kick and a headbutt from Rhea. And then boom, Rhea hits a Riptide for the three count. These two worked their ass off and turned the crowd around too.
After the match Rhea goes right after Natalya until Liv Morgan and Raquel Rodriguez run into make the save. Raquel and Rhea lock eyes, as it looks more and more likely that will be Rhea's next program.
Backstage With Tommaso Ciampa:
Tommaso Ciampa says the difference between him and the Miz is Ciampa walked down to the ring, looked the Miz in the eye and punched him in the face. But the Miz took the cowards route. The silver lining here is that after last week Ciampa saw the fire back in the Miz's eyes. Ciampa says that is a good thing. He wants that same energy the next time they are in the ring together. Ciampa says "now that you've shown me your cards, you have no idea what I'm holding in my hand." I love a focused Ciampa, so I'm very excited for this one.
Backstage With The Miz:
Miz says he doesn't care what cards Ciampa has. Miz is the unbeatable royal flush. The last person to call the Miz a coward is gone. Everyone who double crosses the Miz is gone. So who is the real winner here? Miz says Ciampa is right, he does feel better than ever. So he wants Ciampa to bring that chip on his shoulder. Next week its The Miz versus Ciampa in a No-Disqualification match.
Recap Of The Bloodline Civil War @ Money In The Bank:
This was a great match and we get to see the highlights here. Still surreal to see Roman Reigns pinned after all this time. I wonder if we will get Sami Zayn and Kevin Owens thoughts after this? Either way I can't wait for the "Trial of the Tribal Chief" on Smackdown.
Backstage With Rhea Ripley:
Rhea is backstage licking her wounds from her war with Natalya. She runs into Ms. Money int he Bank Iyo Sky. Iyo says she will "see you around." Rhea threatens Iyo that if she tries to cash in on Rhea it will be the biggest mistake of her life. Damian Priest and Dominik Mysterio come in to check in on Rhea. Rhea says Liv and Raquel are going to regret stepping into the ring with her. Dominik says they will, just like Seth Rollins will regret fighting Dominik later tonight.
Matt Riddle Defeats Giovanni Vinci:
Matt Riddle was the one who took out Vinci for a few weeks with a backstage attack. Vinci immediately slams Riddle's leg into the ropes to try re-injure him. Riddle doesn't really sell the ankle that Vinci was just working on when he hits a number of kicks. Vinci hits a Best Moonsault Ever on Riddle for a two count. Riddle hits a jumping knee and tries to turn it into a Bro Derek. Vinci reverse that into an ankle lock, but Riddle reverse into a rollup for the win. This was a quick match as Ludwig Kaiser runs in for the immediate beatdown. We are clearly short for time as Drew McIntyre is here! He takes out Kaiser and walks straight into a stare-down with GUNTHER. The crowd counts down with McIntyre, and he hits a Claymore to Vinci before getting right back into GUNTHER's face.
Interview With Drew McIntyre & Matt Riddle:
Drew McIntyre and Matt Riddle are backstage hugging. Riddle thanks McIntyre for saving him from Imperium, until Bryon Saxton interrupts to ask McIntyre how he feels about being back. Riddle asks McIntyre about teaming up next week to face Imperium and McIntyre agrees. They also agree to go out for some pints and some Jimmy's Famous Seafood in Baltimore. Glad to have McIntyre back.
Seth Rollins (c) Defeats Dominik Mysterio via DQ (World Heavyweight Championship):
Still no sight of Finn Balor, but Rhea Ripley and maybe more importantly Damian Priest are out here with Dominik Mysterio. These two start slow, exchanging holds which allows the crowd to sing Rollin's song. Rhea stop Rollins from a dive to the outside but he is able to duck a sneak attack from Dominik and nail him with a knee off the apron. Rollins hits the three amigos to the delight of the crowd. He goes up to the top but Rhea again is up for the distraction. That gives Priest enough time to shove Rollins off the top. Dominik quickly ascends the turnbuckles and hits a Frogsplash. Dominik doesn't go for the cover, instead hitting a second Frogsplash. Dominik still doesn't go for the cover, as Corey Graves wonders if this is to soften Rollins up for a Priest cash in. Dominik takes too much time and Rollins gets the knees up to esacpe a thrid Frogrsplah. Rollins hits a running knee on Dominik. He wants a pedigree but Priest is up on the apron. It's three on one but Rollins hits a dive to the outside to take out Priest and Dominik. Rollins hits a rolling elbow onto Dominik and then another one to the back of the head. Rollins is about to hit the Stomp until Preist intercepts him with a South of Heaven. Rollins wins by DQ but he may have bigger problems. Priest is destroying Rollins on the outside, throwing him into the announce table and the barricade. Priest clears the table and goes for a Razor's Edge on Rollins. The champoin slips out and hits a superkick but Dominik hits Rollins with the breifcase. Domink throws Rollisn into the ring and hands Priest the briefcase. He tells him to cash-in. Priest is about to do it until Finn Balor hits the ring! Balor hits Rollins who bumps into Priest. Balor and Priest are aruging on the apron with Dominik trying to get their attention. Rollins is able to get out of the ring while Dominik runs him down. Dominik eats a Pedigree for his efforts and Rollins is able to completely get away.
Love that both Balor and Priest have now directly cost each other the World title. I'm wondering what the call will be for Summerslam. I'm looking forward to the match either way!