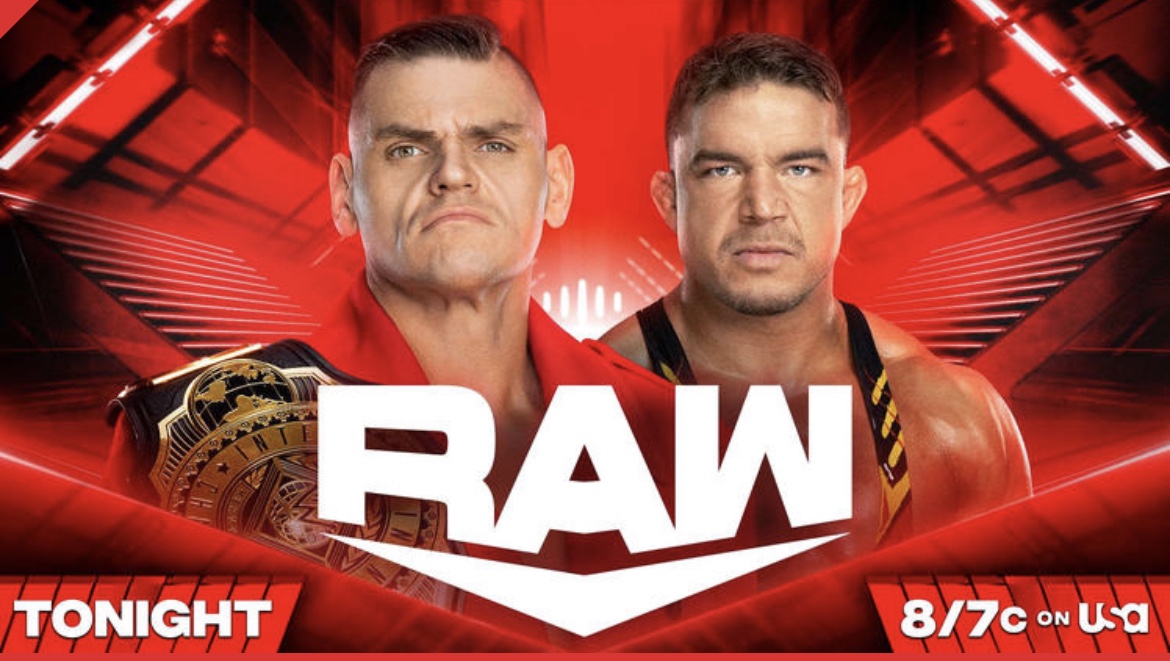 Welcome to the Wrestlepurists' live coverage of Monday Night Raw for the September 4th, 2023 episode.
JEY USO IN-RING PROMO
Fresh off an excellent Payback PLE, we are live in Charlotte, North Carolina for the much anticipated rematch between the Intercontinental champion GUNTHER and his challenger Chad Gable. There were a lot of big developments coming out of Payback, but none may be bigger than the announcement that Jey Uso is the newest member of the Raw roster. Jey kicks us off coming through the crowd, and they are firmly behind them. I'm so excited for this move, and hopefully this gives both Jey and Cody some fun things to do in the downtime before Wrestlemania season. Jey says that even though he has only been gone for a few weeks, it's felt a lot longer than that. Fighting with his family every single week took its toll. Jey gives props to Cody for pulling some strings to get him here. He knows he may have made a lot of enemies in the back, but he is ready for whatever they have to bring. SAMI ZAYN is here. Oh boy, I'm so glad we get this interaction right off the bat. Sami says it's definitely true that a lot of people in that lockeroom are going to have a problem with Jey being here now. Sami says even Kevin Owens and himself always haven't seen eye to eye on Jey. Sami drops the news that Kevin isn't here tonight (tag match brewing?) Sami says he wanted to be the first one to meet Jey tonight so he could tell him he is happy that Jey is here. Sami knows how hard the last few months have been on Jey but he did it. "You broke free!" Sami says Jey truly is Main Event Jey Uso. Great endorsement from Sami here. Sami says he doesn't expect them to be buddies right off the bat, but he is really proud of Jey. Sami offers his hand to Jey but Jey doesn't accept. Sami says it's fine, and whenever Jey is ready to talk he is here. Sami goes to leave, but Jey stops him. Jey says that wasn't very "ucey" of him and then offers his hand. Sami goes for the hug and the crowd pops! As Jey is leaving Drew McIntyre's music hits. The two men stare each other down on the ramp until Sami comes back out to calm things down. Cue Matt Riddle who also stares down Jey. Really great segment to introduce this version of Jey Uso to Raw. This move makes so much sense but also adds a lot of possibly stories with just how many enemies the Bloodline made over the past few years.
SHINSUKE NAKAMURA VIDEO PACKAGE
We see a recap of the main event World Heavyweight Championship match from Payback between Shinsuke Nakamura and Seth Rollins. It's inter-cut with Shinsuke talking about how he has broken Rollins. "I may have underestimated your grip on the World Heavyweight Championship, but I was the one left standing on the battlefield." We then see footage of the post match attack by Nakamura. I'm glad we're getting a follow up on this, assuming with some sort of stipulation.
BACKSTAGE WITH RICOCHET, ADAM PEARCE & SETH ROLLINS
Ricochet is backstage with Adam Pearce. Ricochet says he knows he didn't win at Summerslam but he wants another opportunity. Seth Rollins walks by and Adam Pearce immediately blows him off. Pearce tells Seth that medical told him to stay home. Seth does not care. Ricochet interrupts and says he respects Seth showing up tonight after what he went through at Payback – but he doesn't have to carry the load of the show alone. Seth assure them he is fine and walks off. Hopefully we get a banger of a Seth/Ricochet World title match at some point.
THE VIKING RAIDERS DEFEAT DREW MCINTYRE & MATT RIDDLE (TORNADO TAG TEAM MATCH)
I've always been a sucker for a good tornado tag team match, it's made even better that Drew is okay being in a tag team if he doesn't have to tag haha These four waste no time throwing heavy shots. Drew and Riddle hug each other near the ropes and Drew throws Riddle in a belly to belly over the ropes onto the Viking Raiders. Riddle comes back in the ring, shoves Drew and tells him to "get the tables." Drew shoves Riddle (who falls down lol) and says "you get the tables." Riddle wisely says okay and pulls one out to a massive ovation as we head to the break. Man there is not much fans in 2023 love more than tables. The break wasn't kind to the Original Bro as Riddle is laid out on a table in the ring. Ivar heads up to the top but Drew is able to cut him off. Riddle joins Drew for a superplex on Ivar, but Erik had moved the table to avoid more damage. Drew hits neckbreakers on Ivar and Erik and then kips up to show off. He has Ivar set up for a Claymore through the table but once again Erik saves Ivar. On the outside Drew clears off the announce table, these four are hell bent to at least break one table. Drew throws Erik on the outside but Ivar was ready with a splash off of the announce table on the downed Drew. The Viking Raiders were looking for their finish on Drew through the table but Riddle saves his partner. Back in the ring, Riddle sets the table back up and puts Erik on it. He goes up top but Vahalla distracts him by…was she hissing at him? This gives Ivar enough time to come in. They look to drive Riddle into the table but Kofi Kingston runs down to the ring for the save! He is helping until the Viking Raiders duck and Kofi connects with Trouble in Paradise onto Riddle. They then grab Kofi and throw him into Drew. Erik and Ivar hit Ragnarok on Riddle through a table for the three count. Kofi knows he messed up, and Drew is furious. I actually really like this. Maybe my expectations are low for good tag team stories, but I'm glad the New Day and the Glassbros have some real beef now.
INTERCONTINENTAL CHAMPIONS SLIDESHOW PART ONE
We see a slideshow of some of the greatest Intercontinental champions including Shawn Michaels, Steve Austin, and of course the most famous Intercontinental champion of them all – Roman Reigns. All jokes aside, I love that they are putting extra emphasis on this title tonight. Makes the main event feel even bigger. Probably the biggest improvement of the Triple H era.
SETH ROLLINS IN-RING PROMO
Seth Rollins is out and says at Payback Shinsuke Nakamura did everything he said he was going to do. There were points during their match where Seth didn't know if he'd be able to get back up. "But last time I checked…I'm still the World Heavyweight Champion!" Seth says there is one thing that hasn't been sitting right with him. The fact that at the end of the night Nakamura was able to walk out of the building and Seth got pushed out of there in a wheelchair by his wife. So Seth tells Nakamura to come out here and he will make Nakamura's dreams come true. Nakamura doesn't waste anytime, but stops halfway down the ramp. Seth tells him to come to the ring because he has a proposition for him. Nakamura sways but does not move. Seth says the only way to get Nakamura to come in the ring with him is to give Nakamura what he wants, so let's have a World Heavyweight Championship rematch right here and now. This…doesn't seem to be what Nakamura wanted. Nakamura responds in Japanese, and Seth says he can only assume Nakamura has accepted his challenge. "No" says Nakamura. He says no over and over again to Seth and that isn't going to work for Seth. Seth says it's labor day, so whether Nakamura wants it or not, he is going to get that work. Seth charges down the ramp and they brawl. Security tries to separate them but Nakamura hits a pointed knee strike to Seth's back. Finally Ricochet comes down to the ramp to drive Nakamura away. I really dug this. Clearly Nakamura wants more, whether that's a stipulation or a match on his time. Either way it's fun to watch Nakamura know that Seth is a fighting champion to a fault, and saying no to a rematch against Seth is only going to throw Seth off his game. Also wouldn't be surprised if the logic behind Nakamura saying no is to rile Seth up, and in turn gaining the ability to get another shot at Seth's back.
BACKSTAGE WITH SETH ROLLINS & ADAM PEARCE
Seth Rollins and Adam Pearce are yelling at each other. Rollins is saying he is a champion and he can do this. Pearce yells back and says Rollins is running at a pace no other champion has and he is just trying to protect Seth. Seth is clearly upset.
RICOCHET DEFEATS SHINSUKE NAKAMURA BY DQ
Ricochet and Nakamura are going one on one, a very logical follow up from what we've seen here tonight. Nakamura is working over the back of Ricochet. It sends a message to Seth, but also could severely limit some of the explosiveness of Ricochet. But Nakamura is going to have to do more as Ricochet hits a springboard dropkick followed by a standing shooting star press for a two count. Ricochet goes up top for a 630 but rolls through when Nakamura moves. The two exchanges a nice series of reversals that end with Ricochet connecting with the Recoil for a two count. We see Rhea Ripley and Damian Priest looking on backstage. The two find their way outside, with Nakamura going for the diving knee on the apron. Ricochet moves at the last moment and follows up on that with a running dive off the apron. Just when you think Ricochet has the momentum, Nakamura shoves Ricochet back first into the post. Ricochet reverses a running Nakamura with a backdrop into the timekeepers area. Nakamura grabs a chair and nails the back of Ricochet causing a disqualification. He strikes Ricochet a few more times before wrapping the chair around Ricochet's head. Nak sets up for the Kinshasa but Seth Rollins is back for the save! He brawls with Nakamura and even some security staff. Seth hits a big dive onto Nakamura and all the security guards but comes up favoring his back. Nakamura takes advantage and shoves Seth back first into the steps. Ricochet recovers and chases Nakamura off. But man, there was major damage done tonight. We see Rhea and Priest again, with Rhea telling Priest "not tonight." This show has been the heaviest on foreshadowing Seth's reign is done for. Hopefully he gets to keep going for awhile longer before they pull the trigger. Much like the Orange Cassidy story on AEW, it's so fun to predict who will be the "one" to take down Seth.
INTERVIEW WITH ZOEY STARK.
We see a recap of the excellent steel cage match between Becky Lynch and Trish Stratus, followed by the break up of Trish and Zoey Stark after the match. Jackie Redmond is backstage with Zoey and asks her if it's safe to say the partnership with Trish is officially over. Zoey says she has a lot of respect (lot of respect) for Trish, but nobody pushes Zoey Stark. Shayna Baszler comes into frame. Shayna says she was waiting for Zoey to get rid of dead weight just like Shanya did. Zoey proposes the two of them go one on one tonight to see who is truly the baddest. Shayna accepts.
THE JUDGMENT DAY IN-RING PROMO
Wild to see the Judgment Day in-ring promo past nine p.m. Finn Balor and Damian Priest had an incredible street fight with Kevin and Sami, and now every member of the Judgment Day has gold. Dominik powers through the boos and recaps their success at Payback. Finn congratulates Dominik on his one year anniversary of joining them. Finn then thanks Rhea for always being the voice of reason. He then says to Preist that even though they've had their differences, they are now the tag team champions of the world! Finn gives a special shoutout to JD McDonagh for having his back for twenty years. Finn's not done, because he thanks himself for becoming GRAND SLAM FINN. Awesome, love it. Rhea says that Finn and Priest rose to the occasion after her ultimatum last week and she loves them. There is one thing that is really aggravating Rhea. It's that the focus isn't the Judgment Day and their accomplishments, but about Jey Uso coming to Raw and what that means for the Bloodline. Rhea throws a shot across the bow, saying as far as she is concerned the Bloodline has fallen and the Judgment Day has risen. Priest goes to say more but JD is out with something in his hand. Priest says a small part of him is starting to like JD, so whatever this is it better be good. JD says he took a bullet for them at Payback, so the least they can do is hear him out. JD says he is out here because of what Rhea said. Rhea said big changes are needed in the Judgment Day. JD tells Priest that briefcase has to go. Clearly there is a custom briefcase that JD is holding. JD tells Priest he doesn't need that briefcase, he needs this one. It's a briefcase in Judgement Day colors with a sticker that says SENOR on it. Priest is about to say more but out comes Sami. Priest throws his microphone in disgust at being interrupted again. Sami says even though Kevin Owens isn't here tonight, did they really think they would let the five on two robbery stand? Sami calls the five of them championship stealing turds. Sami says there is a special beating owed to the biggest turd of them all, Dominik Mysterio. Sami challenges Dominik to a one on one match, but JD immediately steps in. JD says Dominik isn't fighting anyone tonight. He says Dom isn't the only one that screwed them so why not Sami one on one with JD? Love that JD continues to worm his way into the good graces of the Judgment Day. But can I just say, that briefcase is ugly as hell. Maybe it's because I remember some great custom cases, but the giant SENOR is hilarious to me.
INTERCONTINENTAL CHAMPIONS SLIDESHOW PART TWO
We see more great Intercontinental champions, this list including names like Pedro Morales, Razor Ramon, and WADE BARRET. LETS GO I HAVE NO PROBLEM WITH THAT. #BadNewsForever
GUNTHER PROMO
GUNTHER is backstage in the dark and walks into the light as he switches to speaking English. He says Chad Gable thinks he can stand in the way of GUNTHER's legacy. Someone like Gable doesn't belong in the history books. Tonight, GUNTHER will go down in those history books as the greatest and longest Intercontinental Heavyweight Champion of all time.
BACKSTAGE WITH RAQUEL RODRIQUEZ, ADAM PEARCE & CHELSEA GREEN
Raquel Rodriquez is backstage with Adam Pearce and thanks him for agreeing. Pearce says he has made it official. Whatever that is. Chelsea Green comes in and apparently Piper Niven is not medically cleared?!? Green says she is sure that Pearce thinks the tag titles are cursed but it's not true. Pearce implies that maybe it's just Green that is cursed. Green insults Raquel a bunch, and of course she is standing right behind Green. Pearce let's Green know what they were talking about- Green against Raquel tonight. Man Green is so good at the cheesy comedy. Really hope Piper will be cleared soon, and if not they should just run with it and run through as many partners as they can find for Green.
SHAYNA BASZLER DEFEATS ZOEY STARK
Just wild on a three hour show we haven't had time for Shayna the last few weeks. I'm sure she was healing up, but we couldn't have had a few vignettes filmed? Establish her new character some more? That way when you do Zoey and Shayna here there is a little more heat on it. Shayna is grabbing the Kirifuda Clutch every chance she gets, but Zoey is doing a good job of escaping. I'm not really sure what Zoey's alignment is here. I think the crowd is a little confused as well. Zoey's left hand is hurt, and she is turning to her legs for the majority of her offense. Zoey tries for the Z360 but can't hit it, so she follows up with an elbow strike that sends Shayna out of the ring. Zoey goes for her springboard tope back into the ring but Shayna catches her into the Kirifuda Clutch! Zoey is doing all she can to fight it but Shayna is relentless. Zoey stays in the Clutch longer than most women I've seen, but finally Zoey passes out. Great showing from Zoey here, but a much needed win for Shayna now that she is back on TV. Zoey is barely able to pull herself up in the corner. Shanya says Zoey gave a better fight than Ronda ever did. Zoey says Shayna was better than Trish ever was. Big pop for me there.
BACKSTAGE WITH THE JUDGMENT DAY
The Judgment Day are in their weird purple lockeroom. Finn hard pitches JD as an official member of the Judgment Day. Priest says he doesn't know, he thinks JD has to prove himself more. Finn points out, rightly, that they might not be tag team champions if it wasn't for JD. Finn asks Dominik what he thinks and Dominik says he is cool with whatever they decide LOL Rhea says they should wait to see how JD does against Sami. Finn and Priest leave to go check out the match. Rhea keeps Dominik behind and tells him to make sure everything goes the way it needs to with JD tonight. Rhea flubbed her lines twice. Wade Barrett tried to play it off that Rhea had a lot on her mind, but it just came off like mistakes.
RAQUEL RODRIQUEZ DEFEATS CHELSEA GREEN
It's wild that Chelsea Green hasn't been employed by WWE this whole time. She's perfect for this role. The bell rings and Green immediately tries to book it out of there. Raquel catches her, and gets her in a bear hug. She ragdolls Green around. Green gets a second of offense around to the injured knee of Raquel, before a big boot knocks her down. Green dives off the top for a crossbody but Raquel catches her. Green is able to shake free and slaps Raquel. That earns Green a nasty lariat, followed by the Tejana Bomb for the three count. Raquel gets on the mic and says earlier tonight she spoke with Adam Pearce about the actions of Rhea and Dominik at Payback. Raquel says that she is getting her rematch next week and Dominik is banned from ringside. Should be a good match, but I'm wondering if that means Rhea is doing something different at Fastlane? I wouldn't rule out some more Judgment Day interference, and then a stipulation at Fastlane.
INTERCONTINENTAL CHAMPIONS SLIDESHOW PART 3
We see our third slideshow of Intercontinental champions including Don Muraco, Bret Hart, and baby faced Cody Rhodes.
BACKSTAGE WITH ALPHA ACADEMY
Chad Gable is backstage with Maxxine and Otis. He has a gold jacket on that says G.ivin A.gressive B.eatings L.ike E.xperts. So stupid yet so good. Gable says GUNTHER is wrong to say that he doesn't belong in the history books, because he already is! He is an Olympian, he is a multi time tag team champion, and tonight he proves he is more than just a tag team specialist. "Tonight I prove that your desire to hold on to that championship pales in comparison to my desire to take it from you." Hell yes, I will run through a wall for Coach Gable.
BACKSTAGE WITH DREW MCINTYRE, MATT RIDDLE & KOFI KINGSTON
We are backstage with an angry Drew McIntyre looking for Kofi Kingston. Riddle tells Drew to calm down. Drew says he IS calm, especially considering Jey Uso is on Monday Night Raw. Drew reminds Riddle of how the Bloodline made their lives hell. He says if Jey steps out of line then Drew will have no problem dealing with the person who brought Jey here. Oh here we go with the Cody feud tease. Sign me up. Kofi comes in and apologizes. Riddle tells Kofi it's okay. Drew disagrees and says it's unlikely that Kofi would accidentally do this after the actual accident from Drew last week. Good point. Kofi says wait, is Drew the only one allowed to make a mistake? Also good point. Drew walks off with Kofi telling Drew to go talk to his boy. I'm really glad they didn't just have Drew turn heel with one kick and do a "you people" speech. This is much better.
MIZ TV WITH SPECIAL GUEST "JOHN CENA"
We see highlights from LA Knight beating the Miz with John Cena as the special guest referee at Payback. Miz says tonight his guest will shine a light on the travesty that happened at Payback. Miz says he did not lose at Payback. Miz welcomes his guest OH MAN JOHN CENA? LOL No…Miz said his guest tonight promised to be completely transparent. There is no John Cena. This is awesome. The camera man is following the path Cena would normally take down the ramp. The Miz starts to interview the invisible John Cena. Miz says this is weird and asks the crowd if they can see him? Miz says he understands what is happening, for the last eighteen years he has not only been able to see Cena but see right through Cena. First question to "Cena" is did LA Knight pay him? The crowd is answering YEAH every time. Oh man this is great. The Miz says if the crowd is going to say something affirmative say "yes" instead, and then thinks twice and says he doesn't like that either and for them to just nod their head hahaha I didn't even think that the Miz has beefs with "yes" and "yeah". Apparently "Cena" admits to taking money from LA Knight. Miz tells "Cena" to leave and then slaps him for not leaving the ring. "Cena" pushes the Miz back. A "holy shit" chant from the crowd. The Miz does a sequence with "Cena" and hits the Skull Crushing Finale. "Let me be perfectly clear, there is nothing invisible or imaginary about what happened to me at Payback." Miz challenges LA Knight to a one on one match with no add-ons. The Miz says LA Knight's future success is as real as the invisible John Cena in this ring. The Miz has been incredible during this feud. I'm sure there will be some people who hate this segment, but I loved it.
BACKSTAGE WITH JEY USO
Jey Uso is walking down the hallway and runs into Akira Tozawa who immediately turns around and dips. Adam Pearce meets Jey and gives him a heads up that the lockerroom being angry is going to probably get worse before it gets better. He just found out that Smackdown is going to get trade compensation for Jey Uso, and depending on who that is it might piss some people off. Jey thanks him for the heads up. Tommaso Ciampa catches Pearce before he leaves and asks if now is a good time to talk. Pearce tells him to come into his office to finish their conversation. Hopefully this means Johnny Gargano is coming back soon? You know this Raw has been jam packed. I've been writing a million miles a minute, but it hasn't felt too overbooked either. They've done a good job of furthering stories for a lot of the wrestlers, even if its just a few lines here or there.
JD MCDONAGH DEFEATS SAMI ZAYN
Sami Irish whips JD into the turnbuckle hard twice. Sami throws some nasty chops and JD's chest is already beat red. This is how a match should start when one wrestler is trying to get revenge. Once they are on the outside JD takes over, bouncing Sami's head off the announce desk and then into the post as we head to break. JD is trying his hardest but Sami is just on another level. Sami hits the exploder suplex into the corner. He goes for the Helluva kick but Dominik is here to pull JD out before Sami can hit it. Sami goes straight after Dominik on the outside. He throws JD back in the ring but Dominik pops back up on the apron for the distraction. JD rolls Sami up and pulls the tights for the three count! Sami realizes what happened and goes right for Dominik. He pulls him into the ring and Dominik begs for JD's help while JD just says "come on" Go help him! When Sami's back is turned after an exploder on Dominik, JD pulls Sami out of the ring and gets Dominik to safety. Sami is going to hit a Helluva kick on someone, as he hits an exploder and Helluva Kick combo on JD. Dominik didn't make the same mistake JD did and hauls ass to the back. Very interesting that we can assume Rhea wanted JD to win, with Dominik interfering on his behalf.
BACKSTAGE WITH BECKY LYNCH
We see Becky Lynch's post match interview from Payback where NXT Women's Champion Tiffany Stratton interrupted Lynch. They hype up Stratton's title defense against Kiana James tomorrow night. You've got to think Becky makes an appearance there after not being seen tonight.
INTERCONTENTIAL CHAMPIONS SLIDESHOW PART FOUR
The final slideshow of Intercontinental champoins includes Randy Savage, Triple H, Edge, and Bobby Lashley. These are perfect examples of what I'm always pounding the table for them to do. Probably not even a minute total of run time, but spaced out through the show and it adds so much to the main event. Hope they do more of things like this.
BACKSTAGE WITH THE JUDGMENT DAY & JEY USO
Dominik is helping JD in the back. Finn congratulates JD on an impressive win, and Priest says JD did alright. Dominik tells Judgment Day to hold back. He walks over and finds Jey Uso. Dominik says the two of them are alike, both with hall of fame dads and bad family lives. "If you think about it, you come from a broken family. No one likes you just like no one liked me." Dominik is pitching the Judgment Day to Jey, telling him that there is always open arms for him there since he knows what its like. Dominik is a little awkward with it but honestly it works because he should be a little awkward trying to recruit someone like Jey. This is great from the Judgment Day's persepctive. The entire lockeroom hates you Jey? Hey, if you need backup we got you.
GUNTHER CHAD GABLE (WWE INTERCONTIEAL CHAMPIONSHIP)
It's main-event time! Chad Gable is out first with Maxxine and Otis. They stop at the ramp and let him go at it alone. He kisses his son at ringside. GUNTHER comes down to the ring with Ludwig Kaiser and Giovanni Vinci, and there are no signs that Imperium will be leaving his side. The two men lock up and GUNTHER immediately throws Gable off. Gable picks the ankle of GUNTHER early and the champion has to go to the ropes for the break. Gable uses his speed to bait GUNTHER into a chase, hitting GUNTHER with two consective dropkicks as we head to break. GUNTHER hits a big boot on Gable that i'm honestly surprised didn't leave a permanent imprint on Gable's face. It's chop time as GUNTHER begins to dominate the match. Gable will fire up with a few shots but just one of those chops sends the challenger right back to the mat. The straps are down and Gable fires up! He slaps and strikes Gable but GUNTHER picks him up and puts him on the top rope. The champion takes his boot and just pushes the challenger down off the ropes down onto the floor. We are back from our final break with GUNTHER lifting Gable up for the powerbomb. Gable reverses it with a rana sending both of them to the outside. Gable plants GUNTHER with a German Suplex on the outside. Gable throws the champion back in the ring and realizes the referee is almost at his ten count. Gable slides back in but it's right into the arms of GUNTHER for a powerbomb! But it only gets a two count. The two men are up on the top and Gable hits a superplex followed by the diving headbutt for a two count. But Gable wastes no time and grabs the Ankle Lock on GUNTHER. The champion escapes but Gable was just a second away from nailing the Chaos Theory. GUNTHER reverses that but Gable hits a side suplex and this crowd can feel a title change coming. Gable pulls the straps up and then down again, then hits an incredible Chaos Theory. 1…2…NO. Gable stays on the attack and goes up for the moonsault. GUNTHER gets the boot up to block but Gable catches the ankle. GUNTHER rolls through it but Gable rolsl with him. Gable had him locked in but the long legs of GUNTHER break it free with some kicks to the head. WIthout even leaving his back GUNTHER catches Gable into a sleeper hold. The crowd with a huge Gable chant. Gable rolls throught he sleeper into a pin attempt for the two count to break the hold but OH MY GOD a sleeper suplex from GUNTHER. A Powerbomb followed by a Lariat and GUNTHER has done it. They immediately cut to one of Gable's daughter's crying. My god what a finishing sequence.
I love Chad Gable and would have been thrilled to see him win here, but I think it was the right call to have GUNTHER break the record. Hopefully singles Gable is not done, because he looked incredible in defeat. These two made magic tonight but I would have liked to see them go a bit longer. I'm going to need an Ironman match at some point. Congratulations to GUNTHER for breaking the record.