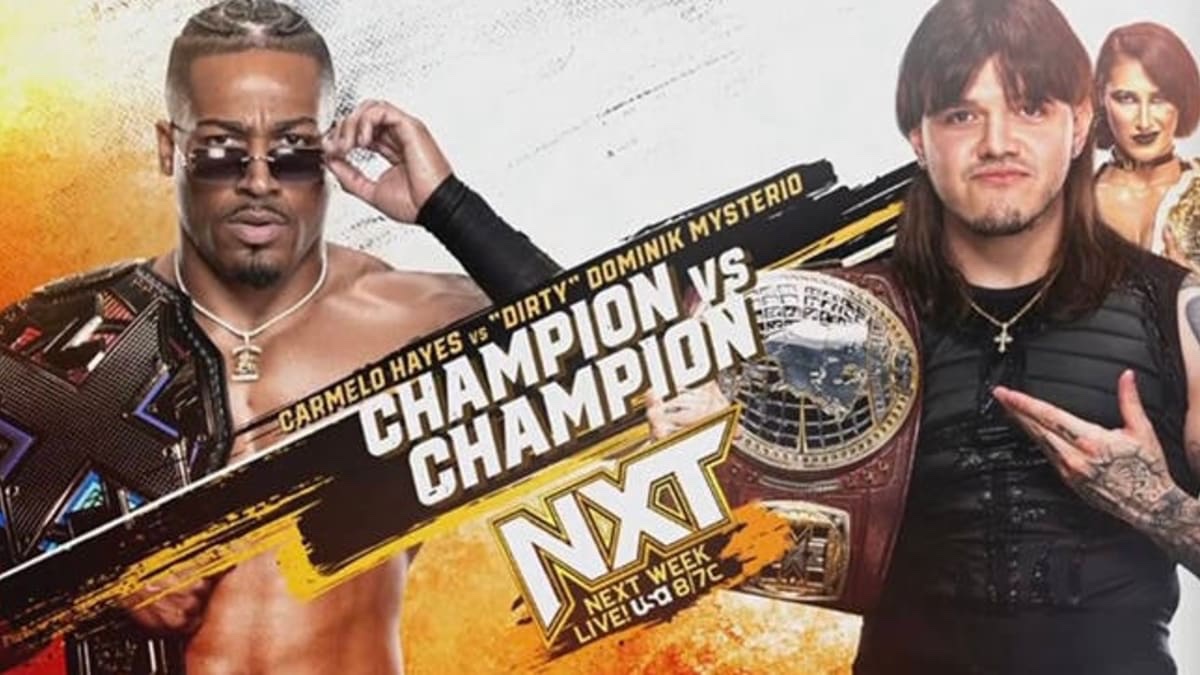 Welcome to WrestlePurists' Coverage of the September 19th episode of WWE NXT.
Becky Lynch In Ring Promo
Becky Lynch kicks off the show in front of a hot NXT crowd. Becky says she brings the fight every night. She calls out various NXT female talents with some clever rhymes. Ridiculous and absolutely excellent stuff. Becky then puts over Tiffany Stratton for the match last week and says she deserves a rematch. This brings out the former champ. Stratton says the rematch wasn't optional. She calls herself the future of the WWE and the future 2 time NXT Women's Champion. She then challenges Becky to a rematch tonight, but then changes her mind. She says she wants her rematch on a bigger stage, in Bakersfield at No Mercy. Becky says that Tiffany isn't hungry enough. She calls her entitled. She says even after 10 years, she still wants it more. Stratton says that Becky is looking for clout. Suddenly, a fight breaks out. This brings out Kiana James who helps Stratton jump Becky. Lynch is able to fight the two of them off after Stratton tries to bring in a chair. The two leave the ring and Becky stands strong.
We then See Tony D'Angelo and Channing Lorenzo looking through photos of the various tag teams of NXT. Looking for who might deserve a shot at their tag titles. They both agree that one of these teams has to impress them to get invited to the table.
Ilja Dragunov is backstage with McKenzie Mitchell. He says he is still suffering but he will still keep going and that at No Mercy "the dragon will cover his wings in gold." Absolutely epic this guy.
Lynch suddenly interrupts and says that Kiana and Tiffany didn't need to jump her to get a fight. She challenges them to a handicap match for later tonight.
We then see the Meta Four who are in house and dressed like various characters from the Matrix, and hear from Noam Dar who is dressed like Morpheus. Suddenly, Butch's music hits and he makes his way to the ring
Backstage we see Trick Williams who is confronted by Dominik Mysterio. Dom says as someone who lived in his dad's shadow, he knows how Trick feels. He says that after the Judgement Day helped him step out of his shadow, it changed him. Trick says that he stands in nobody's shadow and that nothing Dom can say will drive a wedge between him and Carmelo Hayes. Dom says that he used to say the same thing about his "deadbeat dad." Brutal.
Global Heritage Invitational Match: Group A: Butch Defeats Tyler Bate
This match was an absolute BANGER. Started a little slow but really picked up quickly. These guys played all the hits and it was fantastic. Butch hits the "bitter end" and wins by pinfall with just 12 seconds left in the match. Butch now moves onto the finals of the Invitational, set for next week.
We then see Thea Hail and Jacy Jayne from earlier footage. Thea says she needs change and Jacy agrees. We then cut to footage of the two shopping together. Thea begins modeling the various outfits Jacy picked out for her. They eventually agree on one outfit but do not reveal it to the camera. Jacy says she can't wait for the world to see the new Thea Hail next week.
Global Heritage Invitational Match: Group B: Duke Hudson Defeats Joe Coffey
This physical matchup ends rather suddenly with Hudson winning with a roll-up. We now have a three way tie in Group B, between Nathan Frazer, Joe Coffey and Duke Hudson who all have 4 points.
We then go backstage to Kelly Kincaid and Nathan Frazer who is excited about his second chance. Kelly receives word that a match to break the tie will happen tonight! Looks like a triple threat tie breaker for a trip to the finals.
Small "X" update on Von Wagner. Their is a long road ahead. Stone says it is "not good.
Roxanne Perez Defeats Lola Vice
I was very impressed with Lola Vice. I particularly enjoyed how she worked some MMA style into this match. Perez wins after leveraging the shoulders for a quick pinfall, just after after Vice had countered "pop rox."
Following a commercial, we hear from Eddy Thorpe. He says that Dijak wants him to display his viciousness and his wild side, and that Dijak wants to press buttons. He says Dijak has desecrated his land and insulted his culture. He wants his revenge in a strap match.
We then Becky Lynch and Roxanne Perez backstage. Becky tells Roxanne to keep doing what she's doing. Roxanne offers to be Becky's partner tonight so she doesn't have to be in a handicap match, but Becky politely refuses.
"Dirty" Dominik Mysterio vs Carmelo Hayes Ends In DQ
This was a solid match between the two champs that ends with a double DQ as Ilja Dragunov gets involved after getting attacked multiple times as he was down at ringside for commentary. After Dom slapped him, Ilja had enough. He went into the ring and attacked Dom. He then gets struck inadvertently by Hayes as Dom sneaks away from the ring. As Dom walks towards the entrance ramp he is met by Dragon Lee who puts him down with a superkick.
Backstage we see Trick Williams who is confronted by Joe Gacy and Ava Raine. Gacy says everyone wants to be their own man but never thinks about how it affects everyone else. Ava says Trick's loneliness is written all over his face. Gacy asks Trick to join The Schism but Trick says he is still loyal to Melo.
We then see Andre Chase congratulating Duke Hudson and getting him hyped for his triple threat tie breaker match.
Following a commercial, we see Bronco Nima and Lucien Price shooting dice. They end up winning big and say that they look forward to dominating the tag team division. Scrypts says this is why he hangs with them as they know what it is like to struggle and also how to dominate.
Backstage, McKenzie Mitchell interviews Hank Walker and Tank Ledger. Hank says that Bronco Nima and Lucien Price are big dudes, but so are they. Tank says that they are here to feast on the tag team division.
Triple Threat Tie Breaker: Global Heritage Cup Invitational Match: Group B: Joe Coffey Defeats Duke Hudson & Nathan Frazer
Another really fun match with these three men going all out in this exciting triple threat tie breaker. Nathan Frazer had Duke Hudson put away, but Coffey tosses Frazer out of the ring and takes advantage, hitting a big lariat on Hudson and getting the pinfall victory. Coffee wins Group B and advances to the finals to face Butch next week.
In a requested interview with McKenzie Mitchell, Mustafa Ali calls himself the rightful number one contender for the NxT North American Championship, not Dragon Lee. Ali calls Dom a criminal and Dragon Lee a liar. He says they are not worthy champions. He says he will deal with both of them next week on Raw.
We then see Tiffany Stratton and Kiana James talking in the locker room. Stratton says they are going to do some damage to Becky tonight and that she still has a surprise planned for her.
Following a commercial, we are in the locker room with Brooks Jensen who cannot figure out why Myles Borne would turn on him and Josh Briggs. As Briggs argues with Fallon Henley , Baron Corbin shows up and tells them to keep it down so he can enjoy his massage.
Becky Lynch & Lyra Valkyria Defeat Tiffany Stratton & Kiana James
This scheduled handicap match begins with Stratton and James jumping Lynch before the bell. However, Lyra Valkyria shows up to help Lynch and we now have a traditional tag match.
These four women worked their butts off and put on a very good main event. Lynch and Valkyria win via pinfall.
After the match, Stratton attacks Lynch with a steel chair before grabbing the NXT Women's Championship and holding it above a beaten down Becky. Stratton leaves the ring but before she can exit the ramp, Lynch grabs A microphone and says that the title match at No Mercy is going to be an extreme rules match!
Final Thoughts
There was some highly entertaining stuff on tonight's episode and it wasn't just the matches. We had some really fun and quirky stuff sprinkled throughout the evening that really helped the flow of this show. It's always a treat to have Becky Lynch involved at this level in any capacity, but to have her interwoven from beginning to end made this feel extra special.