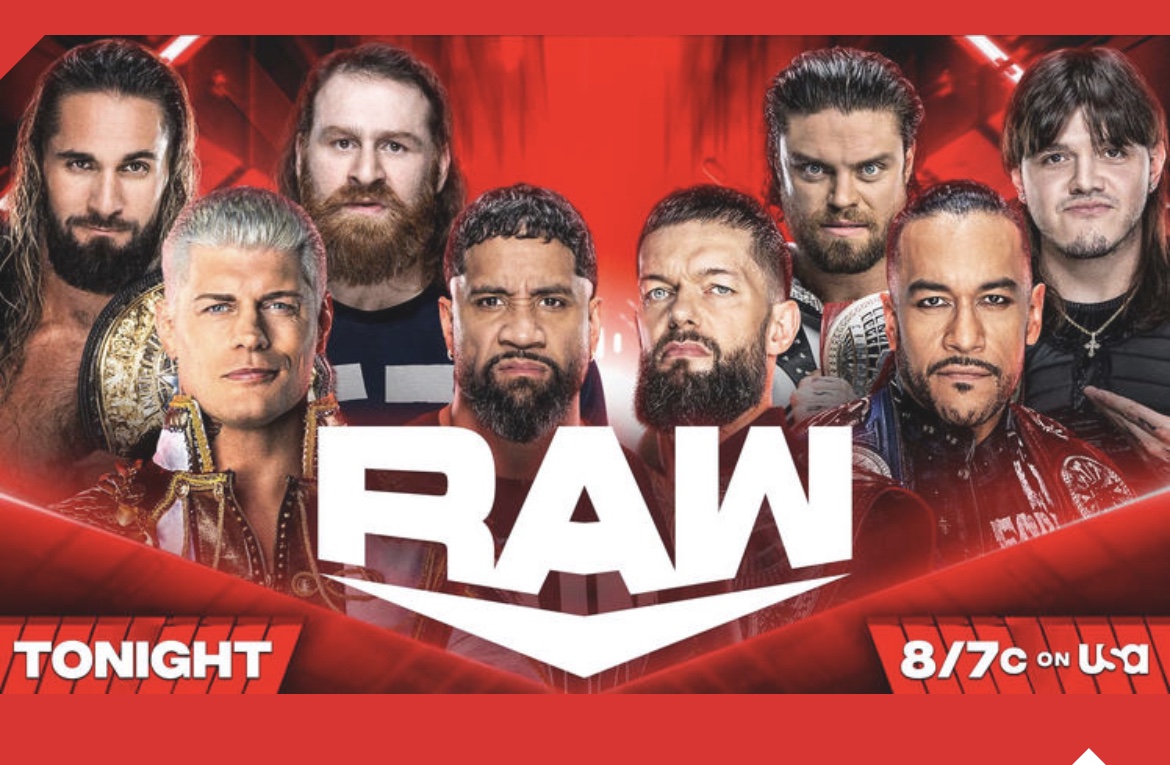 Welcome to the Wrestlepurists' live coverage for Monday Night Raw for the November 20th, 2023 episode.
DREW MCINTYRE IN-RING PROMO
We are live for the go-home Raw before Survivor Series, and Drew McIntyre is in the ring to explain his actions from last week. He says he earned the right to talk. He is the one that is the most upset over the reaction to what he did last week. Drew claims he has been the same person this entire time. "If you've turned on me, you were never a fan of me in the first place." Drew says unlike Jey during his time in the Bloodline, Drew looked Jey in the eyes before he screwed him. Drew isn't going to apologize, Jey never once apologized for any of his actions in the Bloodline. The crowd is letting Drew have it. Drew asks why he should get over the Bloodline costing him the biggest moment in his career in front of his family at Clash at the Castle. "Your family took that from my family." Drew says that should be the focus, but instead the focus is on whether Drew has joined the Judgment Day. Drew says the fans have watched him since he was Twenty Two years old, we should know him by now. Drew says that no, he has not joined the Judgment Day. However, he will be on their team at War Games. Why? Because Rhea Ripley gave Drew something no one else could give him, Jey Uso in a cage. Drew isn't stopping but Jey Uso has seen enough. Jey says that Drew needs to let it go. Drew cost him the tag titles last week so lets move on. It's time for him to catch this "yeetdown." Immediately the Judgment Day comes out and backs up their War Games partner. Cue the World Heavyweight Champion Seth Freakin Rollins to the stage. Followed by Sami Zayn and then of course the American Nightmare Cody Rhodes. The only question is…who is the fifth man? Before both teams can fight Adam Pearce runs in and says we aren't doing this tonight. Pearce says if they fight before the advantage match tonight, who ever throws the first punch will cost their team the advantage. Pearce says that Team Rhodes needs to pick a fifth partner by the end of tonight. Also by the end of the first hour, both teams need to pick who they want to fight in the match for the War Games advantage, and if they don't Pearce will pick for them. Drew immediately steps up and stares down Jey before leaving through the crowd. Man Pearce is really good in this role, doesn't take away from the wrestlers but also is firm enough to be taken seriously.
BACKSTAGE WITH THE JUDGMENT DAY
Backstage in the Judgment Day layer, Finn Balor is sitting with Dominik Mysterio and JD McDonagh saying that they would have stomped on Rhodes and his team if Pearce didn't interfere. Damian Priest praises Rhea for adding Drew to the team, but says he wishes she would have run it by him since he is the team captain. Rhea mentions Drew is so unpredictable and there was no way knowing if Drew would say yes or not. Priest doesn't seem to buy it but moves on and says he will be the one representing Judgment Day in the advantage match. Rhea says Priest was right earlier and that they should wait and talk to the whole team. Man Priest is not long for that group, going to be fun to see where that goes.
NIA JAX DEFEATS RAQUEL RODRIQUEZ
Raquel Rodriquez starts hot against Nia Jax and has the former Raw Women's Champion on her heels. But it doesn't take long for Jax to use her size advantage to slow down Raquel. For as big as Raquel is, she has to wrestle this match as the smaller competitor. Raquel hits a crossbody off the apron onto Jax on the outside! Jax recovers quickly and scoops Raquel up for a Samoan Drop. Oh man, she drops her back first into the ring post as we head to break. We are back but haven't left the post as Jax is stretching Raquel across the post. All the energy Raquel had from the opening minutes of this match have been sucked out by Jax. Raquel hits a capture hurricanrana on Jax and then follows it up with a lariat to the back of the head and a big boot to knock Jax down off her feet. Raquel nails the Vader Bomb elbow drop but doesn't attempt a cover. Instead she tries to pick Jax up but her back gives out. Jax makes sure Raquel's front will give out too with a wicked senton. Jax goes up for the Vader Bomb but Raquel is up and ready to powerbomb her! But Raquel's back gives out again and Jax squashes her. She goes back up and hits the Vader Bomb (The Annihilator is what Jax calls it) for the three count. I don't think it's a bad thing to have Jax win here, but I don't know where Raquel goes from here. Would love her to be motivated to get even stronger so she can pick up Jax.
XIA LI VIDEO PACKAGE
We see a video package of Xia Li training to get ready to face Becky Lynch. She kicks the hell out of a body bag with Becky Lynch's face on it.
BACKSTAGE WITH THE JUDGMENT DAY & DREW MCINTYRE
We are once again backstage with the Judgment Day sans Drew. They are all talking about who will wrestle for the advantage tonight. Drew finally shows up and says he hears Priest wants to be in the match. Drew says he doesn't have a problem with Priest being in the match, but he thinks he should be in the match over Priest. Drew already being messy. Drew says he doesn't like any of them but he despises Jey Uso. After a little bit of Duck Season/Rabbit Season Priest relents and says Drew can be in the advantage match for their team tonight.
VIDEO PACKAGE RECAP OF SMACKDOWN
We see a Smackdown recap showing how we got to the Women's War Games match. I love the slow burn of Damage Ctrl kicking Bayley out of their group. I'm assuming that means they lose War Games but that doesn't necessarily mean that's the case. Oh apparently you can vote to pick which team gets the advantage in the Women's War Games match. I'd complain but it's sponsored by Ruffles so they probably got like half a million dollars to do this.
BACKSTAGE WITH TEAM RHODES
The babyfaces are talking about who will take on Drew for the War Games advantage. Seth says he knows Drew better than the rest of them. Jey says if Drew is going to be in that ring than so will he. Seth points out that Drew wants to hurt Jey but Jey points out that Drew has been on him since he got here. He has to have this match. They all agree that Jey gets the match. Sami asks who they will pick as the fifth man. Cody confirms that he spoke to Nick Aldis and Smackdown guys are not off limits. Seth has a few people in mind as well. And Cody mentions that he has an old friend he can call who he knows would come through. That gets a big old pop from the crowd. Let's see!
BECKY LYNCH DEFEATS XIA LI
Really looking forward to how they are going to book this match. Xia has been a killer and basically "concussed" her last two opponents. Becky is Becky and is in War Games on Saturday. I'm wondering if we get a DQ finish and revisit this post PPV. Xia goes for the kick early but Becky is ready for it. Becky is ready for Xia and is reversing most of Xia's attacks early. These two brawl on the outside before Becky throws Xia back in the ring. Becky gets up on the apron and Xia connects with a kick that knocks Becky out to the outside as we head to break. Back from break and Becky is still in this thing. She hits the Bexploder suplex for a two count as the crowd comes alive. Becky goes for the Dis-Arm-Her but it's Xia's turn to reverse out and send Becky into the ropes. Xia hits an impressive looking kick but it only connects to the arm of the Man. Becky goes for the Manhandle Slam but Xia reverses it. Becky gets Xia back and plants Xia with a move that turns into the Dis-Arm-Her. These two are going counter crazy. Xia hits an airplane spin slam/cutter on Becky for two as the crowd gives all they have to Becky. The commentators are hyping up Xia's improvement huge and the crowd is so into this match. Becky goes for the Manhandle Slam again but Xia reverses it and then hits her big kick on Becky. Becky was supposed to fall out of the ring but got caught up in the ropes. Xia pushed her out and ehhh probably should have let Becky figure it out. Either way Xia follows Becky and the Man counters a second kick attempt and pushes Xia into the ring post. Both women are down and barely make it back into the ring to break the ten count. Back in the ring the two trade counters again, before Becky finally hits the Manhandle Slam on Xia for the win! Great match from these two. Becky has been tearing it up with the underused talent in the division. After the match Damage Ctrl come down to the ring from the crowd. But from behind is Charlotte Flair, Shotzi, and Bianca Belair to even the odds. Adam Pearce, who definitely needs a drink, sends out security who does a really poor job separating all eight women.
BACKSTAGE WITH LUDWIG KAISER & GIOVANNI VINCI
Ludwig Kaiser is walking backstage before Giovanni Vinci catches up with him. He asks Kaiser if he is good and Kaiser unloads on him. He says he doesn't appreciate Vinci trying to get on GUNTHER's good side last week at Kaiser's expense. Vinci says everything he does is for Imperium. Kaiser tells Vinci that no matter what happens to stay right here. Okay well either that isn't happening or Vinci is taking him way too literally.
ZOEY STARK VIDEO PACKAGE
We get a video package for Zoey Stark as she faces Rhea Ripley at Survivor Series. I think these two will have an excellent match and I think Zoey has big start potential. I just think the heel to face-ish turn happened pretty quick. But these two will make you forget about the build with their in-ring work.
JOHNNY GARGANO DEFEATS LUDWIG KAISER
Man Kaiser is so good at being a douchebag. Truly a top heel star in any era. These two could be fighting over a world title if things shake out a certain way in the next few years. Gargano works on the arm of Kaiser, but the Imperium mouthpiece's size allows him to quickly regain the edge. Oh man I don't know if any one has a better step up enziguri currently than Kaiser. Gargano goes for a suicide dive but eats a big right hand for his efforts. Kaiser follows up with a running European uppercut as we head to break. "Johnny Wrestling" chants are cheering on a comeback from Gargano but Kaiser cuts it all off with another right hand. Man that boy can throw em. Kaiser hits the ropes but Gargano recovers in time to nail the slingshot spear! Gargano hits a series of clotheslines and than the rolling kick to send Kaiser to the outside. Kaiser gets no reprieve as Gargano dives on Kaiser. Back in the ring Gargano jumps off the second rope and hits the torando flatliner for a close two count. Oh good lord Kaiser nails the nicest discus lariat I think I've seen in quite some time. These two are perfect for each other. Kaiser is too concerned with the crowds chants and its allowing Gargano to stay alive. Kaiser scoops Gargano and hits like a body cutter from a tilt-a-whirl? I'm sorry I just love these two so much. Kaiser wants his inverted DDT but Gargano reverses and hits his tornado DDT. Kaiser recovers and plants Gargano with the Fireman's Carry bomb followed by the Penalty Kick. Oh lord Vinci is here and Kaiser is furious. Gargano takes the opening and nails Kaiser with the One Final Beat for the win. Ooh Vinci kind of looks happy that Kaiser lost. Love it.
BACKSTAGE WITH ADAM PEARCE, CHELSEA GREEN & PIPER NIVEN
Earlier today Adam Pearce was backstage with Chelsea Green and Piper Niven. They were upset at having to share a locker-room with "non-champions." Piper says its SO disgusting. Tegan Nox and Natalya comes in and say they want a title shot. Katana Chance and Kayden Carter come in and say Nox and Natalya haven't even teamed yet. Even Pearce says that's a great point LOL Then Indi Hartwell and Candice LeRae come in asking for a shot. Finally Maxxine Dupri and Ivy Nile come in and before they can say anything Pearce adds them to the match. Ivy says something and clearly they were there for something else but Maxxine tells her to SHOOSH. We have a fatal four way match up next with the winner getting a shot at the tag titles. You know what, this was fun and while rushed didn't shy away from the problems of the booking. I'll take this ten times out of ten over the old contenders multi-team matches they used to just throw out there that said "well we remembered we have eight other women on the roster soooo."
BACKSTAGE WITH RHEA RIPLEY & DOMINIK MYSTERIO
Rhea Ripely and Dominik are walking backstage before they see that Zoey and Shayna Baszler are just chilling in the Judgment Day clubhouse. Zoey says they are there because they've heard so much about their clubhouse. Shayna stares down Rhea before leaving. Zoey says that once again Rhea is distracted and focused on things other than what she should be…her. Good stuff.
TEGAN NOX & NATALYA DEFEAT INDI HARTWELL & CANDICE LERAE, KATANA CHANCE & KAYDEN CARTER AND MAXXINE DUPRI & IVY NILE (#1 CONTENDER'S FOR THE WWE WOMEN'S TAG TEAM CHAMPIONSHIP)
The Women's Tag Team Champions are on commentary as Natalya and Ivy Nile start things off. Natalya has matching gear with Nox which I really appreciate it. Goes a long way. Maxxine shows some impressive moves that Coach Gable taught her as she tags in Ivy. Actually all the teams have matching gear except Ivy and Maxxine who weren't planning to team tonight. That's awesome. Carter and Chance show off their impressive tag team offense using Carter as a base to throw Chance around into their opponents. All of the wrestlers are on the outside but Maxxine, who climbs to the second rope and dives off onto all of them. We get a big "THANK YOU!" before we go to break. Natalya and Nox try to suplex Chance but Ivy comes in and powerbombs both women down by herself. Chance held on so no Tower of Doom. Carter holds Chance and Chance hits a gymnast dive off Carter's shoulders for what would have been a three if not for everyone else breaking up the count. The match is breaking down as everyone is throwing there best shot as one another. Natalya goes for the Sharpshooter on Chance and locks it in in the center of the ring. Ivy hits a bulldog on Natalya and breaks it up. Maxxine tags in and hits two big body slams before signaling for the Caterpillar! She hits it and Green looks horrified lol Maxxine hits a suplex with a bridge and gets a two count on Nox. Ivy tags in and then tags Maxxine right back in to hit a double suplex on Nox. Both women go up top but Natalya pulls Ivy down. Maxxine hits her crossbody but no, Nox rolls her up and gets the three count! Not a shocking result but a really fun four team tag and they gave it time. No reason on a three hour show to not.
BACKSTAGE WITH IMPERIUM
GUNTHER is walking backstage until he finds Kaiser and Vinci in a shouting match. GUNTHER asks Kaiser to explain himself. Kaiser says that Vinci was told to stay away. GUNTHER interrupts and tells him that he never listens. "I really thought you were able to hold up the prestige of our group." He turns to Vinci and applauds his efforts. GUNTHER says he may have put the wrong person in charge. He tells them to sort it out as he goes to handle the Miz.
BACKSTAGE WITH ADAM PEARCE & THE MEN'S TAG TEAM DIVISION
Adam Pearce rushes into all of the men's tag teams arguing. Xavier Woods says they saw Pearce give the women tag teams an opportunity and they want the same thing. Pearce says they can't do it tonight, but they will have a tag team turmoil match next week with the winner getting a title shot. They all celebrate as Akira Tozawa dances with the Detroit Lions title. Pearce asks a stagehand to phone Nick Aldis but surprise surprise he is here. They have a lot to talk about apparently. Also big kudos to having the men's tag teams see the women's get a shot and immediately cause chaos to get the same. It's something that wouldn't have been terrible to not do, but it adds a lot to the show and shows people are paying attention while writing these things.
THE MIZ & GUNTHER IN-RING FACE OFF
The Miz says he wants to talk about respect before GUNTHER comes out and bores everyone. Miz gets a few words out about the lack of respect from GUNTHER before the Intercontinental champion makes his way to the ring. GUNTHER says it's not that there is a lack of respect for the Miz, it's that he has zero respect for him. This sacred ring is for fighting and competition, and the Miz is just an entertainer. Miz says that he IS an entertainer. He is a WWE superstar. Miz gets it done in the ring and out of it just like all the wrestlers he grew up loving. Miz lists wrestlers like Randy Savage, Mr. Perfect, and Shawn Michaels. He says they all held the Intercontinental championship, and that's why the Miz fought so hard to win it. The Miz says the reason those performers are still talked about is because they are not a one note robot like GUNTHER. GUNTHER says he has to give it to the Miz, he is amused by him. Miz says he has reinvented himself time and time again and he will do whatever it takes to win. Miz says GUNTHER hasn't been to the bottom here in WWE. We won't know if GUNTHER deserves our respect until GUNTHER hits the bottom of the mountain. Miz says that at Survivor Series he will beat respect into GUNTHER. The Intercontinental champion is just kinda amused by all of this. GUNTHER says all the fans think on Saturday he will face the Miz. Future hall of fame and grand slam champion. But GUNTHER sees through the Miz. Who GUNTHER is really facing is little Mike Mizanin. Some little werido who idolized all his heroes because he was bullied as a kid. GUNTHER says once the Miz finally met those heroes, they bullied the Miz as well to show him he didn't belong in this sport. Oh snap. GUNTHER says twenty years later, nothing has changed. The Miz still doesn't belong in the ring. He belongs behind the guardrail with all the other weridos that are just like Miz. A…USA chant breaks out? HUH?!? GUNTHER says yelling three letters at him is the smallest form of self identification. They are all losers like little Mike. "Let me tell you what I think, you haven't been bullied enough." GUNTHER then pushes the Miz a few times before pie facing the Miz. He asks the Miz to stand up for himself and berates him. Finally the Miz throws some punches and the fans are behind him! One big boot however from the champion puts down the Miz. GUNTHER grabs the Miz by the throat and shows him the championship. He tells the Miz that he will not win the title but the Miz goes low!! HUGE pop for that. Miz hits a Skull Crushing Finale to lay out the champion. Woah what an awesome segment. You know I always thought the Miz had real babyface potential because his literal story is he was a fan who worked hard to become a WWE superstar. His first face run didn't work because he was just cringey Miz against the heels. But this tonight? Man having a legit killer like GUNTHER bring up Miz's real history starting out and comparing him to the fans was fantastic. It really did make a difference in how the crowd was with the Miz by the end of it. The only thing, I will forever be embarrassed by the random ass USA chants to foreign wrestlers.
BACKSTAGE WITH JEY USO & SETH ROLLINS
Seth finds Jey and tells him that he meant no disrespect earlier by saying he should be in the match over Jey. Seth says Jey knows how dangerous War Games is. Seth tells Jey to get the win and come back to them in one piece because they need him. Jey says he knows and he will "yeet!" Seth doesn't break from his serious stare as he walks away.
IVAR AND VALHALLA PROMO
Ivar and Valhalla cut a promo backstage (or in Viking heaven) on "Big" Bronson Reed. They tell him that he distracted them, and next week he will pay. That one is going to fun as hell.
SHINSUKE NAKAMURA DEFEATS CHAD GABLE
We are still waiting to find out who the mystery man Shinsuke Nakamura is talking about in his promos as of late. For now he has Chad Gable which should keep him plenty busy. Nakamura hits Good Vibrations in the corner on Gable, but Gable catches the ankle and hits a dragon screw! Gable mocks Nakamura's taunt and then catches him with an overhead belly to belly to send him over the ropes. Gable hits a dive off the apron onto Nakamura as the entire Alpha Academy hits a "THANK YOU" to send us to break. Back from break and its Nakamura's turn to mock Gable's taunt before running a knee right into the stomach of Gable. Nakamura hits a kick to the back of Gable's head who is hung up in the ropes, and then Nakamura hits the sliding German that sends Gable crashing to the mat. Diving knee to the face only gets Nakamura a two count. He follows up trying for a back suplex but Gable reveres into an ankle lock. Gable hits a Razor's Edge into a flatliner and follows it up for the diving headbutt for a close two count. Gable wants the Chaos Theory suplex but Nakamura holds onto the turnbuckle long enough for it to pop off. Nakamura hits a rebound kick and then sets up for the Kinshasa. Gable hits a stalling German but Nakamura kicks out. Gable drops Nakamura on his freaking head with a dragon suplex. Gable goes for it all with a moonsault but Nakmura gets his feet up. Nakamura is now able to nail the exploder suplex. He goes for the Kinshasa for a second time but Gable picks the ankle into another Ankle Lock! I think we know where this is going. Nakamura rolls Gable through but Gable doesn't go into the turnbuckle! Nakamura tries to push him into it but Gable blocks it again. But as Gable is pulling up Nakamura rolls through and sits down for the three count. Cool finish, they made it super obvious with the turnbuckle but I love that Nakamura used Gable being busy worrying about the buckle to take advantage for the win.
BACKSTAGE WITH DREW MCINTYRE & THE JUDGMENT DAY
Drew is walking backstage to get ready for his match. Judgment Day come up and Drew says he doesn't need their help. Priest tells him they weren't offering. Drew goes to walk away but Rhea stops him and tells him to go get the advantage. Drew tells her he isn't just going to get the advantage, but he is going to take Jey out.
BRONSON REED PROMO
Bronson Reed is in his lockeroom and says he isn't the one who had his witch lady fight his battle for him. He calls Ivar a cosplayer and says Ivar's long boat won't survive the crashing waves of the Tsunami. Awesome.
BACKSTAGE WITH TEAM RHODES
We see a video package running down the rules of War Games. Jey is hyped up with Sami and Seth before he leaves to go to the ring. Cody asks Seth and Sami if they had any luck. Seth says no and Sami said he asked but it's not going to work. They ask Cody if he had similar luck and he says no. His guy picked up and he is in! Oh boy…Sami and Seth celebrate as we head to the ring. I can fill in the blanks in my head why Kevin Owens wouldn't want to join this team after getting traded to Smackdown for Jey Uso and spending so long dealing with the Judgment Day. It would be nice to hear something like that from Kevin on Friday though.
DREW MCINTYRE DEFEATS JEY USO (WAR GAMES ADVANTAGE MATCH)
Here we go. Jey isn't backing down at all against Drew, firing rights as the crowd chants "yeet" with every one. Drew quickly turns the tides with a kick to the ribs of Jey and then mounts him and fires a few shots off. I love that Drew is wrestling this match like his character should. Yes they want the advantage, but he also just wants to hurt Jey. Michael Cole points out on commentary that Jey Uso did apologize to people for his Bloodline actions. Wade Barrett points out that he never once went up to Drew and apologized. Wade says a blanket apology to the locker-room doesn't cut it. Good points by both men, another reason this Drew heel turn has been so good. Jey dives onto Drew on the outside and then sends him into the post as we head to break. Jey is not letting up, he goes for another dive onto Drew but gets cut off. Drew picks Jey up in a bearhug and drives Jey to and from the barricade and the ring apron. Nasty stuff. Speaking of, he puts Jeys head up against the post and just puts the full weight of his boot up against him. Drew is talking to a downed Jey, telling him that he brought this on himself. Jey fights back and hits a spin kick to send both men down. Jey tries to slingshot himself back into the ring but Drew nails him with the Glasgow Kiss to send Jey tumbling to the outside. Drew picks Jey up and just tosses him on the announce table for our last break of the night. We are moments away from finding out who the fifth man is for Team Rhodes. Jey is throwing rights like the Great One trying his best to get his team the advantage. Drew clobbers Jey with a forearm and then nails him with a neckbreaker after rolling through on a missed dive. Drew kips up but its met with boos for the first time in a long. Drew still calls for the Claymore with the count but Jey counters with a side kick and almost gets the three. Jey goes up to the top but Drew stops him. He hooks Jey and nails the Future Shock. Wow that's it, he gets the three. Really thought there would be interference there but after losing to Seth and the recent heel turn, I'm super glad they gave Drew the straight up clean win.

Rhea Ripley comes down to the ring and tells Drew to finish Jey off. Drew clears off the announce table but Jey is fighting back. Jey grabs a chair but the entire Jdugment Day swarms him. Backup is here with the rest of Jey's team out here with steel chairs. They are clearing the ring with chair shot after chair shot. Cody grabs the mic as a "Randy" chant breaks out. Cody says he is so glad they have the advantage and that they have a star the level of Drew. Cody says they found a fifth member. It's someone he has a legacy with. Cody says that with us is an Apex Preadtor. "I think all these people know who it is too." Cody says youre not just hearing voices inside your head, these people are right! And that's it. No return for Randy. Very interesting, I know the word was they wanted to announce Randy Orton before hand to get ahead of any CM Punk dissapointment. The problem here is that entire crowd was ready to come unglued for Randy. Either way, really glad Randy will be back on Saturday.