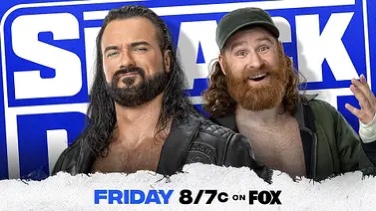 Welcome to Wrestle Purists' coverage of Smackdown on April 15th 2022.
RKBro In-Ring Promo:
Randy Orton says RKBro are here because the Usos's challenged them to unify the tag titles and if they want an answer, come to the ring. The Usos then make their entrance.
The Usos say RKBro are behind enemy lines and tell them to answer their challenge. Before Orton can answer, the Usos cut a promo putting themselves over. Orton says he loves the Uso's family but Jey & Jimmy are assholes. Randy Orton says Smackdown is RKBro's show and laughs off Usos accomplishments and states some of his own. He then accepts the challenge set for RKBro. The Usos then left the ring and appeared to be walking away. When Orton and Riddle were posing on the turnbuckles, the Usos came back and pushed Riddle off the top rope.
Backstage With Sasha Banks & Naomi:
Sasha Banks & Naomi are discussing Naomi's match later Tonight. Rhea Ripley & Liv Morgan then interrupt and say they'd love to know how Naomi will beat Ripley. Sasha Banks then says all Naomi has to do is be Naomi.
Backstage With RKBro & Adam Pearce:
RKBro complain about the Usos, so Adam Pearce makes a match between Riddle & Jimmy Uso for Tonight.
Rhea Ripley defeated Naomi:
Backstage With The Usos:
The Usos are asked about what has happened earlier in the show, the Usos just ignore Kayla
Backstage With Happy Corbin:
Corbin is asked about Madcap Moss. Corbin says Moss was just a lacky, and he became just an anchor around his career and now he can reach new levels of happy without him. He then cuts a promo on Moss saying he will become the laughing stock of Smackdown
Backstage With Madcap Moss:
Drew Gulak was the backstage interviewer here. It was said that he was auditioning for the roll. Moss says he feels sorry for Corbin and people liked him better when he was a bum. Moss says he is glad to move on. He then cuts a promo on Los Lotharios as he will be facing Humberto Carillo Tonight and says they can kiss his ass.
Madcap Moss defeated Humberto Carillo:
Angel Garza was ringside, he distracted & attacked Moss behind the referee's back throughout.
Backstage With Adam Pearce & Charlotte Flair:
Charlotte Flair asks Adam Pearce who accepted Rondas challenge to her for an I Quit match. Drew Gulak then interrupts to ask Adam Pearce how he did as a backstage interviewer. This annoys Charlotte and Charlotte tells Gulak that he can interview her in the ring later.
Drew Gulak Interviews Charlotte Flair:
Gulak is stood in the ring and he introduces Charlotte Flair, who then makes her entrance. Gulak asks Flair about how she didn't accept Ronda Rousey's challenge to an I Quit match and how it got made anyway, and if she is concerned about Ronda Rousey's submission game. Flair says she didn't decline the challenge, and it was just to save Rousey, but Rousey cried to management. Charlotte then brags about winning at Wrestlemania, but Gulak mentions how ronda made Charlotte tap out at Wrestlemania during their match. Charlotte says she didnt tap, she was fixing her bra. Charlotte asks if Gulak quit being a competitor to ask stupid questions and says that people like him are used to quitting. She says quitting isn't in her DNA, but winning is. Charlotte then says she is a submission master, then tells Gulak he isn't worthy of interviewing her and orders him out the ring. As Gulak is leaving Charlotte attacks Gulak and puts him in the Figure 8 submission and makes him tap out, Charlotte tells Gulak to say he quits and he does.
Gunther & Ludwig Kaiser Promo:
Kaiser says that the mat is sacred and Gunther protects this great sport. He then puts Gunther over and Gunther says "you will obey to the Ring General" 
Drew McIntyre defeated Sami Zayn via countout:
Before the match Sami Zayn came to the ring cutting a promo about how he's not running away this week.
Sami Zayn ran away through the crowd and was counted out. Drew attempted to chase him after the match but couldn't catch him
Backstage With Sami Zayn & Adam Pearce:
Adam Pearce isnt happy that Sami Zayn has ran away from Drew McIntyre two weeks in a row and says that next week he will have to face McIntyre in a lumberjack match.
Ricochet (c) defeated Jinder Mahal (Intercontinental Championship):
Backstage With Sheamus, Ridge Holland & Butch:
Sheamus is asked about Butch having a tantrum last week after his loss and attacking him and Ridge. Sheamus brushes it as a minor happening. Sheamus then gets Butch fired up by talking about the New Day. Butch then disappears & Ridge Holland notices they have lost Butch and tells Sheamus.
Butch starts a brawl backstage with The New Day:
Lacey Evans Promo:
Lacey Evans talks about her tough upbringing and her abusive father. She says that she learned to rely on herself and that she was never handed a single thing and finding the positives in the negatives has made her who she is today.
Locker Room With Natalya & Shayna Baszler:
Natalya scoff at the previous Lacey Evans promo that her and Shayna Baszler were just watching on TV. Natalya then complains to Baszler about the new talent and all their stuff in the locker room. Raquel Rodriquez then appears in the shot and introduces herself to Natalya.
Riddle Defeated Jimmy Uso: