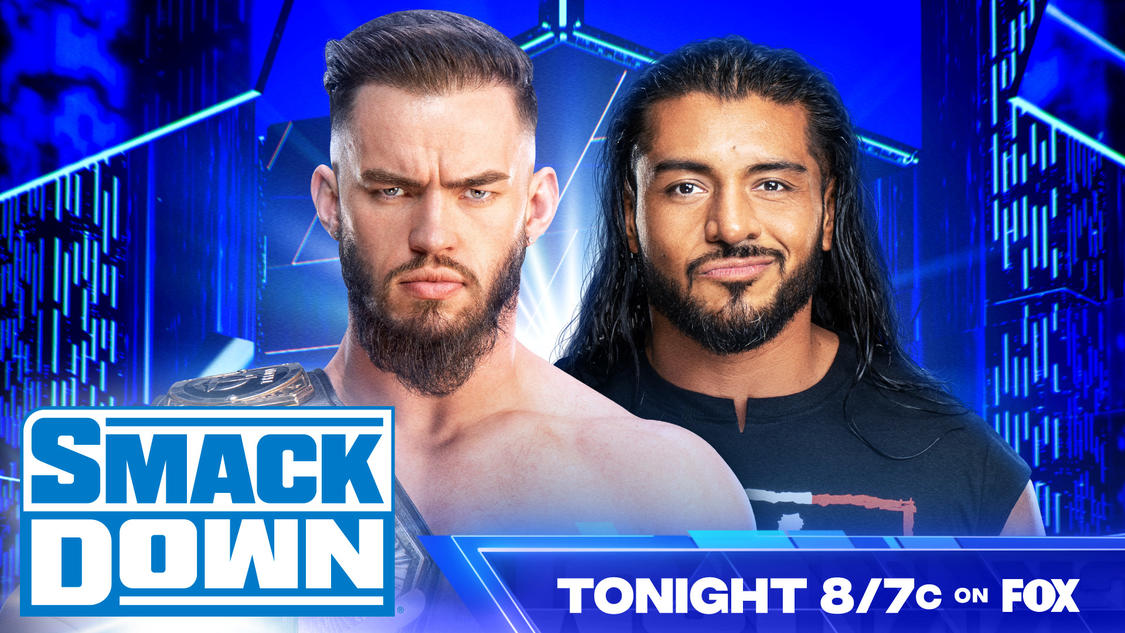 Welcome to WrestlePurists live coverage of the August 11 edition of SmackDown. Tonight's show is set to showcase the fallout from Summerslam, as WWE have promised we'll find out what happens next in the Bloodline saga. Personally I thought the finish to the PPV was really disappointing. Jimmy going back on Jey undermines the heartfelt story beats from the last few months, and impedes the budding face run that they were about to have. I'm sure this will lead to another 30 minute long, exposition filled nothing match between Jey and Jimmy at Payback. Also tonight, we have Santos Escobar take on the forever champ Austin Theory, and although the jury is out on Santos as US Champ, I'm sure most people would agree they'd rather anyone hold it than Theory right now. We'll also see AJ Styles battle Karrion Kross again, and Charlotte and Asuka go head-to-head in a singles match. One thing to look forward to tonight is a hot Calgary crowd who will certainly help carry this show.
CHARLOTTE FLAIR VS ASUKA ENDS VIA DQ
Charlotte opens the show, making her way to the ring in the same red gear she wore at Summerslam. I'm quite sure this match will end in interference of some description, as I don't see Charlotte working hard for a TV match. They show the commentary desk with the new team of Graves, Patrick, and Cole. I always thought that KP and Graves needed a third man, but I'm not quite sold on Cole being that guy. Before Asuka enters, we go over a lengthy video package recapping the Summerslam triple threat. For what it's worth I thought the match was cool and the finish was creative, but I felt as though Charlotte was working a little slower than usual. Asuka makes her entrance, singing her theme song on the way down. Rumours are swirling at the moment of Asuka's former tag partner Kairi Sane re-signing with WWE, perhaps we'll see her return tonight?
The two begin the match with a lock-up, and Flair transitions to a wristlock. The two trade momentum back and forth before Flair knocks Asuka to the ground. After another minute of brawling, Flair climbs to the top rope, but Asuka springs up and knocks her off the turnbuckle. As Charlotte lays on the mat, Asuka makes her own climb to the top turnbuckle, and launches off to rock Flair with a dropkick, scoring a two count.
After the commercial break, we return to Charlotte slingshotting over the top rope to hit Asuka with a crossbody. She rolls Asuka back in to the ring and launches off of the top rope with another huge crossbody. Asuka gets up and the crowd woo's along as Flair goes in to her trademark chops. She hits Asuka with a cartwheel clothesline, that looks kind of sloppy, which only scores two. As Charlotte stands in the ring, we hear the theme song of IYO SKY, flanked by Bayley and Dakota Kai! SKY comes down sporting her brand new WWE Women's Championship. IYO gets up to the apron and slingshots in with a dropkick, ending the match in a disqualification. IYO and Bayley take turns beating down on Flair and Asuka, before leaving the ring. Kai takes a mic and tells everyone to applaud for their new WWE women's champion, IYO SKY.
I thought the match was fine between Charlotte and Asuka, and could smell a DQ finish from a mile away. However, I wasn't anticipating to see this more ruthless side of Damage Control, which is how I think the group should have been booked from the beginning. Instead of splitting them up, I hope they let this build as a dominant faction in the women's division.
BACKSTAGE WITH KAYLA BRAXTON & SANTOS ESCOBAR
After lengthy video packages to hype up the Bloodline and this match, we see Kayla Braxton interviewing Santos Escobar. He says he's confident, and he has Austin Theory's number. As he continues, Theory interrupts him and beats him down. He body slams him on to a crate of gear and slams the lid down on his leg. Theory gets chased off by the remainder of the LWO. Perhaps these two won't be fighting tonight after all?
AJ STYLES w/ MICHIN DEFEATS KARRION KROSS w/ SCARLETT
We see a Kross video package, and Styles makes his entrance before the commercial. I'm interested to see if this story will get a PPV finish, or if it's just something to keep both of these guys busy. As we come back from the break, we see a hype video for Edge's 25th anniversary show in Toronto next week. I do remember rumours last year of him retiring at this show, but I certainly think those plans have changed. As we see the end half of Kross's entrance, they show Escobar with an ice pack on his knee backstage.
Finally, the match begins, and AJ opens like it's 2k23 with a huge dropkick onto Kross. He quickly wraps Kross up in the Muta lock, but Karrion manages to fight out. He tosses Styles with a huge back bodydrop, and then launches him in to the ring post with an Irish whip. Kross puts Styles on the top turnbuckle, and almost chops him right off. The two get in to the superplex position, but AJ slips out and takes out Kross's knee. Styles shoves him out of the ring, but Kross catches him with a fireman's carry and death valley driver into the announce table.
As we come back from the break, Styles looks for the phenomenal forearm, but gets caught again and put in the Kross jacket. Karrion locks it in tight for half a minute, but AJ manages to run to the turnbuckle. He springs off the turnbuckle and the two have a slightly botched and sloppy offence. Styles goes for the pin attempt, and Kross kicks out at two. Styles sets up for what looks like the phenomenal forearm, but launches with a springboard 450 splash. It's crazy to see AJ still doing this type of offence this late in to his career. He looks as though he's going to pick up the win, but Scarlett puts Kross's foot up on the ropes. Kross hits AJ with a devastating Doomsday suplex, and lines up the Kross hammer. AJ ducks underneath, and has Kross in position for the styles clash. Scarlett jumps up to the apron, and distracts AJ, but Michin grabs her and launches her in to the announce table. Karrion breaks out, and AJ hits a pele kick, before a styles clash, and the crowd counts 1, 2, 3.
This was probably the best match these two have had, regardless of the sometimes sloppy offence. I think this felt like the end of their feud, but I'm sure this will drag on to next week.
EDGE IN RING PROMO
After a Cody Rhodes video package, we get a surprise entrance from the Rated-R Superstar. As we come back from the commercial, we go backstage with Cathy Kelly for an update on Escobar's condition. We don't see him, but Theory interrupts and says he's gutted that Santos can't compete tonight. Mysterio comes out of the trainer's room and says that Santos will be competing tonight.
We go back to the ring and Edge is cutting a promo to his home country's crowd. He says it's been way too long since he's been in the ring in front of a Calgary crowd, and needed an excuse to get up here. He says that next week he wants to have a match. Against someone he's never faced one-on-one before. He challenges Sheamus. I think Edge has a death wish. Edge says that although they've never locked up, they have a storied history. He owes his in-ring return to Sheamus, as he was the one who fired Edge to get back in to the ring. He talks about his time on Celtic Warrior Workouts, and how Sheamus looked like an albino gorilla making love to a volleyball on a mountain bike. He talks about how he thought Sheamus was going to fall off the bike, but Edge did. He thought that if he could fall off the bike and be fine, he could wrestle and be fine. Edge says that he asked Sheamus to train with him prior to his return in the 2020 Royal Rumble.
Sheamus makes his way down the ramp to join Edge in the ring, flanked by the brawling brutes. He asks production to put up the footage of Edge wiping out on the mountain bike. He took a nasty tumble and took some skin off but managed to get right back up. Edge complains about the slomo shot of his butt on TV. Sheamus says that Edge has showed a lot more on TV before. This segment really feels like two good mates going back and forth trading friendly insults. Sheamus opens up about his past, and how in 2004 he was working a dead end job and didn't know where to go in his future. He says he spoke to a lot of talent and they gave him the cold shoulder, but Edge gave him the light of day. He says Edge gave him the best advice he's ever gotten, and then bought him a pint of Guinness. Sheamus says that without that conversation, he wouldn't be standing in this ring today. Edge once again offers Sheamus the challenge, and says that afterwards they can share a drink backstage. The crowd erupts with the yes chants, and Sheamus says they've got a deal. They shake hands, but Sheamus pulls Edge close. He says, looking straight past him, "I just hope you didn't make a mistake."
These were some good story beats to touch on to give their match next week a little bit more emotion. I think Edge will fall apart fighting Sheamus, but I'm looking forward to their match next week.
LA KNIGHT V TOP DOLLA
After Edge and Sheamus leave, we get a recap video of the Slim Jim Battle Royal, and hear the signature L. A. Knight. He makes his way down the ramp and enters the ring. A graphic shows that he will be continuing his path of dominating the members of Hit Row.
We come back from the break and the bell rings. The rest of Hit Row flanks the ring as Top Dolla and LA Knight lock up. Knight gets distracted and quickly gets knocked down by Top Dolla. Dolla puts Knight in the fireman's carry, but LA breaks free. He gets to the second rope and launches off to hit Top Dolla with a bulldog. LA Knight points to the crowd, with everybody sayin, and then hits his trademark elbow drop. He quickly springs back to his feet and hits Top Dolla with BFT for three.
It's cool to see LA Knight on every show, but I really wish they would give him something of more substance to do. After the match, he grabs a mic and circles the ring chanting "YEAH." He says it doesn't matter where we are, what show we're on, who you are, at the end of the day, you'll know whose game it is.
REY MYSTERIO DEFEATS AUSTIN THEORY (c): UNITED STATES CHAMPIONSHIP MATCH
Before the match, we see Adam Pearce come to the trainer's room with Santos and Rey. He says that although Santos has been "technically cleared," Pearce wanted to make sure he could still go. Escobar says he can, and then gets off the bench and limps out of the room.
Before the match between Theory and Escobar, we see Bobby Lashley backstage in the MVP lounge with Ford and Dawkins. He says that the sky's the limit, and SmackDown's ready for some new blood to run this place. Personally I'm excited to see this "Suit Profits" run, hopefully they can reach the tag team gold.
Escobar makes his entrance, limping down the ramp. As he gets halfway down the ramp, Theory runs out and tackles Escobar's injured knee. Austin gets in the ring and grabs a mic, saying he apologises that the crowd won't get to experience Austin Theory live. He says he wanted to defend the title tonight, but unfortunately Escobar is just too weak! He calls for a referee to come and raise his hand, but instead Adam Pearce says the match is going ahead. He says that Theory will be locking up with Rey Mysterio, who runs to the ring and quickly beats down Theory. We go to a commercial break before the bell rings.
We come back from the break to see Mysterio taking momentum, launching some trademark Rey offence. He makes several cover attempts, but Theory still manages to kick out at two. Theory tries to turn things around with a big boot, but Rey manages to reverse him and put him on the ropes. He hits a first 619, and sends Theory to the other ropes. He goes for the second but gets caught. Theory puts Rey in the fireman's carry, and it looks like it's all over, but his back gives out. Mysterio puts him in to the ropes again, hitting another 619 and then springboard splash. He covers, 1, 2 ,3!
Rey Mysterio is the new United States Champion. Personally I think Rey did not need this win whatsoever, and I would've preferred Escobar winning the title. Unless he's actually injured, I see no reason as to why he couldn't have been the one to beat Theory. I'm glad Austin has dropped the belt, maybe a face turn and repackage is in store for him down the line.
BLOODLINE & USOS SEGMENT
Roman Reigns makes his entrance with 23 minutes of air time left. He comes out flanked by Heyman and Solo, sporting a "The Only One" shirt. As he gets in the ring and raises his title, we go to a commercial break. Oh brother. With 15 minutes of air time left, Roman Reigns is handed a microphone.
He pauses, and then looks to the hardcam, and then to the crowd. 9 minutes after his entrance he asks Calgary to acknowledge him. He asks Paul where Jimmy is. Heyman says he doesn't know and that he hasn't seen him all day. He says he spoke to Jimmy this morning, but he was rather "salty" with Paul. The crowd starts to cheer as we see Jimmy Uso standing ringside sporting the same getup from Summerslam. The crowd chants "you sold out" as he gets in the ring. Roman tells Jimmy to ignore the crowd, they mean nothing. He tells Jimmy to name his price, because Reigns owes him one for what he did at Summerslam. Jimmy says he doesn't want anything from Roman, and what he did at Summerslam has nothing to do with him. They talk a little more, but are interrupted by Jey Uso's theme song.
Jey gets in the ring and stands face to face with his brother, quickly snatching the microphone from him. Jey is impassioned, and says he's ready to throw 37 years down the drain if Jimmy doesn't say why he did it. Jimmy says he did what he did at Summerslam because he loves Jey. He said he didn't do what he did because he's jealous, but because he was scared to lose him. He thinks that if Jey won, then he would've become like Roman Reigns, corrupted. Jimmy says he wouldn't be able to live with himself if he let Jey become a lying, manipulative asshole like Roman. Jey shakes his head. Jimmy braces for an incoming superkick, but Jey doesn't strike. Jey turns his back on Jimmy, who stands beside his brother, and then leaves the ring. Roman starts cackling. "If there wasn't a perfect time for I told you so." Reigns said that Jey messed everything up because of his emotions, and because he's a hothead. Roman continues berating Jey, saying that it's all been about one thing, the tribal chief. He asks Jey to acknowledge him, who responds with a superkick.
Solo quickly launches at Jey and sets him up for the spike, but Jey escapes and superkicks Solo. Roman flattens Jey with a superman punch, and prepares for the spear. Jimmy is still leaving up the ramp. As Roman goes forwards for the spear, Jey superkicks Roman, and then hits him with his own spear. Deja vu much?
Jey gets out of the ring and asks Jimmy to come back. Jimmy comes forward to give Jey a hug but is greeted with another superkick as Jey lays his brother out on the ramp. Jey looks straight down the hardcam and says "I'm out of the Bloodline… I'm out of SmackDown… and I'm out of WWE." He jumps the barricade and leaves through the crowd.
I'm still set that this angle is going to develop into Jimmy V Jey at Payback, as I don't think Roman will work that PPV.
The Wrap-Up
Overall I thought tonight's show was honestly quite boring, there was a lot of nothing and I thought the Bloodline segment was quite repetitive. I think it would've been better to see Escobar dethrone Theory instead of Rey Mysterio, but I'm a big Rey fan so I don't mind too much. I definitely think it's hypocritical for the company to say people like LA Knight are too old but push Rey Mysterio and Damian Priest. I hope the stuff between AJ and Karrion is over for now, as AJ probably has some better opponents to get to for his twilight years in his career.
Next week we'll see Edge take on Sheamus in his home town of Toronto, Canada, and we'll also see Rey Mysterio on the Grayson Waller Effect. Stay tuned to wrestlepurists.com for more reviews, results, news and features.