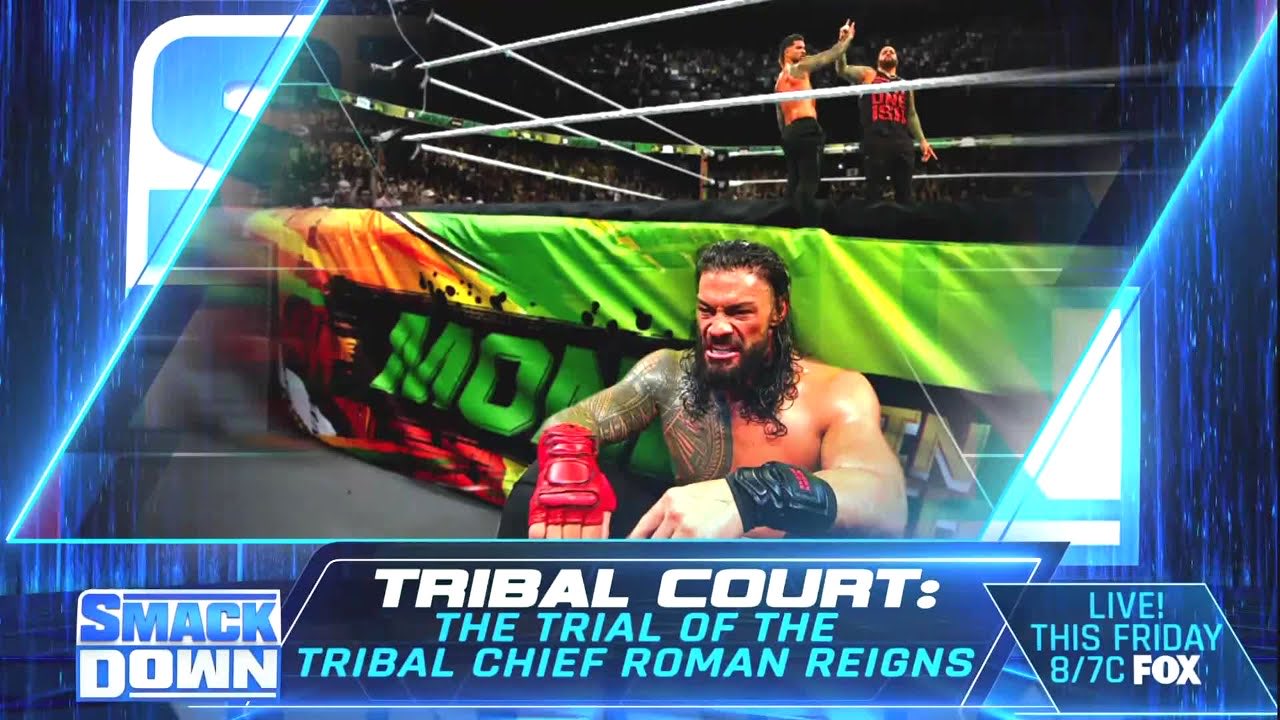 Welcome to WrestlePurists live coverage of SmackDown for the July 7 2023 episode.
Tonight's SmackDown will cover the fallout from Money in the Bank, with Roman Reigns on trial in Tribal Court at Madison Square Garden after the results of his tag match last Saturday. Also tonight, Sheamus takes on United States Champion Austin Theory, hoping to take his title away before Summerslam. Additionally, Edge returns to the blue brand on the Grayson Waller Effect, and AJ Styles locks up once more with Karrion Kross.
TRIBAL COURT
The show opens with a loud reaction for the Usos. The two are getting massive face reactions and the whole crowd is singing their song. The turn has brought some new life to the Usos for me personally, and I'm very excited for their future. They begin touting their victory and the fact that Jey was the first person to pin Roman in years before they're interrupted by Paul Heyman and Solo Sikoa. The vision of Heyman and Solo is definitely one I think we'll be seeing a lot in future WWE programming. Paul and the Usos go back and forth, and Paul says there's only "one man in WWE that can get him to stop talking," and Solo puts his hand on the microphone. Paul is visibly shocked, and Sikoa throws the microphone away before staring at his brothers. The four stare at each other in the ring for a moment before Roman Reigns' music hits, and he makes his long way down the ramp.
We come back from commercial to Roman Reigns in the centre of the ring, the Usos to his right, and Solo to his left. The crowd is vocal with "you got pinned" chants, stopping Roman from starting his promo. He says that although he got pinned, he's still the Tribal Chief. He says that because he didn't call for Tribal Court, it's unofficial and illegitimate, and says the Usos don't have the authority to call him in. Jey presents "Exhibit A," a fun callback to the last Tribal Court segment with Sami Zayn. This shows Roman pushing Jimmy, and his history of getting mad at the Bloodline. This package also shows him Superman Punching Heyman. I'm not sure if these were muted on other broadcasts, but the crowd has loud "you f*cked up" chants. Roman responds, saying he didn't, saying he was forced to be this person and that he did it all for Jey, Jimmy and Solo. He says that he was a main eventer long before the Bloodline, and that they needed him, not the other way around. Roman goes on to say he doesn't need to deal with the family drama, and he doesn't need the money, and that retirement is looking really good right now. He throws down the mic and walks closer to Jey, taking off his necklace and holding it out to the Uso. He raises it up and puts the necklace around Jey. Heyman is seen crying in the background, and Sikoa looks angry.
Roman unstraps the title and throws it on the ground. He gets down to one knee, then two. He starts crying while Jey and Jimmy look on confused. Jey reaches out to hold him, and Reigns hits him with a low blow. Jimmy runs in to attack Roman, and Solo takes his time before stopping him. After throwing Jimmy to the turnbuckle, he pauses for a while and looks at the necklace and title. Jimmy charges at him and he hits a Samoan Spike, before lifting the necklace up. Roman faces him, and Sikoa begrudgingly hands the necklace back. Before Roman can take it back, Jey jumps on the two of them. The four brawl, spilling out in front of the announce table. Solo ties Jey up in the bottom rope, and Roman gets in his face saying that he'll never be the Tribal Chief while he's alive. While Jey is tied up in the ropes, Roman continues the beatdown on Jimmy, assaulting him with the title and the steel steps. Jey finally breaks free and launches onto Roman, but is quickly stopped with a Samoan Spike from Sikoa. He puts Jimmy up onto the table, and Solo gets up on the barricade and hits a devastating splash through the table. Roman raises his title up before we go to another commercial.
Overall I think it's an interesting decision to have the Usos go from beating the two of these guys in a tag match to now being completely smashed by them the week after. I was potentially expecting Sami and KO to make the save, but I'm glad that they're leaving that story behind. Hopefully this will lead to a one-on-one match between Jey and Roman, or potentially a multi-man match with the Bloodline for Roman's title.
BACKSTAGE FALLOUT AFTER TRIBAL COURT
After the break, we see Jimmy Uso getting stretchered into an ambulance. I'm presuming this will write him off so that we get the one-on-one between Jey and Roman at Summerslam.
UNITED STATES CHAMPIONSHIP MATCH: Austin Theory (c) DEFEATS Sheamus
Sheamus is shown already in the ring, and Theory makes his entrance. The bell rings and Sheamus launches out the gate with some big offence, and lands a great backbreaker before Theory rolls out of the ring and we go to another ad break.
We come back from the break and see Theory hitting the beats of the bodhran to a middling crowd reaction. I'm really hoping that they get this belt off of Theory to repackage him because what he has right now isn't working. The two trade some back and forth blows. Curiously, Sheamus was advertised to have the brawling brutes in his corner, and Theory was advertised with Pretty Deadly in his. Neither of those teams have made an appearance yet, so I'm expecting some shenanigans as the match closes out. The two brawl to the top rope, and Sheamus gets Theory in position for white noise, before Theory escapes and hits a spinning slam to score a two count.
Sheamus hasn't been able to land any of his big moves, as Theory escapes a Celtic Cross. Theory goes for his rolling dropkick but Sheamus blocks it andhits him with a powerbomb. He locks in a sharpshooter but Pretty Deadly run to make the save. Sheamus brawls the twosome and pull up Elton's bralet to trap him for the ten beats. The Brawling Brutes run-in to brawl Pretty Deadly, and Sheamus gets distracted and rolled up for three.
This match was butchered with ad breaks and a boring finish. I don't particularly like the pairing of Theory with Pretty Deadly and think he's in dire need of some time away from TV and a repackage. Excited to see someone take the belt off of him for sure.
GRAYSON WALLER EFFECT w/ EDGE
After that mess, we can thank the most talked about new sensation, the dynamite from Down Under, the moment maker, the Aussie Icon, the host of the Grayson Waller Effect… Grayson Waller! He introduces Edge, who gets an electric reaction from the crowd. As biased as I am, I think a match between these two at Summerslam would be fantastic, and Grayson getting such a spotlight so early in his main roster career would do wonders for him. Edge begins to say how legendary Madison Square Garden is, but Grayson cuts him off and tells him to get on with his announcement. Edge begins to say how it's the 25th anniversary of his career, and Waller jumps in again to rush him to his announcement. Grayson asks why he's back in WWE, he should have enough money and he's wrestled long enough.
Edge says that he'll get back to Grayson, and begins to talk about his debut in this arena. He talks about his match as Sable's mystery partner, and puts over the New York crowd. Grayson jumps in again to say it's so exciting that Edge's big announcement is that he's retiring, and says that this is the last time they'll see Edge in MSG. He calls on the crowd to thank Edge and begins to fake bow. Edge tells Grayson that he's doggy paddled in to deep water, and now it's time to sink or swim. He says he's not retiring just yet, and that he negotiated to have a match tonight, and it's one-on-one with Grayson Waller. Waller looks like he's quaking in his boots.
I'm excited for Waller's main roster debut, and a match with Edge means the company has their eyes on him. With Tribal Court opening and the US Championship on right after, I was curious as to what the main event might be, so this will hopefully be a banger.
AJ STYLES w/ Michin DEFEATS KARRION KROSS w/ SCARLETT
AJ and Mia Yim make their entrance to a huge pop. Initially I thought Michin felt out of place with the OC, but she looks fantastic in AJ's corner. Kross makes his entrance in the commercial, and has his leg bandaged. He launches AJ into the corner and unloads offence on to him, hitting him with a Kross Hammer before trying to lock in the Kross Jacket. Styles breaks out and lands a pele kick and forearm. As he sets up for the phenomenal forearm, Scarlett grabs his leg. Michin tosses Scarlett in to the barricade, and AJ lands the Phenomenal Forearm for a three count.
This match was really underwhelming, I think Karrion might be shoot injured, otherwise I thought they would potentially be building this for a bigger show.
ASUKA IN-RING PROMO
After a video package covering last week's SmackDown, Asuka makes her way to the ring. She's quickly interrupted by Bianca Belair, who runs to the ring and begins to beatdown Asuka. Charlotte Flair's music hits and she runs down the ramp IN HEELS. Her and Bianca brawl outside the ring and Asuka does a baseball slide and gets to the top rope. As she goes up, she gets hit in the back with the Money in the Bank briefcase by IYO SKY. Bayley is there too and hits Asuka with a rose plant before IYO lands a moonsault. Bayley goes to cash in the contract, but is interrupted by Bianca Belair. Charlotte hits SKY with a big boot, and Asuka scrambles away with her title.
I think that IYO cashing in on Asuka is the future plan, and this was a good tease to build to the likely triple threat between Asuka, Belair and Flair at Summerslam. Maybe we will see SKY successfully cash-in there? Also frustrating to see that this is the only women's segment for tonight, as after this match Edge makes his entrance for the main event.
GRAYSON WALLER V EDGE
Waller makes his entrance after the break, I think after this match he'll be getting a much louder crowd reaction. I'm interested to see how he moves after his leg injury, and it's good to see Edge's first match back since the WHC tournament. Edge gets a massive reaction from the crowd, and quickly knocks down Waller. In typical Edge fashion, he slows the match right down, and Grayson sells his offence really well. He starts to get his offence in, and interrupts a spear attempt with a running knee. Edge rolls out of the ring and Waller slides out to knock him down with a clothesline.
After the commercial Waller hits a tornado DDT and scores a two count over the Rated-R Superstar. Waller gets back up to the second rope, but Edge interrupts him. He sits Grayson on the top rope, and gets into the Superplex position. Waller moves over to the ropes and launches off for a leg drop but Edge gets his knees up. They spill out to the outside again, and Edge hits Waller with a vicious powerbomb to the floor. Edge throws Grayson back in to the ring and launches off the top rope with a huge crossbody, but Waller kicks out at 2. Grayson fights out and hits Edge with a beautiful twisting Unprettier. Edge kicks out before 3 and Michael Cole shouts out Christian on commentary. Waller takes control with a big forearm after Edge bounces off the ropes. He goes for his rolling stunner but Edge spears him and pins him for three.
Personally I'm really disappointed to see Waller lose his debut match, but hoping this leads to the two one-on-one at Summerslam. After the match Edge grabs a mic and says to Waller that "he swam." You could also prove he swam by… you know… letting him win…
BACKSTAGE WITH ROMAN REIGNS, PAUL HEYMAN AND SOLO SIKOA
We go backstage to Roman's locker-room. Paul Heyman tells Reigns that Jey Uso has come back to the building looking for him, and Roman says that he'll be waiting for Jey in the ring.
ROMAN REIGNS IN RING PROMO:
After the break we come back to Roman, Solo and Paul Heyman in the ring. The Usos music hits, and Jey makes his way in through the crowd. He comes down the stairs, and Solo greets him at the barricade. Jey launches over the barricade and unloads on to Solo. Roman stands in the ring, and doesn't go to help Sikoa. Jey grabs a chair and runs in to the ring, hitting Roman with a chairshot before Solo grabs it off of him. Jey quickly superkicks Sikoa, and then launches more chairshots on to him. Roman and Paul retreat back up the ramp… but Roman left his title in the ring. Jey snatches his title, and grabs a mic. Jey cuts a scathing promo, talking about what Roman did to Jimmy, and now he is facing the judge, jury, executioner. He lays out the challenge, Roman Reigns, Jey Uso, one-on-one. The show closes with Roman and Paul at the top of the ramp and Jey in the ring.
POST-SHOW NOTES
Overall I think the Bloodline stuff was really captivating this episode, although it definitely took up a little too much time of the episode. As a result, the other segments and matches felt really rushed. I'm excited for the Bloodline story to come to a head, with Jey and Roman one-on-one at Summerslam. I think it's interesting that Roman left Solo to fend for himself, and we will begin to see Solo turn on Roman more after his match with Jey. Waller impressed in his debut, but Edge managed to steal a dub without doing too much work. His matches are consistently slow and carried by his opponent, so hopefully he comes out strong for his eventual Summerslam match. Theory feels dead in the water right now, and I hope they find someone to take the belt off of him.
Next week we have Asuka v Bianca Belair confirmed, which will likely end in shenanigans with either IYO or Charlotte Flair interfering. Personally I wish we could've had some more women on the show tonight, but overall definitely a solid episode of SmackDown.
Stay tuned to wrestlepurists.com for more features, reviews, and news. Also check out our latest YouTube feature here, "How The Usos Became WrestleMania Main Eventers & Took Down Roman Reigns."