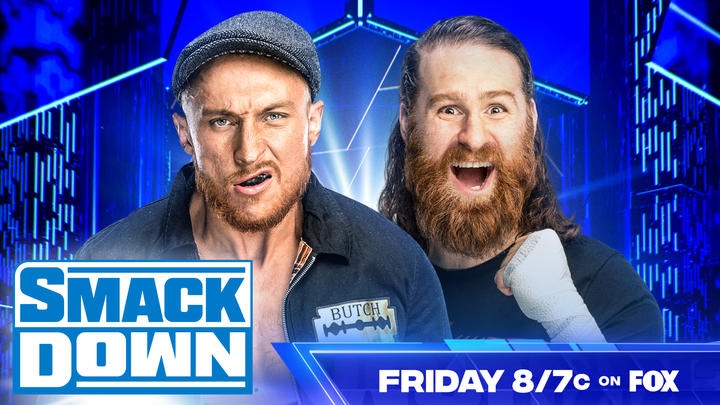 Welcome to the Wrestle Purists' Live Coverage of Smackdown for the November 18th, 2022 episode.
Smackdown is Live on FOX from the XL Center in Hartford, Connecticut.
BRAWLING BRUTES & DREW MCINTYRE w/SAMI ZAYN IN-RING PROMO:
Men's WarGames Match is announced as The Bloodline (Roman Reigns, Sami Zayn, Solo Sikoa & The Usos) will face The Brawling Brutes (Sheamus, Butch & Ridge Holland), Drew McIntyre & a partner of their choosing.
Sheamus plays off the gaff of people not being able to listen last week when he returned. Sheamus says his and McIntyre'a 20 year rivalry has created mutual respect and a bond so strong that he asked Drew to be his best man 3 weeks ago. Instant Ucey chants breaking out. Sheamus says he wants the Brutey? Sheamus says there's no one he'd rather be in the trenches with than McIntyre. Sheamus asks Drew to be the Brawling Brutes honorary Brutey. McIntyre accepts as the crowd sort of chants Brutey. McIntyre says No one knows how it feels to be outnumbered more against the Bloodline than himself. He says the Bloodline multiply like rabbits. McIntyre says when the odds are even then that's a different story. McIntyre says if he wants to go to war he wants to go to war with his brother. McIntyre puts out his hand and Sheamus accepts. Both men hug. Ridge says it's right night. Butch says at Survivor Series it's… WAR GAMES (William Regal Voice). McIntyre says he sees 4 people and asks who could be the 5th man. Sheamus says he's going to let us know but wait they are Interrupted by a singular phrase, "My Dawgs." Sami Zayn comes out to a mixed reaction then massive Ucey chants break out. Sami says speaking for the entirety of the Bloodline they don't care who the 5th man is. Sami says they're feeling great maybe even Ucey about the whole thing. Sami tell them if they think they're gettin in their heads they're wrong cause they're dealing with the master strategist, The Honorary Uso, Sami Uso & the Sami In The Sky With Diamonds. Sami they aren't intimidated and personally guarantees that the Bloodline will win War Games. Sami says he will run right through Butch and give them a taste of what they can expect at Survivor Series. Sheamus says he's delighted Sami so so confident and says something tells him that when he finds out who the 5th member is Sami will crap his pants. Sheamus says it's the last thing he will expect.
1st ROUND MATCH OF THE SMACKDOWN WORLD CUP: RICOCHET DEFEATED MUSTAFA ALI:
Mustafa Ali is taped up through his ribs after getting destroyed by Bobby Lashley on Monday Night Raw. During Ali's entrance a video is shown of the Doctor says he's technically cleared but advises against it saying it's too risky. Ricochet asks Ali what he's thinking, adds that he has to think about his career. Ali says he can breathe, now and fight adds that he'll see him at it as both men fist bump in confidence. Really nice top rope backstabber by Ali. Ricochet caught Ali from the crossbody on the apron for a Michinoku Driver. Ali catches Ricochet from a corkscrew that leads to brawl in the submission. Ricochet pulls out a nice lariat. Ricochet eventually managed to win a shooting start to a standing Ali. Ricochet advances to the Semifinals to face Braun Strowman next week. Ricochet & Ali fist bump on the apron as Ricochet helps Ali to the back telling the crowd to applaud Ali's valiant effort.
BLOODLINE BACKSTAGE SEGMENT:
Jey Uso asks Sami why he was talking to the Bloodline. Jey says Sami can't be dumb enough to guarantee a win at WarGames when they don't even know who the 5th member is. Sami asks what he did wrong this time saying all he did was say that they are going to win and questions Jey if he thinks they are going to lose. Jey says he know the Bloodline is going to win. Jey says Sami can't be running his mouth as Jimmy Uso comes in to tell both men that they need to be on the same page before Roman arrives to the arena. Jimmy tells everyone to chill. Jimmy tells Jey that he also needs to chill as Sami walks out to chill. Jimmy says they got Bloodline business to handle as they need to figure out who the 5th member is. Sami comes back in and tells Jimmy that the thing they talked about earlier he'll tell him all about it later all while doing their handshake slowly leading Jey breaking character. Jey asks Jimmy & Solo if they both like him and say yes as the segment ends
A Bray Wyatt Vignette cuts off Michael Cole & Wade Barrett.
PROGRESSIVE MATCH FLO RECAP OF THE SMACKDOWN TAG TITLE MATCH BETWEEN THE USOS & NEW DAY:
NEW DAY BACKSTAGE PROMO:
Xavier Woods says it's not the best day because they know they had to win one match to win the tag titles they needed to win one match. In order to set that record they had successfully defend those titles non stop for over a year so of course they aren't in the best mood. Kofi starts talking but gets caught of by Imperium. They say they set the record for being the biggest bunch of clowns in WWE. Ludwig says they're what's wrong with their beloved sport saying they've been making a mockery of it with the Trombones and dancing in the ring. Ludwi says it's up to them to restore the honor of the scared mat. New Day mock Imperium even mentioning GUNTHER looks like Lurch from Addams Family. Xavier lays out the challenge for a 6-man tag match. GUNTHER thanks them for proving Imperium's point and accepts. New Day ask if they even have the Addams Family where they're from. Xavier says Vinci can't grow hair.
MADCAP MOSS & EMMA BACKSTAGE PROMO:
Emma asks how (calls him Riddick) his voice is doing. He says he can barely talk despite being 3 weeks since the crossjacket. Moss says tonight is about revenge. He adds he was humiliated and embarrassed. Emma tells him he's more athletic than Kross saying to use his speed as a weapon and take the fight to him. Moss walks away to makes his entrance with what appears to be lust on both their eyes.
KARRION KROSS DEFEATS MADCAP MOSS:
Moss immediately goes after Kross after the bell rings. Scarlett slaps Moss when the ref wasn't paying attention. Moss mounted several comebacks but were shut down by Kross. Kross puts Moss to sleep for the win. Emma comes down after the match to check on Moss.
BRAY WYATT IN-RING SEGMENT:
Bray receives a tremendous ovation. Bray introduces himself and says he's realized he's been conditioned to be a certain way. Says when you're conditioned to be a certain way change is impossible. He was conditioned to be strong, to take, taught that fear is respect. Bray says he's started to look at the path he's left behind him saying it's been covers in ashes and blood. Wyatt started to ask why he does the things that he does and can he change. Bray says if he were LA Knight he knows how he would exactly handle that situation and it makes sad. Bray said he wanted to apologize to LA Knight for what he did to him. Bray says he had a moment of weakness and strayed from his path. LA Knights music immediately plays and says "let me talk to ya." He says for 7 days he's run that cheap shot heard round the world in his head over and over again. LA Knight says Bray apologizing has him conflicted because he just talked about fear and respect and when he looks in his eyes there's something that tell him that a last week he didn't fear him maybe garnered him some respect. LA says respect is more valuable than the dollar and it's the rarest commodity in WWE. Says no one has ever understood or gotten LA Knight (LA Knight enters the ring). He says he's not quite sure what to make of the apology but says Bray respects him. LA Knight puts his hand out and quickly slaps Bray as the crowd is in shock and saying now they're even, apology accepted. LA Knight stand on the apron saying they can now go their separate ways. Bray says they're even and says there are a lot of urges that he's repressing to not mess up LA Knight. Says the decision LA makes will change course of his life. Bray puts out his hand but LA Knight slaps him again leaving Bray in a state of anger as behind LA Knight it appears as if Uncle Howdy pops up a couple of times. Bray is just staring daggers into LA Knight.
KARRIOS KROSS & SCARLET BACKSTAGE SEGMENT W/USOS:
As Kross is waking Usos applaud Kross and ask if he's the 5th member. Kross says he's not a follower. Jimmy says he won't be seeing in the main event right? Also ask if he's not trying to make a name for himself of the Bloodline? Kross says he will come for Roman's titles but on his win time. When he shows up he will show up all on his own.
SHOTZI DEFEATS SHAYNA BASZLER W/RONDA ROUSEY:
Rousey saved Baszler a couple of times. Rousey gets to the top of the apron and plays with Shotzi's hair at one point. Shotzi got dunked on her head at one point as she was trying to get back in the ring. Raquel Rodriguez comes out to even the odds. Shotzi rolls up Baszler with the distraction in a weirdly short match.
BACKSTAGE LA KNIGHT SEGMENT:
The interviewer asked LA Knight if he's in a hurry out the building because he's afraid of Bray. LA Knight says who's afraid? Who apologized to who out there. He asks if people don't just hang around when they're done working? No. He says her questions are trash and that's just a fact of life. (As he opens the door while talking we can see a figure covered in all black with what appears to a man in a mask we saw Wyatt in when he debuted. We come back from commercial and see LA Knight laid out with a bunch of stuff from the back piled up on top of him. Producers and referees try to get him out of there
NEW DAY & BRAUN STROWMAN DEFEATED IMPERIUM:
Braun Strowman is the New Day's mystery partner in this 6-Man Tag Match. Both teams start brawling before the bell as GUNTHER and Strowman just stare each other down not laying hands on each other. Imperium catch Kofi on the trust drive. Woods tries to prepare for a dive but gets chopped by GUNTHER. Strowman tries to fight GUNTHER but GUNTHER cowers away. Woods gets the hit tag to Strowman. Strowman caught Vinci in midair and then hits the train on Vinci & Kaiser. GUNTHER tagged out before Strowman could do anything to him. New Day hits the midnight hour on Kaiser for the win. GUNTHER tried to stop the pin but Strowman put himself in front and GUNTHER ran away like a cowardly heel.
STROWMAN BACKSTAGE SEGMENT:
Strowman says you never take your eyes of the monster. He then starts to cough. Strowman says he's looking forward to taking that Intercontinental Title of off GUNTHER's hands by winning the Smackdown World Cup. Ricochet cuts him off saying he knows he's not one for big thinking and looking way too far into the future. Says if he keeps looking past these "flippy-flippers" they might come back to bite you.
SEMIFINAL MATCH OF THE SMACKDOWN WORLD CUP: BRAUN STROWMAN VS RICOCHET ANNOUNCED FOR NEXT WEEK:
SEMIFINAL MATCH OF THE SMACKDOWN WORLD CUP: WINNER OF SAMI ZAYN/BUTCH VS SANTOS ESCOBAR ANNOUNCED FOR NEXT WEEK:
RAQUEL GONZALEZ & SHOTZI VS RONDA ROUSEY & SHAYNA BASZLER ANNOUNCED FOR NEXT WEEK:
DREW MCINTYRE & SHEAMUS VS THE USOS IN A WARGAMES ADVANTAGE MATCH ANNOUNCED FOR NEXT WEEK:
1st ROUND MATCH OF THE SMACKDOWN WORLD CUP: BUTCH W/BRAWLING BRUTES DEFEATS SAMI ZAYN W/THE BLOODLINE:
Both teams started bickering during the match. Butch had a great DDT on Sami in the early portion of the match. Jey Uso with a kick to the back of the neck of Butch as the ref is distracted leading to an all out brawl between the men at ringside. Burch moonsault laying out the Usos. Jey Uso got into the ring distraught Sammy and Butch hits the bitter for the quick win. Solo them immediately attacks Butch. Drew and Solo fight in the ring. Ridge & Jimmy fight in the outside as Roman's music hits to make the save for the Bloodline. Reigns speed walks with Heyman then immediately Superman punches Ridge on the outside. He then spears Butch. He stares at McIntyre in the ring as the crowd goes crazy. Drew takes off his shirt, as Roman goes up the apron Solo attacks Drew from behind but gets thrown over the top rope. McIntyre gets speared. Sheamus then puts down the straps and stares off with Roman in the middle of the ring as they start trading blows. Zayn attacks Sheamus allowing Reigns to hit the Superman punch in Sheamus. Roman goes for the spear but then Kevin Owens music hits as the crowd goes electric. Owens stares at Reigns as he walks to the ring. He lays out Jimmy then super kicks Jey. Owens gets in the ring as the crowd keeps chanting "Holy S***" as Owens lays out Reigns and stomping on Roman. Owens tiene around to find Sami. Both men stare each other down but Reigns then Superman punches Owens. Sami gets out of the ring to attack Ridge. As Roman goes for the spear on Owens he counters and hits the stunner to close the show out. The Bloodline is left speechless ringside.