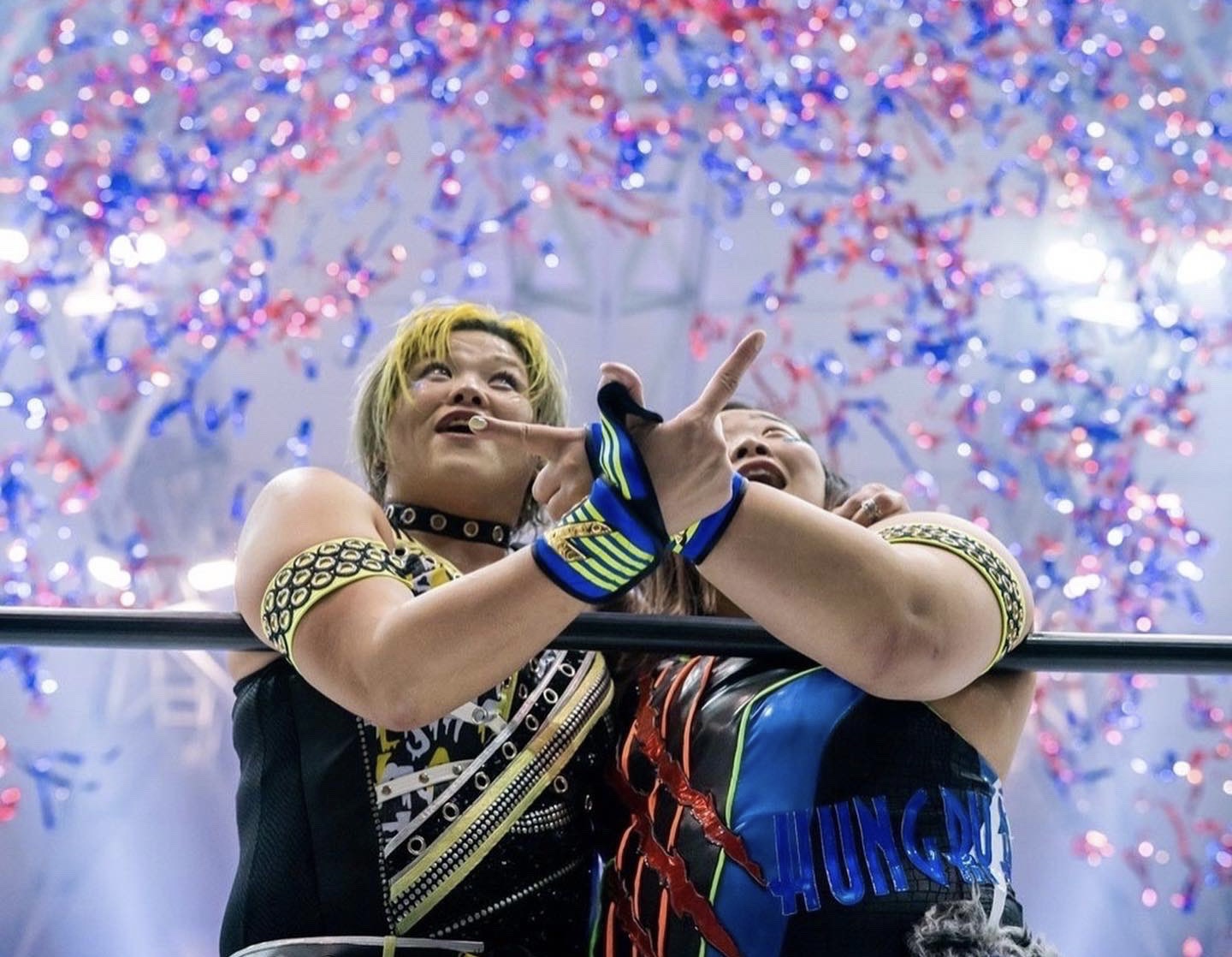 STARDOM
The Twelve Goddess Of STARDOM Tag League ended on Sunday with the team of Yuu and Nanae Takahashi winning the tournament final over the former Goddesses of STARDOM Champion Saya Kamitani and Utami Hayashishita when Yuu pinned Saya. The NEO STARDOM Army Duo defeated Ruaka and Natsuko Tora to top the Blue Stars Block after the leaders before the day MaiHime lost their deciding match against Koguma and Hazuki. Saya Kamitani & Utami Hayashishita defeated the reigning Champions Natsupoi and Tam Nakano to advance to the final. 7Upp will challenge meltear at the STARDOM Queendom Show on December 29th in the Sumo Hall.
On the Tag League Show, the day before, a few challenges were made for Queendom. Ruaka challenged the current Future of STARDOM Champion Ami Sourei for a Title Match, with the date being unknown. The Oedo Tai Member will try to regain the title that she lost at the Queendom Show last year. Also, COLOR's Hikari Shimizu challenged AZM to a High-Speed Title Match after coming back from her time in CMLL. The biggest news coming from the show was about the Wonder Of STARDOM Title. Saya Kamitani won a Battle Royal and after that Diana's Superidol Haruka Umesaki came out to challenge the Golden Phoenix to a White Belt Match. It will be Umesaki's biggest Match of her career and a result of her standing out on the NEW BLOOD Shows.
Current Queendom Card:
Oedo Tai (Starlight Kid & Momo Watanabe & Saki Kashima) (c) vs Prominence (Suzu Suzuki & Risa Sera & Hiragi Kurumi) – Artist Of STARDOM Title
AZM (c) vs Hikari Shimizu – High-Speed Title
Meltear (Natsupoi & Tam Nakano) (c) vs 7Upp (Nanae Takahashi & Yuu) – Goddesses Of STARDOM Title
Saya Kamitani (c) vs Haruka Umesaki – Wonder Of STARDOM Title
Syuri (c) vs Giulia – World Of STARDOM Title

Official Goddesses Of STARDOM Tag League Standings after the Final Day

RED STARS BLOCK –
10 – Saya Kamitani & Utami Hayashishita (4-2-0)
10 – Natsupoi & Tam Nakano (5-2-0)
9 – Syuri & Tomoka Inaba (4-2-1)
9 – Momo Watanabe & Starlight Kid (4-2-1)
8 – Giulia & Thekla (4-3-0)
6 – Mayu Iwatani & Momo Kohgo (3-4-0)
4 – Fukigen Death & Saki Kashima (2-5-0)
0 – Lady C & Mai Sakurai (0-7-0)

BLUE STARS BLOCK –
11 – Nanae Takahashi & Yuu (5-1-1)
10 – Hazuki & Koguma (5-2-0)
10 – Himeka & Maika (5-2-0)
9 – Ami Sourei & MIRAI (4-2-1)
8 – Natsuko Tora & Ruaka (4-3-0)
4 – AZM & Miyu Amasaki (2-5-0)
2 – Hanan & Saya Iida (1-6-0)
2 – Waka Tsukiyama & SAKI (1-6-0)
---
Marvelous
After the tragic injury of Takumi Iroha, the AAAW Singles Title that was first introduced in GAEA Japan got vacated. On December 4th Korakuen Hall Show a single elimination tournament. Chikayo Nagashima defeated Mio Momono to be crowned the 16th AAAW Singles Champion in the tournament's final. Nagashima won the AAAW Singles Title for the 2nd time in her career after winning it for the first time 20 years ago and is now a double Champion in Marvelous.
---
Sendai Girls
On the big Sendai Girls Show in Osaka, the longest reigning Sendai Girl World Champion Chihiro Hashimoto lost her title to ASUKA. Hashimoto's reign ends at 1148 days and 6 defenses. The Match was great and the perfect way to end the unreal title reign of Big Hash. ASUKA now held the Regina di WAVE, SEAd Beyond The Sea, Diana World and Sendai World Title in her career. Mika Iwata came out after the match to challenge the newly crowned champion.